Planning to start a new blog? Confused about which blog platform is best suited to your needs? Should it be WordPress or Blogger? Guess what, we've been there as well, and we can help.
When it comes to blogging, there are several options available. They include WordPress, Blogger, Tumblr, Wix, among many others. But, undoubtedly, the two most popular platforms are WordPress and Blogger. They both allow you to create blogs easily.
But a very frequently asked question is which is a better blogging platform? WordPress or Blogger?
This article will help you make an informed decision on which blogging platform works best for you. We compare the two platforms against each other on various features such as simplicity, ease of use, security, SEO, themes, and every feature you're likely to need.
WordPress vs Blogger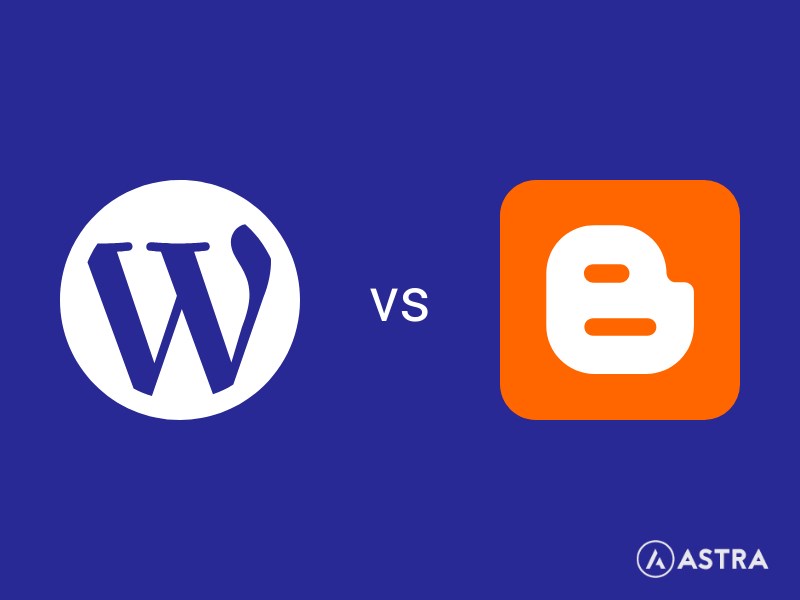 To keep things simple, if you are blogging for the first time, testing the waters and have no plans to monetize your blog in the future, Blogger is your ideal platform.
Blogger is easy to set up, and you can start blogging in a matter of minutes. It is a perfect launchpad for your blogging journey.
However, if you are serious about blogging and would like to monetize your blog at some point, we recommend starting with the self-hosted blogging platform, WordPress.
Just to clarify, there is a WordPress.com and a WordPress.org.
WordPress.com, similar to Blogger, is a hosted solution. This means everything is done and set up for you in the cloud. You needn't worry about purchasing a hosting solution and setting up your website, worrying about updates, maintenance, and so on.
All you've to do is sign up for a free account, and you're good to go!
The WordPress we are referring to is the WordPress.org version. This is a self-hosted solution. This means you will need to invest in a hosting service, such as SiteGround, and set up the website on your own.
Before you get too worried, setting up a WordPress website is easier than you might think. We've got a detailed article on how to create a WordPress website just for you.
A primary reason why many newbie bloggers start with Blogger is because of the lesser technical hassles upfront. But, as you go along in your blogging journey, you'll notice Blogger's limitations compared to WordPress.
With the complete control you have over WordPress, you can enhance your blog's features and functionality. And this is the reason why many bloggers eventually switch to WordPress.
While the answer to this question, WordPress or Blogger, is dependent on you and what vision you have with your blog, we've covered the differences between the two platforms to help you decide.
Before we go head to head with the various features, let's dwell a little on what the two platforms are.
What Is WordPress?
WordPress is an open-source CMS – content management system, that helps you easily create a website, a blog, or an online store. A content management system helps create, manage, and modify content (text, images, and so on) on a website.

WordPress is the world's most popular CMS, powering 39.5% of the internet in 2021. You can download WordPress for free and install it on as many websites as you want.
We did mention early on that WordPress is a self-hosted solution. This means that you will have to invest in a domain and hosting service.
Most hosting companies, such as SiteGround and BlueHost, provide an auto-installer within your hosting control panel to help you easily install WordPress.
The cost of a hosting would be anywhere from $30 per year, based on the plan you select.
In just a few easy to follow steps, you have WordPress installed. This saves you the hassle of downloading WordPress and installing it on your website.
WordPress being a self-hosted solution gives you complete control over your blog. You get to customize the blog just the way you want to. With 8000+ WordPress themes available for free, you are spoilt for choice when it comes to designing your blog.
Using our Astra starter templates, you get a complete website design that can be installed in a single click.
If the themes weren't incentive enough, you've got 58,000+ free WordPress plugins to choose from.
WordPress plugins help you enhance your blog's functionality.
For instance, if you'd like to convert your simple blog to an online store, you can install the WooCommerce plugin. Similarly, if you'd like to convert your blog into a learning management system (similar to our SkillJet platform) and promote online courses, you can install LearnDash or LifterLMS.
Want to include an email opt-in and collect leads from your blog? Consider installing our very own Convert Pro plugin.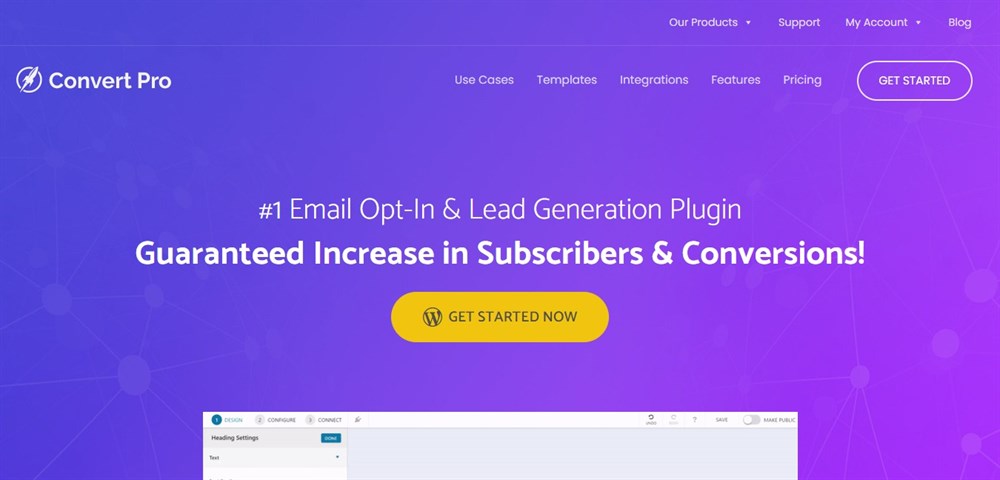 With our highly efficient drag-and-drop editor, you can create an attractive opt-in form that converts visitors into leads in minutes.
With WordPress, you also get complete control over your blog's SEO. Using plugins such as Yoast SEO and Rank Math, you can make your blog more search engine friendly. Get your blog's SEO up-to-date using the latest techniques, such as reviews, ratings, and other tricks using appropriate plugins.
Like reviews and ratings, this additional information will make your blog stand out from the rest in the search results. This eventually helps improve your CTR (Click Through Rate). You could consider using our Schema Pro plugin to help you quickly set up and automate this process.
In short, with WordPress, the possibilities are endless.
A few downsides to using WordPress could be the initial set up process and updating the website periodically. As a newbie, this may sound technical. The good news is, a lot of this can be automated. From the WordPress software to plugins, all can be updated on autopilot.
And while there is a slight learning curve, compared to Blogger, with the amount of support from the WordPress community, you can learn everything in no time. The core team at WordPress is making huge strides in turning WordPress into an accessible tool for beginners.
What Is Blogger?
Blogger is a very popular free blogging platform from Google.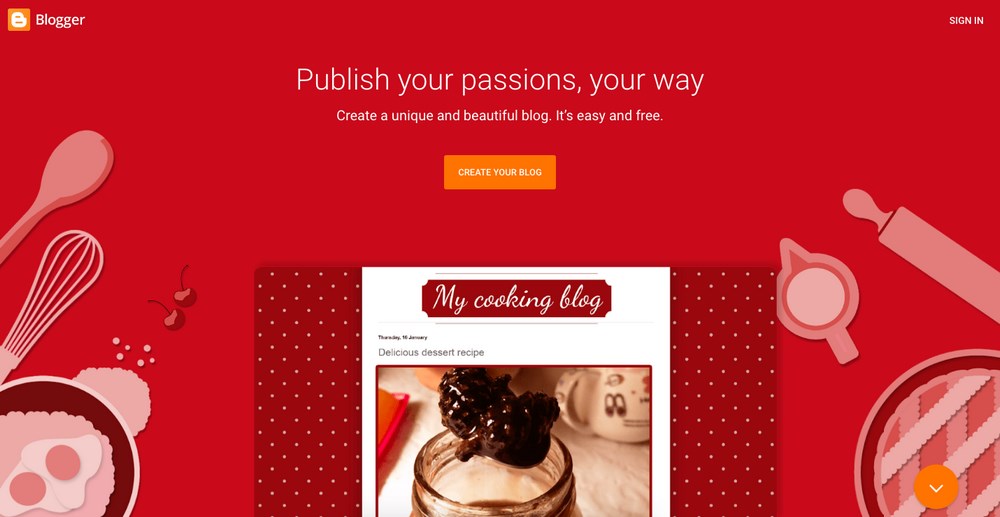 Unlike WordPress, Blogger is a hosted solution. This means Blogger allows you to create and run a blog without you having to pay anything. No domain and no hosting required whatsoever. All you've to do is sign in using your Google account, and you're good to start blogging!
Once you've signed in, you get a free Blogspot subdomain. Your blog's address will be something like 'https://yourname.blogspot.com.'
OK. Before we move any further. What's Blogspot? How is it different from Blogger?
Is it Blogger or Blogspot?
Blogger, as you know, is a free blogging platform. Whereas Blogspot is a free domain service provider also owned by Google. So, blogs are hosted by Google and accessed from the subdomain blogspot.com.
When you create a blog on Blogger, you'll automatically get a Blogspot domain. Of course, you can use a custom domain name for your blog.
For which, you'll need to either register for a domain using a third-party domain registrar (e.g., NameCheap, GoDaddy, and so on) or via Google Domains, which is available under the settings (Settings > Custom domain) of your Blogger dashboard.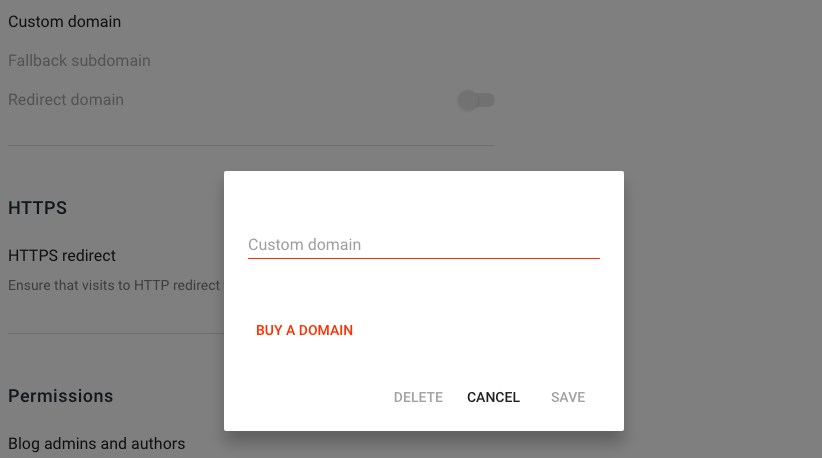 A few reasons why newbie bloggers choose Blogger over WordPress is that you needn't worry about setting up your platform, you require zero technical knowledge, and it's completely free.
If you'd like to start a blog with the sole purpose of sharing your thoughts, and no plans to monetize your blog, well, Blogger is the ideal fit. Not to mention, you needn't be concerned about what goes around into setting up your website and blogs.
If you'd like to build a brand, and consider blogging as a serious online business and make money for yourself, Blogger is not the ideal choice. With the limited control, customization, and flexibility in Blogger, you'll soon be limited in your options to scale your blog.
To summarize…
If you're considering blogging as a hobby with no intention of turning this into a mainstream revenue-generating business, Blogger is better than WordPress.
However, if you blog to build a brand for yourself, monetize and make money from your blog, you should consider going in for the self-hosted WordPress blog.
WordPress vs Blogger Comparison
To help you decide on the better platform for your blog, we've compared WordPress vs Blogger against various factors, such as control, ownership, SEO, support, security, among others. This detailed comparison should help you decide on the best platform.
For ease of navigation, you could use the links below to jump to a specific feature.
WordPress vs Blogger: Simplicity
This could end up being a classic case of, what's simple for you may not necessarily be a stroll in the park for us, or vice versa.
Both WordPress and Blogger are simple to use. Of course, that's if WordPress has already been installed and set up for you. If it hasn't, well, setting up your Blogger platform is much simpler.
WordPress
WordPress is making huge strides in ensuring its platform is an accessible tool for beginners. Although WordPress is beginner-friendly, there's no doubt that there's a certain learning curve involved in using WordPress.
You'll need to buy a domain and hosting but that takes a couple of minutes. Some web hosts will install WordPress for you while others use automatic installers.
While there is work to do in setting up WordPress, it doesn't take long and there are setup wizards that cover everything you need to know.
WordPress is easy to install, but the entire process isn't as easy as setting up a Blogger account.
If you need help installing and setting up your WordPress website, we have a step-by-step beginner's guide to creating a WordPress website.
Blogger
With Blogger, things couldn't be any simpler. All you need is a Google account.
Using your Google account, sign in to Blogger, and you are ready to start blogging in less than a minute. You can choose a layout and a theme from the options available. It's as simple as it gets!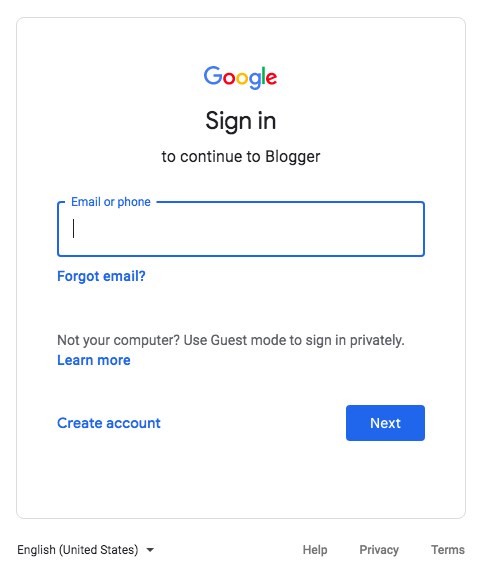 With Blogger's completely 'done for you' solution, you needn't worry about setting up your platform. You could add a custom domain if required. But, by default, when you sign up with Blogger, you get a free Blogspot subdomain.
For example, if you've named your blog 'hello,' your blog address will be 'https://hello.blogspot.com.' Of course, it is subject to name availability!
Winner: Considering the ease with which you can start blogging, Blogger is our winner here.
WordPress vs Blogger: Ownership and Control
Before you start blogging, ask yourself an important question. Do you want others to have control over your blog?
We're guessing it's a no. If so, you'd be best suited to go with WordPress.
WordPress
When you create a WordPress site, you purchase a domain and hosting for a specified duration. You control the domain and hosting and are in total control over them.
You decide how long you want to run your blog. You also decide when you want to shut it down. You are in total control of the ownership of your blog.
When you use WordPress for your site and blog, you own all the data too!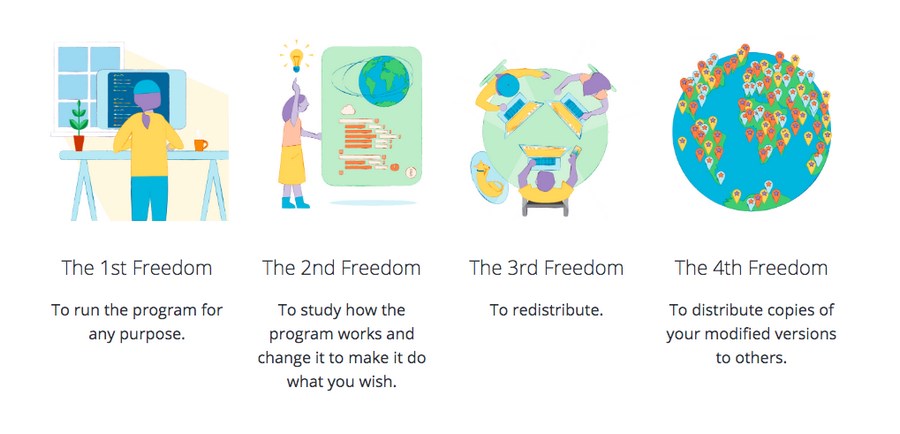 Blogger
That isn't the case here. Blogger is a platform owned by Google. You can easily publish blogs using the free platform. However, as is evident, your blog is not really owned by you. You can't migrate your blog anywhere except for the free Blogger platform itself.
Google runs Blogger. And while the chances of it happening are slim, Google is at liberty to shut down the service or restrict your access whenever it likes.
You may have come across social media accounts being suspended without any prior warning. Well, there are chances this could happen to your Blogger account as well.
Even if it's not necessarily your fault, you could still lose your blog if Google decides to stop Blogger. And what happens to all your blog articles?
Winner: Evidently, you have more control and ownership over your WordPress site. And thus, is our winner!
WordPress vs Blogger: Themes and Ready Templates
If you haven't paid attention to your website's look and feel, it's about time you did.
Google Page Experience update is expected to go live sometime in 2021. According to Google's new ranking algorithm, web pages will be judged based on the user's experience while interacting with a web page.
This means that if Google thinks your website users have a poor experience, measured by the new metrics called Core Web Vitals, Google may not rank those pages as high as they are now.
In addition to your website's look and feel, other key factors affect the Core Web Vitals metrics. These are considerations such as whether the page loads quickly, if the website is mobile-friendly, runs on HTTPS, and the presence of intrusive ads.
Your blog's appearance plays a vital role, not only as far as Google is concerned, but also in attracting visitors and keeping them around. Creating a great first impression also helps reduce the blog's bounce rate.
How can WordPress and Blogger help you when it comes to the appearance of your blog?
WordPress
When it comes to themes, ready templates, and designs, you are spoilt for choice when it comes to WordPress.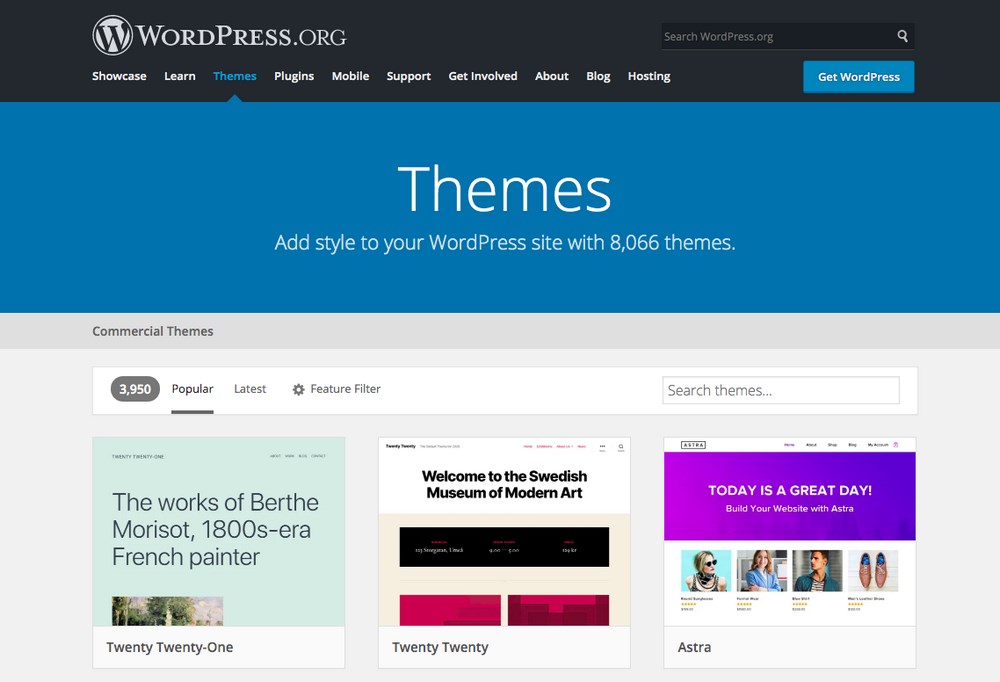 One look at the WordPress themes page, you'll notice that you've well over 8000 free themes to choose from. Astra is a popular WordPress theme, with 1+ million active installations.
In addition to the free WordPress themes, you have platforms such as Themeforest, which offers thousands of premium themes.
Whether you go in for a free theme or a premium theme, you still have complete control over it. Most of the themes have a variety of customizing options that let you personalize the entire blog.
Blogger
In comparison to WordPress, Blogger falls way behind in the themes and template department. While there are many templates that you can use, the choice is limited in comparison to WordPress.
Once you select a template, you get only a limited number of customization tools, such as the colors and the layout. While the customization options that come with Blogger are user-friendly, they are quite basic compared to WordPress.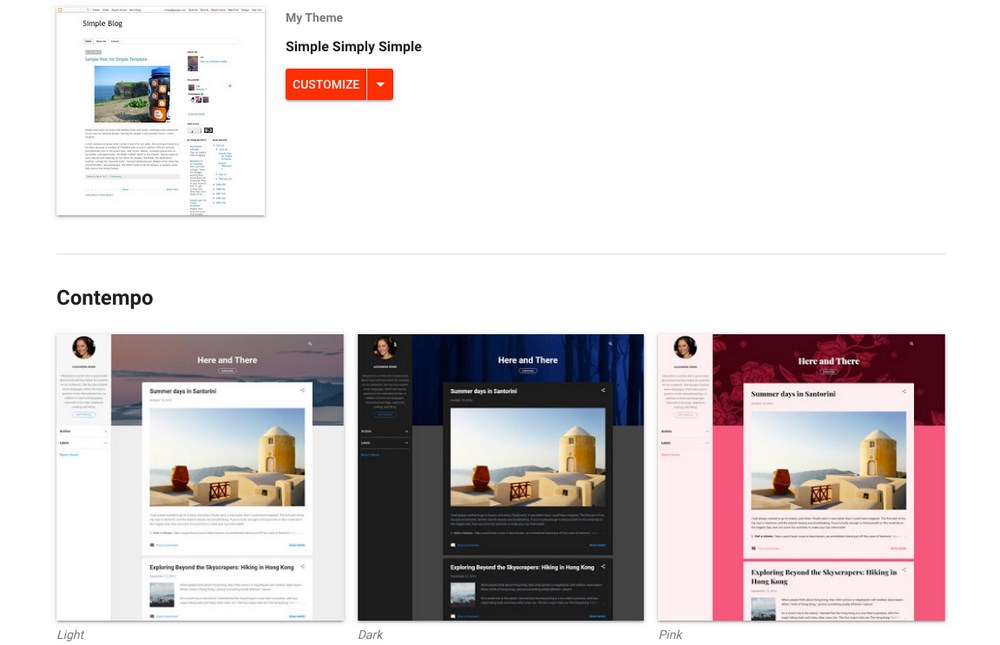 There are some Blogger templates available on Themeforest, but you'll need to pay for them.
Winner: With the number of free themes available, WordPress is surely our winner.
WordPress vs Blogger: Plugins
How do 58,000 free plugins sound to you? Well, that's how many plugins are available in the WordPress repository for you to make use of.
Every platform offers you a certain amount of built-in functionality to create an appealing website. However, we are always left wanting more. And we may require more features to meet the growing needs of our blog.
And that's where third-party extensions and plugins come into play.
WordPress
WordPress has the most extensive collection of third-party extensions (plugins) compared to any other platform. It has over 58,000 free plugins in the official plugin directory.
If that wasn't enough, you have an additional thousand premium options available in third-party marketplaces. For instance, CodeCanyon has over 7,400 plugins for sale.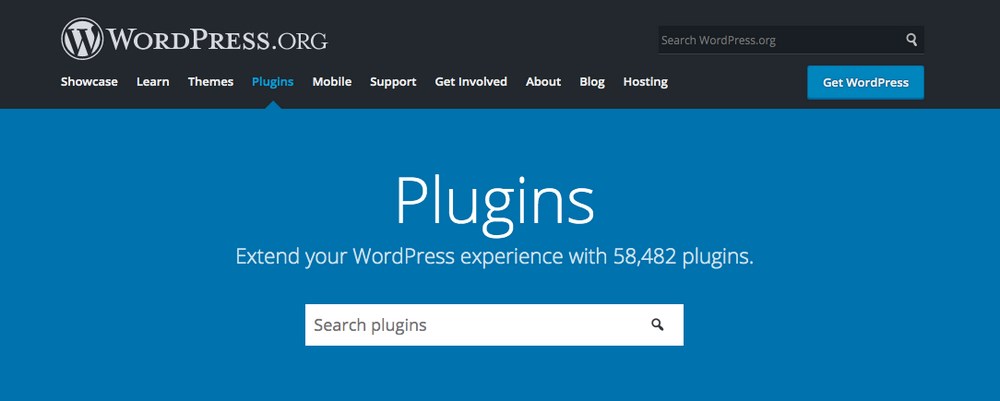 With WordPress, there's a plugin for just about anything you want to do.
Want to display attractive call-to-action in the form of popups, info bars, slide-ins on your blog? Add our Convert Pro plugin. Convert Pro also integrates with popular email marketing software to help you build your email list.
Want to convert your simple blog into a membership site? Choose from a list of membership plugins, such as MemberPress, LearnDash, among many others.
We could go on and on covering the 58000+ plugins. But we guess you've got the point!
Blogger
Blogger has Gadgets, which you can add to your blog. These are developed by Google and other developers and help you insert AdSense ads, display featured posts, add search functionality, and so on. Some of the Gadgets are installed by default as well.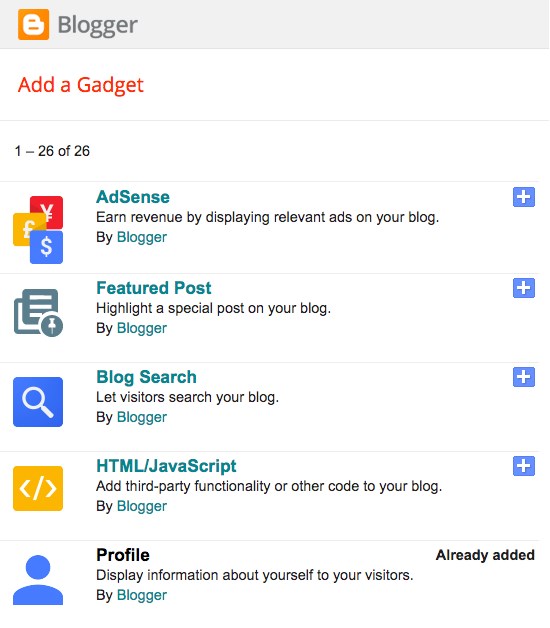 However, there are only 26 Gadgets, which is very small in comparison to WordPress.
In addition to the Gadgets, you can add some third-party widgets to your blog by either adding a code in the HTML of your blog or directly in the body of your posts or pages.
Platforms such as Elfsight offer you over 50 widgets to embed into your Blogger site. But these may come with its share of risk.
Winner: When it comes to 58,000+ free WordPress plugins vs 26 Blogger gadgets to choose from, we're guessing there's only one winner here.
WordPress vs Blogger: Content Management
You'd agree that blogging is all about content management. So before you start blogging, it helps ensure that your platform is ideally suited and built for blogging.
WordPress
WordPress is a full-fledged content management system. It helps you easily add content to your website/blog. Apart from content, you get to add media files such as images, videos, PDF files, among others.
Whether you're using the default text editor or a free page builder, publishing content on WordPress is simple. From formatting text, adding images and videos, managing media files, WordPress has it all.
With WordPress, you also get to schedule your posts and manage the blog content efficiently.
And once you've published a few articles, working on WordPress will be second nature.
Blogger
Blogger is purely meant for blogging. So it's safe to assume that content management is done right. Google makes it easy to start your first post and manage it without any problem.
All it takes to start blogging is to log in with your Google account. With the minimalist text editor, very similar to your Google docs and MS Word, your blogging interface is straightforward and easy to use.
Similar to WordPress, you can add images, videos and files to your blogs using Blogger too.
With Blogger, you also get to categorize your posts using labels and also schedule your posts.
Winner: Both platforms do a great job when it comes to just creating a blog. So, we go with a draw here.
WordPress vs Blogger: Security
Security is another key aspect to be considered when selecting your blog platform.
WordPress
While WordPress as a platform is secure, you are responsible for your blog. While most hosting services these days provide adequate security and backup, it is always recommended to have this done from your end too.
As always, there are plenty of plugins to make this easy for you.
For example, some common backup plugins you can use are UpdraftPlus, VaultPress, among other backup plugins.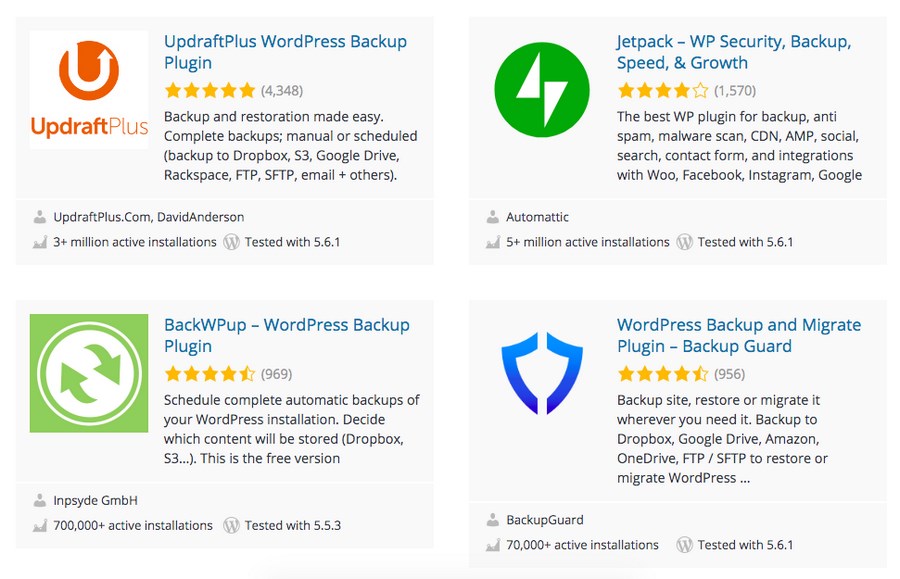 To help with your blog security, you could use plugins such as Wordfence Security, All In One WP Security, and Firewall, among other website security plugins.
Blogger
When it comes to Blogger, you have the added advantage of using Google's robust and secure platform. You needn't worry about securing your blog or creating backups.
That being said, apart from manually taking a backup of the content on your blog, if Blogger goes down, so will your blog. You wouldn't be able to recover your blog if the Blogger site is down.
Winner: Google's secure platform minus the ability to backup in Blogger vs the flexibility of ensuring security and backup is taken care of in WordPress, we'll call it a draw here.
WordPress vs Blogger: SEO
Whether you are running your blog on WordPress or Blogger, no one will read your posts if there is no traffic. Traffic is the be-all and end-all for any blogger.
You can drive traffic to your blog in two ways, either traffic from search engines or running paid ads. While running ads is a personal choice, the best source of traffic is what you get from search engines.
People come to search engines with a very clear intent of finding solutions to their problems. If your blog addresses their query and features in the top search results, you drive targeted traffic to your blog.
The process of optimizing your blog to appear on search engines for relevant keywords is called Search Engine Optimization (SEO).
Primarily SEO is broken down into on-page SEO, off-page SEO, and technical SEO. While off-page SEO constitutes factors such as backlinks and social signals that are out of your blog, the On-page and Technical SEO factors have to be met on your website to optimize it.
While both WordPress and Blogger provide you with options to optimize your blog, Blogger is limited to a few specific settings. And while in WordPress there's more work to be done, the results and rewards are much more.
WordPress
Using WordPress, you have complete control and access to work on all the On-page and Technical SEO factors.
Some of the On-page SEO factors include adding the heading tags (H1, H2, H3, and so on), image alt-text, internal and external links, taking care of keyword density and keyword prominence, among a few more.
For Technical SEO, you'd have to generate an XML sitemap, a robots.txt file, integrate Google Search Console, among other things.
And WordPress makes this easy even if you are not familiar with the SEO best practices. All you need is to install the necessary plugins.
For example, you can install plugins such as Yoast SEO and Rank Math plugin to simplify your On-page SEO and Technical SEO process.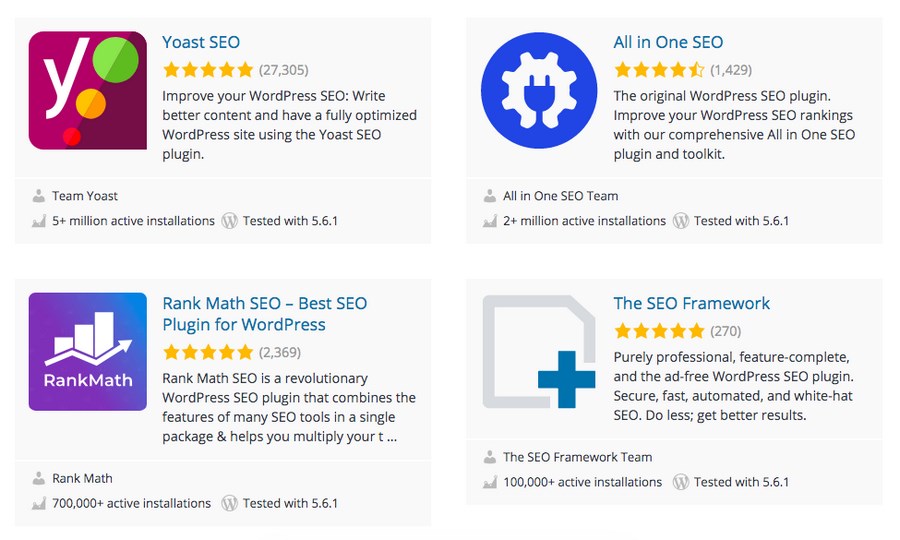 Blogger
Blogger offers you several steps to optimize your blog. Some of these include customizing your links (permalinks), adding relevant keywords to your post and page titles, adding heading tags and adding an alt-tag to your images. But, you are still left wanting more.
Unlike in WordPress, where you can use plugins to help you optimize your blog to a greater extent, Blogger is ideal for users who are already familiar with SEO best practices.
Winner: With complete control over how you optimize your blog, WordPress is our winner.
WordPress vs Blogger: Blogging
WordPress and Blogger were both initially established as blogging platforms. So it goes without saying that both platforms are ideally suited for blogging.
WordPress
Since its launch, WordPress has evolved into more than just a blogging platform. WordPress can be used with its continuous updates and improvements to create complex websites such as an online store, a membership site, a classified website, a learning management system, and many more types of website.
In addition to the standard blogging features such as a text editor, inserting images and the native commenting system, you have advanced options such as adding categories, tags and including a range of widgets into your post.
Do you want to make your content private, secure with a password, and schedule your posts for a later date? You have all these features as well.
In short, WordPress provides way more options and features for your blog.
Blogger
Blogger provides you with all the necessary and standard functionality you'd require to create a blog.
Blogger's editor is similar to Google docs or a word processor. You can format your text (bold, italicize, underline, text color, insert images, include bullet lists, and so on) using the various buttons in the toolbar.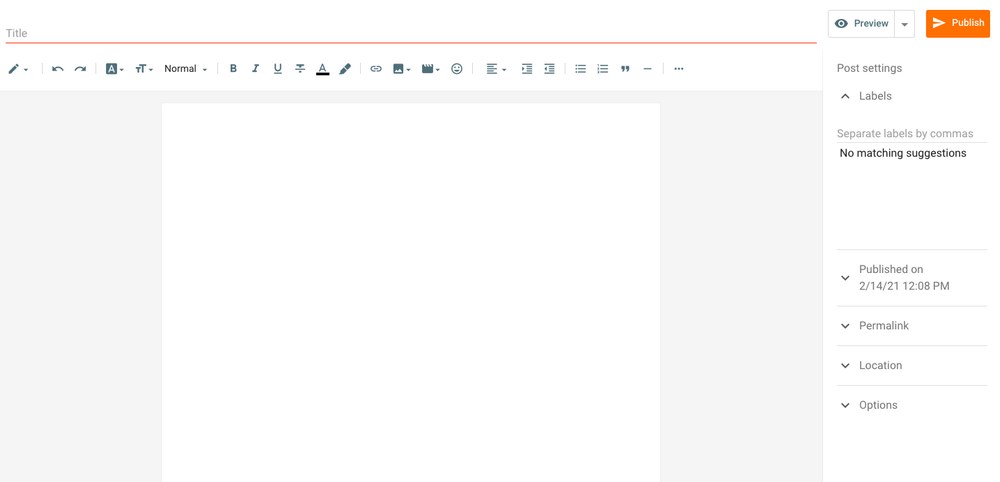 However, your options are limited to just these. For any additional functionality, you'd need to shift to WordPress.
Winner: Both platforms are ideal for blogging. But, WordPress provides additional features, which is why it wins in this category.
WordPress vs Blogger: Support
Whether you're a novice or an expert, you'll probably need support at some point. So, when support is required, where do we go?
WordPress
Although WordPress is beginner-friendly, it does take time to learn and master the platform. It does take time to understand the range of features that WordPress has to offer.
But, when you are starting all by yourself, how do you go about understanding the platform?
A search on Google for WordPress tutorials will throw up tons of online materials to help you. One among them would also be our detailed guide on how to create a WordPress website.
From creating a simple website in WordPress to more complex websites, our has various resources and tutorials to help you.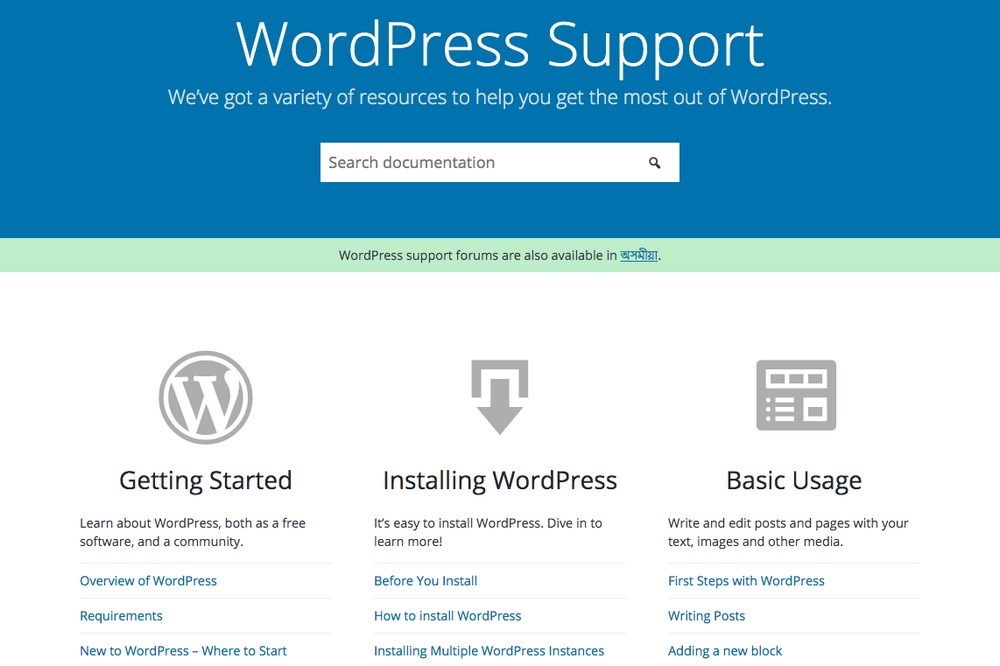 In addition to online resources, WordPress has a vast support community and official forums where you'll find solutions to all your WordPress related queries.
There is more work involved in learning WordPress, but that will remain with you forever and will help you with day to day running of the blog.
Blogger
Blogger is a far simpler platform when compared to WordPress. There is hardly any learning curve when it comes to starting a blog.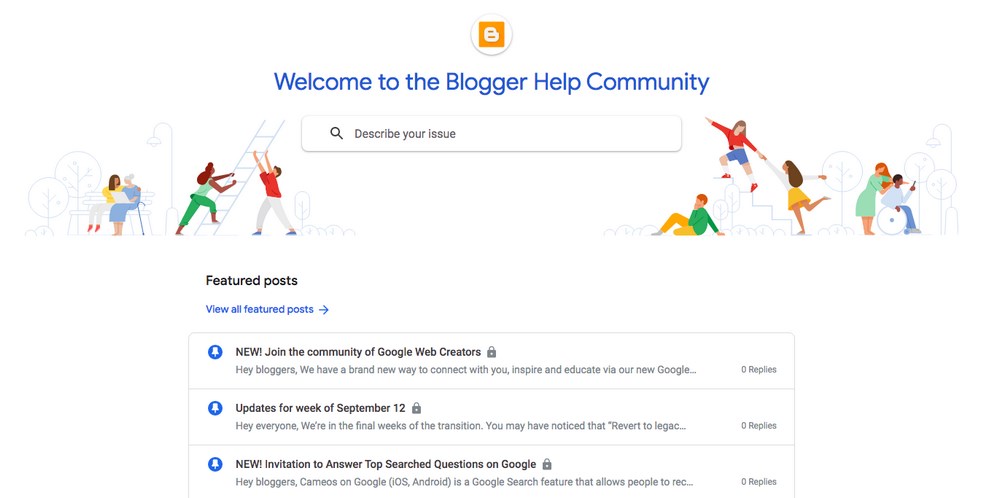 With that being said, Blogger comes with a fair amount of help and support from within your interface. You have a help center with various resources available. You also have the option to contact the support team and send feedback.
Winner: Huge online support and forums for WordPress vs the in-house support for Blogger. We go with a draw here.
WordPress vs Blogger: AdSense
If you search how to make money online on Google, AdSense will feature in just about every search result there is. And that's how popular it is.
Google AdSense, run by Google, is an advertising network. It allows bloggers to earn money by displaying advertisements on their websites.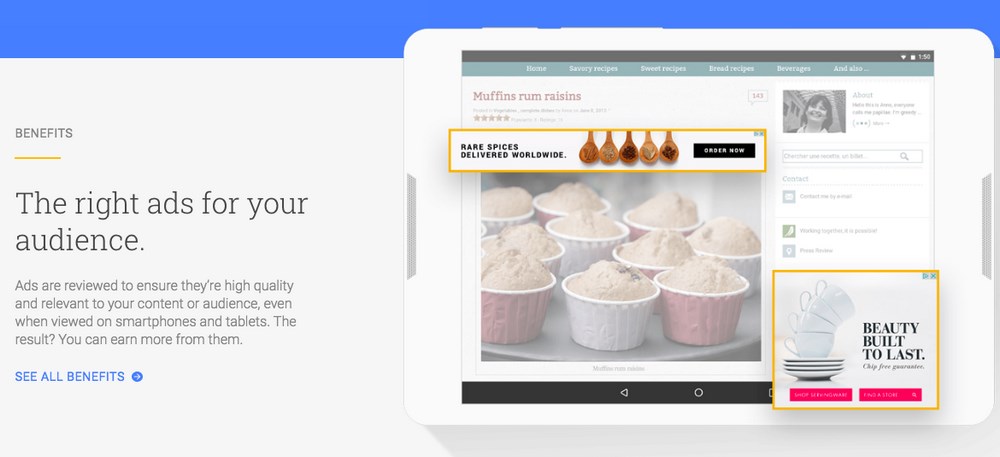 With Google AdSense, you don't have to deal with advertisers. Google manages the entire show, collects payments, and credits you with your share.
Integrating AdSense for both platforms is pretty straightforward.
While early on it was easier to get your AdSense account approved, of late, you have to fulfill a few prerequisites. Some of which are having at least 30 to 40 articles published, having a fair amount of traffic on your blog, no offensive content, no jarring popups, among other things.
WordPress
Once your Google AdSense account is approved, you'll be able to generate the ad code from the AdSense dashboard. This code needs to be included in your blog. For which, you'll have to either make use of an HTML widget to showcase ads on your navigation panel or install the header and footer plugin and insert the code.
Blogger
Since Google owns Blogger and AdSense, integrating AdSense into your blog is a touch more straightforward than WordPress.
Under the earnings tab of your Blogger dashboard, you'd have to connect your AdSense account to display ads. Simple, isn't it?
Winner: Both platforms allow you to easily integrate AdSense. It's a draw!
WordPress vs Blogger: Easy Integration With Other Services
Do you want to integrate various services such as Google Analytics, Google Search Console, push notifications, among others, to your blog?
WordPress
With WordPress, you know by now the answer to any problem lies with a plugin.
Want to integrate a service on your blog? Install a plugin!
Want to integrate a Google search console within your blog? Install the Site Kit by Google plugin.
Want to integrate Google Analytics on your blog? Install the Google Analytics Dashboard Plugin.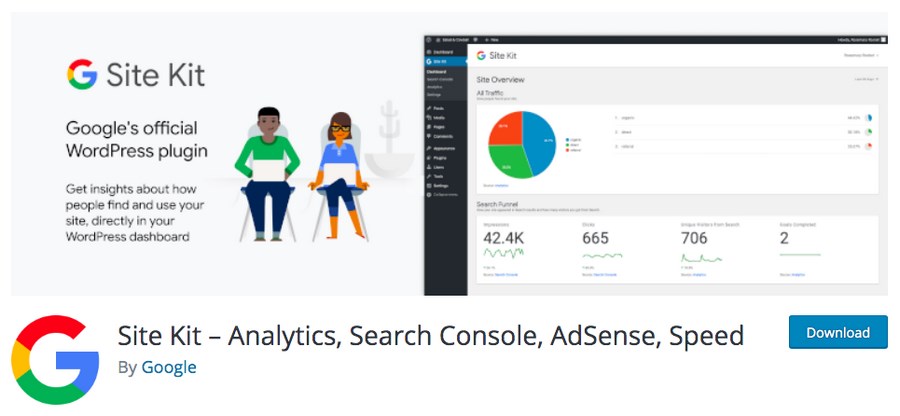 Well, you can integrate any service with WordPress easily. And it's not just limited to services offered by Google.
Blogger
Blogger is part of Google. Therefore, integrating the Google services with Blogger is easy. But when it comes to integrating any other service that's not part of the Blogger Gadgets ecosystem, it becomes a problem.
Blogger is very limited in its options when it comes to integrating additional services with your blog.
Winner: With the possibility of integrating services other than Google's, WordPress is our winner!
WordPress vs Blogger: Future
The future is in your hands. It really is!
The future of your blog depends entirely on your vision and plans for it.
WordPress
WordPress is open source software and managed by a community of developers and users. This means that WordPress is not dependent on one company or any individual.
WordPress is the most popular CMS, with thousands of businesses dependent on it. WordPress is indeed here to stay.
The only way your blog stops working on WordPress is if you decide to shut it down.
Didn't we mention the future is in your hands?
Blogger
The future of Blogger depends on Google. Google owns the platform. And they have the liberty to shut it down whenever they want.
Over the years, we've seen Google stop popular services such as Google Reader, Google AdSense for feeds, and FeedBurner.
Winner: Owing to giving you complete control of your blog, WordPress wins here.
WordPress vs Blogger: Portability
Change is the only constant!
And chances are you would, at some point in time, change your website platform. Be it, Blogger, to WordPress, or from WordPress to another CMS.
So, shouldn't you factor in this before deciding on your platform?
WordPress
With WordPress, your blog can be migrated just about anywhere. From changing your hosting service, your domain, and even your content management system (CMS) platform, you are free to change just about anything.
WordPress gives you the flexibility to easily migrate your content, images, blogs, data, in short, your entire website in a matter of a few clicks.
Blogger
Migrating from Blogger to a different platform is a little more complicated than in the case of WordPress. While you can back up your blog's content and migrate to another blogger account, migrating into a new platform will end up in you losing traffic and affecting your SEO.
Winner: Migrating your blog is really easy when it comes to WordPress. And hence, our winner!
WordPress vs Blogger: Pricing
On one side, you have a free blogging platform in Blogger. And on the other side, you have WordPress, where there's a small upfront investment.
Now, just because it is free, does it mean Blogger is your obvious choice. Recall the famous quote 'The best things in life don't come free'?
WordPress
Yes, the WordPress software is free. It's open-source, after all. That being said, you need to invest in a domain and hosting to start a blog.
The cost of a domain name starts from $9 per year. And the hosting, based on your plan, can be anywhere from $35 per year onwards.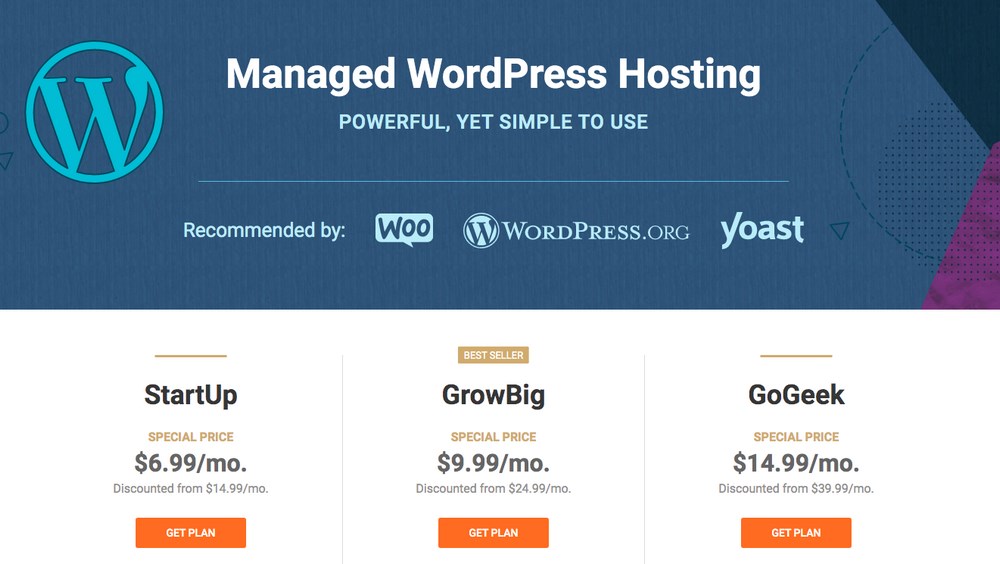 While the domain and the hosting is the only cost you need to consider, you could consider upgrading to premium themes and plugins, if the need arises. This will take the cost of your WordPress blog higher.
The additional costs are not mandatory to run a successful blog. And with the available free themes (Astra included) and plugins, you still have numerous options to monetize your blog.
So is cost a deterrent when it comes to making money from your blog?
Blogger
Blogger, as we know, is a completely free blogging platform. You sign up and start blogging. You get a free Blogspot subdomain as well.
However, if you want a custom domain name with Blogger, you'll have to purchase it from a domain registrar. You could also purchase it from Google Domains, which is available within your Blogger platform's settings.
While Blogger is free, it does lack features to make your blog successful.
Winner: A paid option with endless possibilities to monetize vs free platform with limited options to make money. It's a draw!
WordPress vs Blogger: Key Differences (Comparison Table)
WordPress
Blogger
Simplicity
Beginner-friendly with a small learning curve
Using your Google account, sign in, and you're good to go
Ownership and Control
You own the blog and have complete control
Google owns it. You have limited control
Themes and Templates
Tens of thousands of free and paid customizable themes and templates
Minimal options. Also, can't customize the themes and template
Plugins
Well over 58,000 free plugins and thousands of paid options
Only 26 Gadgets available, and a small number of third-party options
Content Management
A comprehension system to manage content.
A much simpler document editor
Security
Updates, maintenance, and backup is your responsibility
Updates, maintenance, security are taken care of by Google. Limited backup options
SEO
Along with the built-in features and use of plugins, you can optimize all aspects of your blog's SEO
Basic built-in features
Blogging
Basic to advanced blogging features
Basic blogging features
Support
Community support and online forums
Basic documentation
Adsense
Can be integrated easily
Can be integrated easily
Easy Integration with other services
You can easily integrate with various services in addition to the Google services
Barring the Google services, minimal options to integrate other services
Future
Running your blog or shutting it down, it all depends on you
Depends on Google
Portability
Easily export and import content, migrate hosts and platforms
Limited options to migrate Blogger to another platform
Pricing
Small investment towards domain and hosting
Completely free
Wrapping Up
WordPress and Blogger are both widely used blogging platforms. Deciding on the best blogging platform between the two comes down to your vision and purpose behind creating the blog.
While Blogger is free and lets you start in a matter of minutes, the platform is very limited in its functionality. If you want to build a personal blog and share your stories, Blogger is a perfect choice. Anything beyond is practically impossible with the platform.
WordPress, on the other hand, is almost limitless. You can not only start a blog with it, but you can also create any type of site that comes to mind. From transforming your blog into an online store to a membership site, the possibilities are endless. And not to mention, with the thousands of plugins and themes, your blog will still be always under your control.
We hope this article helped you make an informed decision. So, what's it going to be? WordPress or Blogger?
The post WordPress vs Blogger: Which Is the Best Blogging Platform? appeared first on Astra.
This content was originally published here.