Are you looking for the best WordPress podcast themes? Are you a storyteller who wants to share your passion with the world?
If you believe sharing helpful information with others is important, you should think about creating a podcast website and begin recording episodes!
Podcasts are incredibly popular right now. According to Statista, the global podcast audience was an estimated 383.7 million people in 2021.
With a podcast website, you can keep all of your episodes in one place, let your listeners contact you and reach a global audience.
To help you on your journey, we've compiled a list of some of the best WordPress podcast themes available.
You can use any of them to create your podcast websites in minutes!
The 25 best WordPress themes for podcasters
There are countless WordPress podcast themes available, and we've chosen the 25 best for you.
If you don't have time to check them all, here are the top 10 WordPress podcast themes you can use. If you want to build a website quickly, try one of these!
Astra – Lightweight, fast theme with 230+ professional designs.
Podcaster – Simple podcast WordPress theme
Megaphone – Smart podcasting with monetization
Podcast – Free WordPress podcast theme
Resonator – Stylish and great appearance
Divi – Versatile theme for podcasters
Neve – Sleek and stylish podcast website theme
Wpcast – Slider audio player for podcast playing
Vlog – Video podcasting theme
Rare Radio – Podcast theme with multiple templates
With over 1.6 million live websites using it, Astra is the most popular third-party WordPress theme ever. It can be a fantastic theme to help you create your podcast website.
Astra offers 230+ professionally made WordPress templates to get your website off the ground, including some for podcasts. Using the Astra theme, you'll never run out of design options.
The theme is compatible with the most popular page builders, allowing you to customize your podcast website as you see fit. Don't worry about having to learn code, it's all drag and drop!
Astra is lightweight and fast. The theme base is less than 50kb in size so it loads fast. It is also highly responsive and SEO-optimized to help you with the search engines.
Here are a couple of Starter Templates we think you might like:
Creative Podcaster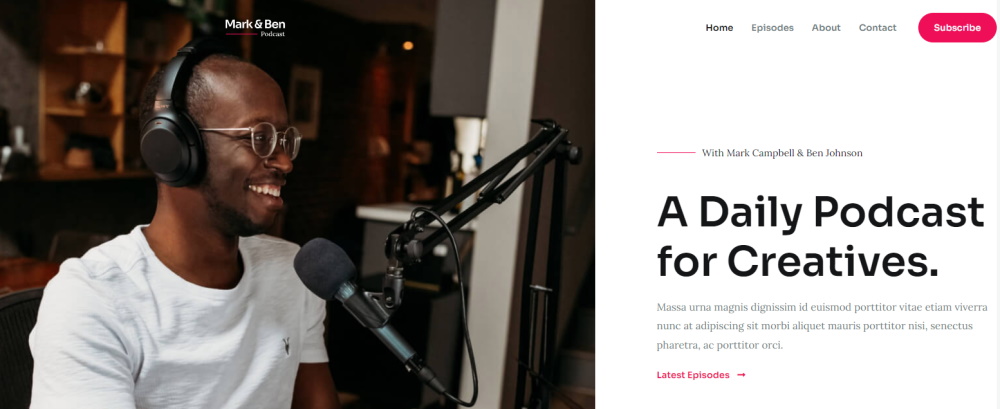 Whether you're looking to start a podcast or create a website to share content, Creative Podcaster is an attractive and functional option.
It has a layout with lots of white space and bold black fonts that stand out to attract your visitors. You can share your podcast episodes for users and display the most recent podcasts on the top.
Creative blog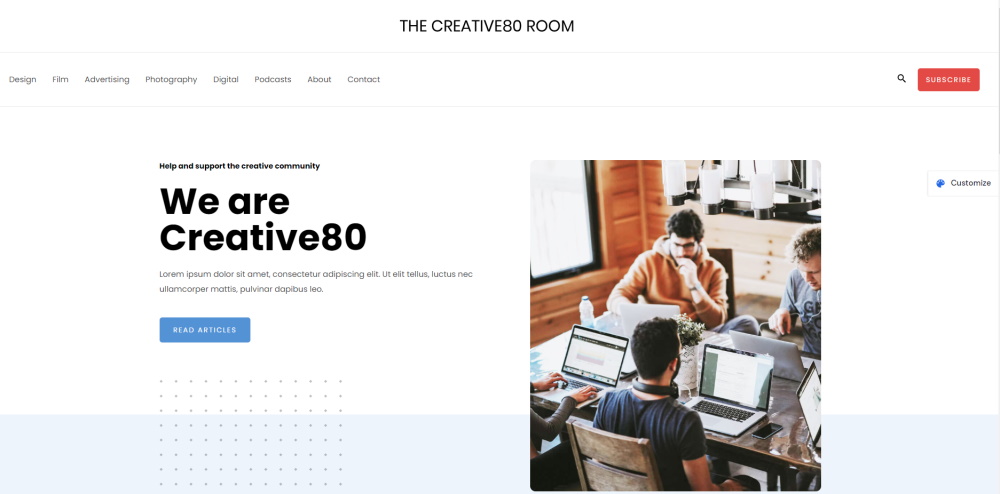 The Creative Blog template is a creative multipurpose design for a podcasting website. It has a nice white layout with black fonts, a modest navigation bar, and a category-focused homepage.
It is a simple, elegant, feature-rich template for organizing your podcasts on your website and providing you with a wonderful podcasting experience.
Astra Pricing
Astra has a free version with premium versions starting at $59 per year.
Megaphone is one of the best podcast WordPress themes you can use. It's a versatile audio streaming theme for solo podcasters and networks.
The theme simplifies building, customizing, and managing your podcast website. It offers 6 homepage designs, sidebar options, widgets, GDPR compliance and shortcodes. You can also enable monetization on your website with Megaphone.
Megaphone Pricing
Megaphone premium pricing starts at $69.
Podcast is an excellent minimal free podcast WordPress theme that you can use for podcasting, streaming, a radio station, or any other audio-streaming website. It is lightweight, responsive, and fast.
Podcast's compatibility with popular WordPress audio streaming plugins such as PowerPress and Seriously Simple Podcasting makes it an excellent podcasting theme.
It also has 8 different color palettes, many sidebar options, and the ability to embed your podcasts from Spotify, SoundCloud, Apple, YouTube and other platforms.
Podcast Pricing
Podcast is free.
Resonator is an attractive podcast WordPress theme that includes 9+ podcast-specific homepages, practical elements, and numerous prebuilt prospects.
It has well-designed podcast and blog post templates. It also has a powerful audio player for streaming and can embed Apple Podcasts, SoundCloud, or other podcasts directly.
Resonator is compatible with Elementor, WooCommerce, and includes an integrated Slider Revolution plugin. It is fully responsive, adapts to all devices, and looks fantastic too!
Resonator Pricing
Resonator costs $85 per website.
Divi is one of the best multipurpose WordPress themes for creating a podcast website. It offers 10+ podcast-focused layouts to launch your site quickly.
Divi is pretty well-known for its advanced customization options. Using the drag and drop Divi Builder, you can customize everything on your website.
It doesn't have a built-in audio streamer, but you can install audio player plugins like the Presto Player plugin that offers much more control.
Divi Pricing
Divi premium costs $89 per year.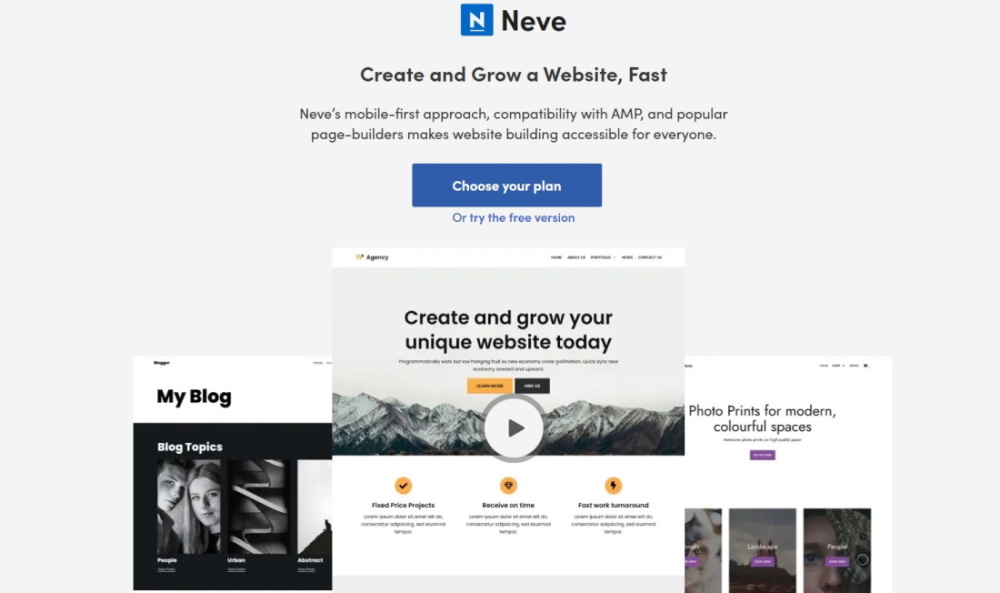 Neve is a very lightweight and stylish multipurpose WordPress theme. Even though it wasn't built with podcasters in mind, it's easy to use and customize. Setting up a website to host your podcast should be a breeze.
Neve is fast and SEO-optimized and offers excellent performance. It is also fully AMP-optimized, has several starter website templates, and works with the most popular page builder plugins.
Neve pricing
Neve has a free version with premium costing $69 per year.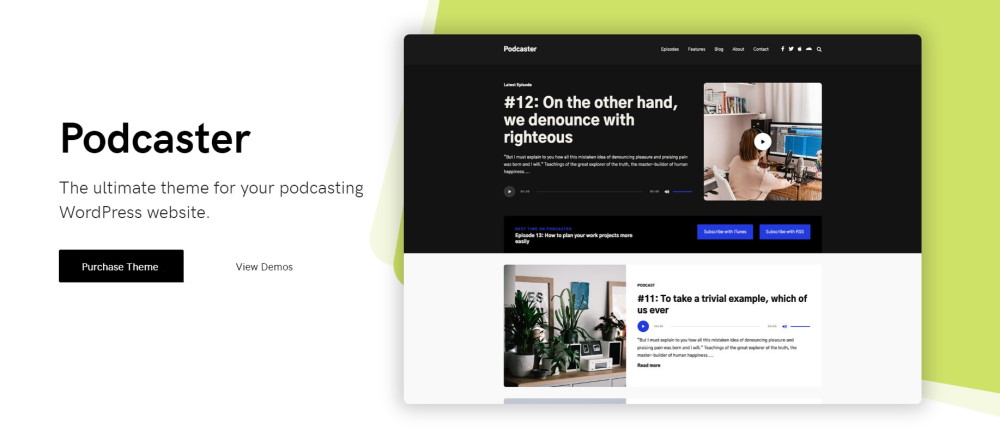 Podcaster is a WordPress theme that focuses on simplicity. It has 31 demo designs covering technology, food, and travel, all with advanced customization features.
Its format is similar to a blog. So giving show notes, videos, and other forms of media becomes very easy. You can also label and organize podcasts into various categories.
The theme is highly responsive and SEO friendly. You can also add share and subscribe buttons to grow your audience.
Podcaster Pricing
Podcaster premium pricing starts at $39.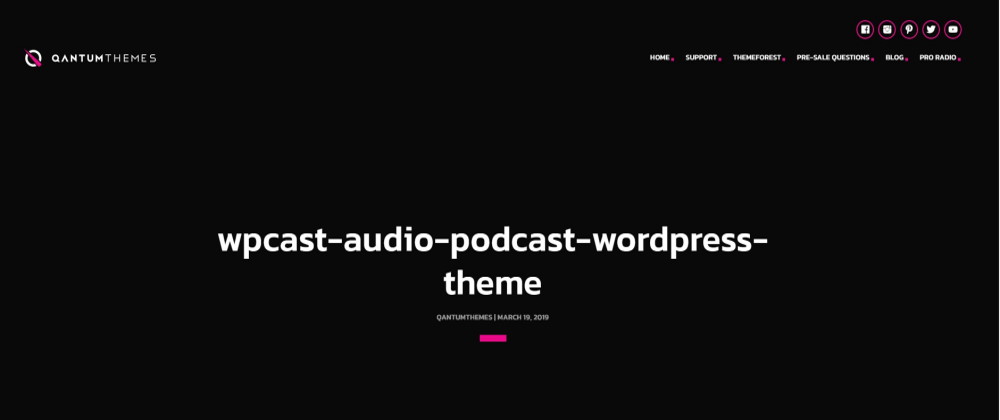 Wpcast is one of the best WordPress themes for podcasts that you can use to build your website. It has several demos and an audio player to stream your podcast.
It also has an audio slider to impress users. A series manager organizes podcasts by category or author. The theme also includes series cards with playable episodes.
Enjoy flexible customization with WPBakery integration. Also, the integrated ReAktions plugin boosts your social media engagements.
Wpcast Pricing
Wpcast premium costs $59 per website.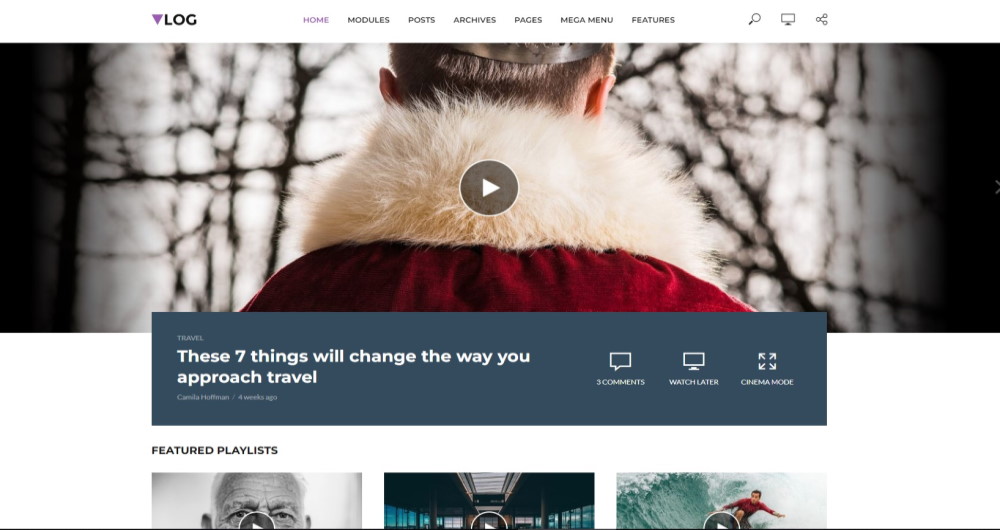 Vlog is another popular podcast WordPress theme for podcasting, video blogging, courses, or portfolio sharing. It can feature your video and podcast together.
The theme offers 8 regular post layouts and 5 featured area layouts to decorate your website with 200+ combinations. Also, it's responsive and adapts well to different screen sizes.
The theme works well with SoundCloud, Vimeo, YouTube, and other platforms. So don't worry about the content format. Upload directly or embed, whichever you prefer.
Vlog Pricing
Vlog premium costs $59 per website.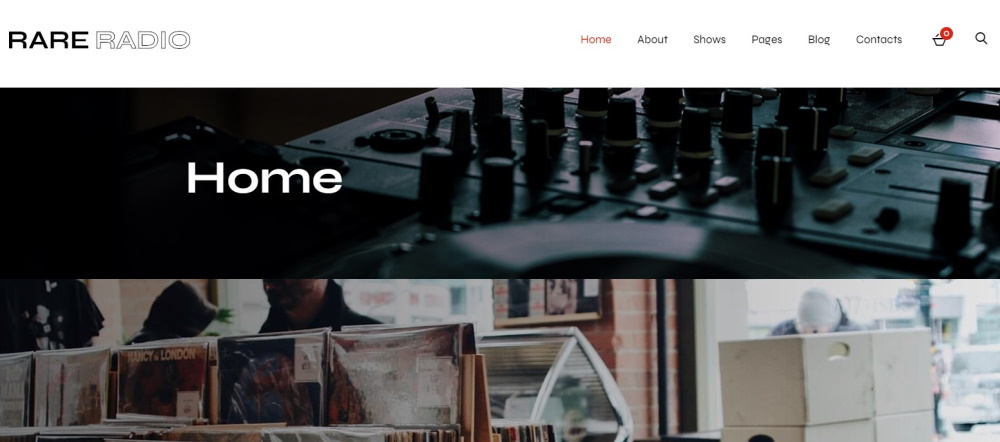 Rare Radio is one of the best WordPress themes for podcasts. It features a modern design suitable for personal podcasting and podcasting networks.
It provides several podcast website templates to help you get started quickly. There are numerous page layouts and key features that make podcasting accessible to everyone.
It includes everything necessary to create a beautiful and colorful podcast website without writing a single line of code.
Rare Radio Pricing
Rare Radio costs $69 per website.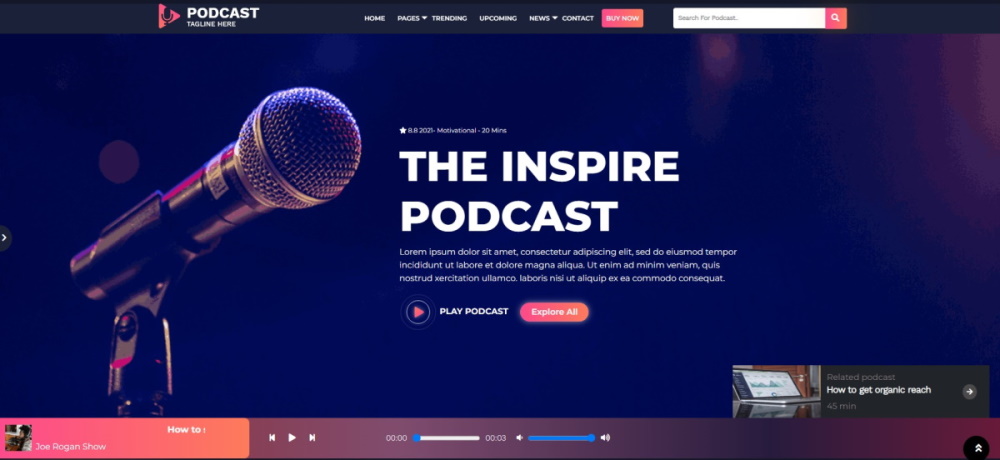 Audio Podcast is a minimalistic WordPress theme for podcasts. It has many important features and works well as a podcast website.
The theme is highly responsive and includes a block editor with various customization features such as page layouts, theme options, color palette, icons, and large font options.
Aside from streaming directly, you can embed podcasts and stream from Spotify and other platforms on your website.
Audio Podcast Pricing
Audio Podcast is free with a premium version that costs $59.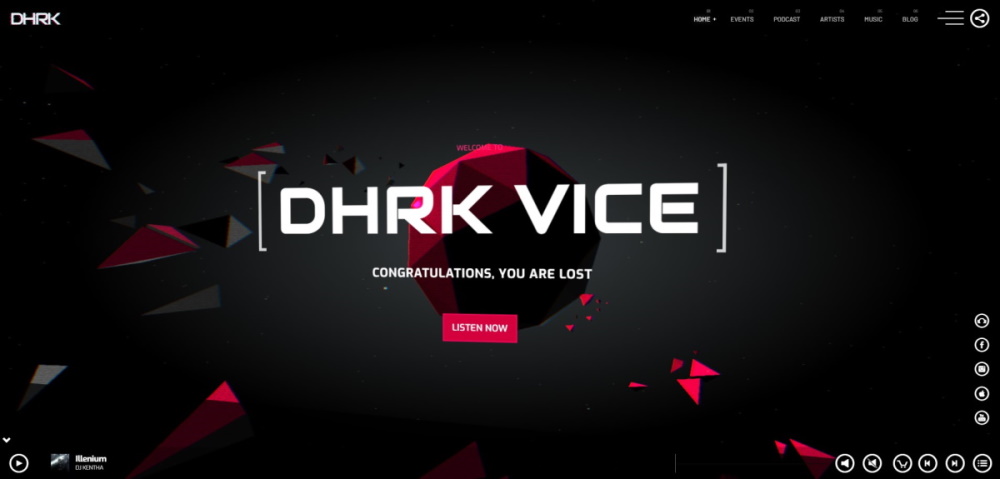 Vice is a music WordPress theme with an audio player and a page for podcasts and events. Its built-in podcast post type beautifully displays your podcast episodes.
It supports SoundCloud, Mixcloud and MP3 audio, allowing you to quickly import and share your podcast without converting its format.
Vice has two highly responsive, dark, and classic styles. With four premade Elementor demos, the Elementor page builder offers flexible customization options.
Vice Pricing
Vice premium costs $69.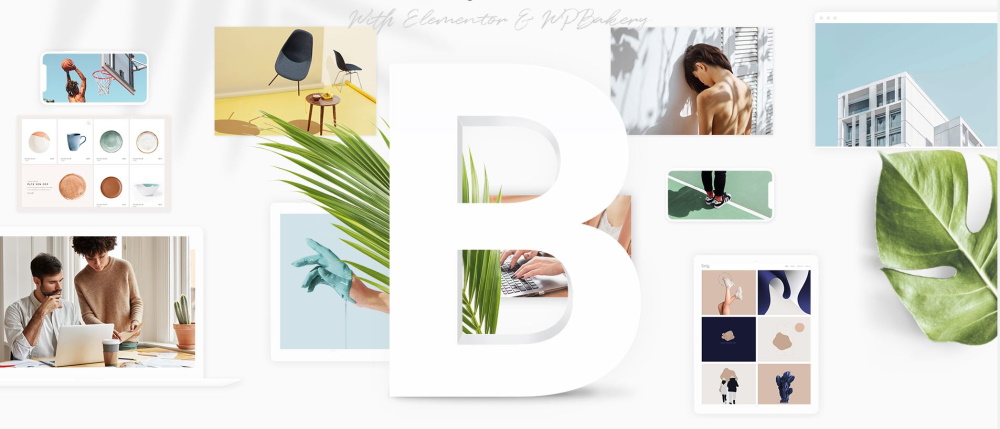 Bridge is another awesome WordPress theme with a wide range of uses. It's not made for podcasts, but it can help you create a beautiful one.
It includes 610 pre-built website demos from which you can choose the one that best suits your requirements. Customization is simple with full Elementor integration.
Once the site is complete, you can easily install and use a WordPress podcast plugin to start podcasting.
Bridge Pricing
Bridge premium costs $69 per site.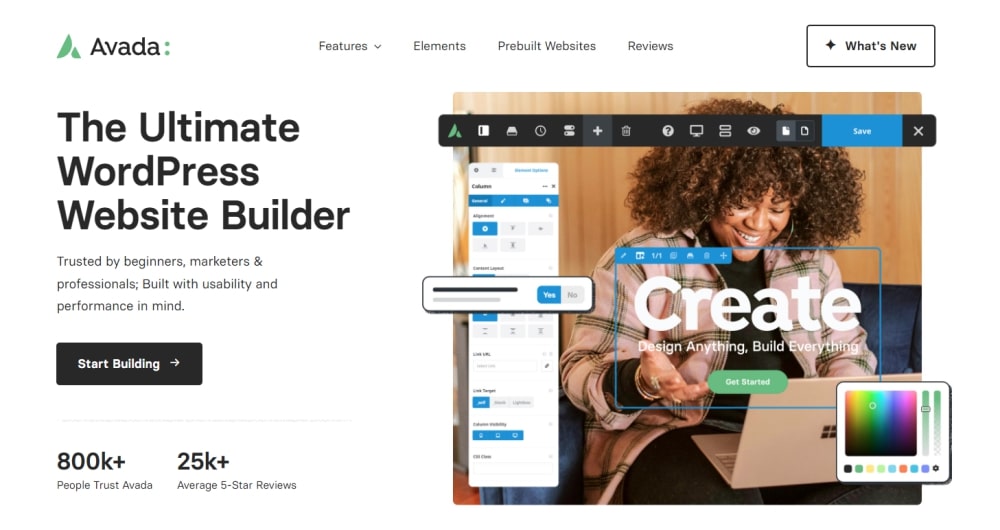 Avada is a stylish and modern WordPress theme suitable for creating any website. Avada comes with a great look and a built-in live builder to assist you create something unique.
Aside from being responsive, it's also lightweight and fast. Using its advanced and flexible customization options, you can modify the pages and layouts in any manner.
The theme is compatible with several well-known WordPress plugins, including JetPack, Yoast, WPML, Contact Form 7, Slider Revolution and others.
Avada Pricing
Avada premium costs $69.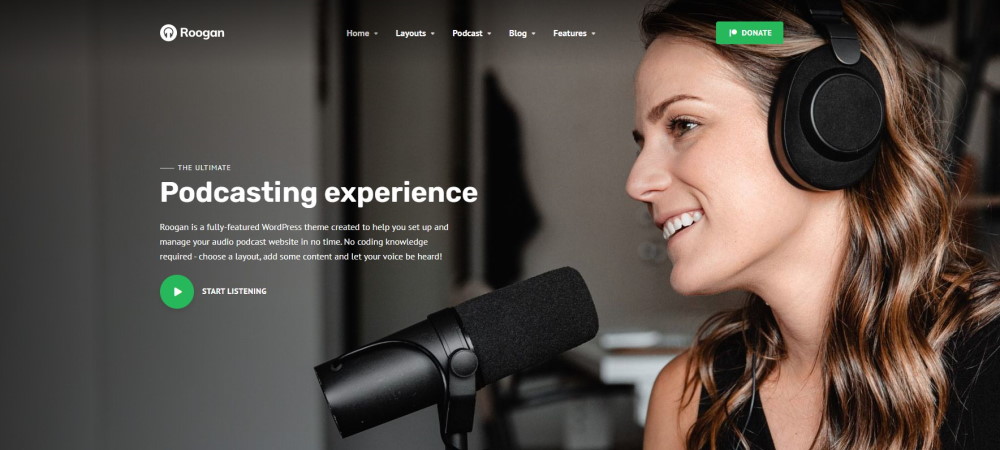 Roogan is a premium podcasting theme for podcasters, vlogs, podcasting media, and more. It has a clean and modern homepage layout that shows podcast episodes to your audience.
The theme has a powerful audio player and beautiful layouts made for podcasters. So, starting with your podcast website should be a breeze.
The Roogan theme also lets you embed your content from popular sites like Spotify, iTunes, YouTube, SoundCloud, and others.
Roogan Pricing
Roogan premium costs $69 per website.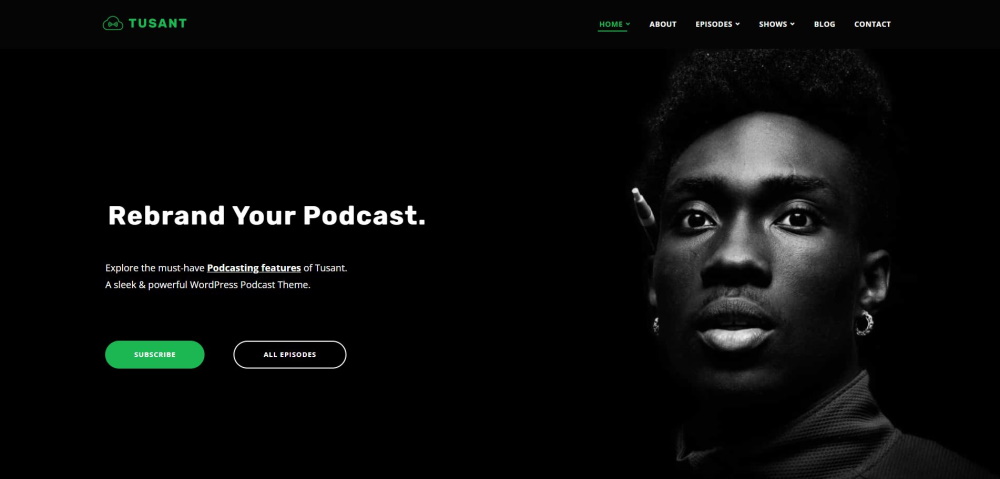 Tusant is one of the best podcast WordPress themes for building a website. This theme allows unlimited episodes, vlogs, and podcasts.
The theme looks beautiful and elegant. It's compatible with the Elementor plugin so you can customize and update pages in real-time before publishing.
Tusant integrates with the best podcasting plugins and platforms, allowing you to embed or upload your podcasts directly on the website.
Tusant Pricing
Tusant premium starts from $69.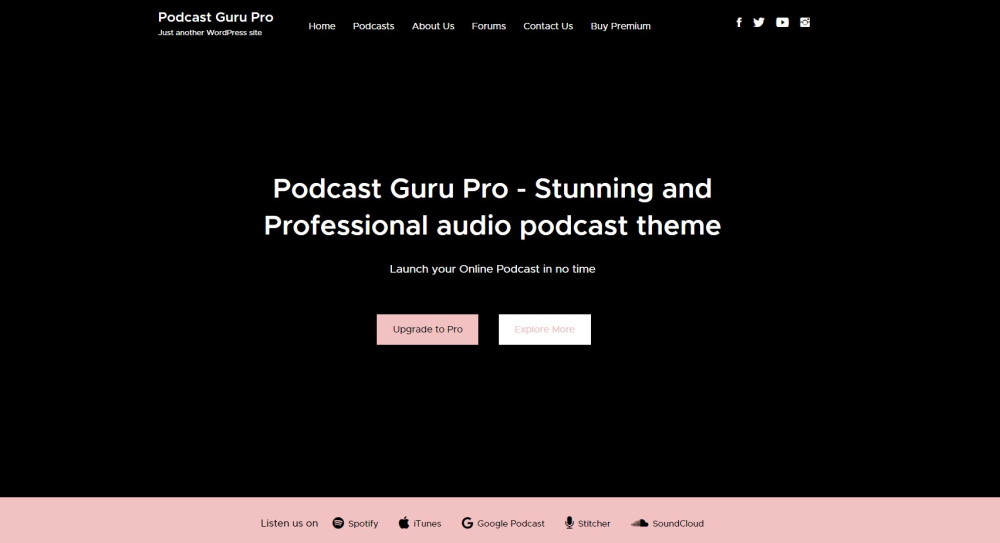 Podcast Guru is a minimalist WordPress theme ideal for creating a website for regular podcasting and streaming.
The premade homepage contains all the essential components for a podcasting page, including a section to help you display the latest episodes.
It supports unlimited podcasts and allows you to embed podcasts from various platforms such as Spotify, iTunes, Google Podcasts, and others.
Podcast Guru Pricing
Podcast has a free version and premium starting at $59.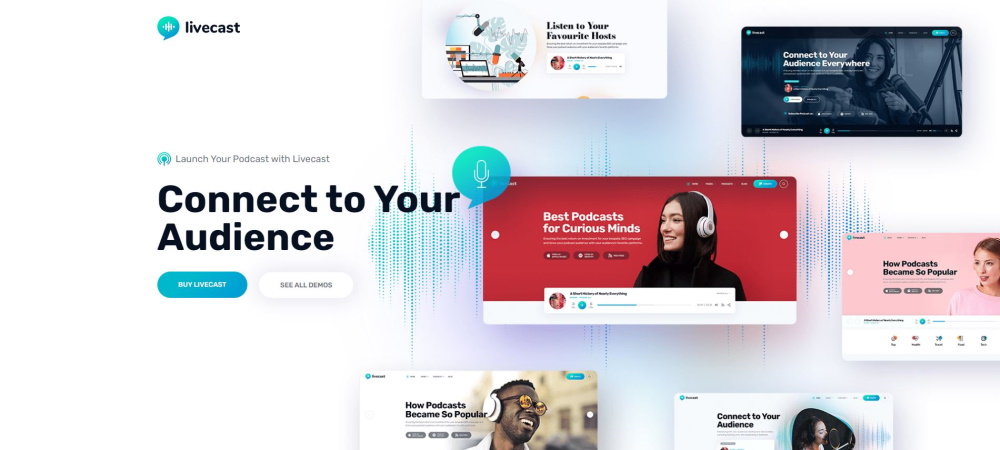 Livecast is an excellent WordPress theme with plenty of features for an efficient podcasting website. It has a robust audio player and can embed Apple Podcasts and other podcasts platforms.
Livecast has 5 premade demos, numerous premade page layouts, and integration with the Elementor builder. It's easy to build and modify your site quickly!
It provides an option for custom posts, impressive layout combinations, social media integration for your subscribers, and more.
Livecast Pricing
Livecast premium starts at $59.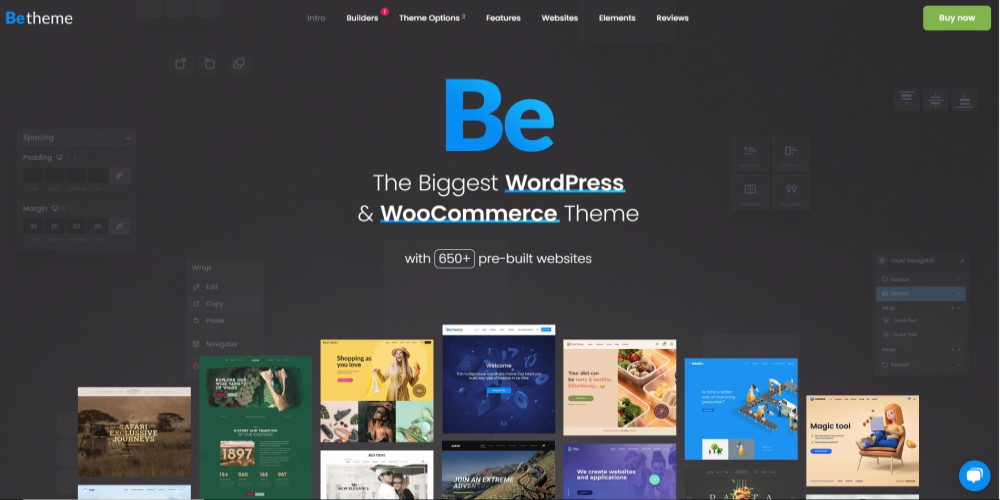 Betheme is one of those multipurpose WordPress themes you can use to build any website, including a podcasting website. It has 650+ pre-built templates, 25+ are for music and entertainment.
It's responsive and looks fabulous. It also has a powerful admin panel, mega menus, parallax effects, video backgrounds, and more.
Install a WordPress podcast plugin after completion, and you're set. Using social media integration, your followers can subscribe with one click too.
Betheme Pricing
Betheme premium starts at $59.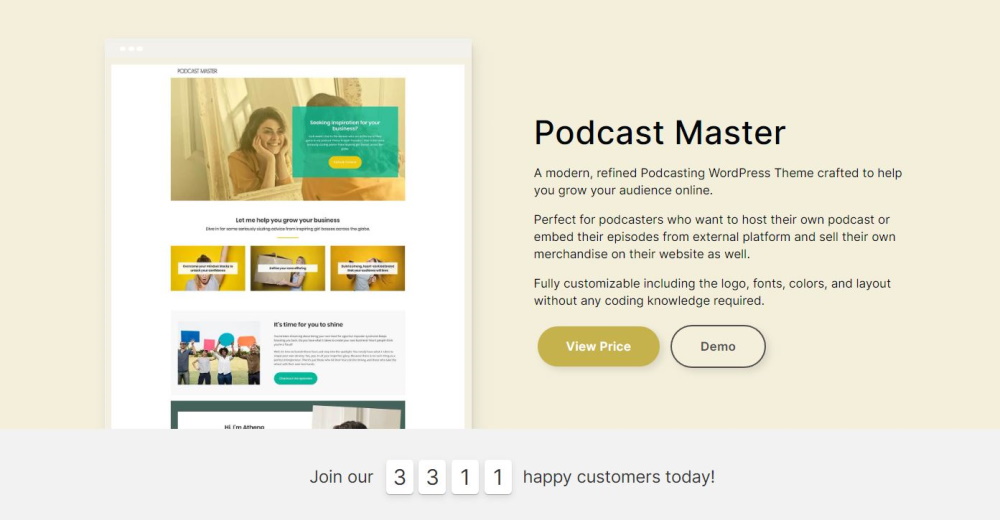 Podcast Master is a fluid, flexible, and all-around WordPress theme for podcasts. It provides unlimited podcast options and lets you embed podcasts from platforms like BuzzSprout, Podbean and others.
The theme has many podcast styles, 8+ pre-designed blocks, 30+ player/title information options and more. With the built-in Elementor page builder, you can customize it as you see fit too.
Podcast Master
Podcast Master costs $99.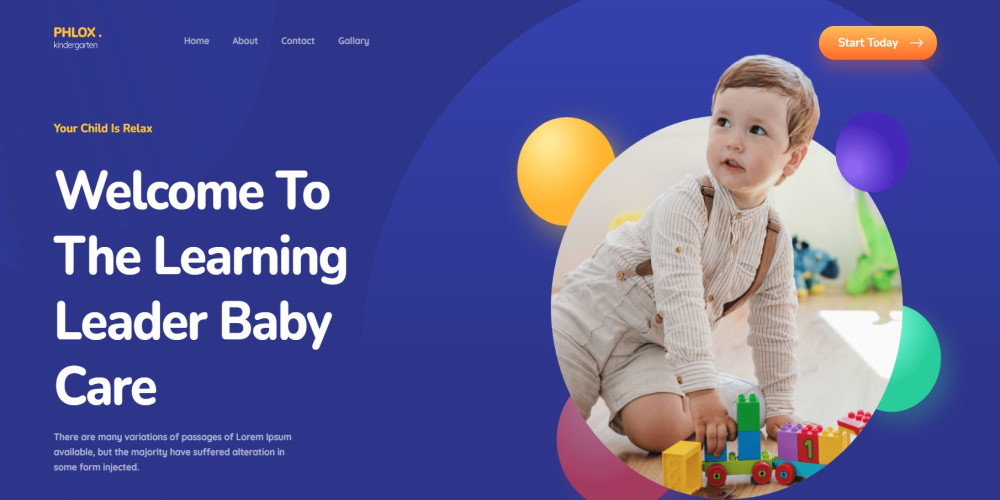 Phlox is one of the most versatile multipurpose WordPress themes you can use to create your podcast website. It offers flexible customization with 190+ website demos and Elementor integration.
Phlox is very lightweight and comes with a one-click demo importer. As a result, it's both fast in building and loading. The elegant design matches its performance.
Install an audio streaming plugin with Phlox, and you'll be ready to podcast.
Phlox Pricing
Phlox premium starts at $39.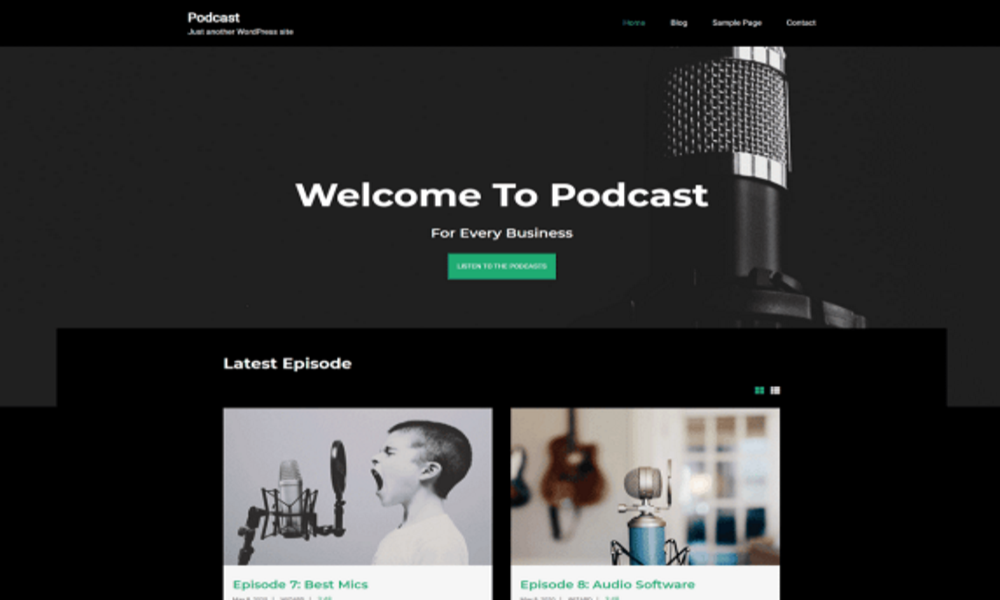 Simple Podcast is a free WordPress theme for podcast websites that makes them look simple and elegant. It is a very pleasant, and minimal podcast WordPress theme.
If you are a YouTuber, streamer, radio host, comedian, or motivational speaker, this theme is a great choice for your podcast website.
It offers lots of customization options to help you build your website your way.
Simple Podcast Pricing
Simple Podcast is free.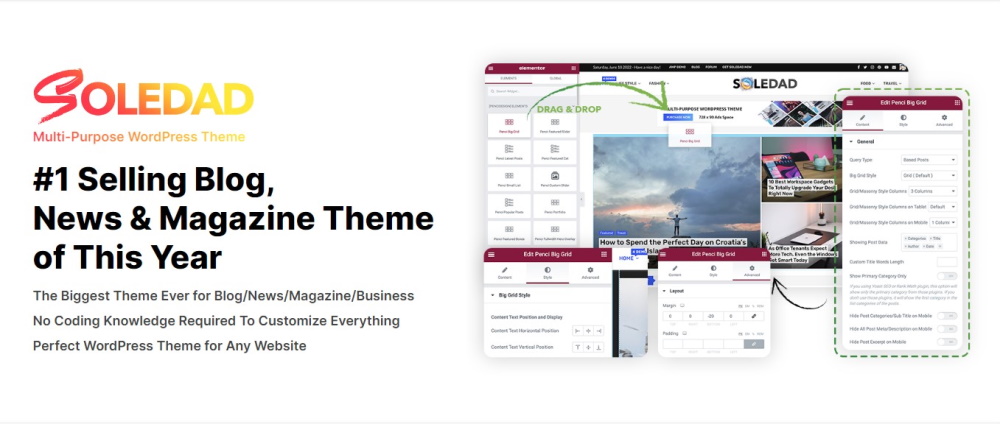 Soledad is a WordPress blog or magazine theme you can also use for podcasts. Choose a WordPress podcast or audio plugin, and you're set.
The theme includes 250+ templates to help set up your website. Using the WPBakery page builder, you can customize it in minutes and begin publishing right away.
Also, the built-in social media buttons make it easy for listeners to subscribe to your podcast, which is an added bonus.
Soledad Pricing
Soledad premium starts at $59 per website.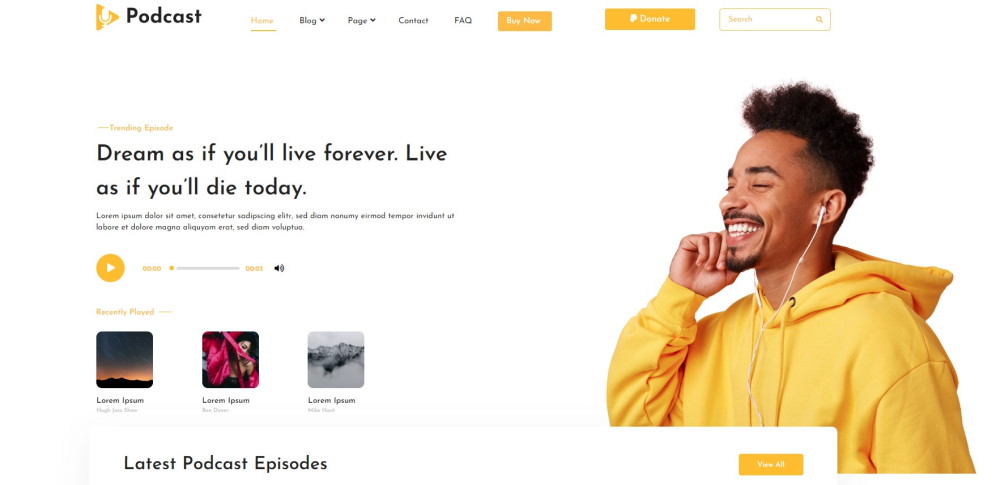 Video Podcasting is a primarily free WordPress theme for podcasters, video blogs and podcasting networks. It's simple, elegant, and speed-optimized.
It has a user-friendly interface that you can customize without any coding. Also, a live customizer makes the customization process better.
Video podcasting is attractive, SEO-friendly, and has features to deliver an excellent podcasting experience.
Video Podcasting Pricing
Video Podcasting has a free version and a premium starting from $59.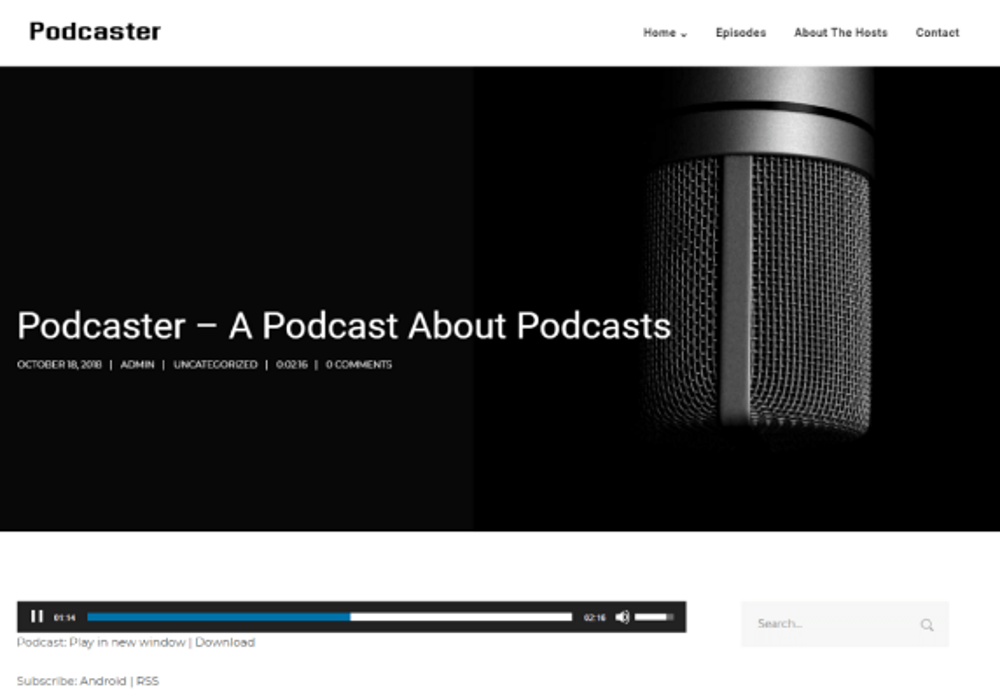 Podcaster SecondLine is a free WordPress podcast theme specially designed for podcasters. So it's simple, minimal, and audio-focused.
The theme has a simple look and comes with many editor styles, different theme options, and a custom menu.
You can feature the latest episodes on the top of the home page and customize everything as you see fit.
Podcaster SecondLine Pricing
Podcaster SecondLine is a free theme.
Must-have features for a Podcast website
We think WordPress themes for podcasters should include a handful of essential features.
The following should be on your must-have list:
Responsive design
Half of all visitors use a smartphone or tablet. Thus it's important to have a responsive theme which will adapt to all screen sizes. Most WordPress themes are responsive, but check before choosing, just in case!
Audio player compatible
Podcast websites are mainly about streaming and playing audio. So as it's essential to have audio, ensure that your theme is compatible with audio players and the best WordPress podcast plugins.
Streaming options
A podcast site is about streaming. It must effectively reach your audience whether you are sharing audio or video. So, choosing a WordPress theme with streaming capabilities or compatible plugins should benefit everyone.
Show scheduler
A show scheduler helps listeners catch your podcast on time. It can help bring in more listeners and helps build anticipation. For those reasons, we think a show scheduler on your podcast WordPress theme is a must.
Show details
On a podcast network, different podcasters would have diverse shows. Knowing what to expect from upcoming podcasts is a huge help to listeners. A podcast theme with similar options would help impress the audience.
Opt-in form for gaining subscribers
Your listeners will hopefully want to catch your next show. A subscribe button makes it easy for listeners to sign up and be alerted to new shows. This can help build a loyal following so we think it's essential!
Wrapping Up
To sum up, these 25 podcast WordPress themes have everything you need to launch a successful website.
Some may have excellent visuals, while others emphasize convenient features for your target audience.
Eventually, they all meet one purpose, to serve you the best!
Which podcast WordPress theme do you think is best for your website? Do you have any themes to suggest? Have a story to share?
Tell us about it below!
This content was originally published here.