The best marketing plan is a combination of solid, high-level strategy and practical digital tools. A well-designed website can attract prospects and introduce them to your brand, but that website will need to work in conjunction with a tool that tracks those prospects and builds engagement. Gathering information about the visitors to your site will give you the information you need to reach out with relevant products or services, ultimately converting those leads into customers. Since your marketing relies on excellent analytics, the digital tools you choose matter.
The Foundation for Effective Digital Marketing
WordPress is the world's most popular content management system software: 43% of all websites are built with it. It is user-friendly for the layperson, yet sophisticated enough that marketers and developers use it as well. It has a multitude of beautiful themes to choose from to create a compelling, navigable site, and perhaps most importantly, WordPress is structured to work well with Google and deliver great SEO. With the right web design and optimization, WordPress can yield a site that is a distinct expression of your brand and lay the groundwork for inbound marketing.
Inbound marketing is the practice of attracting visitors to your site with helpful and pertinent information. Even though WordPress has powerful search engine optimization tools and plugins, to get the most out of the platform, combine it with the powerful inbound marketing capabilities of HubSpot.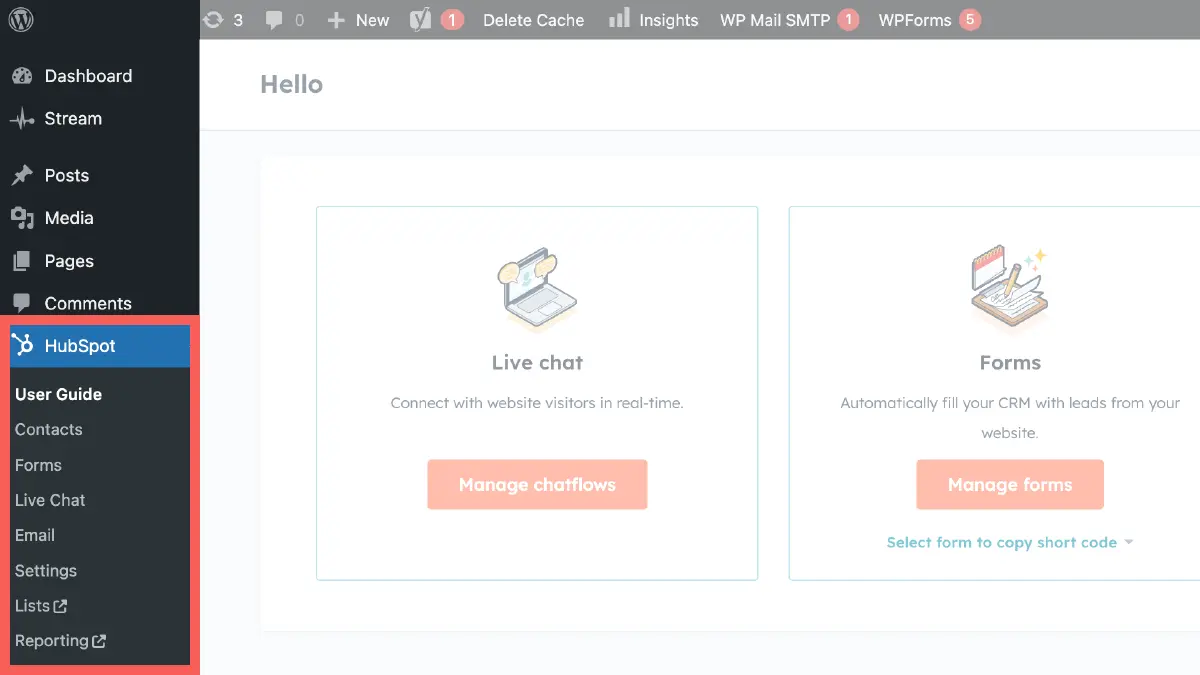 The HubSpot Plugin can Boost WordPress
The all-in-one HubSpot plugin provides elements including lead generation, contact management, email marketing, automation, pop-up forms, and even live chat and chatbots. It lives up to its name: all in one. Best of all, its analytics are collected and integrated seamlessly with WordPress and displayed in easy-to-interpret formats that will inform and increase the scope of your marketing efforts.
The two work together like a fine restaurant: WordPress is the dining room offering beautiful service and customer experience, and HubSpot is the chef and staff that function behind the scenes, rapidly interacting with each other and the dining room in such a way that actively builds customer satisfaction and drives growth.
With HubSpot, for example, you can set up a chat box on your website that directly correlates to all the information HubSpot has already gathered. When a repeat visitor opens the chat, the chat will recognize them and remember their interests, identifying that they have been to your site four times and which landing pages they visited. The chat can offer a personalized greeting ("Welcome back!') or a relevant download. Combined with an excellent marketing plan, HubSpot's versatility and capabilities can help to grow your business.
HubSpot Plugin is Optimal
It is possible to use HubSpot without the plugin, but the tracking will not run as seamlessly. With the plugin, a visitor who fills out a form on your WordPress site will be followed as they travel to different landing pages, and all their activities on your site will be converted into usable data in both WordPress and HubSpot. Knowing their page view, link clicks, and more can allow you to reach out with helpful information or build a contact. You could even start an automated chain of follow-ups to engage a relationship. 
Without the plugin, a contact's behavior will not be tracked across the site, forfeiting valuable data beyond what Google Analytics can even provide.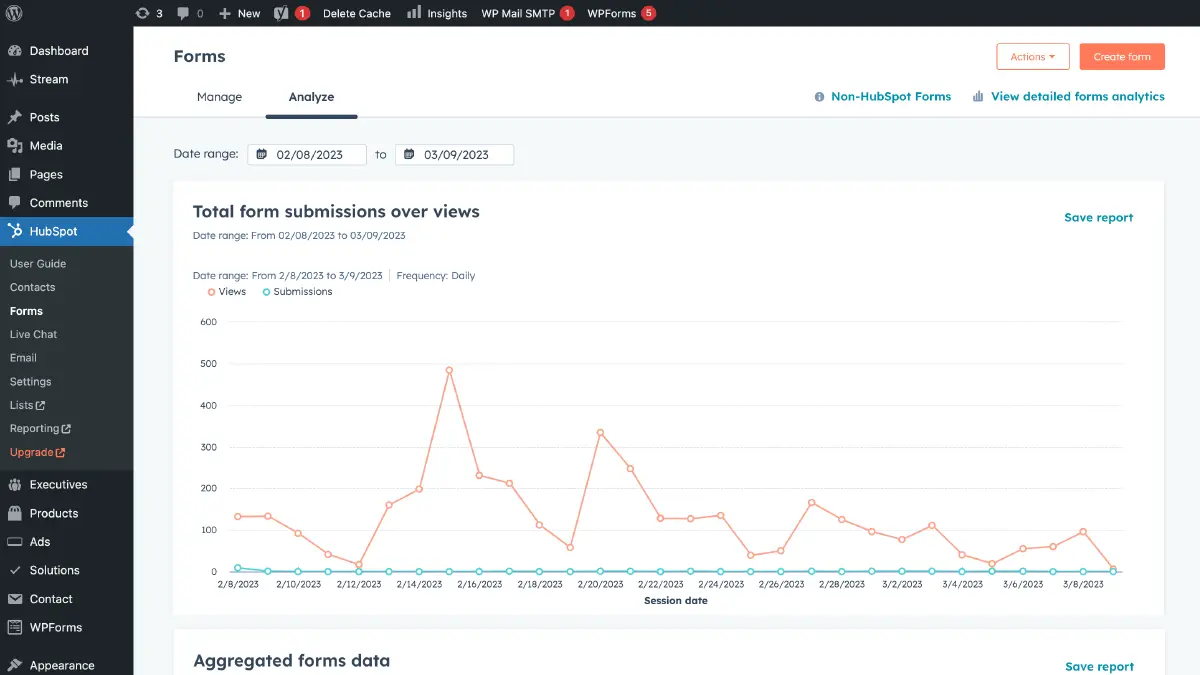 Ensure that the HubSpot tracking code is implemented on every website page; this includes call-to-actions and forms. 

Convert any existing forms to HubSpot-hosted forms. This will let you see analytics on each form (views vs. form fills) and allows for the import of customer contact information into HubSpot. HubSpot can still pull contact information off of a non-HubSpot form, but it adds more steps to the process (increasing the chance of errors). 

To ensure the plugin is working correctly, go to your HubSpot account and check the website analytics tab. 

The plugin is free and keeps up with relevant trends, but you can also upgrade to fee-based plans in order to adapt to your brand's growing needs.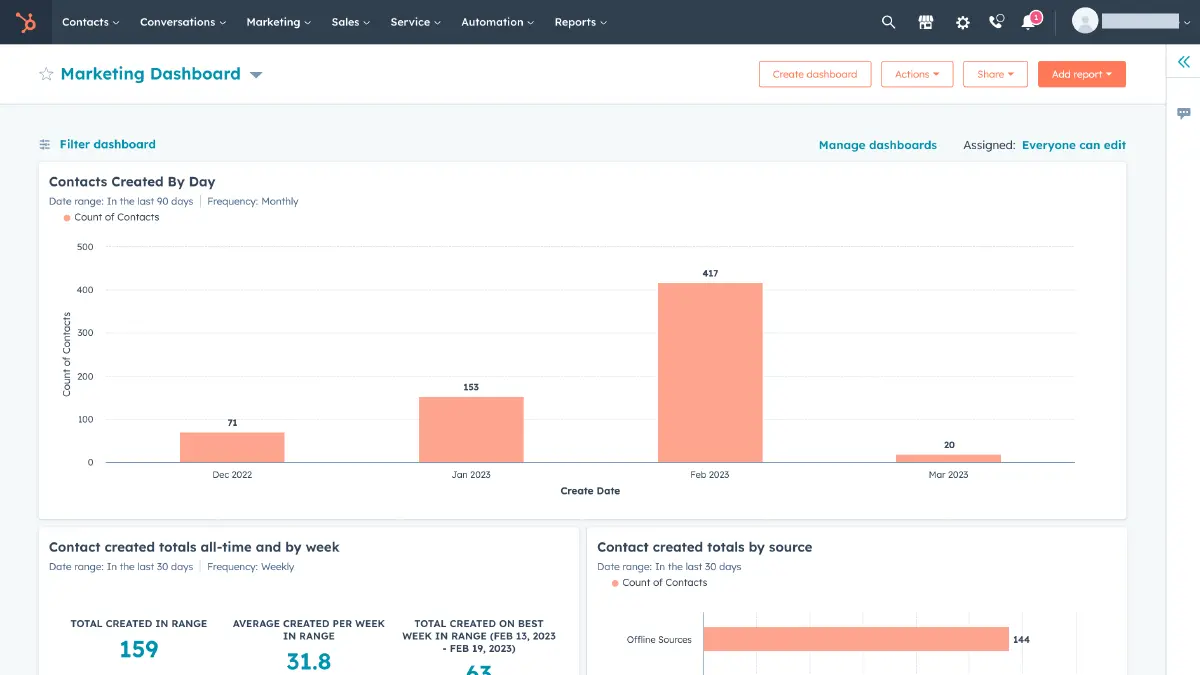 HubSpot Analytics and Your ROI
At Trillion, our marketing team appreciates the comprehensive tracking and reporting within HubSpot that give us details on all kinds of performance: blog posts, landing pages, email campaigns, and more. They are arranged in dashboards that make it easy to check and utilize the information. Some of our clients enjoy checking their own stats as well, which can streamline the coordination of marketing efforts and efficacy.
Furthermore, because of the way the plugin collects and displays data, HubSpot can give you a clear picture of your true marketing ROI. You can see who turned into a lead, who converted to a customer, and which marketing touchpoints led to that conversion. It puts this information all in one place readily and meaningfully, so you can use your marketing dollars for maximum benefit. 
WordPress, HubSpot Work Best with an Excellent Marketing Plan
Of course, these powerful tools need a well-thought marketing plan in place. Who is your target customer; what is the best way to reach them? Thinking through your goals will help inform the best ways to set up your website and which HubSpot features will work best.
If you'd like to explore how this combination can help increase your ROI, we'd love to help you. Reach out to Trillion at 908.219.4703 or fill out our contact form to get started.
The post Marketing Success: The WordPress HubSpot Advantage appeared first on Trillion Creative.
This content was originally published here.