Not so long ago the WordPress community had a chance to witness the release of Monstroid – a multipurpose WP theme with the capabilities of a framework. In fact, Monstroid is built on top of Cherry Framework with all of its plugins and optimization options.
This theme was released with a splash and managed to attract a lot of attention, partly due to its "updates" policy. Owners of Monstroid not only get lifetime patches and support, but are also allowed to use the entire assortment of readymade designs, switch between them at any time and modify their look. Their number of new subtopics is approximately 10-15 per month. So, we decided to present to you this overview, where new child themes will be added, as they become available.
Let's investigate the updateable showcase of all of the child themes Monstroid comes loaded with.
1. Furniture Company
Take a look at this creative theme for interior design and furniture websites. It is responsive, image-rich, and clean. Here you will find different types of parallax blocks. Some of them are full-width, while the others consist of two parts – a parallax one and one with a static image and overlaid text. The menu is minimal, but with a Mega Menu option. The general look of the blog can be customized via the Blog Layouts plugin supplied with Cherry Framework.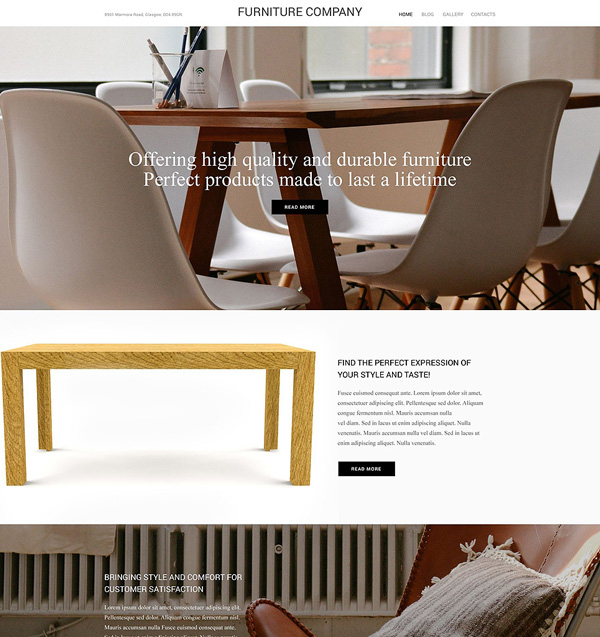 Live Demo | More info
2. School District
With this educational WordPress theme you can create a professional website for your school in no time. It has been designed in accordance with the popular Metro design trend, combining cheerful flat design elements with a smart ergonomic layout. The theme features stylish blog post previews on the homepage, and also testimonials with photos that increase their credibility. Additionally, there is a separate page for testimonials, powered by the Cherry Framework plugin.

Live Demo | More info
3. PixelArt
Initially designed as a theme for developers and those with creative minds, PixelArt can be applied to a website of any topic. Such versatility is achieved thanks to the clean, topic-agnostic layout. By uploading your own images you will be able to change its spirit completely. Those who want to launch a corporate website will appreciate the theme's pre-made 'Team', 'Services' and 'Portfolio' pages.

Live Demo | More info
4. Obrus
As a highly customizable theme for heavy industry construction companies and other top-tier businesses, Obrus offers outstanding presentational capabilities to impress clients and investors. It comes loaded with gallery and portfolio options and persuasive testimonials. Skill counters are placed into a separate block and are designed as circular loaders. If this is still not enough for you, Cherry Charts plugin allows you to create custom graphs and use them anywhere on website pages or in blog posts.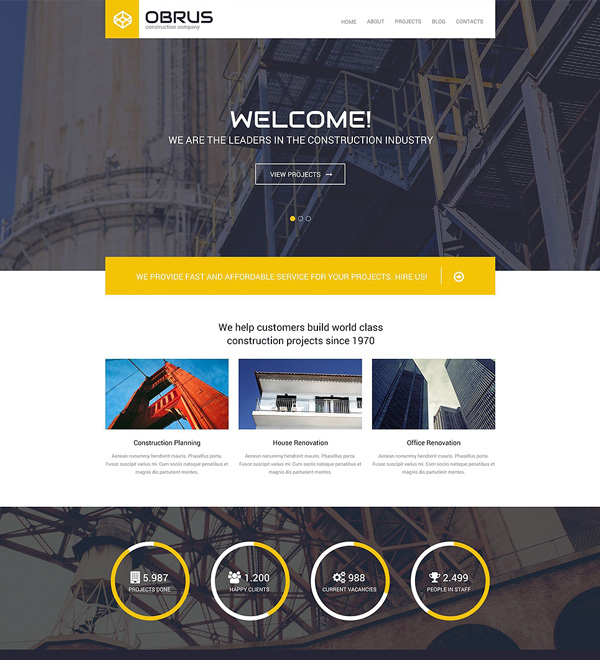 Live Demo | More info
5. HR Recruiting
The most noticeable part of this business theme is a full-page hero image with a transparent hard-fixed menu. Subtle visual effects are not flashy and are perfect for financial or insurance companies, who want their websites to be more formal; minimal icons serve this purpose too. For mobile platform developers there are predesigned buttons to link to their application on AppStore or Google Play. The theme ships with a standard set of readymade business-oriented pages: 'Testimonials', 'FAQ', 'About Us' and 'Our Team'.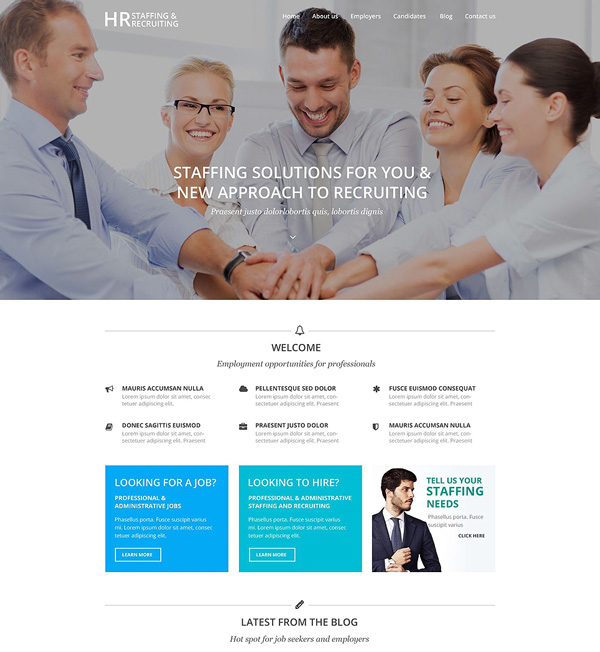 Live Demo | More info
6. Financial Advisor/IT
Gitex theme was designed to serve as a launching pad for business and corporate WordPress websites. It is fully responsive, sleek and loaded with pro functionality. The hallmark of this theme is its oblique shape of layout areas and expressive fonts. Its business-inspired color palette consists mainly of slightly desaturated cyan, white and shades of gray. If you prefer modern clean designs to classics, Gitex is definitely worthy of your attention.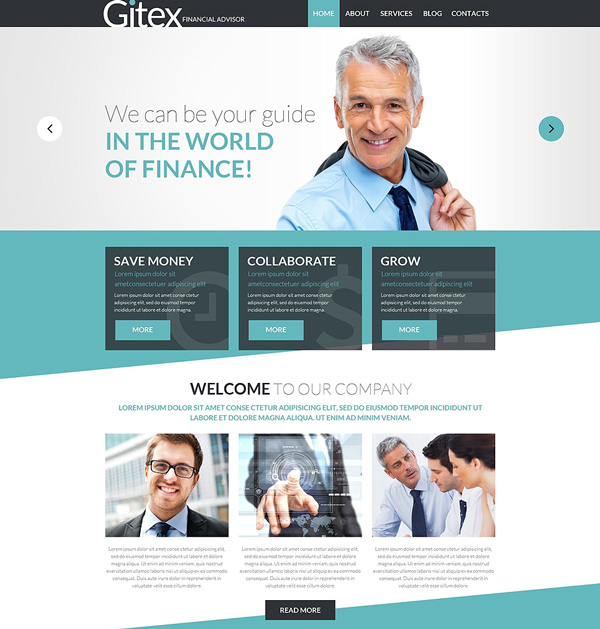 Live Demo | More info
7. Energetic Cheerleaders
This creative Monstroid theme boasts large responsive images and a combination of white and flat colored areas with a touch of material design trend. Among the design peculiarities there are a Facebook-styled timeline, creative social media buttons and round-shaped Image previews. It also includes plenty of purely functional features such as a sticky menu, Google Map or a button with a pullout login form on the right side of the layout.

Live Demo | More info
8. Cartoons Blog
For those who want to get a fully featured custom blog out of the box, without resorting to the Cherry Blog Layouts plugin, Monstroid offers this entertainment subtopic. It is supplied with a customizable popup newsletter subscription window and an interactive map. Blog post previews are laid out in a masonry grid and arranged in three columns. There is no sidebar, but the category menu is placed on the right, facilitating the navigation process. Specific design elements, such as ghost buttons and focus frames, highlight the most important elements of the blog.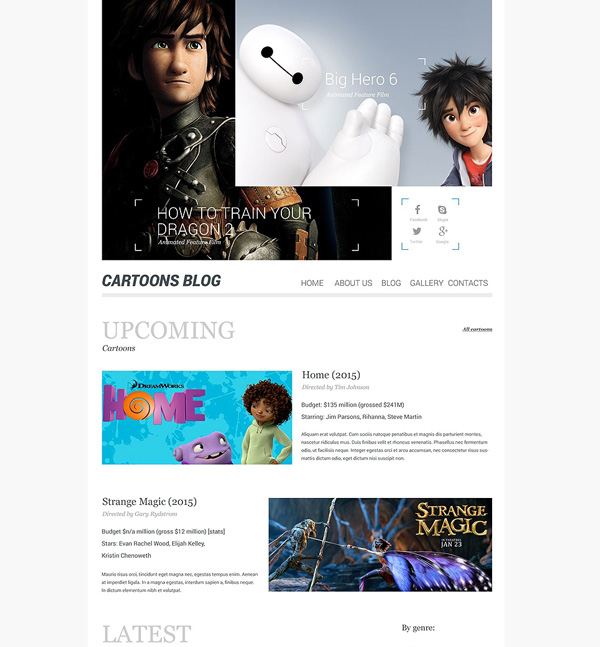 Live Demo | More info
9. Hypnosis
If you are looking for a simple yet ergonomic design without extra bells and whistles, but with rich functionality, Monstroid's Hypnosis child theme is what you need. This theme is intended primarily for health care and medical websites, which is why its look is fresh, trustworthy and vivid. The distinctive feature of the theme is its feature blocks with CSS-fueled folded corners adding a hint of 3D to the generally flat design.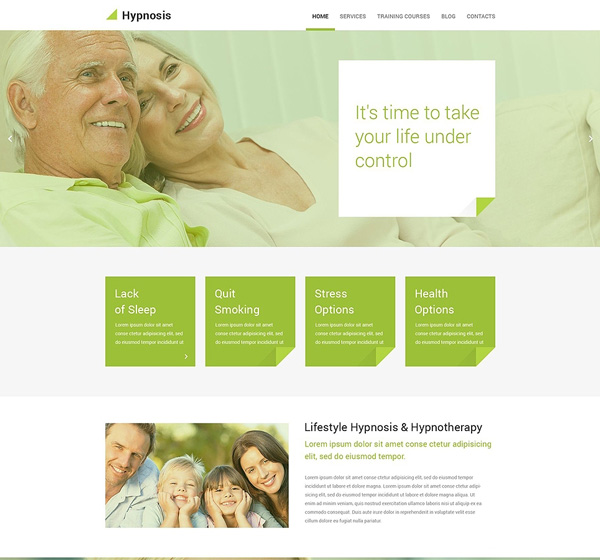 Live Demo | More info
10. Country Sunset
To promote your farm business, consider this Monstroid subtopic designed with calm pastel colors. It includes everything you might need for setting up a promotional website for your farmer's market or organic food store. This theme is one of those using large images throughout the entire layout. If you decide to change the background, you'll have to change the color of the menu as well. But in Monstroid this process is quick and simple.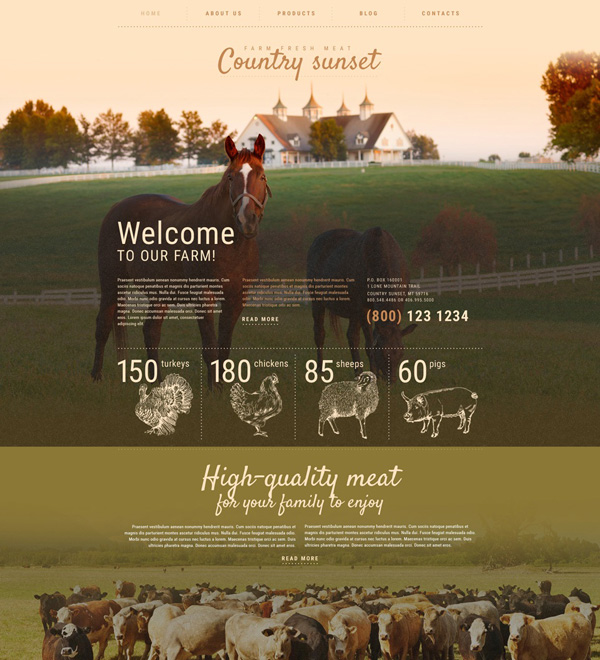 Live Demo | More info
11. Limousine
Limousine is a luxury WordPress theme with a long scrolling homepage layout, designed specifically for use as a landing page. With a lot of space to utilize, all its elements – fonts, buttons, headlines – were intentionally enlarged to look more significant and visible. As a landing page, it includes a client showcase, a fully featured contact form, a list of services with icons and descriptions, a complex gallery with categories in tabs, and much more. The menu is minimized into the iconic hamburger button.

Live Demo | More info
12. Interior & Furniture
Despite the seeming simplicity, this interior design Monstroid child theme has something to offer even the most fastidious business owners. Its sticky menu turns from transparent to solid as you scroll down the page. What's more, it has a Mega Menu option, so your visitors will be able to reach just about any page on your website in one click. And one more thing: when you reach a certain point while scrolling down, a script stops the scrolling, focusing your attention on a certain piece of information. This is a powerful trick aimed at directing your customers to any page of your choice on your site.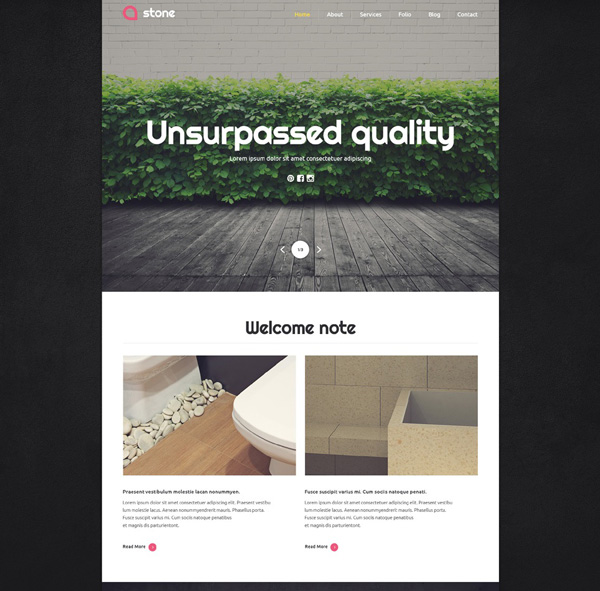 Live Demo | More info
13. Education
Featuring a large full-width area with a newsletter form, this theme is perfect for gaining email subscribers and conducting email marketing. We recommend using it for websites dedicated to education, e.g. schools, universities or online courses. Compared to the School District theme (#2 on the list) its layout is much more "adult", so setting up an official university website with this theme won't be a problem. As with any Monstroid child theme, it comes packed with a number of plugins that will help you implement graphs, testimonials, sliders and other content types into your layout and blog posts.

Live Demo | More info
14. Pasta and Ravioli Company
This restaurant theme looks vintage and contemporary at the same time. Elegant handwritten fonts and banner backgrounds are designed in retro-style, while other elements are ultramodern. A website based on this theme will benefit from detailed photos. It supports retina displays, so it's better to choose only high-resolution images. You will also like the extraordinary CSS effects, applied to sliders, parallax images and gallery previews.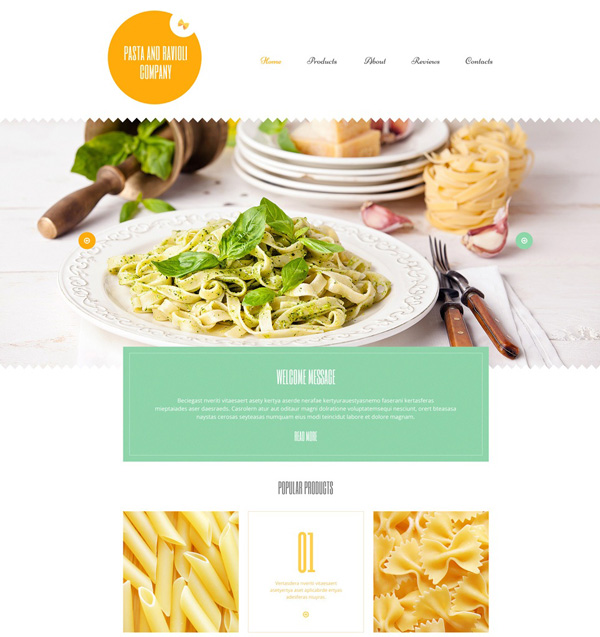 Live Demo | More info
15. Sunrise
This theme puts content in prime position. It is designed in black and white colors to fit any topic. Other elements are as simple as possible too: a dropdown menu, minimalist static areas. We recommend using websites built with this theme as landing pages or online business cards.

Live Demo | More info
16. Sky-High
Its layout starts with a static greeting hero image followed by a minimalist slider with business advantages. Such an approach allows you to use it for any type of business website. The template uses non-standard script fonts and is, therefore, best suitable for creative studios. Its contact page is supplied with a contact form and a Google map that allow you to be in touch with your clients.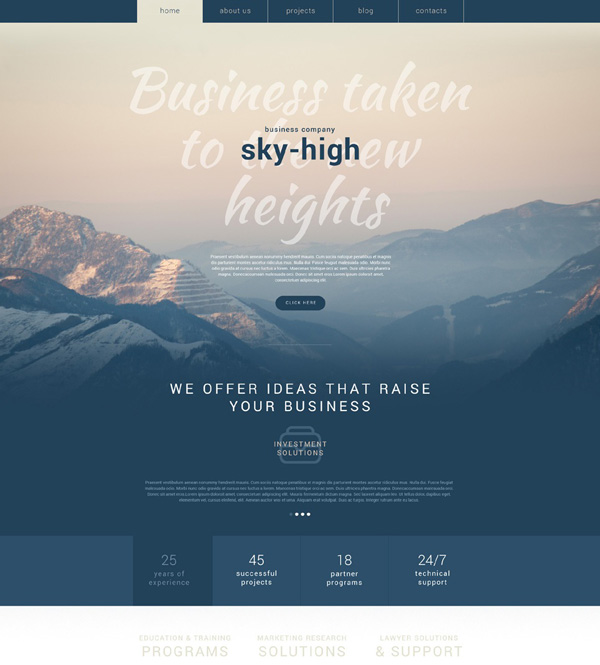 Live Demo | More info
17. Art & Photography
Now photographers and videographers can launch a customizable online portfolio thanks to the Art & Photography child theme. The template comes integrated with all possible tools for presenting your creative works: galleries, testimonials, portfolios and a full-width blog with large featured Images. This theme is the ultimate solution for a photo studio of any size as well. There are too many features to mention all of them here, so it's better for you to have a look at the live demo of this theme.

Live Demo | More info
Wrapping up
We hope that you've found the design that personally fits you. Remember that by owning Monstroid you can always switch to any other theme from the list above, and endlessly customize it by means of its numerous tools. We invite you to add this article to favorites to keep abreast of new Monstroid subtopics.
This content was originally published here.