Knowing you need to produce content for your website is much different from knowing what to produce. And it's far too easy to become paralyzed by thinking about every topic and keyword you could cover. Not knowing where to start is enough to make you not start at all. Enter Ubersuggest, a feature-rich SEO tool with a free tier that's more in-depth than you'd ever expect — and surprisingly user-friendly, even if you're still familiarizing yourself with all things SEO.
It's important to note that while Ubersuggest has a free tier with a lot of functionality, it's not exactly a 100% free tool. You'll notice that some features are blocked until you upgrade to premium. Though, again, the free version still offers quite a bit that other freebie SEO tools don't.
What is Ubersuggest?
Ubersuggest is Neil Patel's SEO research tool that covers keyword and content planning, competitor analysis, and useful backlink stats to help you with your own strategy. There are premium features that you can only access with a paid plan, but people love Ubersuggest for its freebie features. The amount of information you can get without paying is almost unheard of in the industry.
What Are Ubersuggest's Main Features?
We're going to walk you through each section of Ubersuggest, but first, here's an overview of its main features.
Backlink Data
While backlinks are an important component of Google's algorithm, it can be difficult for creators and website owners to build them. Ubersuggest shows you competing content that's getting backlinks and where those backlinks are coming from. You can then connect with those sources and see if they'll consider linking to your content. This will help you build an effective link profile by getting backlinks from the pages that will have a positive impact on your rankings.
Content Ideas
To create great content, you have to know what your audience wants. You can use Ubersuggest to see the content that's already getting backlinks and social shares in your niche. When you're able to look closely at the top-performing content in your niche, you can craft your content based on those insights.
Domain Overview
Ubersuggest lets you plug in the domain of a competitor to check out information about their content marketing, SEO, and social media marketing strategies. You can then determine two things: (a) what they're doing that's working that you're not, and (b) what they're not yet doing so you can fill that gap.
Keyword Suggestions
With Ubersuggest, you can generate head terms (i.e. popular keywords that drive high search volume) and more niche long-tail phrases, totaling hundreds of suggestions to add to your copy. For each keyword, you'll also be able to see competition, volume, and seasonal trends stats to better guide your strategy. Plus, the keyword list generated by Ubersuggest combines the keywords your competitors are using with phrases that people are searching for in Google for a well-rounded strategy.
Top SEO Pages
Creating content only matters SEO-wise if people actually find it and stay on the page (bonus points if they share your content). Ubersuggest's Top SEO Pages report lets you see the pages your competitors are ranking for and the most popular organic keyword phrases that are being used. You can also see which ones are getting love from other leading sites, like major social media platforms. You can then use that insight to guide your content strategy.
Who is Ubersuggest For?
Ubersuggest is an excellent tool for freelance writers on a budget who need to plan and optimize content. However, anyone or any business with a blog can benefit from Ubersuggest.
And since the tools are available for free, there's no risk in trying it out. Basically, if you need to figure out which content to create for your audience and which keywords to use, Ubersuggest can help you.
Also, if you've ever Googled a question about digital marketing or SEO, odds are one of Neil Patel's articles has popped up high in search results. If you've turned to him time and time again for advice, you may feel more comfortable using Ubersuggest over other services. Ultimately, many free and paid SEO tools have similar features, and the one that's best for you is often the one that you feel comfortable and satisfied using. You can always explore and try out other tools in the future.
Free vs. Paid Plans
For this article, we're going to focus on the free tool, because we're impressed with how much it offers. However, we wanted to quickly go over the paid tiers, too, in case you're interested.
The biggest problem with the free plan is how limited it is. While you can use most of the tools, you can't use them very much. You have daily limits and other types of caps that pump the brakes on how much you can actually research.
If you keep coming up against this problem but you like Ubersuggest enough to keep using it, consider upgrading. It is definitely worth doing so if you have the budget for it. There are three tiers:
With premium plans, you'll get more projects, tracked keywords, locations, reports, etc. You also have the option to pay a one-time lifetime fee.
If you are planning on using the tool for a long period of time, especially as your primary SEO research platform, this can be a good option. And Neil Patel is known for consistency and quality, so you can pretty much rest assured the platform isn't going anywhere.
How to Use Ubersuggest for SEO Research
Now we're going to jump into Ubersuggest, covering every single feature and talking about how to make the insights work for you and your website.
Getting Started With Ubersuggest
To get started, go to Ubersuggest and enter a domain or keyword in the search box. Select your language/country combination, and then click Search. At this point, you don't have to be signed in.
I searched for "office decor" with the English / United States setting. While it brought me to a page with results, a pop-up said that if I create a free account, I can get:
Creating an Account
Clicking Create Free Account brings you to the page you'll see in the screenshot below. You can also go here to create an account. If you already have an account, there's a log-in link at the bottom of that page, or you can go here.
After registering, you'll be brought back to the Ubersuggest dashboard, and a pop-up will prompt you to create a project.
Creating Your First Project
In that pop-up, add your website URL and website name, then click Next.
If you navigate away from this, you can always select the Add Your First Project button in the Ubersuggest dashboard to get back to it.
The next window is Choose Locations. If your location isn't already filled in, you can enter it. If it is filled in and you want to change it, click the Language/Location section (in the example below, that's English / United States), which will get rid of that box. In the Enter a Country or City space, start typing your location — options will populate. When you're done, click Next.
The next box will be Add Keywords to Rank Tracking. If possible, Ubersuggest will add data from the Google Search Console, and you can select those keywords to add them to the list on the right. You can also paste keywords or import a CSV. With the free account, you're limited to 25 keywords. Click Next when you're finished.
The next window is Track Competitors, and there are two tabs. Under Search Engine Competitors, Ubersuggest may pull competitor data for your website, which you can then add to the box to the right. You're limited to tracking two competitors with the free account.
The Business Competitors tab will show you the competitors you added to track in the Search Engine Competitors window.
When you're finished adding competitors, click Next. Before finishing, you'll be asked if you want the Neil Patel team to help you grow your traffic. If you click Yes, you'll fill in information similar to the screenshot below. Otherwise, you'll be taken to your dashboard.
And if you click Yes and decide not to give your contact information, you can always back up and head to your dashboard regardless.
The Ubersuggest Dashboard
Once you've created your project (you're limited to one on the free plan), you'll be brought to your dashboard, which looks like this:
If you navigate away from this view and want to return to it, you can click the Dashboard link on the top-left of the page:
Before we talk about the lefthand sidebar options, let's look at the main dashboard. Note that we'll talk about these features more as we explore that sidebar.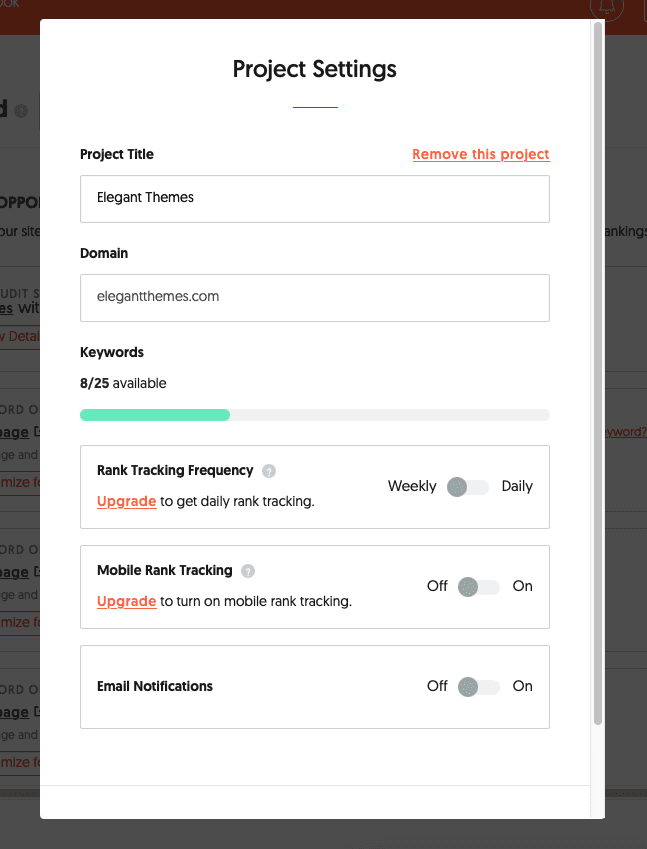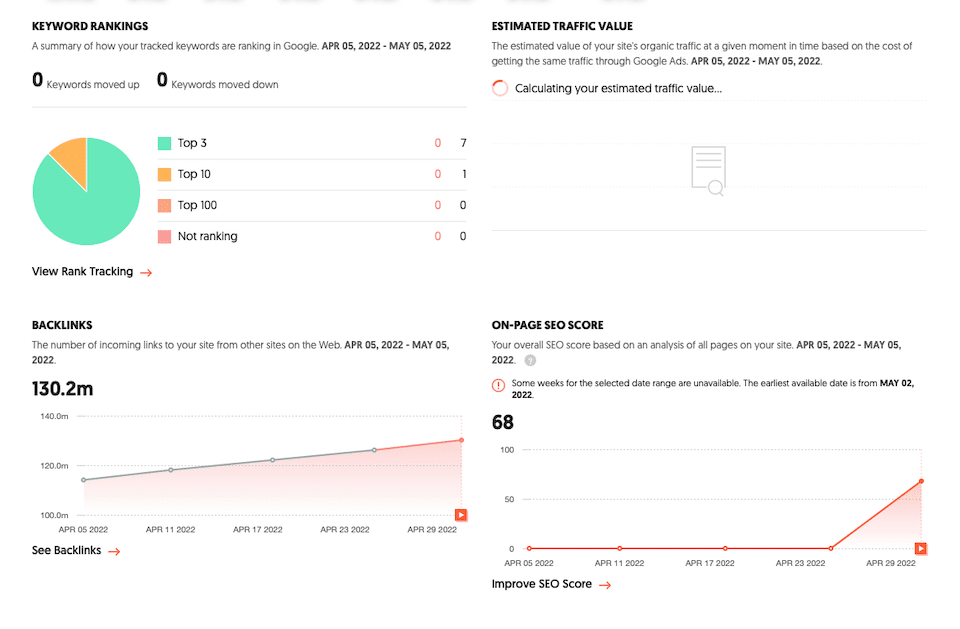 Rank Tracking
Clicking Rank Tracking in the lefthand sidebar shows you a page that looks like this:
This pulls data from the keywords you added when you were setting up your project. Once you've been using Ubersuggest for a few days, this information should populate. With this feature, you can:
If you are on a free account, you won't be able to see mobile rank tracking, since that's a premium feature.
Site Audit
Clicking Site Audit in the lefthand sidebar shows you a page that looks like this:
This gives you a broad view of your website or a URL and the technical issues you should fix to improve its SEO. With this feature, you can:
If your site has more than 150 pages, you'll need to upgrade for a full site crawl. You can still see stats without upgrading, they just won't be as exact as possible.
Chrome Extension
Clicking Chrome Extension in the lefthand sidebar shows you a page that looks like this:
This is a promo page for Ubersuggest's Chrome extension, which provides keyword and other SEO data when you're visiting different websites.
Clicking Keywords in the lefthand sidebar populates a menu underneath with six options:
Let's go over each one.
Keyword Overview
At the top of the Keyword Overview page, you can enter a keyword, set the Language and Location, and then click Search. For that keyword, you can then see:
That line with the Average Web Page stats may be small, but it's pretty important. This tells you the number of backlinks you'll need in order to rank on the first page for the keyword. By following this advice, you won't waste your time trying to get half as many backlinks as you actually need.
Unfortunately, there's a lot here that you can't see until you upgrade, like historical keyword data and the age range of people searching for that keyword.
Keyword Ideas
This page gives you all sorts of keyword ideas based on the main keyword you're digging into. By default, you'll see the Suggestions view, though you can also click Related, Questions, Prepositions, or Comparisons at the top. These all pull from the main list but narrow down the options a bit. This is helpful if you have an idea of the type of content you want to create.
For example, Questions can be used if you want your title to be in the "how to" format, while Comparisons is useful if you're creating a versus-style article. You can also combine different types of keywords within a piece of content.
You can also filter by Volume, SEO Difficulty, CPC, or Included/Excluded Keywords. For each keyword, you can see volume, CPC, paid difficulty, and SEO difficulty. By clicking Search Results to the right of a keyword, you can see the pages that rank for that keyword.
Keywords by Traffic
This is an excellent feature for competitor research. You can find the keywords that drive traffic to a domain or URL. Results can be sorted by Volume, SEO Difficulty, or Included/Excluded Keywords. By clicking Search Results to the right of a keyword, you can see more pages that rank for that keyword to continue your competitor research.
Similar Websites
This feature is specifically for competitor analysis. With the free version of Ubersuggest, you'll see data for five competitors. The Monthly Traffic chart shows how they relate to one another at a glance. Under that, you can see stats for each website, including common keywords, keywords gap, estimated traffic, and backlinks.
The Common Keywords and Keywords Gap reports are especially helpful. You can see exactly where to focus based on the keywords you already have enough of and the ones that you need to add more of. Clicking View All expands a list of the keywords.
Content Ideas
With this feature, you'll get content ideas based on a keyword, pulled from other sources that are already ranking for it. You'll see the page title, URL, estimated monthly visits, number of backlinks, and social shares.
By clicking Keywords to the right of the number under Est. Visits, you'll see the keywords that generate monthly visits. You may have never thought of those keywords on your own, but you can now add them to your content to boost your SEO.
Keyword Lists
This feature lets you save keyword lists that you can return to later. To get started, click the Create Your First List button.
You'll name your keyword list, then select Create List.
You can then add keywords and set a language and location. When you're done, click Add Keywords.
You'll then see your Keyword Lists in that section.
Clicking on the list's name will open up the list with each keyword and its stats. You can add keywords to the list, too.
Clicking Traffic in the lefthand sidebar populates a menu underneath with two options:
Let's go over them.
Traffic Overview
There's a lot here, so let's go through each part. At the top, you'll see traffic stats for your domain, along with ratings for each one ("amazing" in the screenshot below):
Under that is a graph that shows your organic monthly traffic.
Next, you'll see a graph with SEO Keywords Ranking.
The next section has your domain's Top SEO Pages, which you can filter by country. For each page, you can see the estimated monthly visits and backlinks, and view more information about each stat. You can also see how well the page is performing on social.
While you can use this tool for your own site, it's especially helpful to use with a competitor's site. You'll find the pages that are garnering a lot of traffic for a competitor, and you can then look into the page to see what's working about it. Analyzing a competitor's content is almost like having a template that you can adopt for your own site.
(Note that this will work best if you have a similar Domain Authority to the site you're competing with.)
The last section on this page is SEO Keywords, which you can also filter by country. For each keyword, you can see the search volume, ranking position, and estimated monthly visits. If you click the arrow to the right of a keyword, you'll be brought to a Keyword Overview page for it.
Top Pages by Traffic
This is the same info as the Top SEO Pages in the Traffic Overview, but it expands it with more URLs to explore.
Clicking Backlinks in the lefthand sidebar populates a menu underneath with two options:
Let's go over them.
There's a lot here, so let's go through each part. At the top, you'll see three backlinks-related stats for your domain, along with ratings:
Under that is a Backlinks Over Time graph that shows the numbers of backlinks and referring domains for your website.
If you scroll down, you'll see three more sections:
The last section is a large Backlinks chart. The first column of the chart lists the backlink source page and the target page URL and title. Then, you can see stats about the source page and the backlink, including:
Backlink Opportunity
This is another Ubersuggest tool that's just for competitor research. You enter your site's domain or URL, as well as one for a competitor, and then click Search. A report will then be generated that shows the domains that link to your competitors but don't link to your site.
It looks like this is a premium feature. There was a pop-up saying to return tomorrow when our daily limit resets, but even after creating a brand new account and only trying to use this tool, we still weren't able to.
Ubersuggest vs. Other SEO Tools
Ubersuggest isn't the only tool for planning and optimizing content. There are also Ahrefs, Moz, Semrush, and more to choose from. To know how Ubersuggest compares to its competitors, let's first recap what Ubersuggest does best:
There are additional features of other tools that make them a better choice over Ubersuggest in some cases. For example, the Chrome extensions MozBar and WooRank provide real-time website evaluation directly from your browser.
Screaming Frog will tell you SEO-impacting problems to fix, like broken links. While Ubersuggest may have similar features, they're not necessarily the core features the tool's known for. You may opt to use Ubersuggest along with one of these other services for more exhaustive guidance.
Then there are tools that perform similar services to Ubersuggest but may do a better job. For example, the Ahrefs Backlink Checker has a website crawler that's almost as good as Google's, so you may feel that you get better data from it than from Ubersuggest.
Semrush's Position Tracking tool doesn't just analyze competitor information but also shows you how you perform in relation to your competitors and continues to monitor that info. Again, whether you go with another tool completely or use it along with Ubersuggest is up to you.
The Verdict
Ultimately, Ubersuggest is an excellent option for getting your SEO strategy started, with a lot of free, thorough features you'd have to pay for elsewhere. That's where it shines, especially for novices. It's an easy-to-understand, simple-to-use tool that takes a lot of the guesswork out of SEO research. You can pull up Ubersuggest and begin learning about your audience and competitors right away.
However, once your SEO strategy has moved beyond beginner or intermediate status, you may find that Ubersuggest doesn't provide the in-depth insights you need. When you're ready to level up your efforts, you may decide to move on to a different tool. That's when a more advanced tool like Ahrefs or Semrush may come into play, especially if you can afford the premium features.
Wrapping Up
Ubersuggest's keyword tools are incredibly rich and helpful — even more so when you consider how much you're getting without spending a penny. It's easy to use even for a total beginner, and the wealth of information that you can find — and how easy it is to understand — is almost incomparable in the niche. If you're looking to create content for your website and need even more SEO tools and not sure what to write about or the keywords to include, you'll have more than enough information to work with from Ubersuggest.
What do you think about Ubersuggest? Let's talk in the comments!
This content was originally published here.