Do you want to use maintenance mode in WordPress? Maintenance mode makes it easy to hide your site from public view while you work on it.
In this article, we'll show you the BEST way to hide your site. This method is awesome because you can also create your own custom maintenance mode page.
Where Is Maintenance Mode in WordPress?
To activate maintenance mode in WordPress, you need the right plugin. We recommend SeedProd.
SeedProd is the best landing page builder for WordPress. It lets you easily create:
Most WordPress maintenance mode plugins are super basic. Often, they only have 1 setting: On or Off. But with SeedProd, you get tons more control over your maintenance mode settings.
For example, SeedProd lets you:
You can check out the full list of features in our detailed SeedProd review.
For now, let's focus on making a maintenance mode page for your WordPress website.
How to Put Your WordPress Site into Maintenance Mode
We'll show you how to create a maintenance mode page and activate it on your site.
Let's start by installing the plugin.
Step 1: Install the SeedProd Plugin
To start, you'll want to install and activate the SeedProd plugin. Check out these steps on how to install a WordPress plugin if you've never done this before.
Don't forget to enter your SeedProd license to unlock all the features in the plugin.
Now we're ready to make your maintenance mode page.
Step 2: Create WordPress Maintenance Mode Page
Now let's set up your maintenance mode page in SeedProd.
Start in the WordPress dashboard. You'll want to click SeedProd » Pages in the left-hand navigation.
At the top, you'll see the 4 types of pages that you can create with the SeedProd builder. Here's what they all do:
For this tutorial, let's go ahead and click the Set Up a Maintenance Mode Page button.
SeedProd comes with tons of different templates. We'll pick one and customize to show you how the SeedProd builder works.
Go ahead and choose the template you like from the list.
Great! Now we're ready to make your maintenance mode page.
Step 3: Customize Maintenance Mode Page Template
Now that you've clicked on a maintenance mode template, you'll see it open up in the full-page builder in SeedProd.
You can change any part of your page without writing any code at all.
Let's reduce the size of the header and the text. You can click the smartphone icon to activate Mobile Preview if you want to see what your changes will look like on a small screen.
SeedProd has tons of blocks and sections that are ready to add to your maintenance mode page. You can add elements like:
You can use these blocks to make a completely custom layout.
In addition, don't forget to explore the Connect tab.
From this tab, you can easily connect your maintenance mode page to your favorite email marketing service. SeedProd supports tons of options here, including:
You can use your chosen email marketing service with a newsletter signup form to make it easy to get subscriptions while your site is offline.
Save
Step 4: Customize Maintenance Mode Settings
SeedProd makes it easy to control access to your page while your site is in maintenance mode. Let's click Page Settings at the top of the SeedProd builder to explore the options.
First, type in a title for your page here. The Page Title you set here will show up in the browser tab.
If you want, you can also set an SEO title and meta description by clicking SEO on the left. That way, you can have a different title show up in search results, like the name of your website.
Now let's click Access Control to open up the access settings.
These settings let you allow certain people to bypass maintenance mode. There are 3 different ways to use this.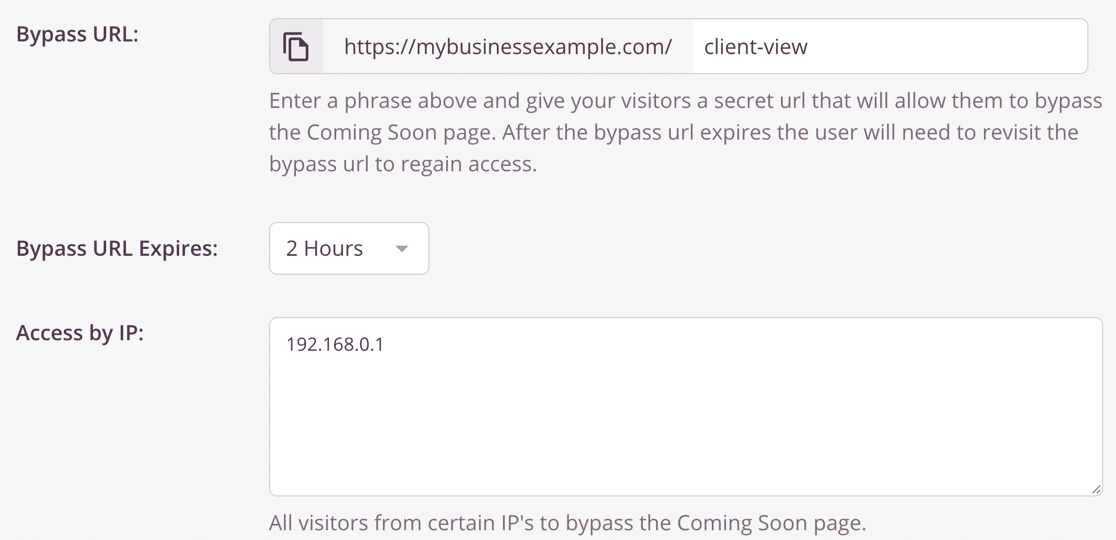 Scrolling down further, we find another important setting: Include/ Exclude URLs. This allows you to activate the maintenance mode page on:
If you want to avoid taking your entire site offline, this is a great option.
All set? Click the green Save button at the top to save.
Step 5: Put Your WordPress Site in Maintenance Mode
Now we're ready to put your WordPress site into maintenance mode.
To start, click the dropdown next to the Save button and select Publish.
Now head back WordPress dashboard and open up SeedProd » Pages.
You can enable Maintenance Mode by clicking the switch to make it Active.
And that's it! Now you know how to make a completely custom maintenance mode page with SeedProd!
Next Step: Add a Contact Form to Your Page
Did you know that WPForms works great with SeedProd? You can easily embed any form on your WordPress maintenance mode page so that visitors can still contact you.
Check out Is WPForms Worth It? to get an in-depth review of WPForms.
Ready to build your form? Get started today with the easiest WordPress form builder plugin. WPForms Pro includes lots of free templates and offers a 14-day money-back guarantee.
If this article helped you out, please follow us on Facebook and Twitter for more free WordPress tutorials and guides.
This content was originally published here.