Do you want to create a thank you page on your WordPress website?
With a successful thank you page, you can build better relationships with your audience and transform leads and sales into loyal, returning customers.
You might think that building a professional-looking thank you page is hard. The truth is, it's easy with the right tools.
So, in this article, we'll show you how to make a thank you page in WordPress, with no coding or design experience required.
Before we start, let's explore what a thank you page is and why you should use one on your website.
What Is a Thank You Page?
A thank you page is a web page you send visitors to after completing an action on your website. The action can be anything from signing up for your email newsletter or buying a product to downloading a free bonus or registering for a webinar.
The primary purpose of a thank you page is to "thank" users for carrying out that action and, in many cases, to tell them what steps they should take next.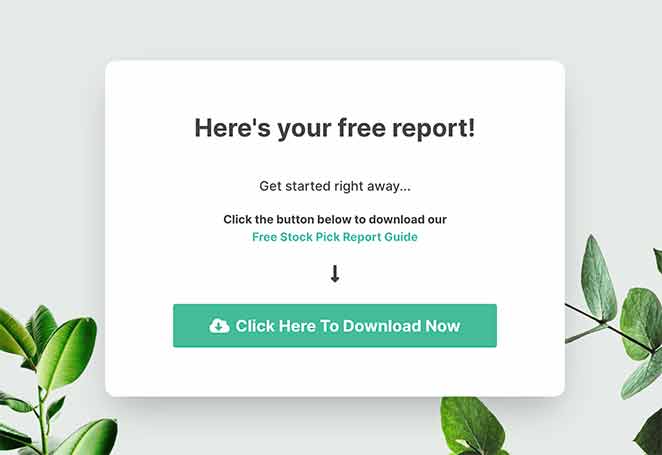 But thank you pages go a little further than offering a simple thank you message. They work on a psychological principle called commitment and consistency, a powerful persuasion trigger in marketing.
Here's how it works…
When someone complies with a simple request, such as opting in for your email newsletter, they're much more likely to comply with a similar or bigger request further down the line, like placing an order.
In other words, a thank you page can act as a springboard for moving users further down your sales funnel.
For example, let's imagine your business runs a subscription box service. To grow your email list, you might offer a free download in exchange for the user's email address.
After signing up for your list, you could show a thank you page after the form submission, giving users the chance to claim a free box in exchange for posting a message about your brand on social media.
Since they already signed up to your list, the user is much more likely to claim their offer and spread the word about your business.
Now that you know what a thank you page is, and the potential creating one has for growing your business, let's explore how to make one in WordPress.
How to Create a Thank You Page in WordPress
You might think that the best way to create a thank you page is to add a new page to your WordPress website. While this is certainly possible, it can be challenging to get a simple WordPress page to look good and have all the features you want without hiring a developer.
An easier solution is to use a landing page builder plugin like SeedProd.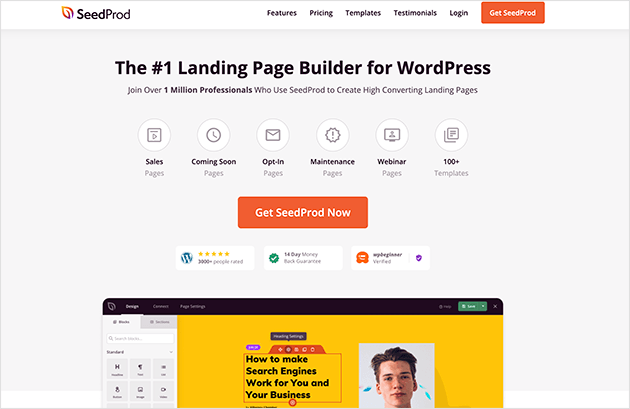 SeedProd is a powerful WordPress plugin devoted to creating professional-looking landing pages in WordPress that get results. With its drag and drop page builder, you can easily make stunning landing pages without needing any design experience.
This allows you to build beautiful pages visually, in real-time, including:
Webinar registration pages
It also comes with built-in coming soon, 404, and maintenance modes that you can turn on and off with a single click. This means you can easily hide your website while it's under construction and display a maintenance notice when you're making small changes and updates.
The SeedProd builder has various easy-to-use landing page blocks that allow you to add lead generation elements to your page. This includes optin-forms, contact forms, giveaways, countdown timers, social media buttons, and more.
You also won't need to start from scratch. With over 100+ landing page templates to choose from, getting started with a great-looking design is super-easy. Plus, you can integrate your landing page with all the major email marketing services, Google Analytics, Zapier, and more.
Best of all, SeedProd is a lightning-fast WordPress plugin. Unlike other page builders that are bloated and slow, SeedProd is bloat-free and optimized for speed. This means it won't slow down your website, giving you a better chance at ranking in search engine results and seeing higher click-through rates.
So if you want to make a thank you page on your WordPress site that gets results, here's how to do it with SeedProd.
Step 1: Install and Activate SeedProd
First, click here to get started with SeedProd and download the plugin. Then, you can follow these simple instructions for installing a WordPress plugin.
After installing and activating SeedProd on your WordPress website, you'll see a page asking for your license key. Your license key is delivered to your registered email address after purchasing the plugin.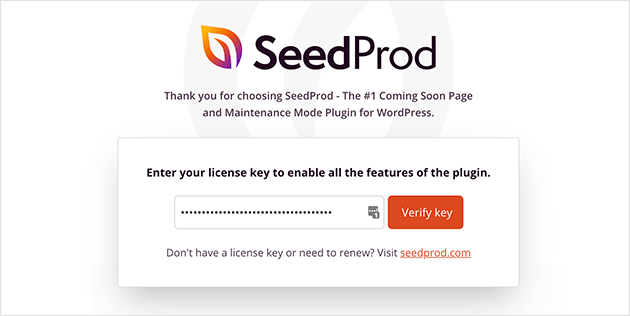 Copy the key and paste it into the field provided in WordPress and click the Verify Key button.
After verifying your SeeProd license key, scroll down the page and click on the Create Your First Page button.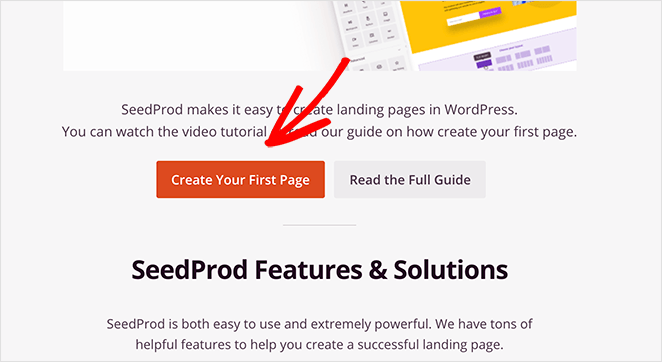 Clicking the button will take you to the SeedProd dashboard, where you can begin making your thank you page.
Step 2: Create a New Thank You Page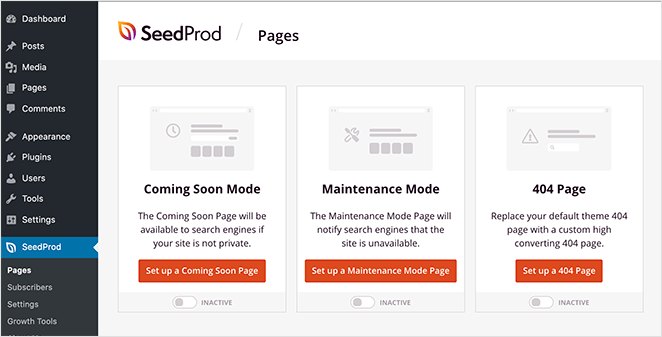 The SeedProd dashboard will show you several options to choose from. First, you'll see 3 different modes, including:
Coming Soon Mode: to create and enable a coming soon page.
Maintenance Mode: for showing a maintenance mode page.
404 Page: to create and show a custom 404 error page.
Below that section, you'll see the landing page area. This is where SeedProd shows any landing page you create in a simple list.
To make your first page, click the Add New Landing Page button.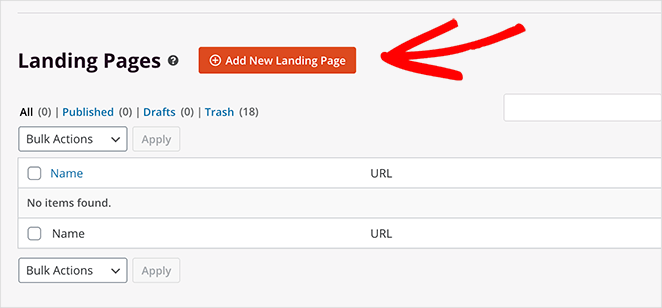 After clicking the button, you'll see several landing page templates you can use as your page's foundation design. You can filter the templates by clicking the different headings along the top of the page.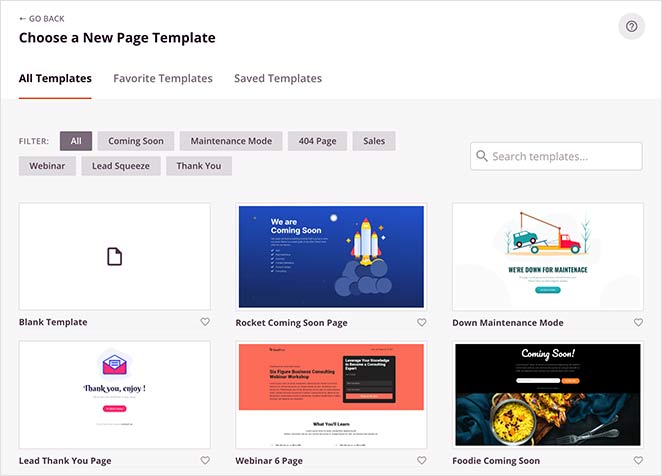 To view the thank you page templates, click the Thank You filter.
Then you can browse the templates until you find one you like. To launch the template, hover your mouse over the template thumbnail and click the tick icon.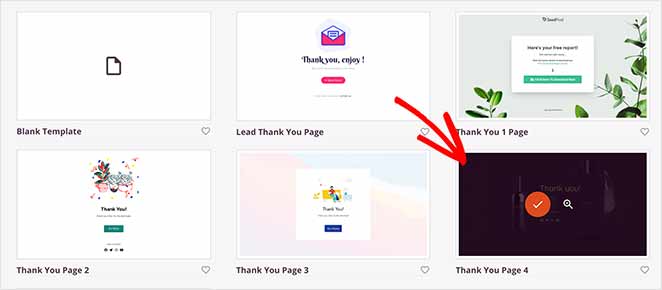 For this tutorial, we'll choose the Thank You Page 4 template.
After clicking the template, you'll be asked to give your page a name and URL.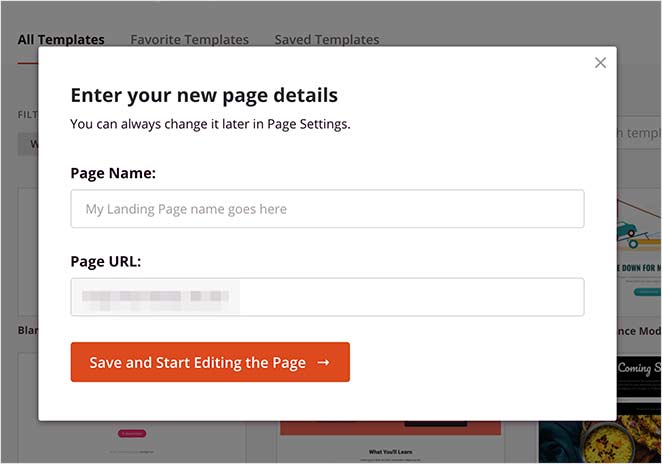 Then click the Save and Start Editing the Page button to launch your page in SeedProd's visual drag and drop editor.
Step 3: Add Content to Your Thank You Page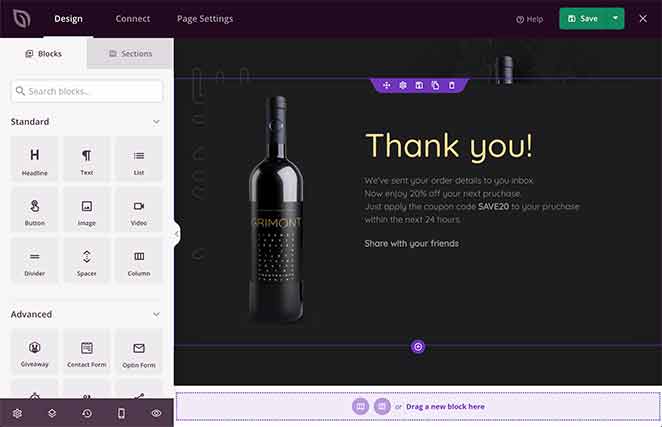 With SeedProd's visual editor, you can now start adding content to your thank you page.
On the left side of your screen, you'll see all the available landing page blocks you can use to edit your page's existing content and add new page elements.
The landing page blocks are separated into 2 different sections which are, Standard blocks and Advanced blocks.
The Standard blocks include everything you need to change your page's design and layout, such as columns, images, videos, buttons, headlines, and so on.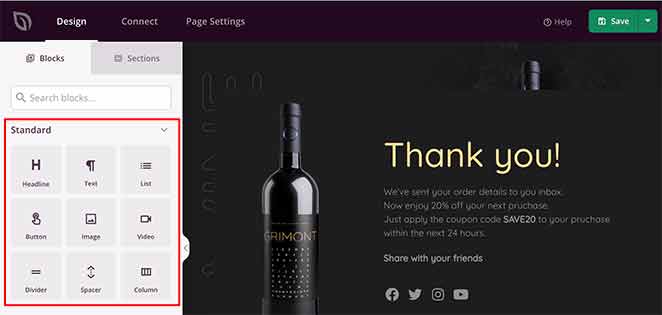 Whereas the Advanced blocks are more focused on lead generation and include the following page elements:
Optin Form: Encourage users to join your email newsletter (if you haven't already).
Countdown Timer: Add urgency with a timer, so users get your offer before they miss out.
Social Profiles: Ask users to follow you on social media.
Social Sharing: Get users to refer their friends by sharing your site on their social channels.
Progress Bar: Show people how close they are to redeeming their special offer.
Star Rating: Demonstrate how other customers enjoy using your products or services.
And much more.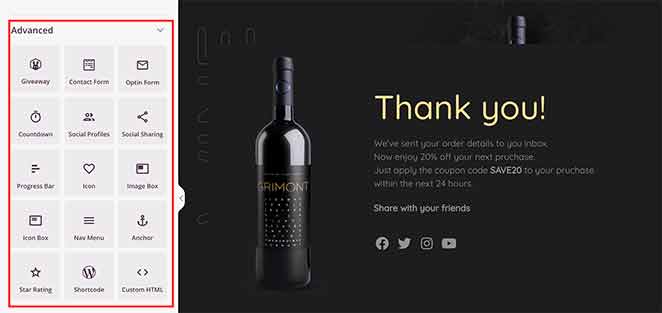 You can drag any block from the left-hand panel and drop them anywhere on your thank you page.
For instance, to encourage users to share your brand on social media after buying a product, you can use the Social Sharing block.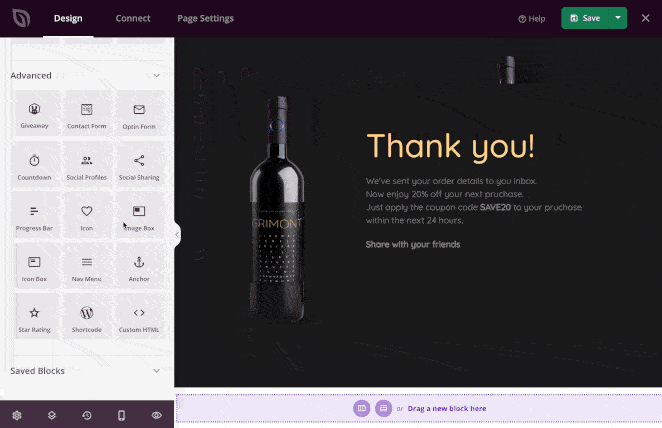 Just click the Social Sharing block in the left-hand panel, drag it over to your page preview on the right, and drop it where you want to display it.
When you click the block in your page editor, you can add extra social sharing options and change the button size and alignment. In the Advanced tab, you can also change the button spacing and shadows.
Many of the content blocks in SeedProd, also include pre-made block templates. This allows you to change the blocks' design with a single click.
For example, let's add a new image to the page. You can do that by clicking the image block in the original template.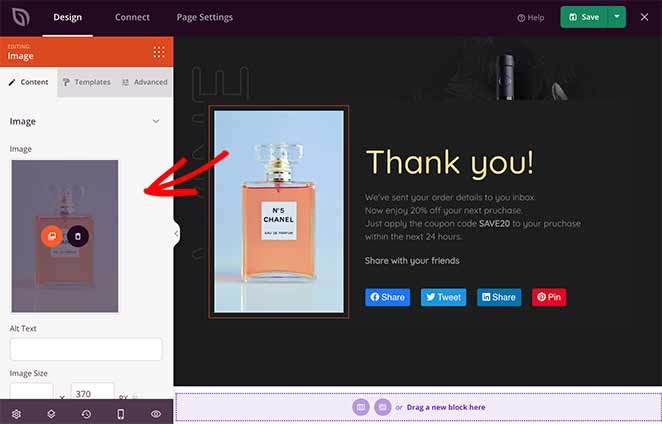 Then click the gallery button on the thumbnail in the left-hand panel. This lets you upload an image from your computer or WordPress media library.
To view block templates, click the Templates tab in the left-hand panel. This shows you various styles you can apply to the block with a click of your mouse.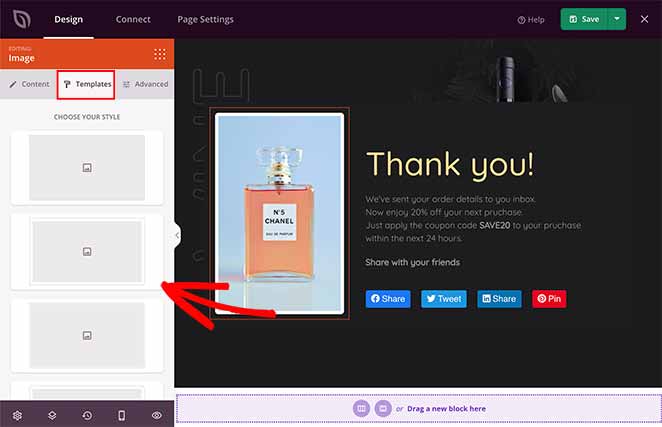 SeedProd also includes various sections you can add to your thank you page in the same way. These are whole page sections that you won't need to build from scratch, including Headers, Hero sections, Calls to Action, Features, Footers, and more.
You can find them by clicking the Sections tab, hovering your mouse over one you like, and clicking the plus sign to add it to your page.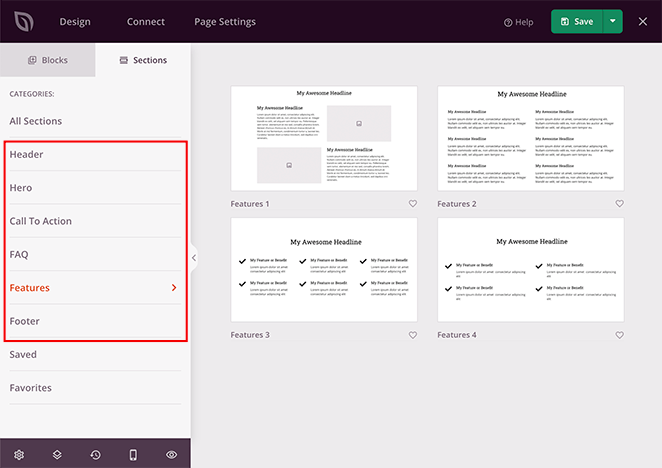 In the example below, we used a Footer section to add a logo and social profile buttons. This is a great way to encourage users to interact and engage with your brand on social media.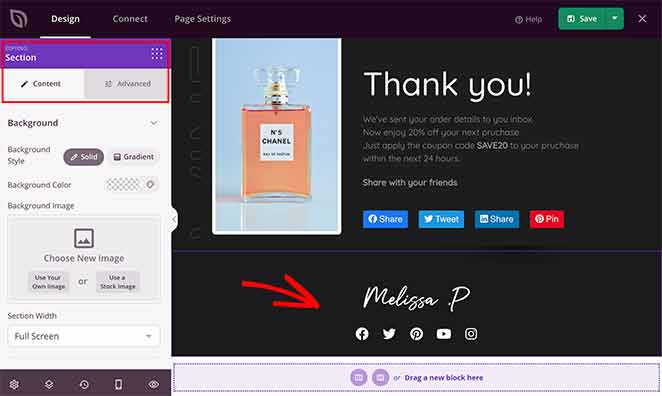 Remember to click the green Save button in the top-right corner of your screen to preserve your settings.
Once you're happy with your thank you page content, you can move on to customizing your page to match your branding.
Step 4: Customize Your Thank You Page
Customizing your thank you page is just as easy as the previous step. Just click the gear icon in the bottom-left corner of the page editor.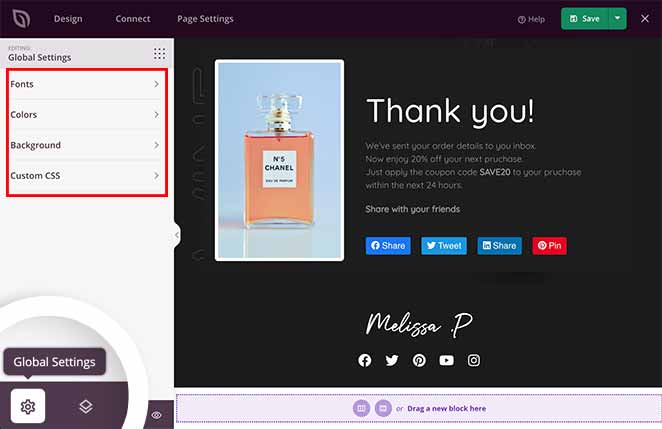 This will show the Global Settings page where you can choose global color settings, change your page background, fonts, and more.
To change your thank you page background, click to expand the Background tab. In this area, you can change your background color, add a new background image, or even use a video or slideshow for the background.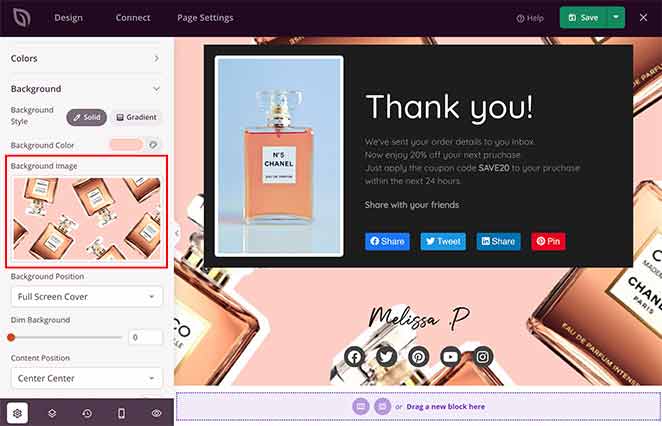 Under the Background Image section, hover your mouse over the existing image and click the gallery icon to upload a new background image from your computer or WordPress media library. 
Clicking the Colors section allows you to choose global colors for your thank you page. You can select individual colors for your Headings, Buttons, Text, Links, and more.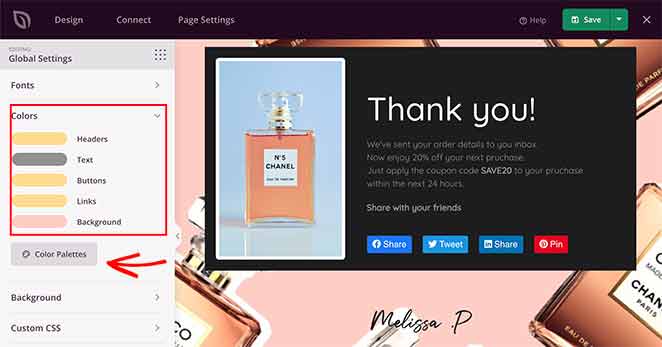 Or you can click the Color Palettes button to show over 20+ pre-made color palettes you can choose for your page.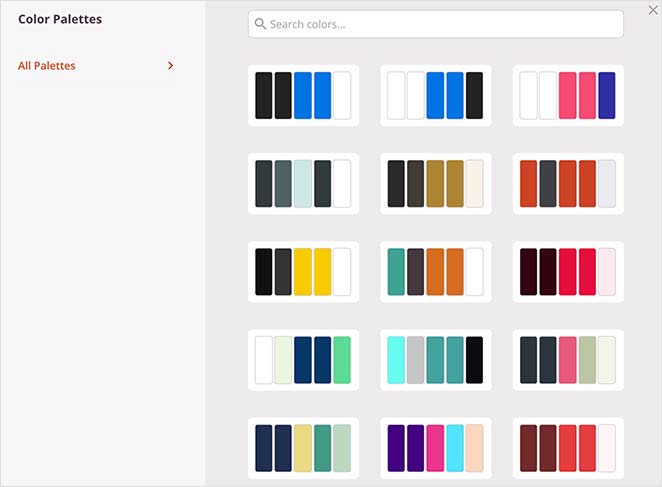 You can take a similar approach for your thank you page typography settings. Just click the Fonts section and choose from hundreds of Google web fonts.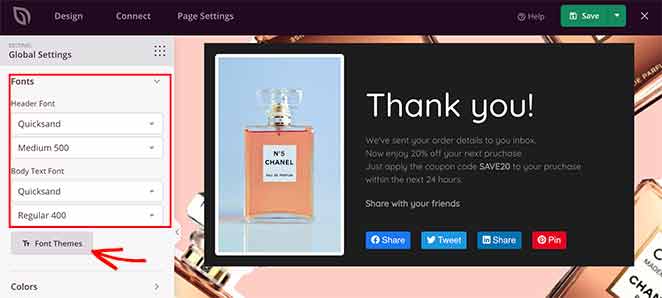 Alternatively, click the Font Themes button to see a variety of pre-made font combinations.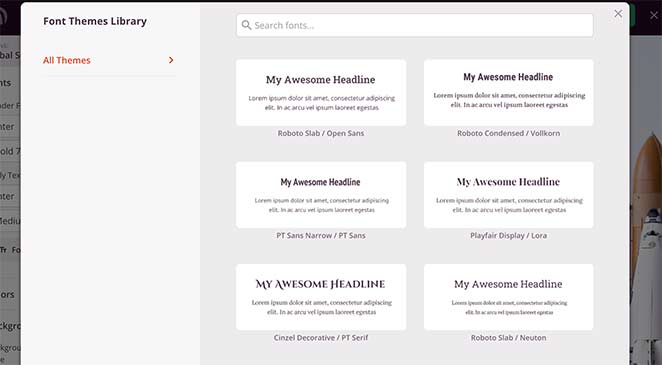 When you're happy with how your thank you page looks, click Save and move on to the next step.
Step 5: Connect Your Email List
SeedProd makes it super-easy to integrate your thank you page with various popular email marketing service providers. That way, you can automatically add users to your email list. It also lets you connect to Google Analytics to track your page performance and Zapier so you can link your page to thousands of third-party applications.
To integrate your favorite email marketing service, click the Connect tab at the top of the page. This reveals an overview of all the different services you can connect to in SeedProd.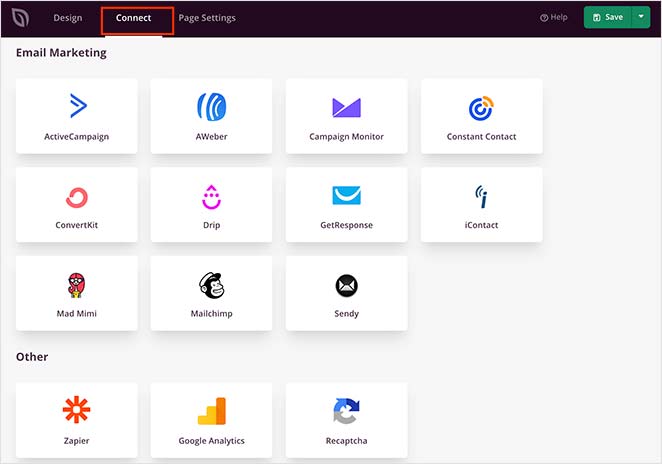 Next, find your preferred service in the list and click the Connect New Account button. Then follow the on-screen prompts to authorize your connection.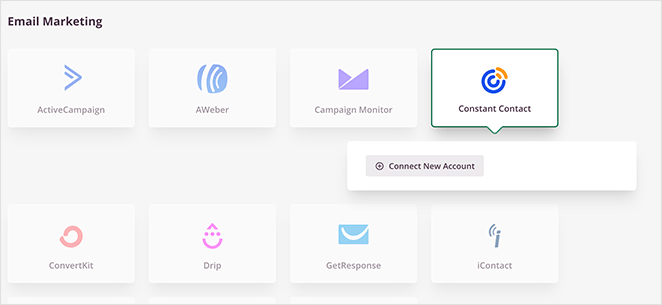 To see the full instructions for integrating specific email providers, see the SeedProd integration documentation.
Step 6: Configure Your Thank You Page Settings
The next step is to configure your thank you page settings. Click the Page Settings tab at the top of your screen. Here you will see several sections, which include General, SEO, Analytics, and Scripts.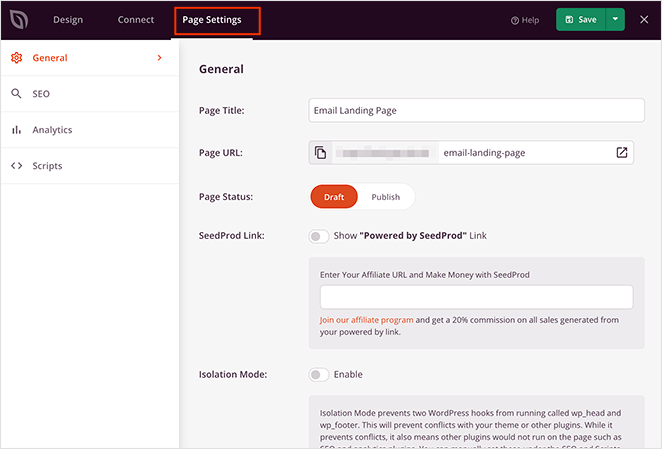 In the General settings, you can change your thank you page name, URL, and status. You can also enable Isolation Mode to prevent any WordPress theme or plugin conflicts.
The Analytics and SEO sections offer a shortcut to configuring your thank you page with tools like All in One SEO and MonsterInsights to monitor and improve your page performance.
In the Scripts section, you can enter custom scripts to your header, body, and footer sections, such as your Facebook tracking pixel, etc.
When you've finished with your thank you page settings, click the Save button.
Step 7: Publish Your Thank You Page
Now that you've made your thank you page and customized it to suit your brand, it's time to make it live on your WordPress website. However, before we do that, let's make sure your thank you page is mobile responsive.
To preview your page on different devices with SeedProd, click the Mobile Preview icon in the bottom-left area of your screen.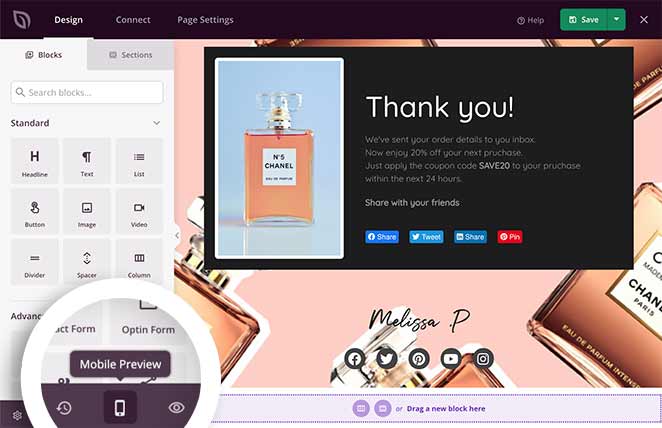 If anything doesn't look quite right, you can edit the mobile preview in real-time, just like the desktop version of your page.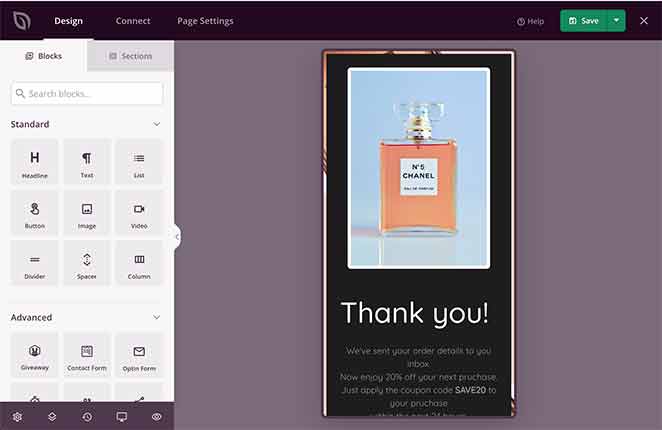 To switch back to the desktop view, click the preview icon once more.
When you're happy with how everything looks, click the downwards arrow next to the Save button and click Publish.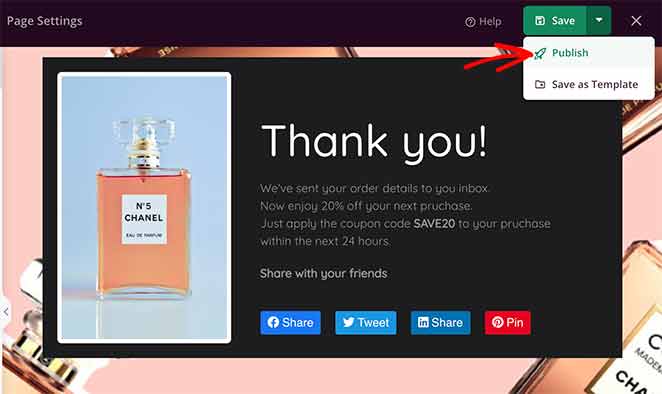 You'll then see a success message from SeedProd, notifying you that your page is live.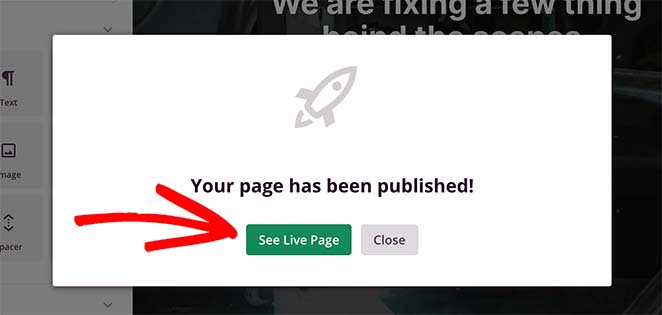 Click the See Live Page button to view your new WordPress thank you page.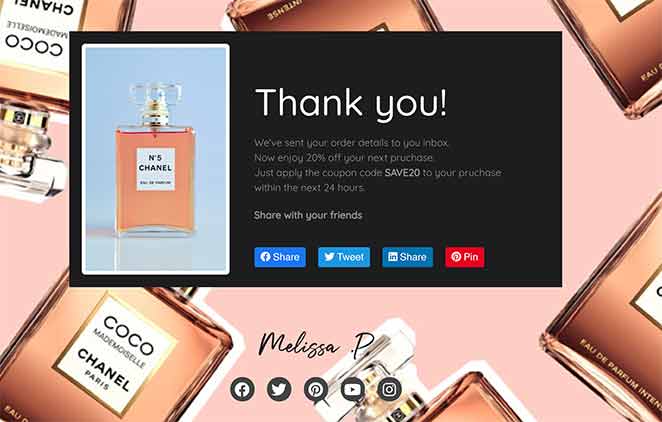 And that's it!
We hope this article helped you learn how to make a thank you page in WordPress.
Building high-converting landing pages is easy with SeedProd. With its powerful drag and drop builder, gorgeous landing page templates, and bloat-free code, you have all the tools you need to grow your business fast.
And if you liked this article, then please follow us on Twitter and Facebook for more useful content to help grow your business.
The post How to Make a Thank You Page in WordPress appeared first on SeedProd.
This content was originally published here.