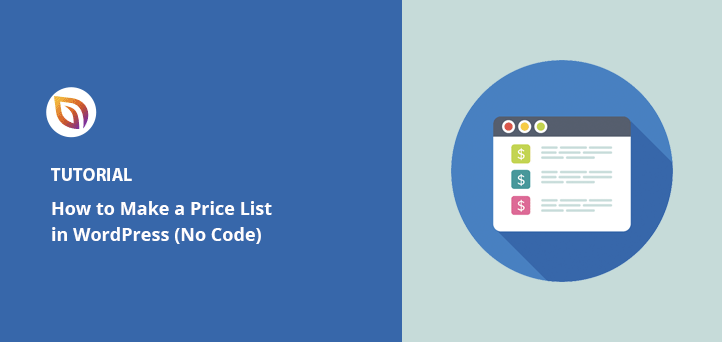 |||
Are you looking for an easy tutorial on how to make a price list in WordPress?
Showing clear and concise pricing on your WordPress website will help visitors research your rates and easily make purchase decisions.
There are many ways to display pricing for goods and services on your WordPress site. You can use custom code, WordPress plugins, or a premium WordPress theme.
But in this article, we'll show you how to make a price list in WordPress without touching a single line of code.
Why Should Your Website Have a Price List?
Most shoppers will research pricing before they even have a budget in place. So displaying your freelance price list, restaurant menu costs, or salon rates will help potential customers compare costs before deciding on the best solution.
Additionally, listing your small business prices is excellent for customer experience.
If users need to click through countless pages to find pricing information, there's a high chance they'll give up and leave. However, if your pricing is easy to find, shoppers can make purchase decisions quickly, avoiding wasting their time while reducing your website bounce rates.
Lastly, if you're concerned about competitors knowing your pricing details, there's no need to worry. It's likely they already know your rates. Plus, if your products or services are high quality and meet your target audience's needs, you'll still attract the right customers.
With that in mind, how exactly do you make a price list in WordPress? We'll go into that next.
How to Make a Price List in WordPress
Before we start, let's clarify the difference between a price list and a pricing table.
Pricing tables are a popular way for SaaS companies and similar businesses to display different pricing plans. You're probably familiar with how they look: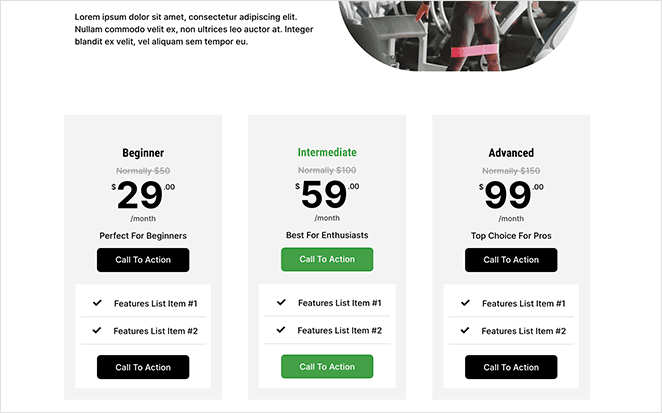 Typically, pricing tables have several columns with different pricing tiers so customers can choose the best fit for their budgets. Many pricing tables have buttons for shoppers to "buy now," making them an effective way to boost conversions.
You can use a WordPress pricing table plugin like Easy Pricing Tables for this, whose table builder lets you add table styles and customizations easily. 
Here's a helpful guide on how to create a pricing table in WordPress.
In comparison, a price list is more like a clear list of pricing options. They're an excellent solution for freelancers, cafe menus, salons, and other professional services.
Price lists take up less space on your website, allowing you to place them anywhere you like. Instead of limiting them to a pricing page, you can add price lists to your homepage, about or services pages, or even blog posts about your goods.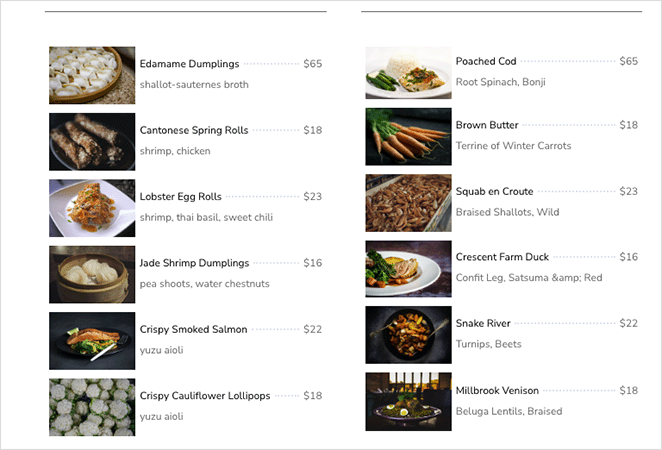 There are several ways to add a price list to your WordPress website. You can hire a developer to build one from scratch, use a price list plugin with built-in functionality, or try a WordPress page builder.
For this guide, we'll use a drag-and-drop builder because it's the easiest way to get your price list looking the way you want, and SeedProd is the best solution on the market.
SeedProd is the most beginner-friendly drag-and-drop page builder plugin for WordPress. It makes creating custom WordPress page designs and layouts easy with its intuitive drag-and-drop interface (no coding needed).
With its interactive block-based builder and pre-made templates, you can add a stylish price list to your website in minutes.
SeedProd also includes the following features:
WooCommerce support for your online store
eCommerce website templates
Extensive customization options
Email marketing integrations
And much more.
Follow the easy steps below to learn how to make a price list in WordPress with SeedProd.
Step 1. Install and Activate SeedProd
The first step is to go to the SeedProd website and download the plugin. You can choose from several pricing plans to suit your budget, but we're using the SeedProd Pro version for this tutorial.
Next, install and activate the plugin zip file on your WordPress website. You can follow this post on how to install a WordPress plugin if this is your first time doing this.
Upon activating the plugin, go to the SeedProd » Settings page and paste your license key. You can find your license key in your SeedProd account under the Downloads section.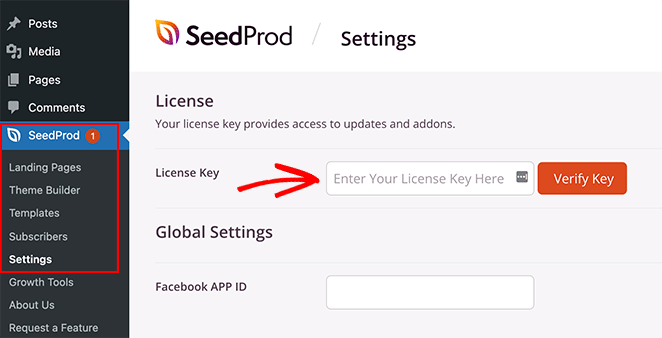 Now go ahead and click the Verify Key button.
Step 2. Choose The Theme or Landing Page Builder
There are several ways to customize your WordPress site with SeedProd's page builder plugin.
You can replace your existing site design with a new one by building a custom WordPress theme. Or you can keep your current design and create a standalone landing page with the Landing Page Builder.
Regardless of your chosen solution, you can still use SeedProd's Price List block to display custom price lists on your website because it uses the same page builder interface.
For this guide, we'll choose the Theme Builder option, so navigate to SeedProd » Theme Builder and click the Theme Template Kits button.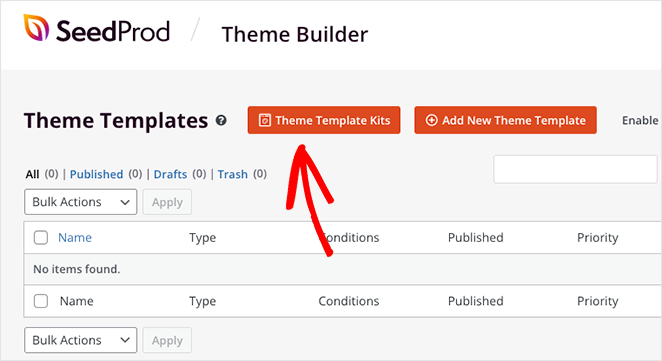 Step 3. Select a Custom Template
On the next screen, you'll see SeedProd's library of premade website templates. They include all the features and pages you need to create a complete website and a professional design that you can customize easily.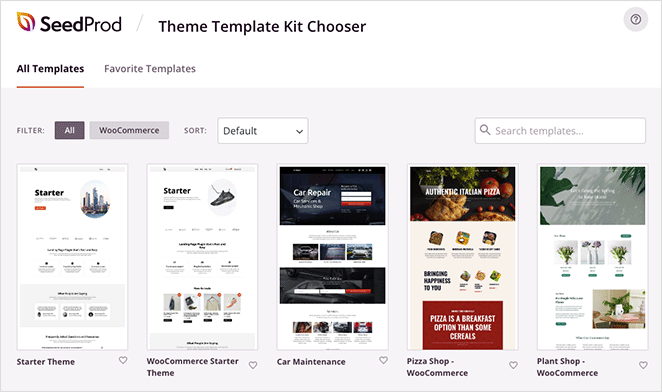 Click the magnifying glass icon on any template to preview the whole theme. For example, if you preview the Andaman Budget Hotel theme, you'll see that the Dining page already has a simple price list that you can edit.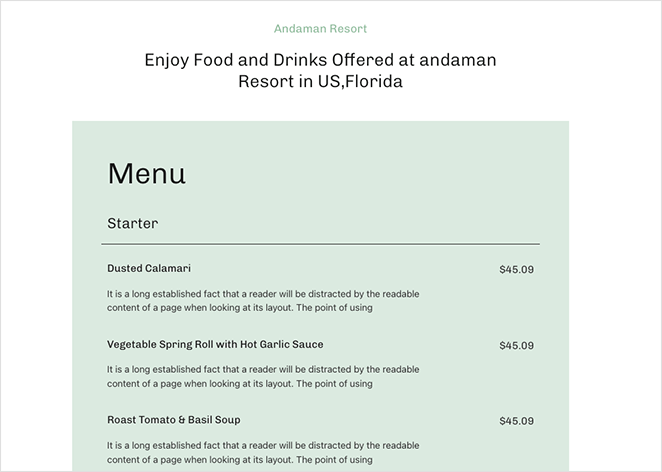 You can filter the template library to show only WooCommerce themes or click the dropdown menu to show the newest, oldest, or most popular themes first.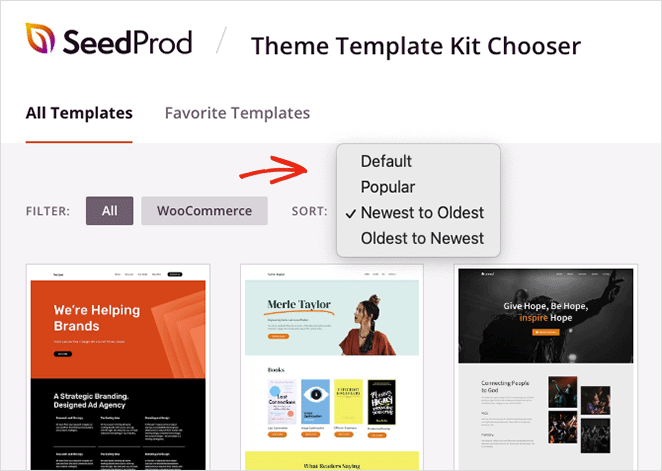 Once you find a design you like, click the checkmark icon to import it, which should take just a few seconds.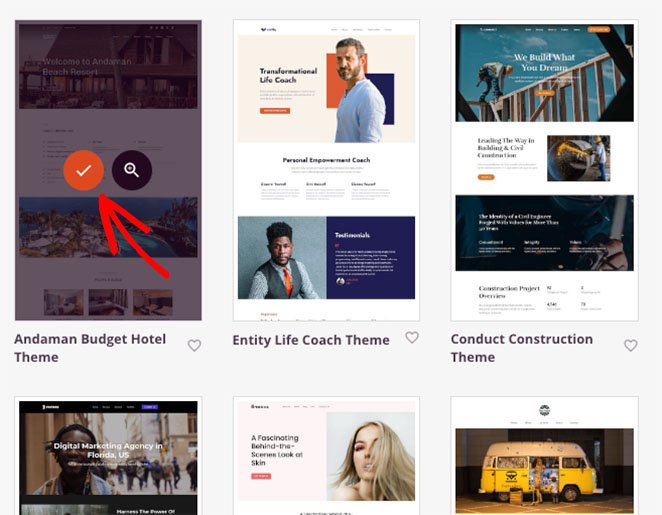 Now you'll see the parts of your theme in the Theme Builder dashboard. You can edit any template by hovering over it and clicking the Edit Design link.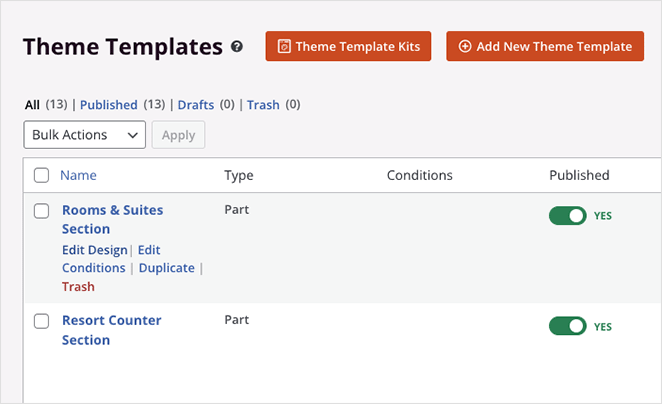 See our guide on creating a custom WordPress theme for more details on customizing your theme parts.
SeedProd will also create the pages from the theme demo for you to customize with its page builder. Simply go to Pages » All Pages,and you'll see them in the list with "SeedProd" next to the page title.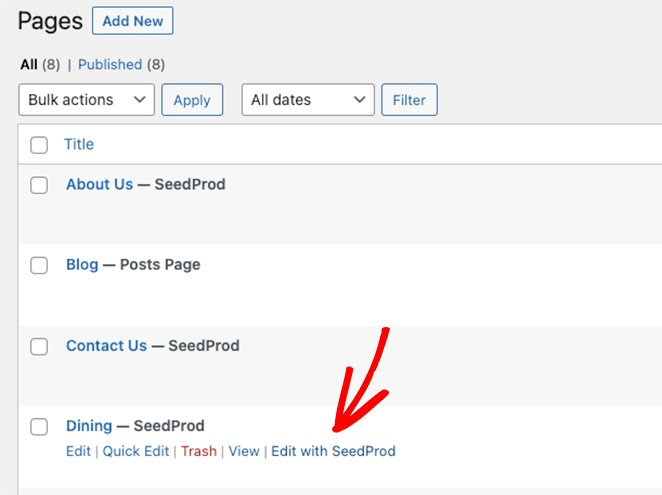 We'll customize the "Dining" page to show you how to use SeedProd's Price List feature. So hover over the page and click the Edit with SeedProd link.
Step 4. Customize Your Price List Page
When you open any page with SeedProd, you'll see a layout like this: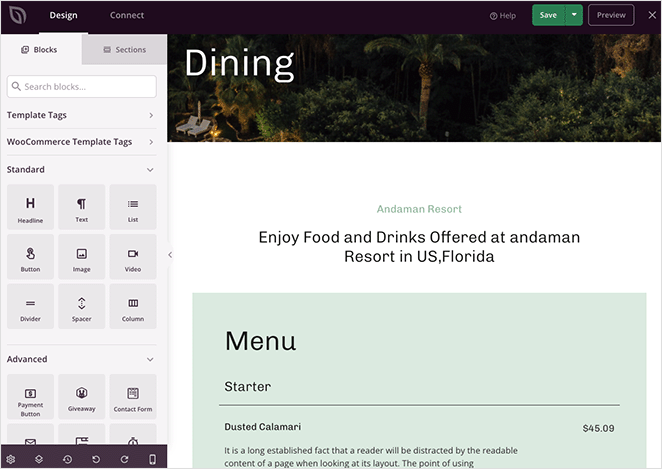 The page builder has WordPress blocks and settings on the left and a live preview of your design on the right. The blocks work similarly to the WordPress block editor (Gutenberg), where you can drag and drop new blocks onto your page and click to edit the contents in real time.
When you look at the menu on this design, you'll see it's made of headline and text blocks.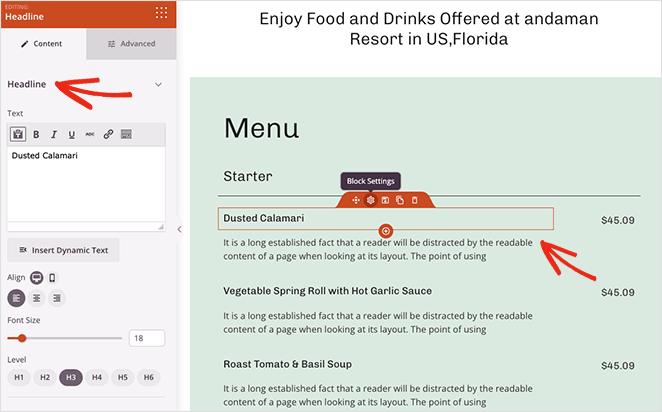 An easier way to display your menu items and their pricing is to use the Price List block. It automatically includes space for your item, description, price, and image and has many customization options.
From the left-hand panel, scroll to the Advanced section, find the Price List block, and drag and drop it onto your page.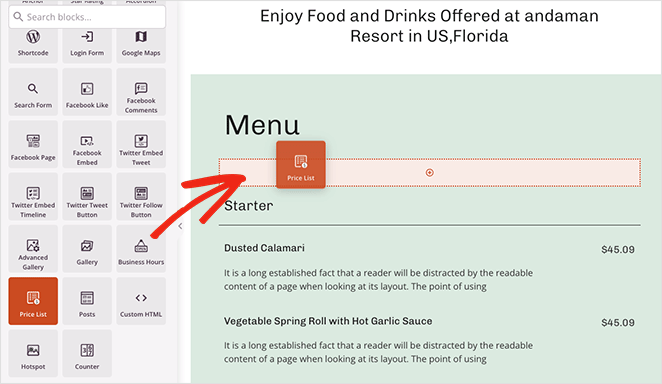 The block will add some filler content to give you an idea of how things will look. So let's go ahead and add some price list items.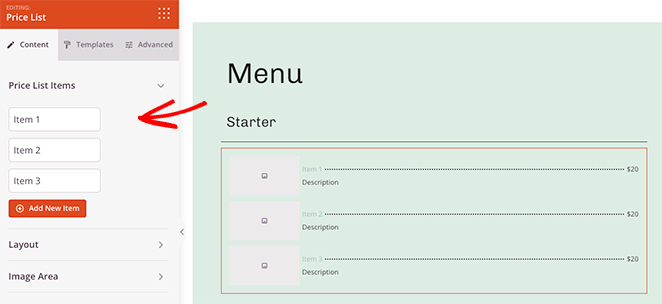 To do that, click the "Item 1" heading to expand it. Inside, you can add a title, description, and price, upload a photo, and even add a link to the individual product page.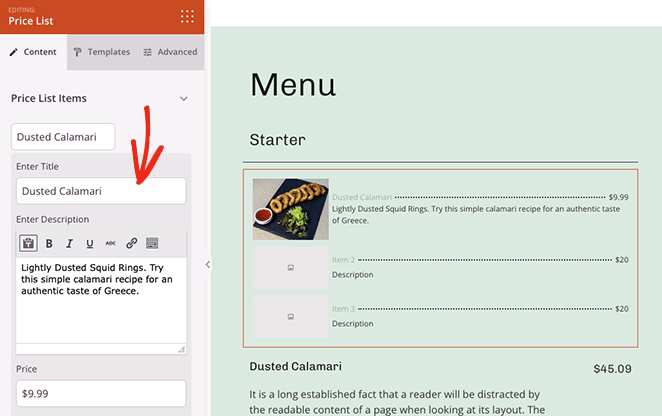 Repeat this step for every item on your price list.
After adding items to your price list, you can expand the Layout settings. In this panel, you can change the image and price position, choose a different price separator, and adjust the overall list alignment.
You can even link the full price box to the individual pricing page. Just click the toggle to the Yes position.
In the Image Area panel, you can control the size and shape of any images on your price list. The options include Default, Rounded, Circle, and Custom, where you can define your own image border-radius.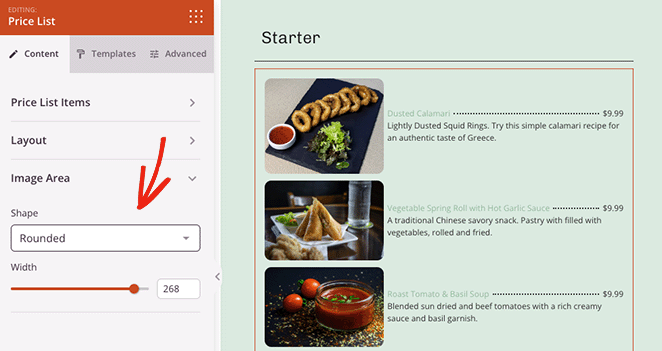 Now click the Advanced tab to see some extra styling options.
As you can see, this panel lets you control the typography, font size, and colors of individual items on your list.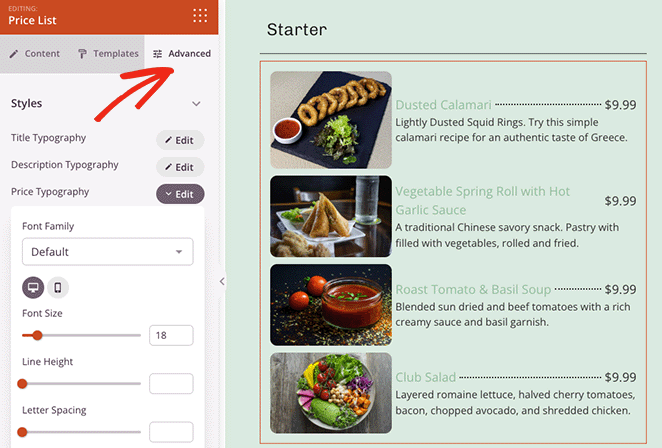 You can also adjust the spacing, borders, background colors, and visibility on desktop and mobile devices. And you won't need to write custom CSS or HTML.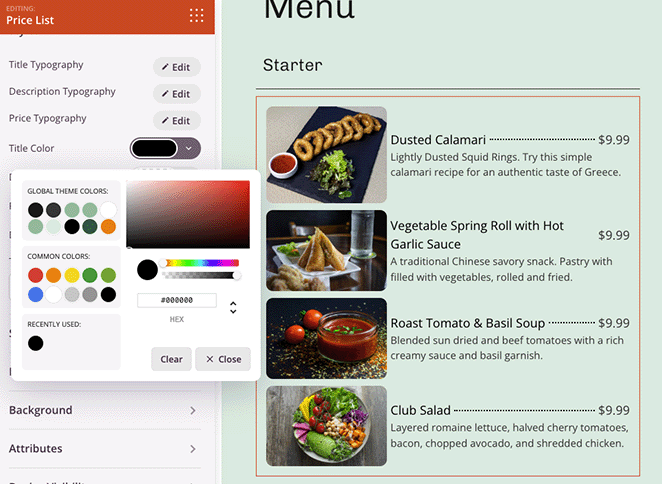 Simply point and click to add new styling.
Once you're happy with your price list, you can remove the old filler content. To do that, hover over each column until you see a blue outline and click the trashcan icon.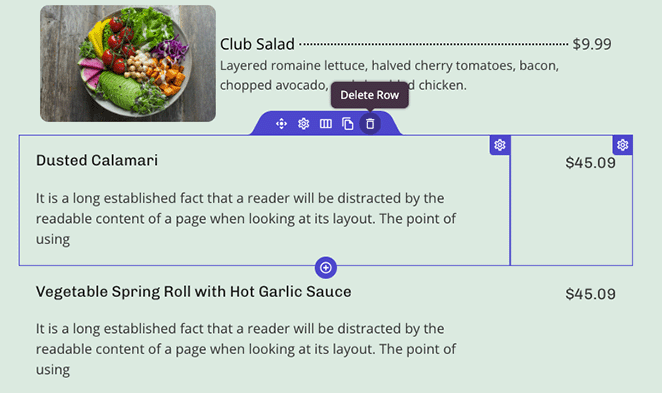 Do that for every element on the page you no longer need. Now go ahead and click the Save button in the upper-right corner of your screen.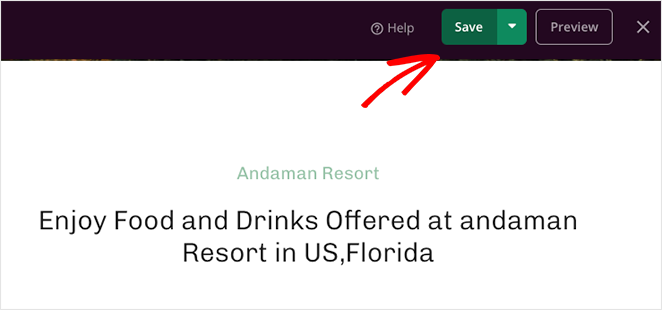 Now that your pricing page is complete, you can edit and customize the rest of your WordPress theme.
Here are some handy guides that may help you with your customizations:
Step 5. Publish Your Price List Page
When you've finished customizing your website, you're ready to publish the changes on the front end.
First, make sure you've saved your changes, then click the X icon to exit the page builder and navigate back to the Theme Builder page in your WordPress dashboard.
From there, find the toggle that says "Enable SeedProd Theme" and turn it to the Yes position.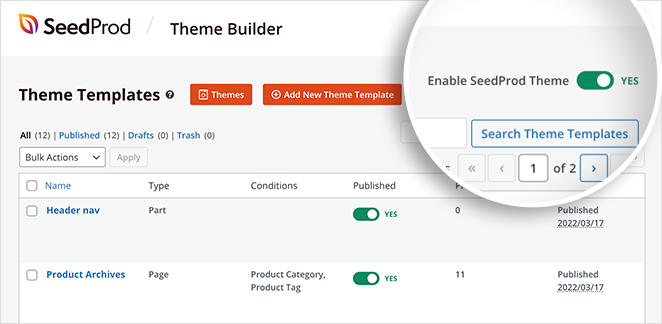 Now you can visit your live website to see how your customizations look. Here's the Dining page we customized with a new price list in this tutorial: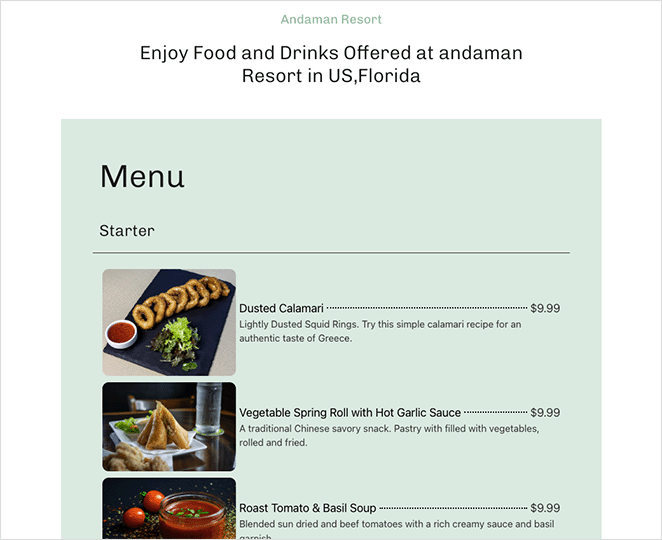 That's it!
We hope this article has helped you learn how to make a price list in WordPress. 
SeedProd is the best WordPress plugin for customizing your website. You won't need any extra shortcodes, widgets, or add-ons, just a straightforward, easy-to-use page builder that gets you up and running quickly.
Ready to make a custom WordPress price list?
You might also like this review of Elementor vs WPBakery vs SeedProd, so see how they compare.
Thanks for reading. Please follow us on YouTube, Twitter, and Facebook for more helpful content to grow your business.
The post How to Make a Price List in WordPress (No Code Required) appeared first on SeedProd.
This content was originally published here.