A hero section is the eyecatcher of your website. It usually sets the tone for the rest of the website and shows visitors what they can expect. That's why it can be helpful to make sure all focus is on the few elements you share in your hero section, such as the copy and call to action. But just because you want to highlight the hero section, doesn't mean you don't need a navigation bar too. If you're looking for a user-friendly way to reveal your header once people start scrolling, you'll love this post. Today, we're showing you how to hide your header before scroll using Divi's built-in sticky options. The effect we're achieving is fully responsive and looks great across all screen sizes. You'll be able to download the template JSON file for free as well!
Let's get to it.
Download The Header Template for FREE
To lay your hands on the free header template, you will first need to download it using the button below. To gain access to the download you will need to subscribe to our Divi Daily email list by using the form below. As a new subscriber, you will receive even more Divi goodness and a free Divi Layout pack every Monday! If you're already on the list, simply enter your email address below and click download. You will not be "resubscribed" or receive extra emails.
Join the Divi Newsletter and we will email you a copy of the ultimate Divi Landing Page Layout Pack, plus tons of other amazing and free Divi resources, tips and tricks. Follow along and you will be a Divi master in no time. If you are already subscribed simply type in your email address below and click download to access the layout pack.
When uploading the template to your Divi Theme Builder and entering the template, you'll notice that the section isn't visible. That's because the effect is already applied to it. To modify the different elements, you can either switch over to wireframe mode and access the elements there, or temporarily remove the section transform translate & main element settings and put them back when you're done modifying the header design.
1. Building The Header Element Structure Inside a New Header Template
Create New Global Header Template
Start by going to the Divi Theme Builder. There, start building a new global or custom header.
Once inside the template editor, you'll notice a section. Open the section settings and change the background color.
Move on to the section's design tab and remove all default top and bottom padding next.
Continue by adding a new row using the following column structure:
Background Color
Without adding modules yet, open the row settings and apply a background color of your choice.
Continue by changing the padding values accordingly:
Once you're done with the general row settings, open the column 1 settings and apply a background color.
Add Menu Module to Column 1
Select Menu
Time to add modules, starting with a Menu Module in column 1. Select a menu of your choice.
Upload Logo
Upload a logo next.
Then, change the background color.
Background Image
And upload an illustration background image of your choice. You can find and use the one below by downloading the freebie at the beginning of this post.
Menu Text Settings
Move on to the module's design tab and change the menu text size.
Dropdown Menu Settings
Then, change the dropdown menu settings accordingly:
Change the icon colors in the icons settings to white too.
Apply some custom padding values next.
Box Shadow
Along with some custom box shadow.
Transform Translate
And complete the module settings by modifying the transform translate settings as follows:
Add Button Module to Column 2
Add Copy
In column 2, the only module we need is a Button Module. Add some copy of your choice.
Button Alignment
Move on to the design tab and change the button alignment.
Button Settings
Then, style the button accordingly: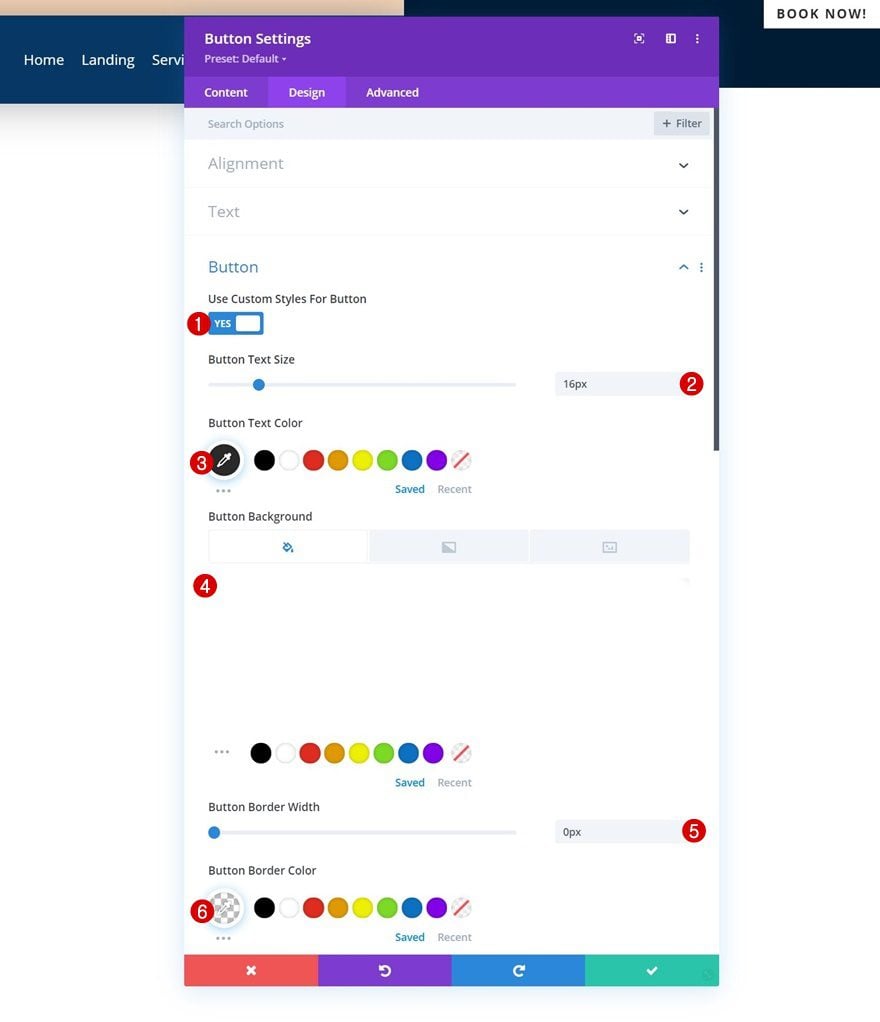 Give some shape to your button using custom padding too.
Box Shadow
Next, apply a box shadow.
Transform Translate
And complete the module settings by modifying the transform translate values accordingly:
2. Apply Custom Sticky Effects to Achieve Hide Before Scroll Effect
Make Row Absolute Positioned
Now that we've set the foundation of our header, we can apply the hide header before scroll effect. You can apply this effect to any header you build, as long as you follow the steps below. The first step is opening the row settings and turning the row absolute. This will help us prevent space from being taken up by the header at the top of our page.
Make Section Sticky
Next, we'll open the section settings and allow it to stick to the top.
Section Animation
We'll add an animation to our section too. This animation will help prevent the header from showing when your page is loading.
Section Transition Duration
You can decide for yourself how slow or fast the header slides down once you start scrolling by modifying the transition duration in the section's advanced tab. The higher the duration, the slower the header slides down.
Section Transform Translate
Now, in a default state, we don't want the header to be visible. The first step to achieving that is going to the section's transform settings and using a negative value for the Y-axis.
We'll bring this value back to zero in a sticky state. This means that as soon as you start scrolling, the header becomes visible again.
Section Visibility CSS Property
The next and last step of this tutorial isn't theoretically needed to achieve the effect, but it's a good practice to hide elements that aren't in use. That's why we'll go to the section's advanced tab and add the following line of CSS code in the main element box:
We'll change back our content to visible in a sticky state. That's it!
In this post, we've shown you how to make sure your hero section is the focus of your page as soon as people enter your page. More specifically, we've shown you how to hide your header before scroll. This allows your visitors to process the hero section information first before they're presented with an ability to navigate. You were able to download the JSON file for free as well! If you have any questions or suggestions, feel free to leave a comment in the comment section below.
If you're eager to learn more about Divi and get more Divi freebies, make sure you subscribe to our email newsletter and YouTube channel so you'll always be one of the first people to know and get benefits from this free content.
This content was originally published here.