Want to create a multilingual affiliate program in WordPress?
Offering a multilingual affiliate program on your WordPress site is a powerful way to cater to a diverse demographic, build strong relationships with international affiliates, and unlock new revenue streams.
This guide will show you how to start a multilingual affiliate program in WordPress to help you reach a wider audience.
Why Create a Multilingual Affiliate Program?
Even though English is still the most common online language, many people speak and prefer other languages.
Statistics show that if your website is only in English, nearly 40% of the people who use the internet may not understand what it offers.
So, businesses that want to grow and expand internationally should consider using more than one language, especially regarding affiliate marketing.
When you make your affiliate program available in more than one language, you reach more people and get access to a broader range of affiliates who can help you break into new markets.
A multilingual affiliate program can also help your business stand out. Since 80% of advertisers use affiliate marketing, standing out in the market is essential.
By giving users a personalized and localized experience, you can attract top affiliates who can promote your brand effectively. Your international SEO will also improve if you have multiple languages content.
This will help you rank higher on search engine results pages and attract new types of customers.
A multilingual affiliate program is a chance you don't want to pass up in a global market that is getting increasingly competitive.
So, let's now look at the simple ways you can integrate multilingualism into your affiliate program without hassle.
Steps to Create Multilingual Affiliate Program in WordPress
Step 1: Download and Install AffiliateWP
To create a multilingual affiliate program in WordPress, the first step is to download and install AffiliateWP, a highly effective WordPress affiliate management plugin.
This plugin makes setting up an affiliate program easy and offers powerful tools to help grow your business.
With its user-friendly setup wizard, you can connect your products and automate your affiliate program in just a few clicks.
To get started, visit the AffiliateWP pricing page and choose the plan that best suits your needs.
After completing your purchase, download the plugin from your account.
Next, go to your WordPress dashboard, navigate to Plugins » Add New, and upload the downloaded plugin file.
Once the plugin is uploaded, click Install Now and then Activate the plugin.
Step 2: Complete the Setup Wizard
Now that AffiliateWP is installed, you can set up your affiliate program.
The setup wizard will guide you through each step.
Go to your WordPress dashboard, find the AffiliateWP Settings page, and click the Launch Setup Wizard button at the bottom.
First, enter your license key, which can be found in your AffiliateWP account. Copy and paste the license key into the provided field and click Continue.
Next, you'll be taken to the integrations page, where you'll connect AffiliateWP to your existing WordPress plugins.
Select the checkbox next to the plugin you want to track referrals for and click Continue.
Step 3: Choose Your Commission Structure
At this stage, you need to decide on your commission structure. Select your currency and choose whether you want to offer a flat rate or a percentage commission.
Then, enter your desired commission rate. If you're unsure about the appropriate commission rate to offer affiliates, you can refer to various online guides and resources.
Remember, you can always modify these settings at a later date on the AffiliateWP Settings page.
Next, set the cookie expiration period. This determines how long affiliate cookies last in users' browsers.
The longer the duration, the more time affiliates have to complete a sale. If you're uncertain about the ideal cookie duration, you can check out this in-depth guide on this topic.
Once satisfied with your settings, click Save and Continue.
You'll then arrive at a confirmation page, where you can click Finish the Setup and Exit the Wizard.
Step 4: Download and Install Polylang
With AffiliateWP up and running, it's time to make your affiliate program multilingual.
To achieve this, you'll need the Polylang plugin for WordPress.
With Polylang, we have several options for establishing an affiliate program that supports multiple languages.
The plugin allows you to manually translate, use machine translation, or employ human translators with its pro version.
But, in this guide, we will only look at how to use the free version of Polylang and manually create a multilingual affiliate program on WordPress.
Go to your WordPress dashboard, navigate to Plugins » Add New, and search for Polylang. Install and activate the plugin.
Step 5: Configure Polylang
After activating Polylang, you must configure the languages you want to support in your affiliate program.
You can do this by completing the easy Setup Wizard of Polylang, where you can select multiple languages you want to add, choose the default language of your affiliate plugin, and so much more.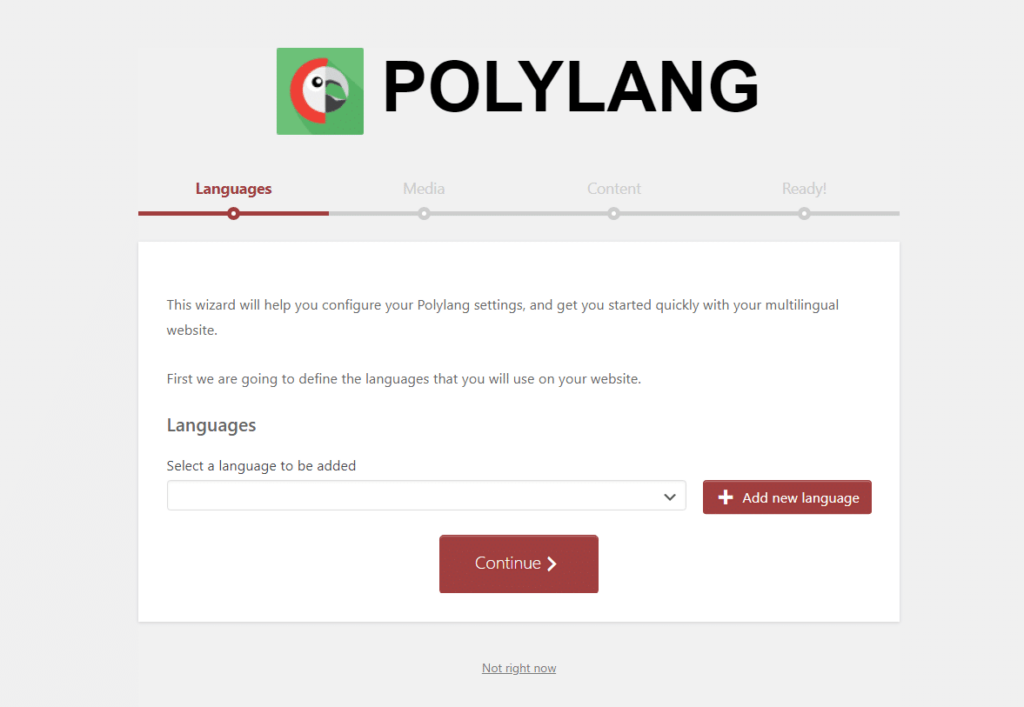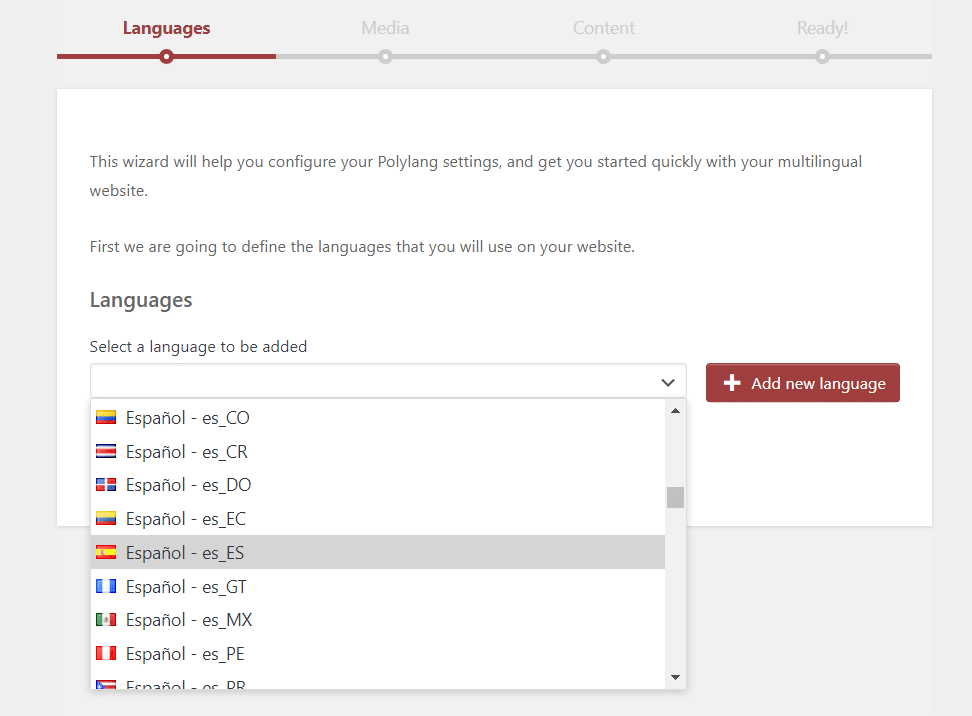 Navigate to the Polylang settings page by going to Languages » Settings.
Here, you can add as many languages as you want. Set a default language for your website; you can do that by clicking on the small star near the Language Order tab.
For example, English is the default language in the below image:
Step 6: Start Translating Your Affiliate Pages And Menus
Now that you've set up the languages for your affiliate program, you must translate your affiliate pages.
Go to your WordPress dashboard and navigate to the Pages section.
Here, you'll see a list of pages, including the ones created by AffiliateWP.
Click the + icon next to the language flags for each page to add a translation.
For example, say you want to add Spanish translation to our Affiliate Area page so to do that, you can click the + icon next to the language flag and start translating out the page.
You can see what language you translate your page into by looking at the post settings on the right. For instance, the screenshot below displays our Affiliate Area in its Spanish language version.
To translate categories on your affiliate program, you can do the same.
Click on Posts » Setting and then click on the + icon below the language flag to translate the category and slug in your desired language.
The next step is to go to Languages » Settings. Create language-specific URLs and optimize them for search engines from this panel.
To modify the URL settings, select the Settings tab.
After that, you can set up your permalinks and decide whether or not to include the language in the address bar.
For example, you can show URLs such as https://example.com/es/affiliate-area/ on your website.
When you're finished making adjustments, click the Save Changes button.
Now it's time to add a language switcher on your WordPress site so that visitors can choose between two or more languages to get started with your affiliate program.
You can add the Language Switcher widget block to a sidebar or other widgetized area by going to Appearance » Widgets and clicking the + button at the top.
Also, you can add the Language Switcher by going to the Appearance » Menus and selecting the Language Checkbox to add the Language Switcher to your menu.
You can now give your widget a name and turn on features like a dropdown, language names, hiding the active languages, and more to make it even more unique.
Note: When adding translations, use consistent terminology and accurately convey the content's meaning. If you're not fluent in the target language, consider hiring a professional translator or using a translation service to ensure accurate translations.
Step 7: Manage and Monitor Your Multilingual Affiliate Program
With your multilingual affiliate program in place, you can now manage and monitor its performance.
AffiliateWP provides comprehensive reports and analytics, allowing you to track your affiliates' progress and assess the effectiveness of your multilingual strategy.
Regularly review your affiliates' performance, and consider adjusting your commission structure, cookie expiration settings, or other program aspects if needed.
Maintaining open communication with your affiliates is essential, offering them support and guidance when necessary.
FAQ: Creating Multilingual Affiliate Program in WordPress
Can I Use Polylang with Any WordPress Theme?
Yes, Polylang is compatible with most WordPress themes. However, checking for compatibility before installing the plugin is always a good idea.
Do I Need to Know Multiple Languages to Use Polylang?
No, you don't need to be fluent in multiple languages to use Polylang. The plugin supports both manual and automatic translations, which can be helpful if you're not proficient in the languages you want to add.
Is Polylang Suitable for An E-Commerce Website?
Yes, Polylang is compatible with popular e-commerce plugins like WooCommerce, making it suitable for translating e-commerce websites.
Give Your Affiliate Program the Power of Multiple Languages
Now that you have learned how to create a multilingual affiliate program using Polylang, it's time to take full advantage of AffiliateWP's powerful features to manage and grow your affiliate program more effectively.
AffiliateWP makes organizing your affiliates easy and sets custom commission rates for different groups, ensuring maximum flexibility for your business.
By combining AffiliateWP with Polylang, you can offer a genuinely global affiliate program, allowing your affiliates to promote your products in multiple languages and reach a wider audience.
This content was originally published here.