Want to learn how to create a forum on WordPress, this guide is for you.
Keep reading to learn a simple step-by-step process to build a community on your WordPress and turn your visitors into engaged subscribers and customers.
Let's dive in!
Why Create a Forum on Your WordPress Site?
Online forums are great for building an online community and boosting engagement with your site visitors.
You can use forums to encourage your site visitors to ask questions, share solutions, post info related to trends in your niche, brainstorm new ideas, etc.
The most popular formats for forums are:
Q & A (question & answer)

Discussion boards

Support forums for product-related issues
Forums are effective because they encourage your audience to engage with each other — and your business.
Engaged visitors are more likely to return to your website, purchase your products or services, and even recommend them to their networks.
How to Create a Forum on WordPress: Step-by-Step Guide
Here's a simple step-by-step guide on to to create a forum for your WordPress website:
1. Install Thrive Theme Builder
 
The first step, after creating your WordPress website, is to install Thrive Theme Builder.
Thrive Theme Builder is an intuitive, beginner-friendly website builder that makes it easy for you to build a professional-looking website your visitors can navigate with ease.
Take note, you can use any theme or theme builder to build a website and add a forum.
But, if you want a theme builder that reduces the time it takes to build a solid website, and provides a selection of fully customizable themes and templates you can tailor to fit your branding…
Thrive Theme Builder is the way to go.
2. Install bbpress to Add Forum Functionality to Your Site
The easiest way to add a forum to your WordPress website is using bbPress.
It's the best WordPress forum plugin and has everything you need to create, moderate, and maintain an online discussion board. bbPress also free to use.
So your next step will be installing and activating bbpress.
If you need help, then please see this guide on how to install a WordPress plugin.
3. Create your first forum
After you activate bbpress, go to Forums » Add New in the WordPress Dashboard.
Give your new WordPress forum a name in the "Title" section.
Remember, your site visitors will see this title so be sure to give your forum a name that clearly explains what it's about.

The title will also be used in the forum's URL. 
So try to make your forum's name a keyword your site visitors are searching for – as long as it fits naturally.
You can add an optional description by typing it into the main post editor. This description will appear on your site's forum index page.
If you take a look at the right side of the screen you'll see several options to edit Thrive Theme Builder-specific settings on your forums pages.
You can choose which parts of your template page should show, and the parts that should be hidden. For example, if you don't want your forum page to have a Header or Footer, you can make that change on this screen.
4. Configure your forum's visibility
By default, bbPress forums are public which means everyone can see the forum including people who haven't registered with your site.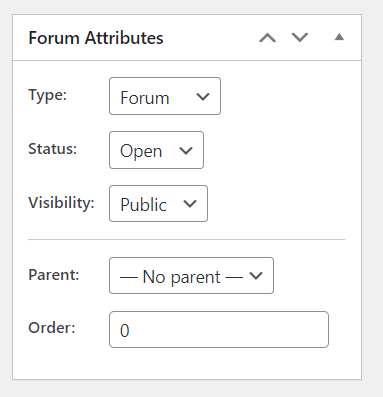 This is a good way to encourage people to sign up and join the conversation.
But if you want to restrict access to a forum, you'll need to change its visibility settings. 
To create a forum that only registered users can access, open the 'Visibility' dropdown and choose 'Private.'
The 'Visibility' dropdown also has a 'Hidden' option that only gives moderators. This setting allows you to remove a forum from your site without deleting its contents.
5. Add moderators
If you don't have time to monitor your forums, you should assign this responsibility to moderators.
The "moderator" role allows people to edit and delete posts by other users, edit your forum, and manage the forum tags.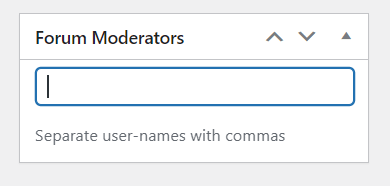 To give someone the moderator role, type their username into the 'Forum Moderators' field. To add multiple moderators, separate each name with a comma.
6. Structure Your Forums
If you're creating multiple forums, then you should organize them into a parent-child structure. For example, you might create an 'Entertainment' forum and then have a separate child forum for each type of Entertainment (TV Shows, Movies, Music, etc.).
bbPress automatically creates each forum as a parent forum. 
To turn it into a child, just open the 'Parent' dropdown and choose the forum you want to use as the parent.
7. Add the bbpress forum Index to Your WordPress Website
bbPress creates a forum index automatically, which contains links to all your forums. To see this ready-made page, simply add 'forums' to the end of your site's URL, such as www.example.com/forums.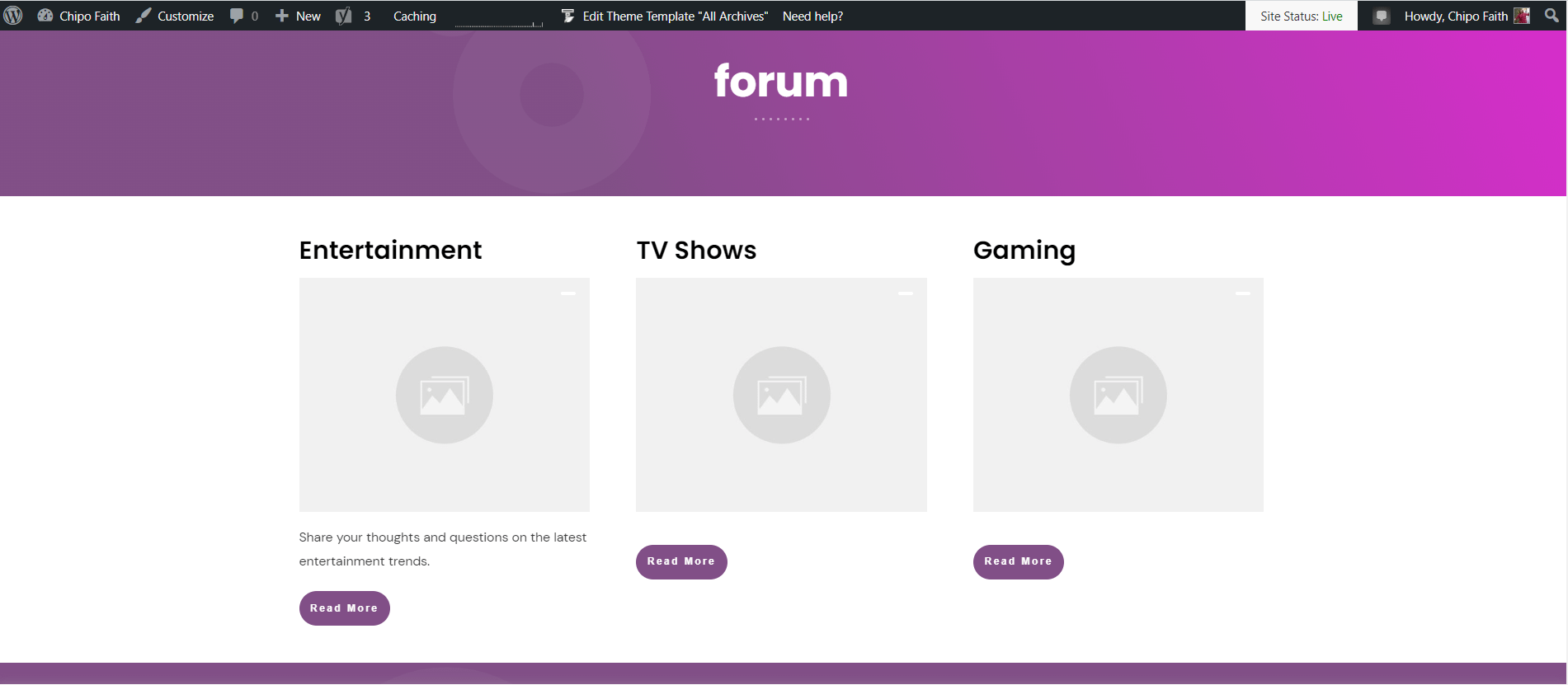 If you want to edit the page template for your forum, click the "Edit Theme Template" feature to customize the page in Thrive Theme Builder. 
You can also add the forum index to any area of your site, which gives you more control over how it looks. 
To do this, add the [bbp-forum-index] shortcode to your post or page.
8. Add Forums to Your WordPress Menu
To help visitors find your forum you should add it to the main navigation menu.
To update your site's menu, go to Appearance » Menus. In the dropdown, select the menu that you want to edit and then click 'Select.'
If you want to add a link to a specific forum, then click to expand the 'Forums' section.
You can then check any forum in this section and click on the 'Add to Menu' button.
If you've created lots of forums then you should add a link to the forum index, as there won't be enough space to add all your forums to the menu bar.
Expand the 'Custom Links' section and add the index's link to the 'URL' field. Keep in mind that this is just your site's URL with '/forums' on the end, such as www.example.com/forums.
You'll also need to type in the 'Link Text,' which will appear in the menu. Visitors will see this label, so you'll want to use something descriptive.
After that, click on the 'Add to Menu' button.
When you're happy with how the menu is set up, click on 'Save Menu.' Now, if you visit your site you'll see the updated menu in action.
Tip: If you're a Thrive Suite or Thrive Architect user, you can use the Custom Menu Element to edit your menu in seconds.
9. Enable User Registration for Your Forum
Your visitors will need to register before they can post on your forum. 
So you'll need to enable user registration on your site if you haven't already.
After that, create a registration page so visitors can sign up to your forum. If you have Thrive Suite, you can use the Thrive Visual Editor to create a custom, conversion-focused login screen that looks better than the default WordPress one.
bbPress also comes with a built-in user registration form that you can add to your site. 
Open the page or post where you want to place the form and create a new shortcode block.
Then add the following shortcode: [bbp-register].
For step-by-step instructions on how to place the shortcode, read this guide on how to add a shortcode in WordPress.
You can now publish or update the page to make the form live. If you visit the registration page while logged into your account, then you'll see a 'You are already logged in' message.
Don't forget to give your visitors a way to recover their accounts by creating a password reset page.
Create a new page and name it "Password Recovery" or something similar.
Next, add the shortcode element or block to the page and add the following code: [bbp-lost-pass].
Publish the page once you're happy with how it looks.
Bonus: Plugins to Build a Thriving, Engaging Community on Your WordPress Website
Thrive Apprentice: Build an Exclusive, Members-Only Hub
If you want to convert your forum users into paying customers or subscribers, you should consider creating a membership platform.
Membership platforms are a great way to offer exclusive products and services to a select group of paying customers – online courses, webinars, ebooks, 1:1 sessions, etc.
And Thrive Apprentice is the best WordPress membership plugin and has everything you need to create a profitable.
Thrive Apprentice Products lets you mix and match content to create as many value-packed options as you like. Combine and sell access to your course content, blog posts, pages, or anything else hosted on your website in minutes!
turns your comments section into a hub of engagement; encouraging your commenters to share their thoughts and recognizing them for doing so. 
You can use this plugin to recognize frequent commenters, reward first-time commenters, and so much more.
RafflePress: Run a Contest or Giveaway
RafflePress is the best WordPress giveaway plugin you need to create and manage a successful online giveaway or contest.
Giveaways are one of the best ways to get your business in front of newer audiences — and land more conversions. 
RafflePress takes the stress out of running an online giveaway on your website, so you can focus on engaging your audience & getting more people to engage with your brand.
MonsterInsights: To Make Data-Driven Marketing Decisions
You need to monitor your forums' performance and identify the best-performing ones. This data can help you optimize your content marketing strategies, and make sure you're sharing the right content with your audience.
To track this data, you need a reliable, analytics WordPress plugin.
MonsterInsights makes it easy for you to understand your Google Analytics reports, so you can see what's working and what needs to be improved in your marketing strategies. 
This plugin also has a user-friendly dashboard that helps you track your site data (e.g. pageviews, conversions, sessions) with ease.
FAQs: How to Create a Forum on WordPress
Q: Can you have a forum on WordPress?
A: Yes, you can, but you'll need to use a WordPress forum plugin. bbpress and BuddyPress are two of the best forum plugins you can use to add a forum to your WordPress website
How do I create a Forum on my WordPress website?
Go to Forums » Add New
Give your Forum a title and description
Configure your forum's visibility settings
Assign moderators to help you monitor your forum
Enable user registration so visitors can register to add to your forum
Q: What is a forum in WordPress?
A: Forums are an effective way to boost customer engagement, get useful feedback on your products and services, and find new ideas to try out.
Q: What is the best forum plugin for WordPress?
A: bbpress or BuddyPress are great WordPress forum plugins
Next Steps: Start Building Your Engaged Community Today
And there you go! You have all the steps to building a thriving, engaged community on your WordPress website.
If you're looking for more resources on how to build engagement on your website, check out these resources:
So, what are you waiting for?
The post How to Create a Forum on Your WordPress Website appeared first on Thrive Themes.
This content was originally published here.