Do you want to collect customer reviews for digital products on your WordPress site? Easy Digital Downloads can help.
As an eCommerce business owner, it's important to build trust with potential customers. One way to do that is by accepting and displaying product reviews on your website. This type of social proof demonstrates transparency and helps boost your brand's credibility and trustworthiness.

In this post, we'll cover:
Why Show Customer Reviews in WordPress?
Customer reviews can be incredibly helpful for any eCommerce website.
They provide social proof and validation to potential customers. According to OptinMonster, research shows:
87% of purchasing decisions start with conducting online research
Consumers read an average of 10 reviews online before making a purchase decision
Nearly 90% of shoppers trust customer reviews as much as they do personal recommendations
Positive reviews, ratings, and testimonials can increase the likelihood of shoppers buying something from your store. It can also make them more likely to recommend you to others.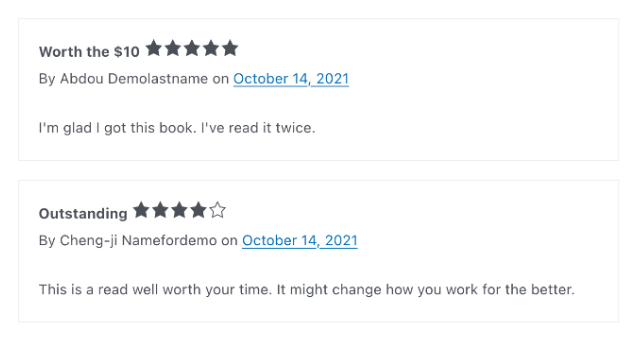 This can make a major difference for beginners and small businesses trying to expand their presence online via social media, email marketing, and other digital channels.
There are a variety of platforms you can use to generate reviews. While you can use review-based websites such as Yelp, I also recommend collecting and posting reviews on your own website.
A decent amount of customer reviews on your website can build credibility and increase sales. Even negative reviews can offer valuable feedback for you to use to improve your eCommerce business.
Online reviews can also be an excellent form of digital marketing. In addition to encouraging word-of-mouth referrals, this organic, User-Generated Content (UGC) helps enhance Search Engine Optimization (SEO) and visibility.
Reviews for digital products can help boost search engine rankings. Also known as Rich Snippets, results that include above-average details (like ratings/reviews) can lead to more clicks: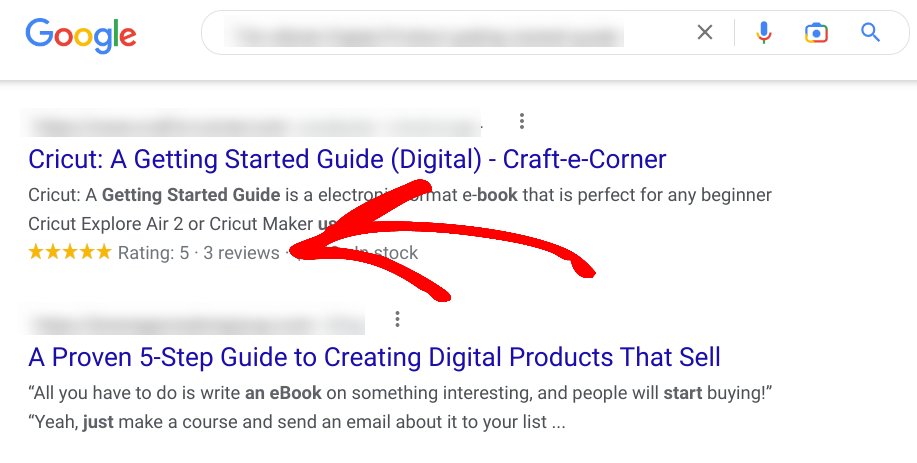 Finally, customer reviews for digital products (and your replies) can present an opportunity to exercise strong customer service and support. You can use direct messaging to quickly and thoughtfully respond to reviewers' comments. This helps communicate to consumers that you genuinely care about your customers and what they have to say.
How to Add Customer Reviews for Digital Products
The best solution for adding customer reviews to your eCommerce site will largely depend on the platform you use. For instance, Shopify users may have different needs and options than those using WooCommerce or Amazon.
In this step-by-step tutorial, we'll show you how to add customer reviews for digital products in WordPress:

Note: If you already have a premium EDD license, feel free to skip to the second step. If you use the free version of EDD, consider upgrading to a Pro plan to get the Reviews extension.
Step 1: Install Easy Digital Downloads
Easy Digital Downloads (EDD) is among the best WordPress plugins that allow you to easily sell digital products and file downloads, like eBooks, software, and templates:
It includes features such as:
Full shopping cart system
Customizable product pages
Multiple secure payment gateways support
& more
In addition to making it simple to create an online store, EDD lets you collect customer reviews for digital products in WordPress. The EDD Extended pass (or higher) includes the premium EDD Reviews add-on, which we'll cover in the next step.
To get started, select and purchase your plan from the Easy Digital Downloads website. From your EDD account dashboard, go to the File Downloads tab. Then click on Get Easy Digital Downloads to download the plugin:

Next, upload the zip file to your WordPress website (Plugins » Add New » Upload Plugin):

Install and activate the plugin. A Downloads menu item will now appear in your WordPress admin area: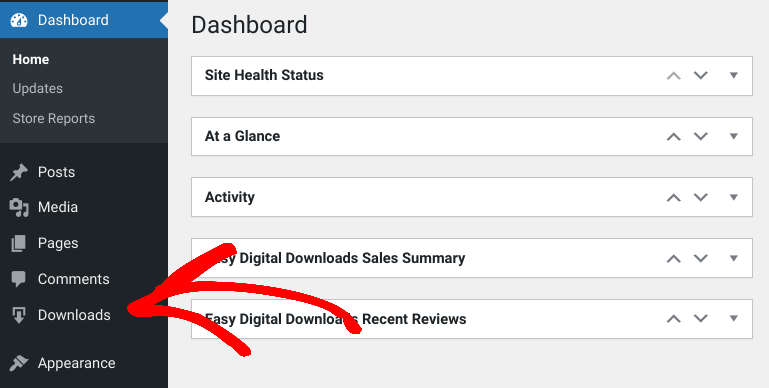 This is where you can create and manage your online store. You'll want to enter your business information (Downloads » Settings » General) and configure a payment gateway (Settings » Payments).
You can refer to these guides for assistance getting started:
Step 2: Add the EDD Reviews Extension
Once you have the Easy Digital Downloads plugin set up, the next step is to install the EDD Reviews extension: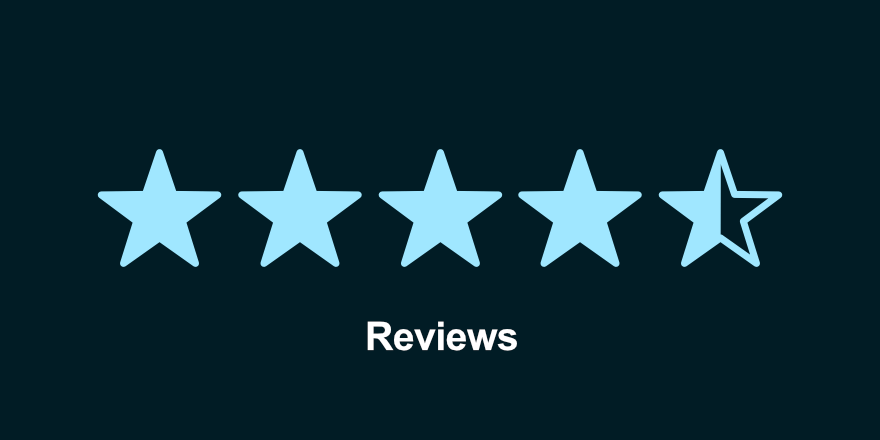 This powerful and customizable extension is designed to help you increase sales with social proof. Once it's enabled on your site, users can leave customer reviews for digital products. You can view and moderate the reviews from the WordPress backend.
To get it, go to Downloads » Extensions. Scroll to the Reviews add-on and click on Get this Extension: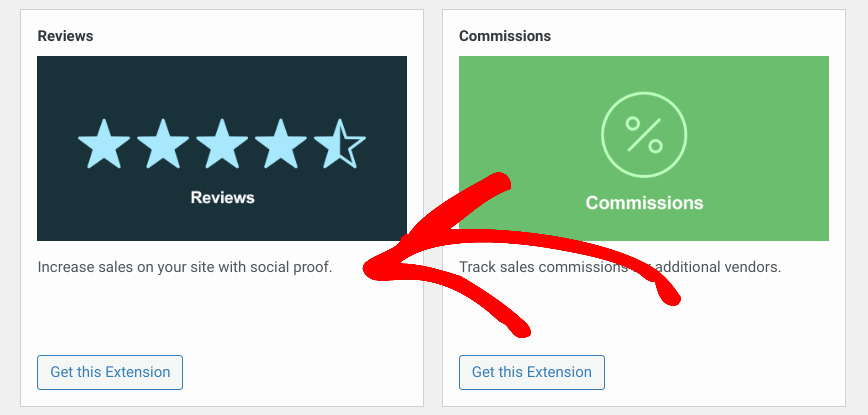 On the extension page, select Download Now: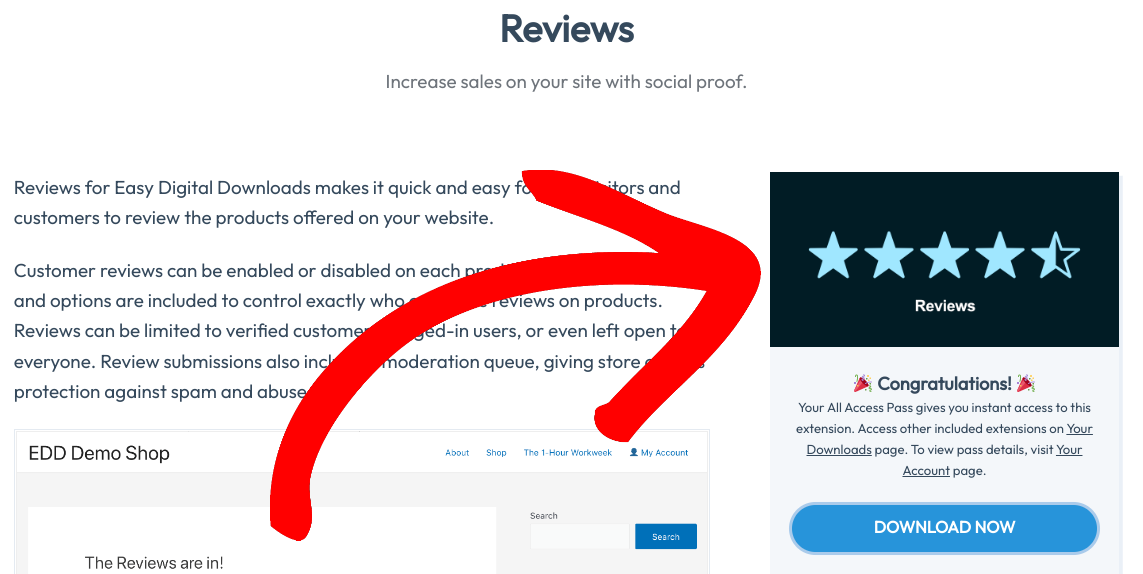 Upload and activate it the way you would any other WordPress plugin.
Step 3: Configure the Product Review Settings
After activating the Reviews plugin, you can configure the settings. Go to Downloads » Settings » Marketing » Reviews: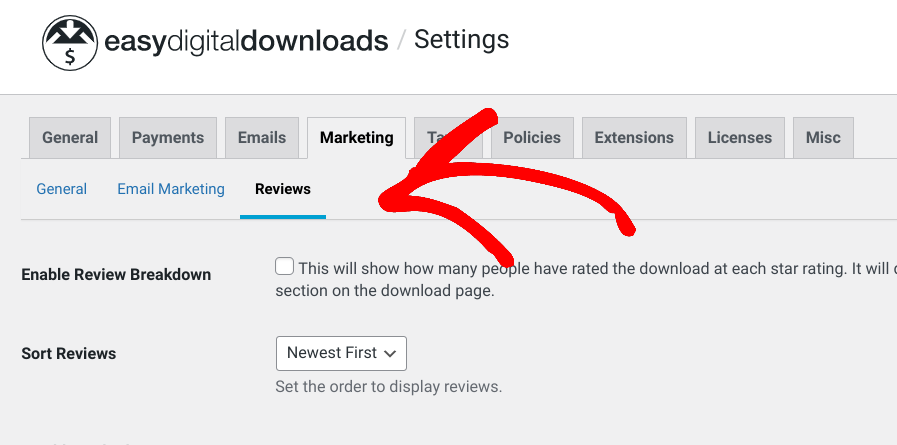 The first option is Enable Review Breakdown. This displays a full element before the reviews tracking the user votes for each star rating.
From the Sort Reviews drop-down menu, you can change the display order of reviews. The default is Newest First.
The next section includes a handful of features you can disable:

They're pretty self-explanatory. You can disable individual authors from leaving multiple reviews, prevent download authors from submitting their own reviews, and eliminate voting counts under review submissions. To restrict reviews to verified/paying customers only, enable the Only Allow Reviews By Buyers option.
The remaining settings let you:
Delay review postings
Enable guest reviews
Enforce maximum/minimum word counts
Disable CSS styling
Remove data upon deletion of the Reviews plugin
We'll discuss the last section on this page, Reviewer Discounts, in a moment.
When you're done, click on Save Changes.

Need help using this extension? Check out our Reviews FAQ & Troubleshooting documentation.
Step 4: Display Customer Reviews on Your Site
The global review settings apply site-wide. But you can also enable/disable reviews individually on each product page. From the download page, go to the sidebar settings and scroll to the Reviews Status meta box: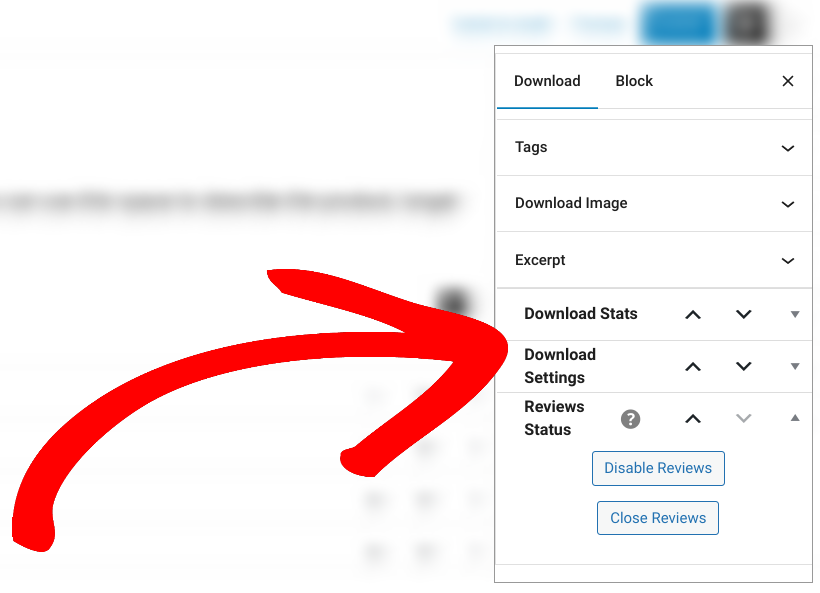 Disable Reviews hides reviews entirely. Close Reviews continues displaying existing reviews but eliminates the option to submit new ones.
If enabled, customers can see and leave reviews at the bottom of product pages: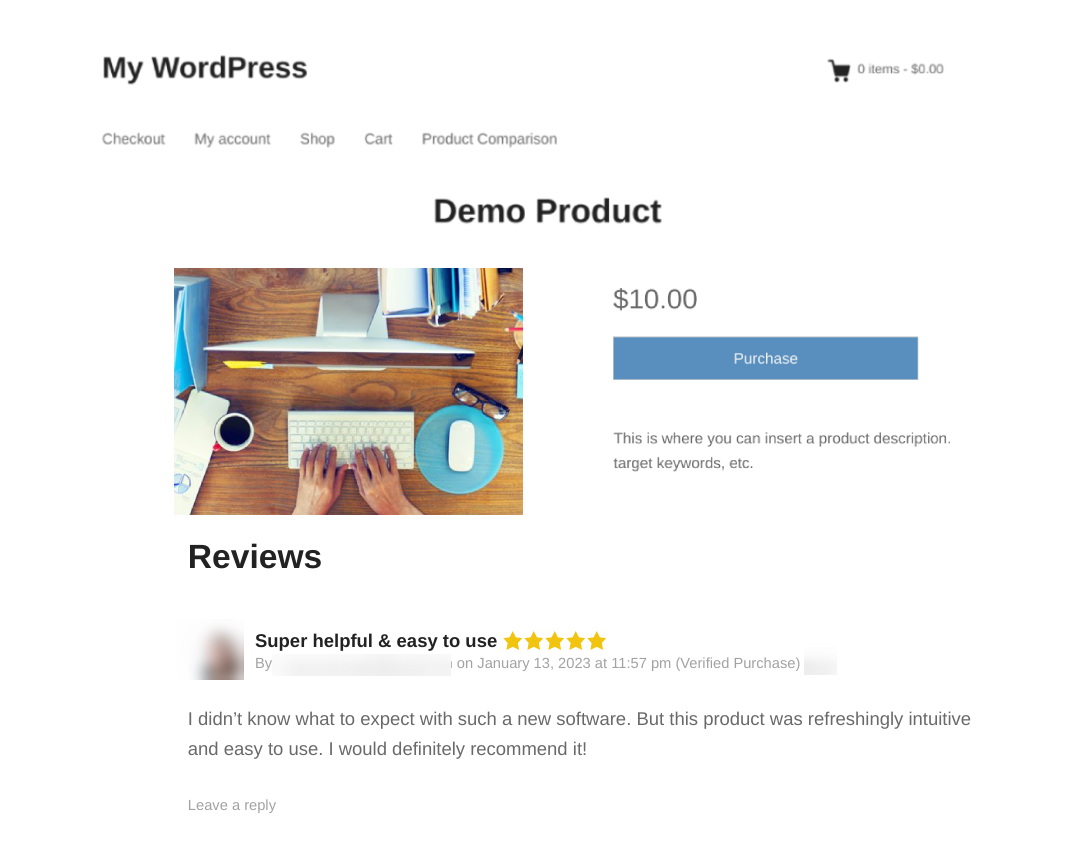 With the product review form, users can include a title, star rating (1 to 5), and contact info. A reply/comments field is also available:
To embed a review on a WordPress page, you can use the Reviews block: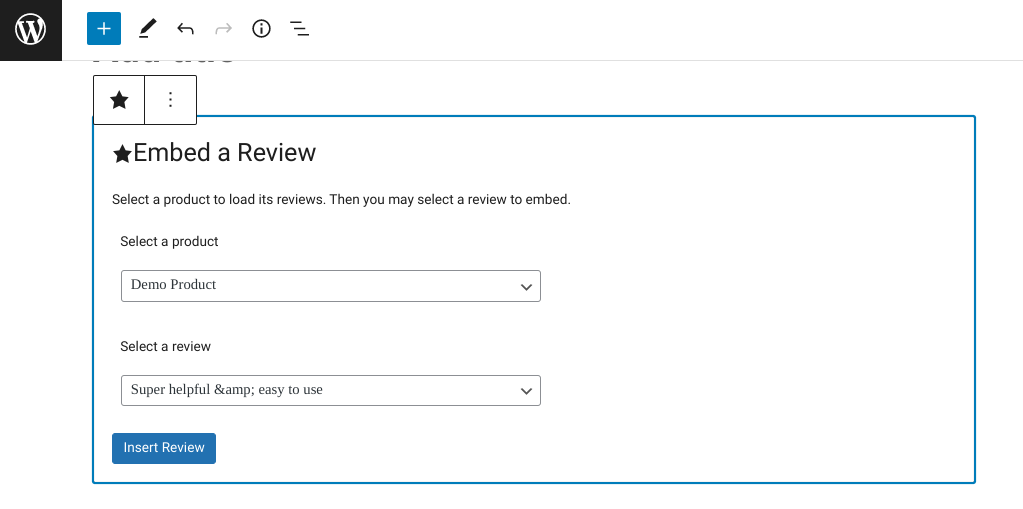 Select the digital product/download from the first drop-down menu, then pick the specific customer review(s) to show. Click on Insert Review to place and embed it on the page.
Blocks & Widgets for EDD Reviews
This Easy Digital Downloads extension comes with shortcodes and multiple widgets (Appearance » Widgets) for showcasing reviews across the frontend of your WordPress site. You can insert them anywhere where blocks/widgets are supported, like pages, sidebars, and footers:

The EDD Featured Review block lets you highlight and display a single review from any of your digital products. You can include the title, product and customer names, full product review, and date of publication.

The EDD Reviews block generates the most recent customer reviews for digital products. You can choose how many to show and display the reviewer's name with a link to the product.
Similar to EDD Reviews, the Per Product Reviews widget is for when you only want to show reviews for a single product on that product's download page. It includes the number of star ratings and customer names.

Step 5: Request Customer Reviews for Digital Products
To encourage customers to leave product reviews on your site, it's important to provide clear, convenient ways of doing so. In addition to individual product pages, there are other places you can request and promote reviews, like purchase receipts.
Insert 'Leave Review' Links in Receipts & Offer Incentives
On the Reviews settings page, select the Display Review Link in Purchase Receipt checkbox. When enabled, this review link appears next to the product/download name on the receipts: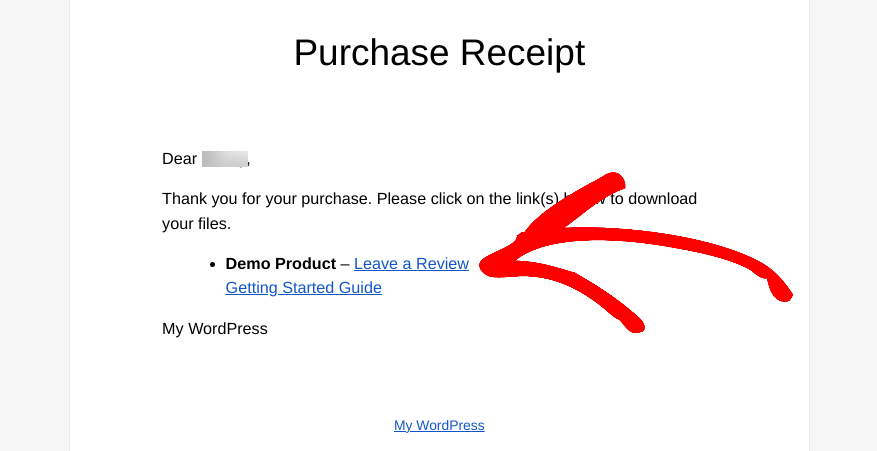 Another effective strategy is to offer customers a discount incentive for leaving a product review. Under Settings » Marketing » Reviews, scroll to the last section. Select the first checkbox to Enable Reviewer Discount:

If a customer's review is approved, this feature automatically emails them a one-time discount code: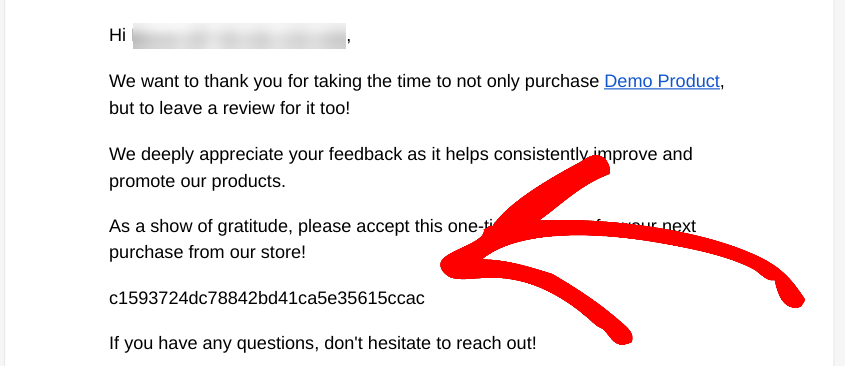 You can specify the percentage value in the Reviewer Discount Amount text field. When you're done, click on Save Changes.
Automate Customer Review Requests
Sometimes the most effective way to get customer reviews is simply by asking for them. Easy Digital Downloads makes this easy with its automated emails.
Under Downloads » Settings » Emails » Reviews, you can find various review-related email options. You can set up email notifications for new review submissions.
In the Reviewer Discount Email section, you can customize the discount code emails sent to customers after leaving approved reviews on your site.
Further down is the Request a Review section:

When enabled, this feature emails customers gently asking them to leave a review for the digital product(s) they purchased from your store: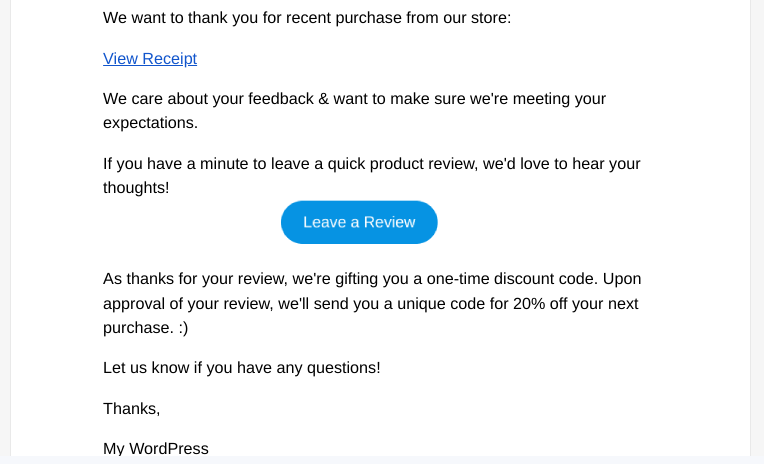 From the When to send? dropdown, you can choose how long post-purchase to trigger the email and specify a Start Date:

Then you can add your email subject line and body text. You can also use the tag markers listed below the editor to personalize the request for product reviews. When you're done, click on Save Changes.
Step 6: Moderate & Manage Your eCommerce Reviews
Once you start getting customer reviews for digital products, you can manage them under Downloads » Reviews:

The reviews moderation functionality is the same as the WordPress comments. Submissions remain in the moderation queue until you approve/deny them (which you can do by hovering over the user's name):

Don't want to require approval for reviews to be published on your site? You can disable the setting under Settings » Discussion » Before a comment appears:

You can also manage reviews from the individual product pages. The Reviews panel is located at the bottom of the page editor.
Collect Customer Reviews for Digital Products
Collecting and displaying customer reviews for digital products on your WordPress site is a simple yet effective way to establish credibility and trust. With Easy Digital Downloads, you get everything you need to manage and sell downloadable products, as well as capture shoppers' feedback on them.
What are you waiting for? Start asking for customer reviews for digital products ASAP.

Want to implement another strategy to help improve the customer experience and increase sales? Learn How to Create a Product Comparison Table in WordPress.

P.S. Be sure to subscribe to our newsletter and follow us on Facebook or Twitter for more WordPress resources!
This content was originally published here.