Building artificial intelligence (AI) tools for your business is becoming more mainstream with the advancement of AI development software.  AI and machine learning (ML) projects require a lot of advanced systems working altogether. So it makes sense for developers to use a platform that does most of the heavy lifting. The best AI development software can provide the framework and tools to develop tailor-made AI tools for a variety of applications. This article explores some of the top platforms used today.
AI development software is software that allows users and businesses to build powerful AI tools to streamline various tasks with amazing speed and efficiency. You're probably familiar with some popular AI tools already developed. Examples of AI tools include:
Although these AI tools are great out-of-the-box solutions for many, developers are finding it easier than ever before to use AI development software to build custom AI tools to meet more specific needs. Developers can even use drag-and-drop interfaces and other helpful no-code features, depending on the platform.
With AI development software, online stores are building custom chatbots for more conversions and better customer service. Businesses are using custom AI machine learning software to generate advanced data reports to grow revenue. And that is just the tip of the iceberg.
Types of AI Development Software
In general, the best software for developing AI tools will usually offer the following types of solutions:
The best AI dev platforms will have pre-trained models, easy-to-use user interfaces (UI), and plenty of support material to get one's bearings.
What are the Best AI Development Software and Platforms?
The Best AI Development Software Listed In Order
1. Google Cloud AI Platform
Google Cloud AI Platform is a cloud-based service that allows developers to build, train, and deploy machine learning models with popular frameworks. With plenty of widely adopted pre-trained models, AI developers can quickly start building their own tools with the basics covered.
Key Features:
Shopify is making use of Google's Discovery AI to give advanced online retailers access to advanced product search based on AI – See Shopify Commerce Components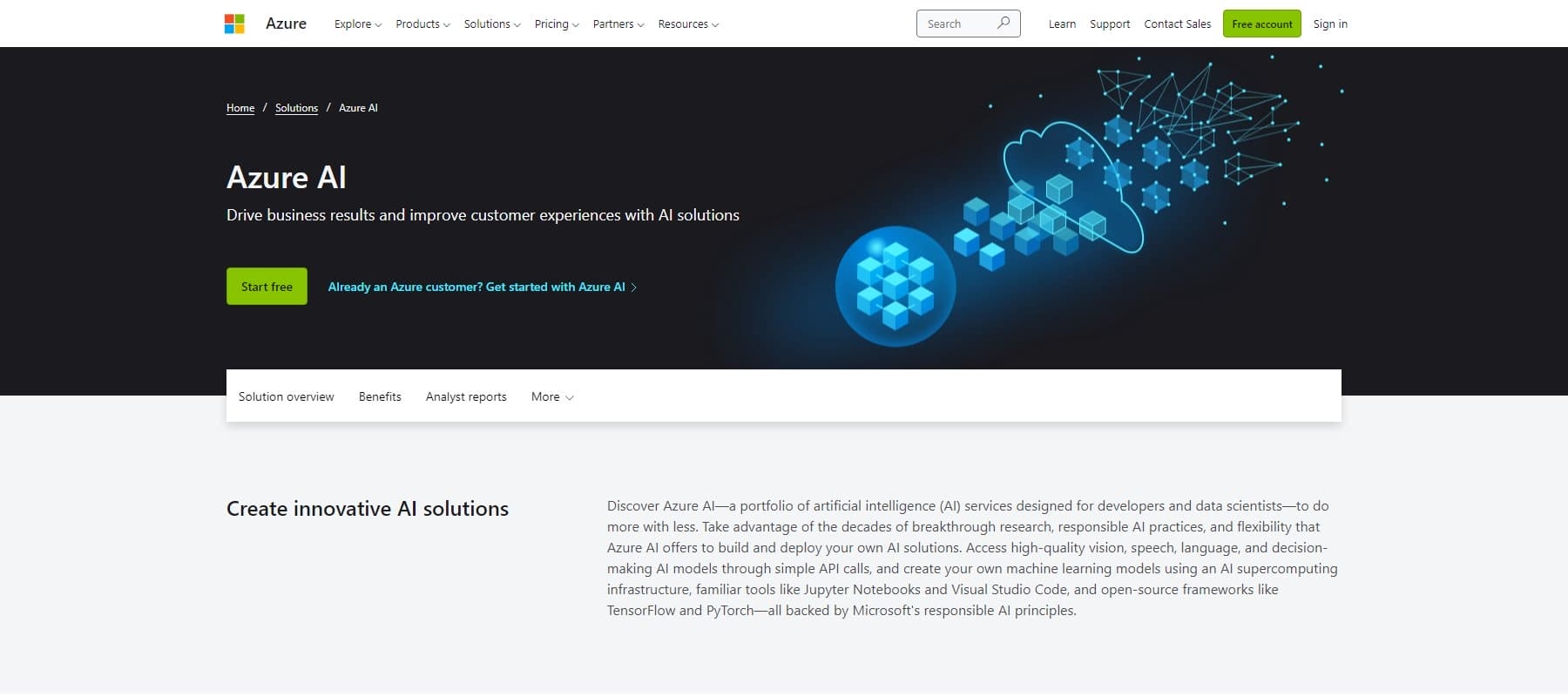 Microsoft Azure AI offers enterprise-ready AI services and tools for building, deploying, and managing AI solutions at scale, including machine learning, deep learning, and cognitive benefits. It also is a go-to platform for pre-trained models that developers can leverage immediately and trust that the foundation is reliable.
Key Features:


IBM Watson is a conversational AI platform built for question-and-answer use cases. It utilizes NLP, ML, and knowledge representation to find the meaning of a question and then generate accurate responses. It's used in many business use cases; primarily customer support applications.
Key Features:


Infosys XtractEdge is an AI platform developed by Infosys that helps businesses automate complex business processes, improve productivity, and gain valuable insights using machine learning, deep learning, and natural language processing. It primarily does all this through information extraction from documents.
Key Features:

H2O.AI offers an open-source machine learning platform that enables developers to build and deploy AI models at scale. It features pre-trained, open-source AI models and algorithms. Its open-source nature allows developers to self-host their models or choose options for either on-premises or cloud deployments.
Key Features: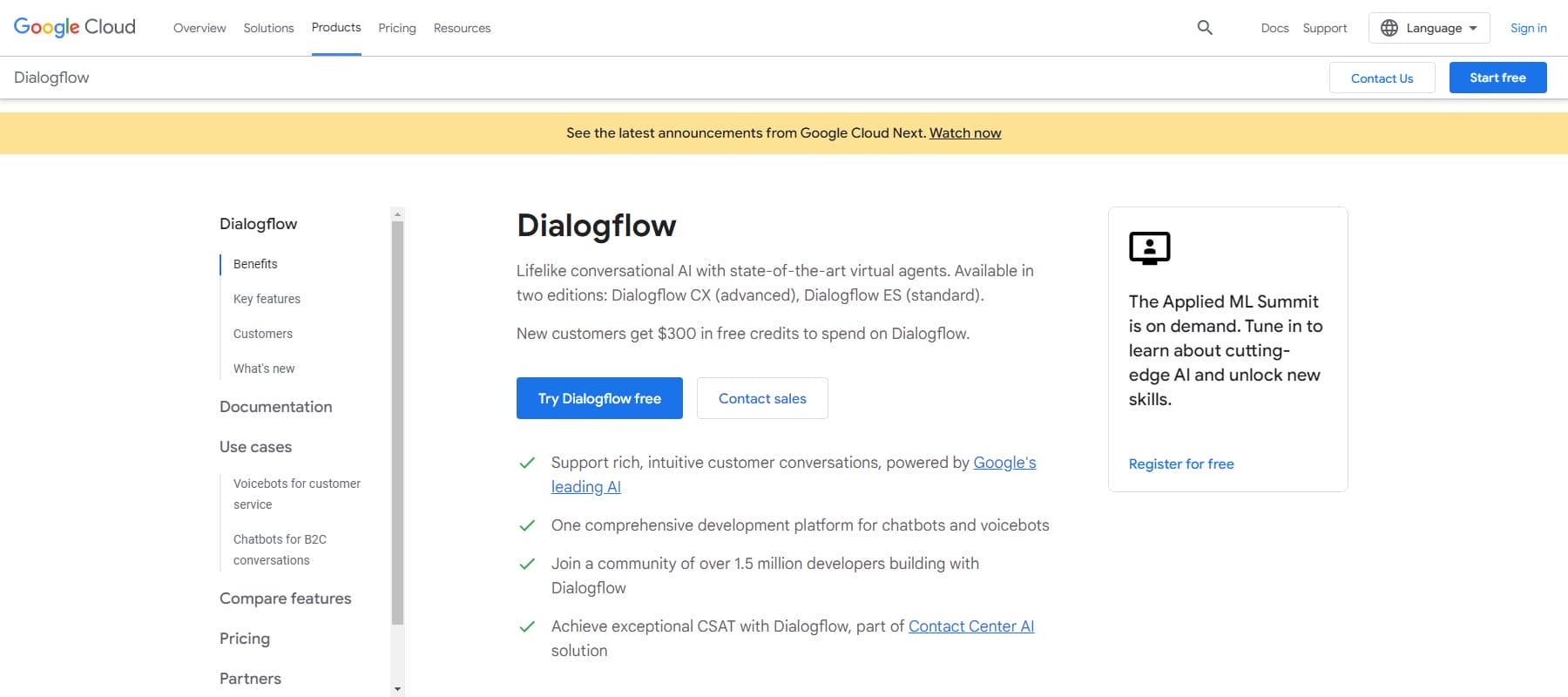 Google Dialogflow is a chatbot-building service (under Google Cloud AI) that allows developers to construct conversational agents using NLP and integrate them with external messaging platforms. Developers submit standard questions and answers to those questions to the platform. From there, individual phrases and words can be categorized to train it on how they are commonly used and understood. DialogFlow then uses that categorization to learn how to respond to similar questions based on that training.
Many top AI Chatbots and customer support platforms integrate directly with DialogFlow to help create advanced bots for customer support and other purposes. Among the best are LandBot, Ubisend, and Trengo.
Key Features: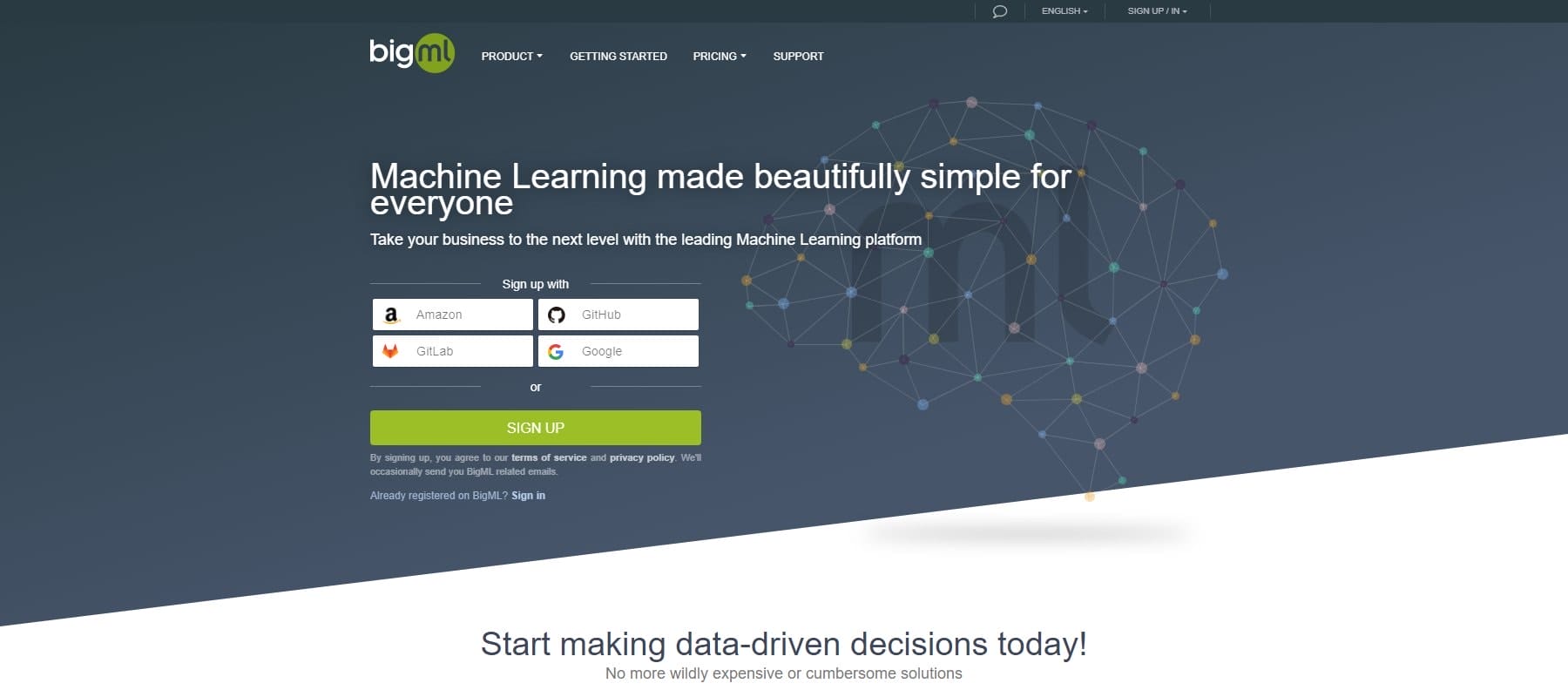 BigML is a cloud-based machine-learning platform that offers tools and algorithms to help developers build and deploy predictive models using machine-learning techniques such as decision trees, random forests, and deep neural networks. It's one of the easiest platforms to start using.
Key Features: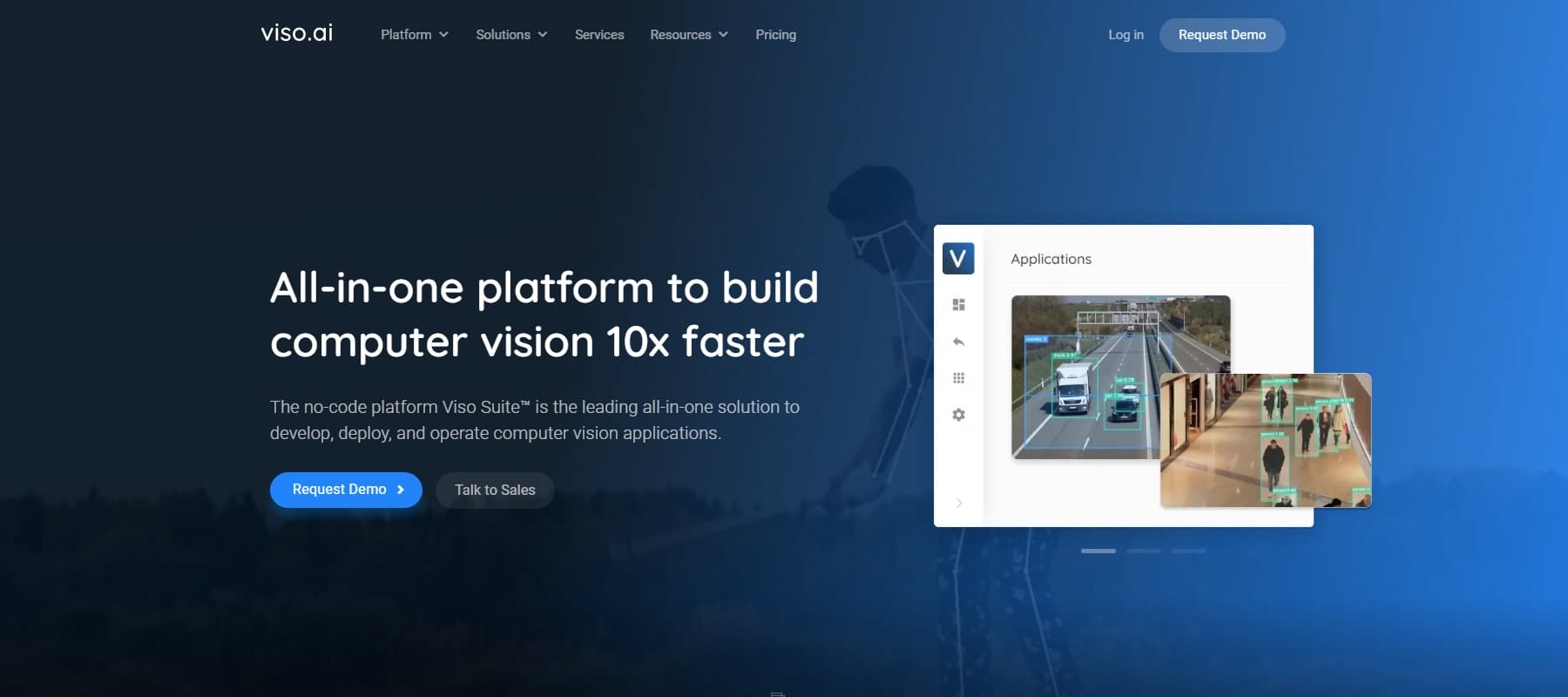 Viso Suite is an AI-powered computer vision software platform. It provides a comprehensive computer vision application development platform that is meant to be used by businesses to create their own applications. This can help monitor traffic, count inventory, and so much more.
Key Features:


Observe.AI is an AI-powered call center solution that uses natural language processing and speech recognition to analyze and transcribe customer conversations in real-time. The benefits are that it enables businesses to gain insights into customer sentiment, identify trends, and improve agent performance at scale. AI developers working on customer experience (CX) and support can use Observe to increase the speed of insight adoption drastically.
Key Features:
Google Cloud AI Platform and Microsoft Azure AI stand out as the top AI development software options available today.
Google Cloud AI Platform best suits developers seeking a scalable, cloud-based service that supports popular frameworks like TensorFlow and Scikit-learn. It offers powerful built-in algorithms, perfect for handling tasks such as image recognition and natural language processing.
On the other hand, Microsoft Azure AI is an excellent choice for organizations looking to build, deploy, and manage AI solutions at scale using an enterprise-ready suite of AI services and tools. It seamlessly integrates with popular development tools like Visual Studio and GitHub, providing a robust and efficient environment for businesses to harness the power of AI.
And for those creating advanced Conversational AI products, IBM Watson is something to seriously consider.
Not ready to build your own AI tools but want to use AI in your current work? Take a look at the best AI writing software, our top recommendations for AI chatbots, and our all-around favorite AI tools.
Featured image by AVIcon / shutterstock.com
This content was originally published here.