As a website owner, you likely deal with a lot of content and media files. If so, you may want to consider using a Google Drive plugin. Not only can this tool help free up storage space, but it can also create off-site backups of your site and enable you to collaborate on content-related projects.
In this post, we'll discuss Google Drive plugins and why you might want to use one for your WordPress site. Then we'll provide you with a list of six of the best Google Drive WordPress plugins. Let's get started!
What Is a Google Drive Plugin?
Google Drive has grown to become a powerful tool for running a business. So it makes that companies would like to integrate Google Drive into their WordPress business website. The easiest way to do this is with a Google Drive Plugin. A Google Drive WordPress plugin enables you to connect your website to your Google Drive account. This integration lets you access your Drive files from WordPress and edit them directly from your dashboard.
You can do several things with a Google Drive plugin in WordPress. For example, you can use it to:
Using a Google Drive plugin for WordPress has many advantages. Firstly, it can help you save space on your server by storing your media files in the cloud.
In turn, this plugin can help you speed up your website. By storing your media files off-site, you can reduce the data your website has to load each time a visitor comes to your site. This setup can improve your site's overall performance and User Experience (UX).
Using one of these tools can also make it easier to collaborate on projects by allowing multiple users to edit documents simultaneously. Finally, a Google Drive plugin can provide an extra layer of security for your site by making it easy to create backups.
6 Best Google Drive Plugins for WordPress
Now that we've covered why you might want to use a Google Drive plugin, let's look at some of your options. Here are six of the best Google Drive WordPress plugins. To compile this list, we considered a handful of factors, including the features, use cases, customer reviews, and pricing.
1. Use-your-Drive
Use-your-Drive is a robust WordPress plugin that offers a complete cloud solution for Google Drive. It lets you cleanly display your files and easily make changes. Use-your-Drive's search function allows you to quickly find the Google Drive files you're looking for. Plus, its helpful updater feature ensures you won't miss any critical updates.
Key Features for Use-your-Drive:
The premium plugin is intuitive and easy to use. It includes a powerful shortcode builder to seamlessly integrate Use-your-Drive with your pages and posts. You can also create and link private folders and establish user permissions for different modules.
Use-your-Drive is for you if…
Use-your-Drive Pricing: $36 | Learn More About Use-your-Drive
2. Filetrip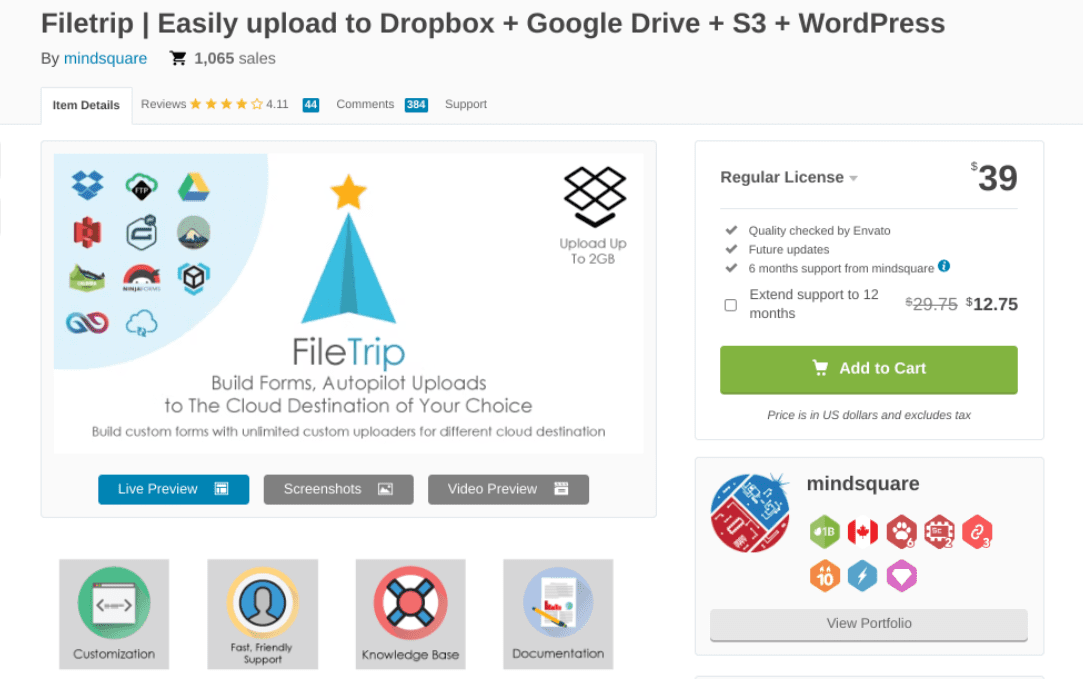 Filetrip is another popular Google Drive plugin. This tool lets you easily automate file distribution from WordPress to the cloud. You can use it to send copies of your files to multiple off-site destinations, including Dropbox, File Transfer Protocol (FTP), and more.

Key Features for Filetrip:
Filetrip's organized interface is easy to use. It also comes with a helpful backup scheduler and support for unlimited custom uploaders.
Filetrip is for you if…


EmbedPress is a high-quality Google Drive plugin that lets you embed nearly any type of file on your WordPress site. You can connect it to a plethora of web services using only the URLs of your videos, audio files, maps, etc. You can also leverage subfolders without navigating away from the built-in interface.
Key Features for EmbedPress:
You can even use the plugin to embed Facebook posts and videos. Unlike some of the other options listed in this post, EmbedPress lets you add files directly from Google Drive as well as content from over 1,000 platforms, including YouTube, Spotify, and Twitter.
EmbedPress is for you if…
EmbedPress Pricing: Free for the core plugin, with paid plans ranging from $39 to $639 | Learn More About EmbedPress
4. Google Drive Embedder


Google Drive Embedder is another popular plugin that can help you embed documents and folders in a clean, organized manner. You can use it to add files directly to your WordPress posts and pages. Additionally, you can open and download content with a single click.
One of the best parts of Google Drive Embedder is its drag-and-drop functionality that lets you easily embed content. It works similarly to selecting a photo from the WordPress Media Library.
Key Features for Google Drive Embedder:
The tool helps you structure your file storage and create a centralized space for all of your Drive documents. You can also configure the user access permissions according to your preferences. Note that you will need to install the Google Apps Login plugin to use it.
Google Drive Embedder is for you if…
Google Drive Embedder Pricing: Free, with premium plans ranging from $19 to $39 | Learn More About Google Drive Embedder
5. Image and Video Gallery from Google Drive


Image and Video Gallery from Google Drive is an excellent option if you're primarily focused on displaying images and videos as galleries. The tool is also incredibly user-friendly. Once activated, you'll be able to add a Google Drive gallery to any of your WordPress pages or posts.

Key Features for Image and Video Gallery:
When you select a Google Drive folder, this Google Drive plugin will automatically convert it into a gallery. Then you'll be able to view photos or videos on your website pages.
Image and Video Gallery is for you if…
Image and Video Gallery Pricing: Free | Learn More About Image and Video Gallery
6. UpdraftPlus
If you're an experienced WordPress user, you've likely heard of UpdraftPlus. This popular and powerful plugin offers a complete solution for WordPress backups. It's a user-friendly tool that lets you back up your files and database directly to Google Drive and other major cloud platforms.
Key Features for UpdraftPlus:
With over 3 million active WordPress installations, UpdraftPlus is a widely used and highly rated plugin. You can rest assured that it's reliable with plenty of support and documentation. You can also set up automatic backup schedules and use fewer server resources.
UpdraftPlus is for you if…
UpdraftPlus Pricing: Free, with paid plans starting at $70 per year | Learn More About UpdraftPlus
Final Thoughts on Google Drive WordPress Plugins
Google Drive is a popular cloud platform that can store large amounts of files, from documents and PDFs to audio and video content. However, if you want to integrate it with your WordPress site, you'll need to use a Google Drive plugin.
As we discussed in this post, there are six popular Google Drive WordPress plugins to consider using:
Also, check out more ways Google Drive can help your WordPress Business.
Do you have any questions about choosing a Google Drive plugin? Let us know in the comments section below!
Featured Image via PodiumStore / shutterstock.com
This content was originally published here.