An editorial calendar is an organizational tool for scheduling and publishing content on the web. They help you stick to your publishing deadlines and make sure your entire team is staying on track. Whether you're a solo freelancer or a content manager responsible for an entire team of creatives, an editorial calendar is crucial. But why have one that lives apart from where you're actually publishing content? There are some great editorial calendar plugins for WordPress you can use to keep everything in the same place.
What Are WordPress Editorial Calendar Plugins?
WordPress editorial calendar plugins give you a visual way to create and adhere to a publishing schedule. And beyond that, many offer additional functionality. For example, you may be able to auto-post through their service, share content to social media, or quick-edit directly from the dashboard. The best part is that the calendars are almost always accessible right from the WordPress dashboard. This keeps everything front and center, speeding up your workflow.
 
6 Best WordPress Editorial Calendar Plugins
 
If you are looking for an editorial calendar plugin for your WordPress site, the ones listed in this article are the best place to start. Each editorial calendar plugin on our list has an excellent reputation. The ones that are available directly from the WordPress plugin library are (so far) well-maintained. Plus, even the ones that have paid upgrades available offer free versions.
Let's check them out!
1. CoSchedule
CoSchedule is one of the leading marketing and organizational tools out there, making it easy for marketers to manage their content calendars and teams all in one place. The CoSchedule WordPress plugin allows you to combine the powerful functionality of CoSchedule with your WordPress site. Because your WordPress posts are synced with CoSchedules editorial calendar tools, you can use the calendar to manage those posts without having to go back and forth into WordPress. For example, you can WordPress content dynamically (Post Title, Date, Author, Category, etc) from within the calendar itself. You can also use it to publish content to social media networks from the same place. CoSchedule also has content optimization and agile marketing features. For example, there's an asset organizer to catalog brand files and folders.
Key Features of CoSchedule
 
CoSchedule is for you if…
 
 
CoSchedule Pricing: Free; $29 per user per month for Pro | Learn More About CoSchedule
2. Editorial Calendar

 
The Editorial Calendar plugin for WordPress gives you a customizable overview of your blog and when posts will be published. The plugin integrates with the WordPress admin console so you can access it from your dashboard, and you can edit posts directly from the calendar. You can also customize what you see on the calendar (author, post status, time of day) and how many weeks show at one time.
Key Features of Editorial Calendar
 
Editorial Calendar is for you if…
 
 
Editorial Calendar Pricing: Free | Learn More About Editorial Calendar
3. Nelio Content
The Nelio Content plugin has both an editorial calendar and what they call a "Content Assistant," which helps you optimize your content easily. The standout feature of this plugin is that social media posts can be created and promoted automatically to market your content. From the calendar, you can view and manage your blog posts, social media posts, and tasks. Plus, you can change publication dates with drag and drop functionality.
 
Key Features of Nelio Content
 
Nelio Content is for you if…
 
 
Nelio Content Pricing: Free; starting at $5 per month for Premium | Learn More About Nelio Content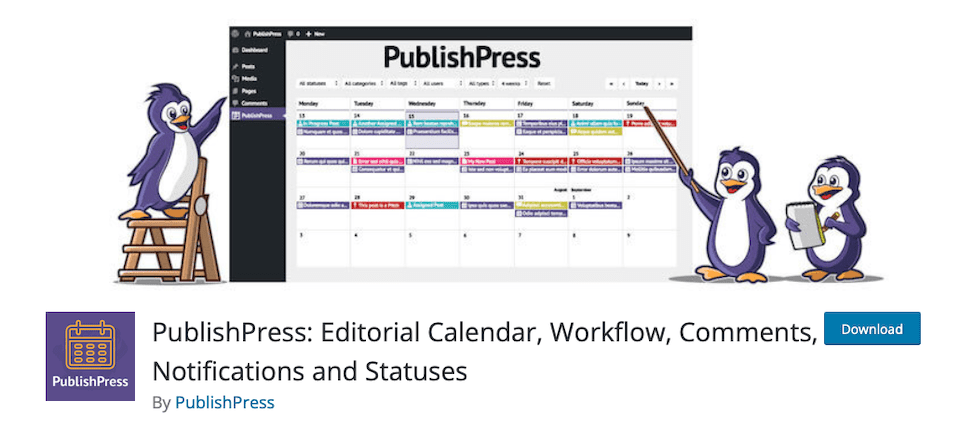 The PublishPress WordPress plugin is is an editorial calendar additional content management features to help keep you and your team on track. It lets you view and manage your content with and easy to use drag-and-drop calendar. This makes it easy to update publication dates for blog posts if you want to reschedule them. You can also filter the posts displayed in the calendar by category, status, type or user. One of the best features is that PublishPress lets users leave comments under posts so that team members can get notifications and discuss changes before the content is published.
 
Key Features of PublishPress
 
PublishPress is for you if…
 
 
PublishPress Pricing: Free; starting at $69 for Pro | Learn More About PublishPress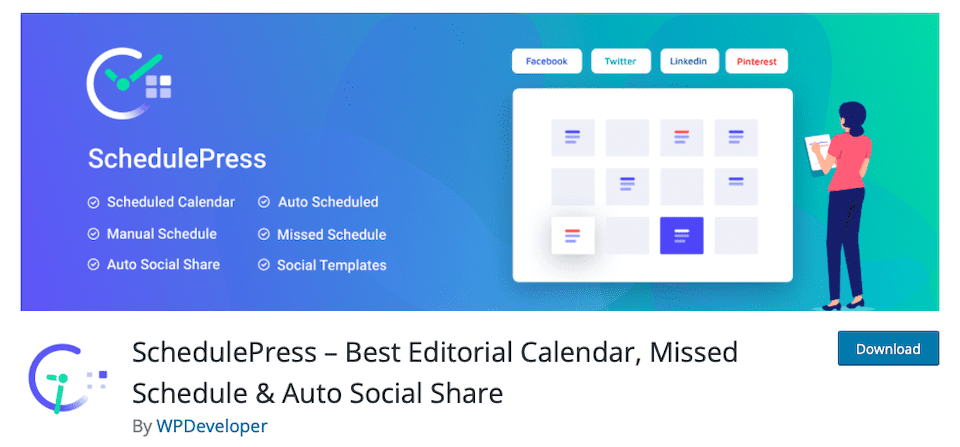 SchedulePress' editorial calendar is another great WordPress plugin with all the necessary tools organize, schedule, and share your team's publications. What makes this plugin unique is
its emphasis on automation. You can schedule posts in advance to be auto-published on your blog and social media platforms. The calendar makes it easy to view everything that's set to go live via the dashboard widget. When you want to create a new post, you can do so from the SchedulePress calendar. There's also the option to set permissions for others to manage your calendar.
Key Features of SchedulePress
 
SchedulePress is for you if…
 
 
SchedulePress Pricing: Free; Pro starting at $39 per year | Learn More About SchedulePress
6. Strive


 
Strive puts your content calendar where it's most useful: in your WordPress dashboard. From there, you can add, reschedule and edit your posts. The plugin also has other useful features for content creators, like the ability to create a revision of a post (for SEO) and work on it before making it public and overwriting the original post.
 
Key Features of Strive
 
Strive is for you if…
 
 
Strive Pricing: $7 per month | Learn More About Strive
Final Thoughts on WordPress Editorial Calendar Plugins
When you have a content calendar, it's undeniably easier to decide which blog post to schedule next and where they should each go in relation to one another. If you have simple needs when it comes to content organization, a freebie plugin may work just fine for you. And if you have a large team and a vast content creation plan, you may need to pay for upgraded features. Either way, you're bound to find your content planning a lot easier to manage when you have an editorial calendar to rely on.
You may find it helpful to integrate Google Calendar with WordPress, too — after all, you can't be too organized, can you?
Have an WordPress editorial calendar plugin you like best? Let us know in the comments below!
Featured Image via Honeybe / shutterstock.com
This content was originally published here.