Looking to lock some content on your WordPress website?
Locking content can be a really effective way of getting users to take some action. For example, if you would like to get people to sign up for a contest or to provide their emails in exchange for some content, content locks are an effective tool for achieving this.
There may be other times when you'll want to lock some content in WordPress. We'll show you 5 different methods for locking content in WordPress.
What Does It Mean to Lock Content in WordPress?
Locking content in WordPress means restricting user access to certain parts of your website. These may include posts and pages, and even more fundamental parts of your website like the admin dashboard.
With the help of the right plugins, you can easily restrict access to your pages, posts, forms, and so on. There are different methods for doing this, and different tools that will help.
Here are the best 5.
Ways to Lock Content in WordPress
1. Restrict Forms Using WPForms
WPForms is a powerful WordPress form plugin that allows you to intuitively create various types of forms including contracts, service agreements, and user signup pages.
You might use these forms, for example, to let users enter a contest, or to sign them up for some premium content. In either case, you'd probably want to restrict access to certain groups of users.
You can do this easily using the WPForms Form Locker Addon.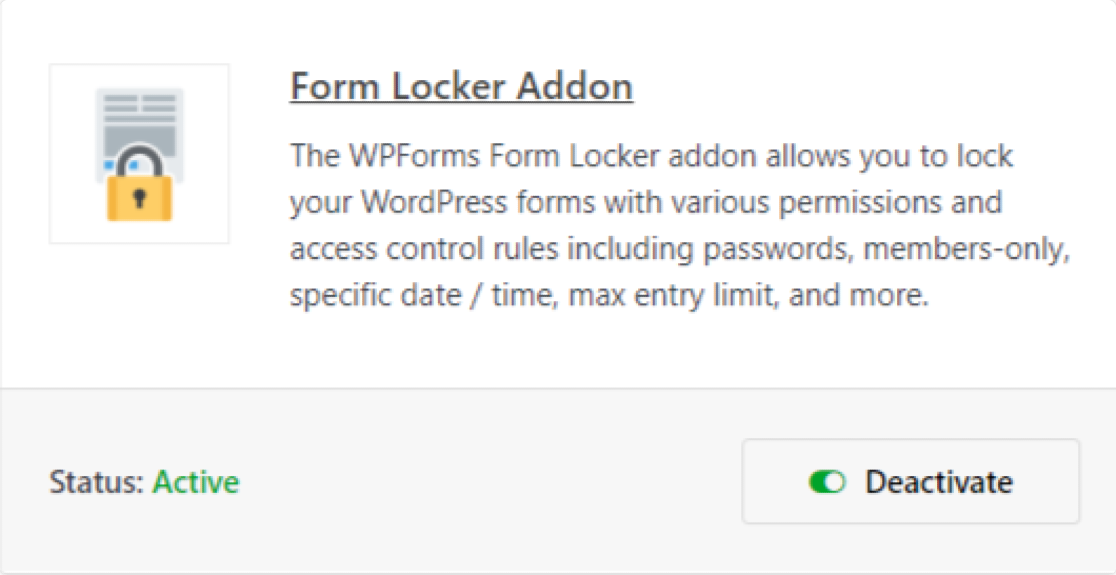 What the Form Locker addon does is allow you to restrict user access based on different criteria chosen by you.
You'll need to start with a WPForms Pro subscription. Once you've installed WPForms Pro, the next step is to create a new form.
Next, from the WPForms dashboard on your website, click on Settings » Form Locker from the menu panel on the left.
Now, the form locker feature will be active. You'll just have to configure it to work the way you want, following the steps below:
Configuring Form Verification
The form verification setting will force users to provide some credentials before they can use a form.
You can set these credentials up in any of 3 ways which include, age, password, and email.
These options give you a decent range of choices when it comes to picking a form verification method.
Enabling Age Verification
If you choose to use age as a credential, you can set it up so that users have to either be above or below a certain age, or an exact match to it.
Age verification is a good way to let visitors know that your form is only intended to be used by people in a certain age range.
Enabling Password Verification
It's also possible to set lock your form with a password. This is great for special access forms that only a few people can unlock if they have the password.
Password-protected forms impose a very high level of access restriction compared to other methods.
Enabling Email Verification
Forms with email verification enabled are only accessible to users after confirming their provided email address.
Email verification is great for preventing spam or fake form entries.
Form Scheduling
If you're using forms to set up a campaign for a limited period only, you can set it up to stop accepting entries after a particular date.
The form scheduling feature allows you to set a start and end date, as well as to create a message that will be displayed to users once the end date passes.
Form Restrictions
Form verification already makes it impossible for users without the right credentials to enter data into a form.
You can add an additional level of protection by enabling user restrictions that will make your forms visible only to logged-in users.
Entry Limits and Restrictions
This feature allows you to limit the total number of entries collected in a single campaign, or to limit the total number of entries a single user can make.
For instance, if you were looking to make an offer to the first 50 people to sign up using a form, you could set the total entry limit to 50.
You can also use this setting to limit the number of entries per single user. These restrictions can be enforced by email address or IP address, or both.
WPForms Pricing 
The Form Locker addon is included with WPForms Pro and above plans, starting at 199.50 per year.
2. Lock Content Sections With OptinMonster
OptinMonster is one of the top conversion optimization tools for WordPress. The plugin provides easy ways to capture leads by getting users to sign up for your email marketing campaigns, newsletters, and so on.
You can use OptinMonster to lock your popular blog posts behind an inline form. The way to implement a content lock is by offering limited access to high value content, and requiring users to complete an action, like providing their email, to access the rest of the content.
You could offer a 3,000-word tutorial article, for example, with the most actionable bits offered within the last 1,000 words of content. You would then restrict access to this last bit until users provide their email.
OptinMonster's content lock feature is perfect for this. The content lock feature allows you to easily lock some portion of a post or page on your website, making it available only to users who subscribe.
To get started, first make an Inline Campaign using OptinMonster. In the design view of the campaign builder, click on the Settings icon at the bottom of the screen.
After that, look under the Inline Settings section and use the toggle button to enable the Lock Content Below Campaign option. When you've enabled the content lock, you can then choose the type of locking style. This option lets you either blur the locked section of your content or remove it below your campaign.
Make sure to Save your changes when you're done building the campaign.
You're now ready to publish the content lock campaign. Here's what it looks like with blur selected as the content lock type:
For a detailed guide on creating and embedding content lock elements in specific posts on your site, see this guide using your popular posts as content upgrades.
OptinMonster Pricing
The Content Lock feature is included in OptinMonster's Plus and higher plans, starting at $19 per month.
3. Lock an Under Maintenance Site With SeedProd
SeedProd is a landing page builder for WordPress websites. Apart from helping you build attractive landing pages for your marketing campaigns, you can also use SeedProd to create attractive maintenance or coming soon mode pages while you're site is still incomplete.
Pages in coming soon or maintenance mode give you a great opportunity to lock out visitors while your site is unavailable and display useful information such as the expected time frame for when your site will be back up.
To start, open your SeedProd dashboard from your WordPress admin area. Then, click on the Set Up a Maintenance Mode Page button.
This will take you to a template selection screen. There are dozens of templates to choose from. And all templates are 100% customizable, so you can change anything you don't like.
Select a template to launch the page builder. You can use the drag and drop interface to edit the design of your page. If you want, you can also add elements like a countdown timer for when your site will be available, contact links, or even a signup form for visitors that would like to be notified when your site is live.
For more details. see this guide on putting your site into maintenance mode.
SeedProd Pricing
SeedProd premium plans start at $39.50 per year.
4. Lock Member-Only Content With MemberPress
Membership sites generally restrict most of their content to logged-in members.
If this is what you have in mind, you can use MemberPress to create different groups of users with different levels of access. For instance, if you offer several tiers of subscriptions, it might make sense to restrict certain content to members having a particular subscription level.
MemberPress gives you the ability to define access rules based on member subscriptions easily.
MemberPress is great for managing websites that typically run on a subscription model such as online course websites, gaming forums, and so on. You'll also be able to accept payments, offer coupons, and so on.
MemberPress Pricing
MemberPress is available starting at $15 per month.
5. Lock the Admin Dashboard With White Label CMS
Making a website for a client? You might not want them to know the exact tools you've used in the process. Or, they might not be tech-savvy enough to safely tinker around in the backend.
In such cases, restricting access to certain parts of the WordPress backend would be a good idea. And you can do this easily by using a plugin like White Label CMS.
Along with locking off selected parts of your WordPress backend, White Label CMS will also allow you to implement some custom branding on the WordPress backend, which is great for marketing.
White Label CMS Pricing
White Label CMS can be downloaded for free from the WordPress plugin directory.
That's all for this list!
By now, you should have a pretty good idea how to lock content in WordPress in 5 different ways. Choose the method that works best for you and follow the steps!
Next, Take a Deep Dive Into The Top DocuSign Alternatives
Are you looking for a great electronic signature app that's as good as, or better than, DocuSign? There are quite a few options, and we've covered the best ones in our guide to The Top 9 DocuSign Alternatives. Take a look!
Ready to build your form? Get started today with the easiest WordPress form builder plugin. WPForms Pro includes lots of free templates and offers a 14-day money-back guarantee.
If this article helped you out, please follow us on Facebook and Twitter for more free WordPress tutorials and guides.
This content was originally published here.