Website navigation is an important part of any website. Your menus will show your customers and visitors the best way to get the information that they need from your site. We've gone ahead and compiled a list of the best WordPress menu plugins for you. We've got drag-and-drop builders, custom design panels, and more. These menu plugins will help you to create easy-to-understand navigations for your website viewers.
There are many WordPress menu plugins on the market (even some for breadcrumbs). Some specialize in certain types of menus while others offer a wide range of options. But, some basic features that you can expect from menu and navigation plugs are:
Knowing your own needs and non-negotiables will go a long way in choosing the right solution for yourself. Regardless, a menu plugin is a great alternative to creating basic WordPress menus or editing your WordPress header from scratch.
Choosing the right WordPress menu plugin can be overwhelming, with so many options available. To make your life easier, we have put together a list of the top plugins on the market. These plugins are designed to help you create stunning WordPress menus quickly and easily, without sacrificing quality or features. Whether you are looking for a basic menu plugin or something more complex, these plugins have you covered.
If you're looking to upgrade your WordPress website's navigation system, Responsive Menu is a popular plugin worth considering. The plugin offers a vast range of customization options, even in the free version, and allows users to create visually impressive menus that work well on all devices. The plugin's streamlined menu creation process makes it easy to use, even for WordPress beginners. And because of its focus on mobile-first design, it is one of the best mobile plugins out there.
Key Features of Responsive Menu:
A visual drag-and-drop interface allows you to customize your mobile menu in just a few clicks. You can personalize elements such as the background image, title, search bar, and logo, as well as manage the appearance of sub-menu items and set mobile breakpoints, enabling you to customize your menu depending on your users' screen size.
Responsive Menu is for you if you…
Pricing: From $49 per year
If you want to enhance your website's mobile menu to improve performance and user experience, WP Mobile Menu is an excellent option. Since mobile traffic is increasing every year, it is crucial to optimize the mobile user experience. And that optimization starts at the top with your website's header and navigation menu. This plugin has a free version, a premium version, and a premium plugin version for eCommerce stores using WooCommerce.
Key Features for WP Mobile Menu:
With the WP Mobile Menu plugin, you have full control over the appearance of your mobile menu on your WordPress site. In addition to deciding whether the mobile menu appears on the left or right side of the screen, you can customize its total appearance. It is specifically built to offer you the ability to build out a mobile responsive menu with custom breakpoints.
WP Mobile Menu is for you if you…
Pricing: Free; Paid plans from $77.88 a year (or 8.99 per month)
WP Mega Menu Pro is yet another great plugin that has a visual WordPress menu editor. The amazing visual builder of this tool allows you to easily create your mega menu with a simple drag-and-drop system, even if you don't know how to code. It lets you create advanced navigational elements with ease and deploy them as you see fit.
Key Features for WP Mega Menu:
The drag-and-drop builder is one of the key features of the WordPress Mega Menu plugin, which allows you to easily create complex, multi-level menus without needing to write any code. You can then drag and drop these items to create a hierarchy of menu items, with multiple levels of submenus if needed. This allows you to create very complex and structured menus, which can be ideal for large websites with a lot of content.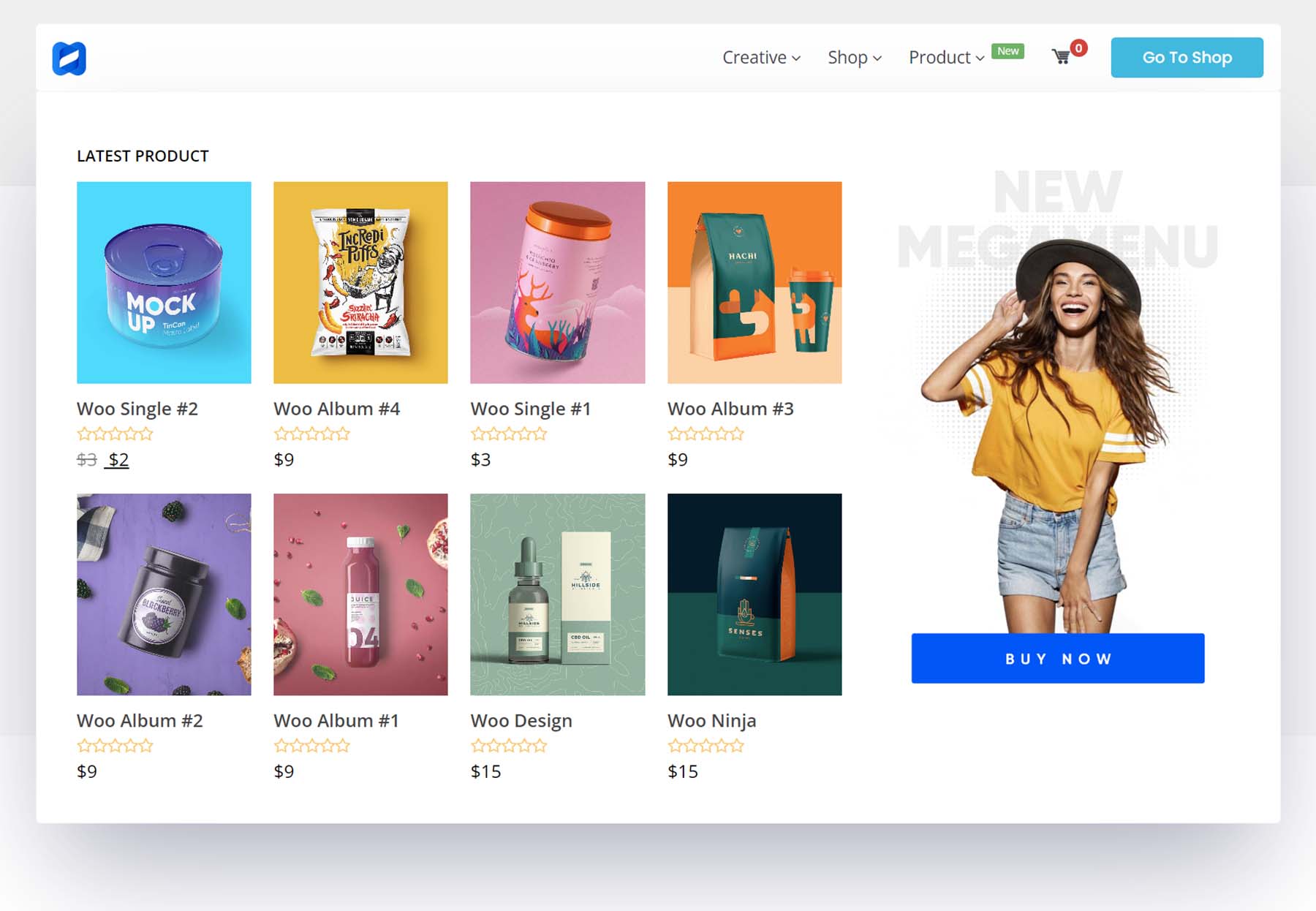 The built-in integration with WooCommerce allows you to create beautiful mega menus for product displays with a cart menu icon that has an item counter.
WP Mega Menu is for you if you…
Pricing: From $29 per year
Max Mega Menu is a freemium menu plugin that swaps the existing menu of your WordPress theme with a more customizable one. This allows you to modify the look and feel of your website's navigation and menus with ease. It offers a variety of customization options and a drag-and-drop builder that makes it easy to build out mobile responsive mega menus for any website. This plugin is suitable for all types of WordPress users, regardless of their WordPress or coding experience.
Key Features for Max Mega Menu:
Max Mega Menu is a powerful menu plugin that comes with a built-in panel that seamlessly integrates with WordPress' native menu builder. This feature extends the default menu builder's functionality with over 100 customization options for each menu and menu item. These options include features such as hover intent, effects, mobile effects, and themes, which allow you to create menus that are both aesthetically pleasing and highly functional.
Max Mega Menu is for you if you…
Pricing: Free; Paid plans from $29 per year
DiviMenus is the go-to menu solution for Divi theme users looking to add extra customization to WordPress menus. This Marketplace plugin has over 4000 purchases and comes highly reviewed. It's the best of Divi and advanced menu creation and can be yours.
Key Features for DiviMenus:
The DiviMenus module can design creative menu displays in different shapes using your WordPress menus. The plugin allows you to modify various attributes such as alignment, labels, borders, and more, to create a unique menu that meets your specific design requirements. Plus, you can use countless menus in a variety of different ways throughout your site to boost content engagement.
DiviMenus is for you if you…
Pricing: $49 per year
As a bonus plugin recommendation, we present to you UberMenu—a popular CodeCanyon tool for creating robust menus in WordPress. We particularly like the dynamic menu content features that can add menu items based on new content added to your website.
UberMenu comes highly rated (4k+ reviews at 4.5+ stars) and has a low lifetime rate.
For all those Divi users looking for a powerhouse all-in-one menu solution, DiviMenus is hard to beat. We really think you'll enjoy it as so many others have already. Responsive Menu is a top pick for WordPress mobile menus because of its powerful mobile-first design features. But if you want a highly customizable mega menu that is packed with features and easy to build, you can't go wrong with WP Mega Menu. We hope these suggestions get you a good way towards updating your website menus.
Looking for more plugins? Check out our entire collection of the best plugins for WordPress
Featured Image by Lauritta / shutterstock.com
Disclosure: If you purchase something after clicking links in the post, we may receive a commission. This helps us keep the free content and great resources flowing. Thank you for the support!
This content was originally published here.