Have you spent hours and hours designing websites on platforms that are hard to use? Are you looking for a faster, more efficient way to create a visually stunning online presence? It's time to embrace the future with the best AI website builders that can give you a helping hand.
These new tools have already started to change the web design process, using artificial intelligence to take the heavy lifting off your shoulders. From AI-driven design assistance to code generation, the best AI website builders make it easier than ever to create a professional, mobile-optimized site in no time. These go beyond simply using ChatGPT or alternatives and AI writers for content creation—these are design and functionality tools for creating full sites.
This article will introduce you to the top AI website builders that have taken the industry by storm. From Wix ADI to CodeWP.ai and GetResponse AI Website Builder, get ready to explore the ultimate tools for speedy web design.
Most of these platforms have a complete AI design flow for creating new websites. The last one on our list can help more advanced WordPress users create custom code solutions using AI. Here's what we'll be covering:
The Best AI Website Builder Listed In Order
First on our list is Wix's ADI builder.
1. Wix ADI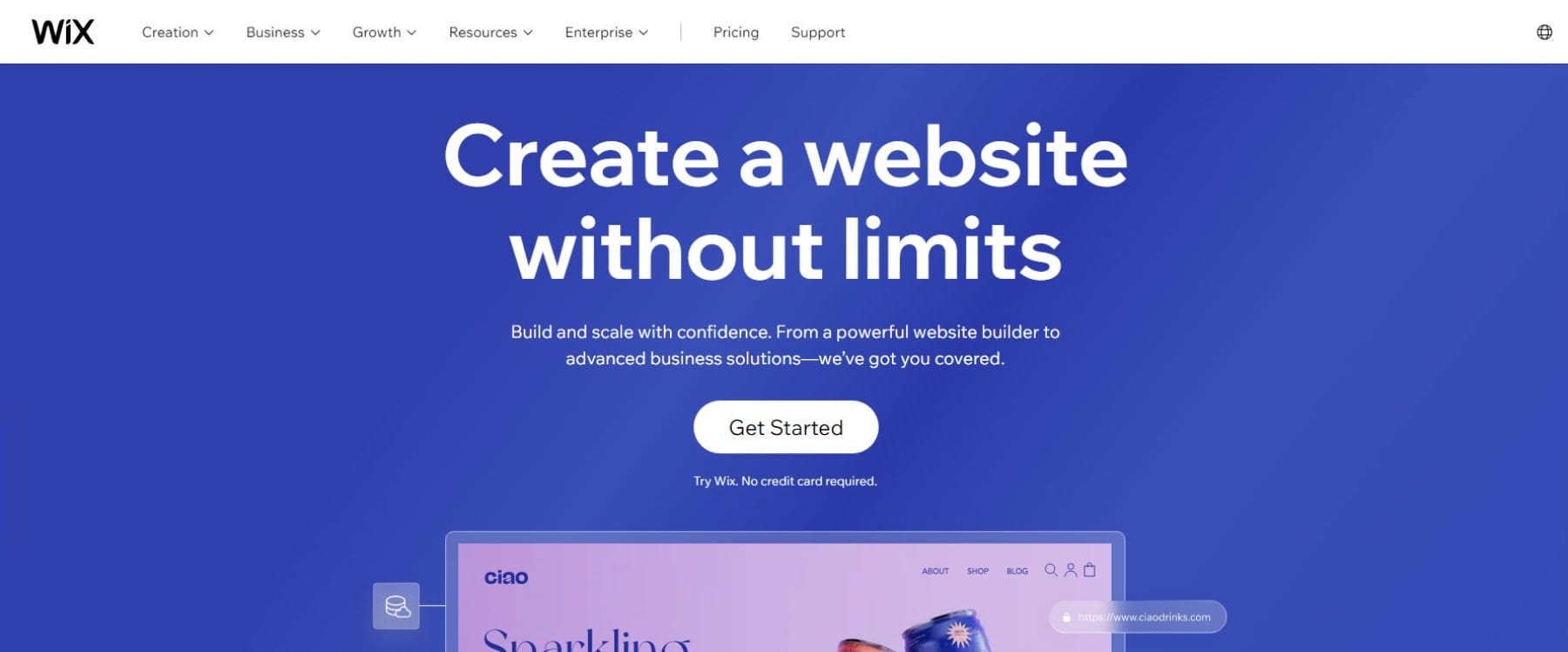 Wix ADI is an AI-driven website builder that simplifies website creation through its innovative AI assistant. Its innovative AI technology simplifies the process of designing websites, making it a go-to choice for users who may lack technical skills or time to dedicate to website creation. The platform enables users to create visually appealing web pages, landing pages, and online stores. Wix ADI is worth considering if you're looking for a convenient and efficient AI tool for web design.
Not all features in the standard Wix website builder are available in the ADI interface. Once an AI website is built, users can convert it to Wix's standard editing interface for advanced features. However, ADI won't be usable on that website once converted over. Users should stay on the ADI editor if they want to continue using AI website building for their websites.
Key Features:
Best For:
Wix ADI is a very popular way to build websites for small business owners and freelancers. Wix offers a unique way of creating websites that many people enjoy. ADI further simplifies the process by creating unique designs based on your needs.
Want to compare Wix and WordPress? See how they stack up: Wix vs. WordPress
Pricing: Create a Wix site starting at $16/mo

10Web AI WordPress Builder is a groundbreaking AI platform designed for agencies and freelancers looking to create high-quality WordPress websites with ease. Its AI-powered capabilities allow users to craft stunning websites that cater to their needs while saving time. It offers a variety of paid plans, each with an array of features, such as AI writer integration, drag-and-drop editor, and SSL certificates. Users can create stunning web pages and landing pages in real-time.
What's great about 10Web's product is that it builds websites using WordPress, which has long been one of the best and more customizable platforms for creating any website. AI WordPress site creation brings the power of WordPress to even more users.
Key Features:
Best For:
10Web is a great AI website builder for those that want advanced websites. Though AI will help with the basics, WordPress will help with deeper customization as a business website grows and needs to do more. Agencies will love using this platform because its page recreation platform takes a URL and recreates it.
Pricing: $20/mo, including AI, hosting, and security tools


Bookmark is an AI-driven website builder designed to help users create professional websites effortlessly. The platform leverages artificial intelligence (with what they call Artificial Intelligence Design Assistant or AiDA) to streamline the design process and generate customized websites tailored to users' requirements. This AI assistant helps users create attractive and functional websites in no time.
Aside from being a quick-to-launch AI website creator, Bookmark offers AI Optimization of on-page content. It will analyze a webpage against key metrics and provide suggestions and hints about how to get better page results. It also creates AI translations of your whole website and publishes them using up to 3 target languages to reach your customers in every language.
Key Features:
Best For:
Bookmark is an excellent choice for small business owners, entrepreneurs, and freelancers who need a reliable platform that solves every website need. It has solutions for every type of website and includes booking, SEO, and contact form tools.
Pricing: Starts at $14.99/mo


GetResponse AI Website Builder is a part of the all-in-one marketing platform best known for sending emails. It features an AI-powered website builder that enables users to create visually stunning and highly functional websites. Its intuitive design and powerful features make it a comprehensive solution for businesses looking to launch their online presence and grow their audience. With a focus on providing an all-in-one solution, GetResponse offers a range of features, such as website creation, landing pages, and integration with social media.
This website builder uses an AI wizard to find out website needs, industry, and brand elements. It uses all of that to create a solid starting point for a website that the owner can further refine.
See our GetResponse Review to see what it's capable of with Email Marketing
Key Features:
Best For:
GetResponse AI Website Builder is perfect for any business owner who trusts GetRepsonce for their email, live chat, automation, and social tools. Having all these basic business marketing tools under one roof makes it much simpler to manage everything and know everything will work well together. GetResponse has done a great job growing its whole set of tools, and that is most obvious with its AI website maker.
Pricing: Website builder available on the free plan with paid plans starting at only $19/mo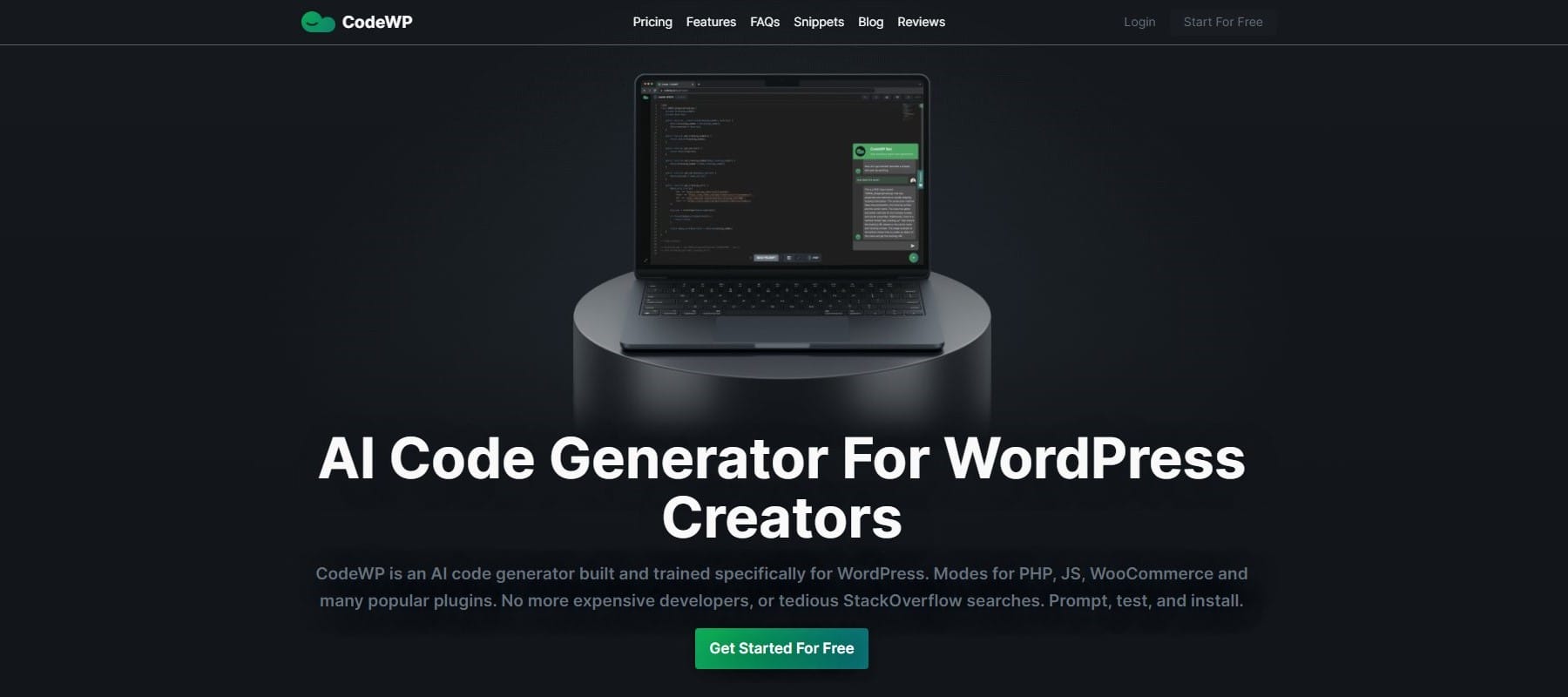 CodeWP.ai is an innovative AI code writer that simplifies the process of coding and designing WordPress websites. It enables users to create custom WordPress-coded solutions with minimal effort, allowing them to focus on other aspects of their projects.
CodeWP.ai also features plenty of pre-coded and vetted snippets ready to copy and paste. Pre-made code snippets generated by AI cover general PHP use cases for WooCommerce, standard WordPress installs, and some solutions for the Breakdance and Oxygen builders.
Key Features:
Best For:
CodeWP.ai is best suited for web developers, designers, and agencies that want to streamline their WordPress development process and create tailored solutions for their clients.
Pricing: Free plan with limited snippet generation and paid plans starting at $12/mo
Which is the best AI website builder?
The best AI website builder, considering its ease of use, features, and popularity, is
Wix ADI
. Wix ADI offers an AI-driven design process, enabling users to create visually appealing and functional websites with minimal effort. Its user-friendly interface and various customizable templates make it a top choice for individuals and businesses looking to build professional websites quickly and efficiently.
Can I use chat GPT to build a website?
While Chat GPT can assist with content generation and provide suggestions for website design, it is not a standalone tool for building websites. You'll need to use a website builder, a content management system, and Chat GPT's content generation capabilities to create a website.
ChatGPT can also help with writing code, but the chat interface isn't ideal for creating websites.
Check out
our guide
on how to create amazing web design using ChatGPT, Midjourney, and the Divi WordPress theme.
What's the Best AI Website Builder?
While AI is just now starting to enter full-scale web design, some solid tools make creating easier than ever. Here's a look at our top picks from this article.
The longest-standing and most widely adopted AI website builder is Wix, with its ADI design system. It's reliable and one of the current bests. For WordPress die-hards, 10Web's AI builder is also an excellent choice and will save new site builds a lot of time.
For those who like the manual methods of creating custom websites with WordPress but want to inject some AI code generation to speed up projects, CodeWP.ai is your place to start.
Looking for more? Check out these top website builders and our complete collection of the best tools for your website.
Featured Image by Ico Maker / shutterstock.com
This content was originally published here.