Preparing for a wedding can be significant, especially if you plan to create a website for your event. Creating a wedding website is the perfect way to share information, organize gift registries, curate photos, and document your big day. Of course, you'll want to create a site as unique as your relationship – and choosing from among the best wedding WordPress themes can help.
In this article, we'll first discuss why you might create a wedding website and explain what features you'll need. Next, we'll introduce you to gorgeous wedding themes. Let's take a trip down the aisle!
Why You Might Want a Wedding WordPress Theme
A wedding is often a large and complex event, with lots to plan, prepare for, and record. At first glance, creating a wedding website may seem like another task on the to-do list. However, it can help you streamline some of your other responsibilities before and after the event.
Here are just a few of the ways a wedding website can come in handy:
Of course, we recommend using WordPress for your wedding website – it's a powerful, flexible platform that puts many valuable tools at your fingertips. However, before you can start to build your website, you'll want to find a suitable theme. Fortunately, there are lots of top wedding WordPress themes that can provide a solid foundation.
The 11 Best Wedding WordPress Themes
To help you start on the right foot with your wedding website, we've collected 11 standout WordPress wedding themes. Every theme has strong user reviews and ratings, recent updates, and useful wedding-specific features and functionality. Let's take a look at each in turn.
1. ChicLuxe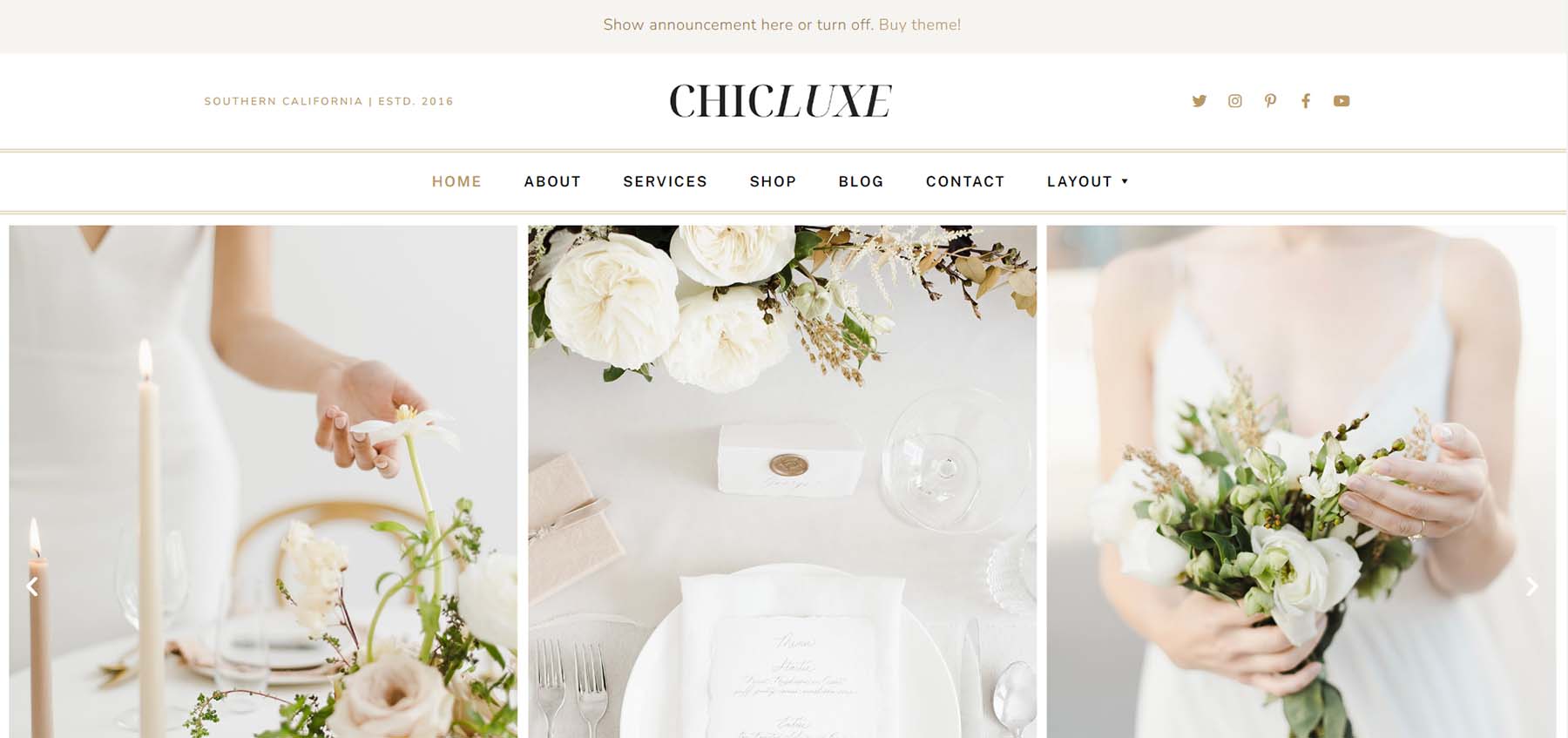 ChicLuxe is a WordPress wedding theme that speaks to the soul of the luxury wedding professional. Florists, planners, and other wedding service providers will love the beauty and ease that ChicLuxe provides. Firstly, the theme is meant to work with the free version of the Elementor page builder. Thus, you can easily edit your site without coding or paying for an additional plugin license. Secondly, the theme has many page templates that'll help support your wedding business. Portfolio, testimonial, and FAQ page templates are just a few pre-built templates you can enjoy when using ChicLuxe. Additionally, the theme comes with an announcement bar, native GDPR cookie consent functionality, various blog formats, and much more. This is why we deem it one of the best WordPress wedding themes for wedding service providers.
Key Features:
Social media, specifically Instagram, is essential to building your wedding business. Building an email list is vital to growing trust and brand awareness among your clients. Luckily, ChicLuxe has a native Instagram grid and newsletter module in the footer of your website. You won't need external newsletters or social media plugins to integrate your beautiful IG feed or newsletter into your website.
Best for:
ChicLuxe is designed for wedding industry vendors, high-end event planners, and those adjacent to the wedding industry. ChicLuxe will showcase your high-end luxury services and offers in the best light.
Pricing: $149 (lifetime)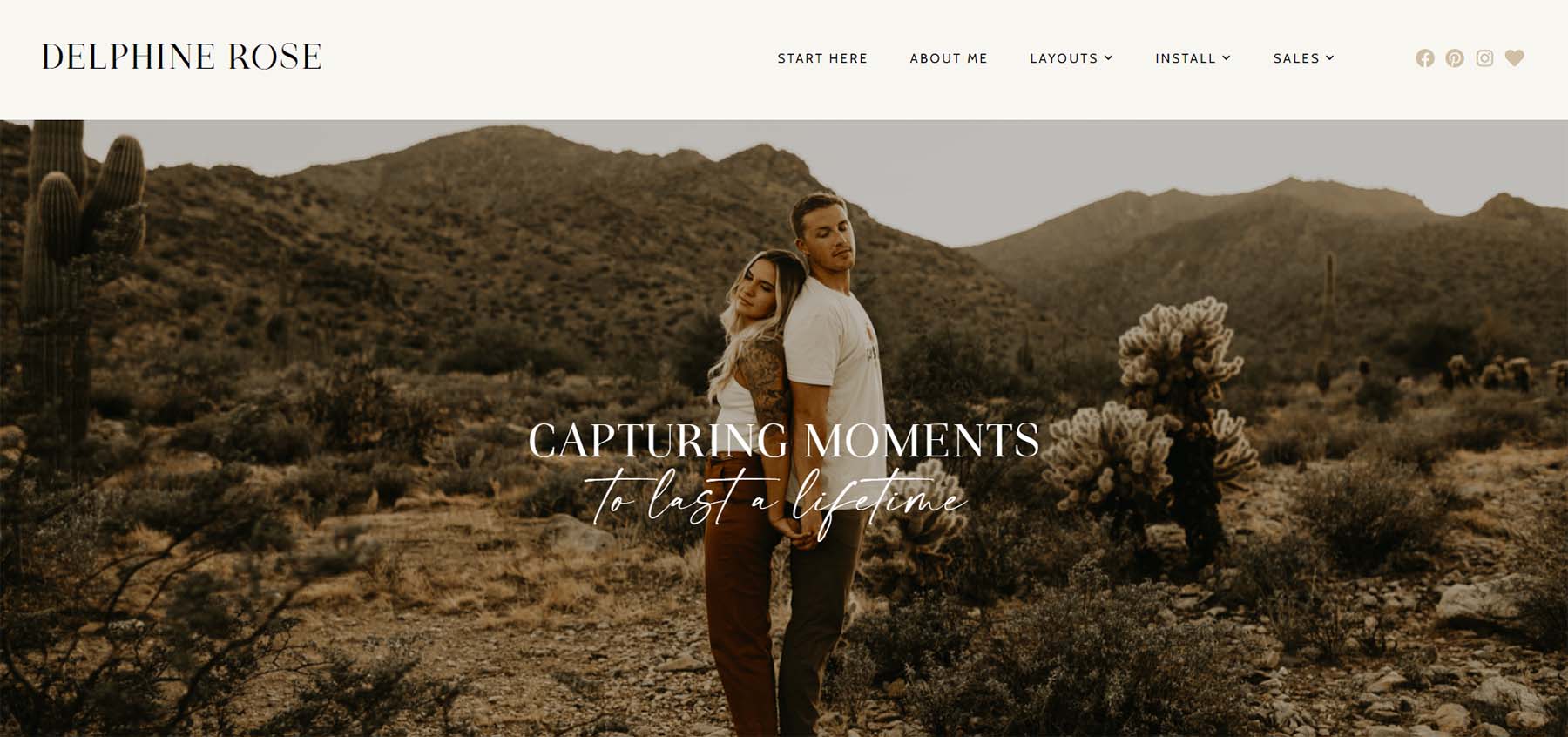 Delphine is another wedding WordPress theme that can meet the needs of wedding professionals. If you have a visually-forward and image-centric brand for your business, you'll enjoy the style that the Delphine theme encompasses. Delphine utilizes Elementor's global color feature. This means that you can easily customize all aspects of your website's visual branding and identity in one fell swoop. This theme comes with two distinct page templates called investments and experiences that allow you to break down the pricing of your wedding services and explain what the experience is like working with your business. In addition to these page templates, you can beautifully set up your services gallery, portfolio of work, and online store when you use Delphine as your WordPress theme.
Key Features:
When selling on social media, it's crucial to have a link in your profile that can direct people from social media to your website. Delphine gives you a links page template to house all your essential online properties on one page. From your booking link to your latest blog posts, you have everything your audience on social media may need to reach out to you in one place. Furthermore, you can customize this page easily with Elementor.
Best for:
Wedding vendors who sell high-ticket services and items requiring more information to educate their clients will appreciate the conversion-focused approach taken with Delphine.
Pricing: $149

Divi has the tools that make it simple to build and customize your wedding website, whether you're building a DIY site as a bride or wedding professional. Holding more than 200 native modules, Divi's no-code page builder gives you the tools to make any wedding website you can think of. You can use the Countdown Module to mark the days till your big event. Or, you can show off the photos from your engagement shoot with the Gallery Module.
With five wedding-focused full website packs and over 2500+ premade page layouts, Divi is a WordPress theme that can do it all. Whether you're looking to build a wedding announcement page or a website for a wedding professional, Divi has got you covered. You can also look at the Divi Marketplace to find additional child themes, modules, and plugins to help you build your dream wedding website.
For example, you can use the Divi Timeline Layouts Pack from the Divi Marketplace to create a beautiful wedding schedule on your website. Furthermore, Divi has a host of integrations with booking plugins, email marketing platforms, WooCommerce, and many more to help you build the best wedding website for your needs.
Key Features:
Divi's Page Builder is impressive and dynamic yet uncomplicated to use. Drag-and-drop functionality, a library of editable modules, and more are all cornerstones of Divi. For the wedding professional, you can quickly build and update your portfolio. For the busy couple, you can update the venue info; no coding skills are required. To the wedding web designer, you can build websites effortlessly for your clients, ensuring their happiness and your business' success.
Best for:
Divi is one of the best wedding WordPress themes for DIY types and those serving in the wedding industry. If you're a web designer that services the wedding industry, either with individuals or businesses, having Divi in your toolkit will enable you to build any wedding website to more than satisfy your clients' needs.
Pricing: Paid plans start at $89 per year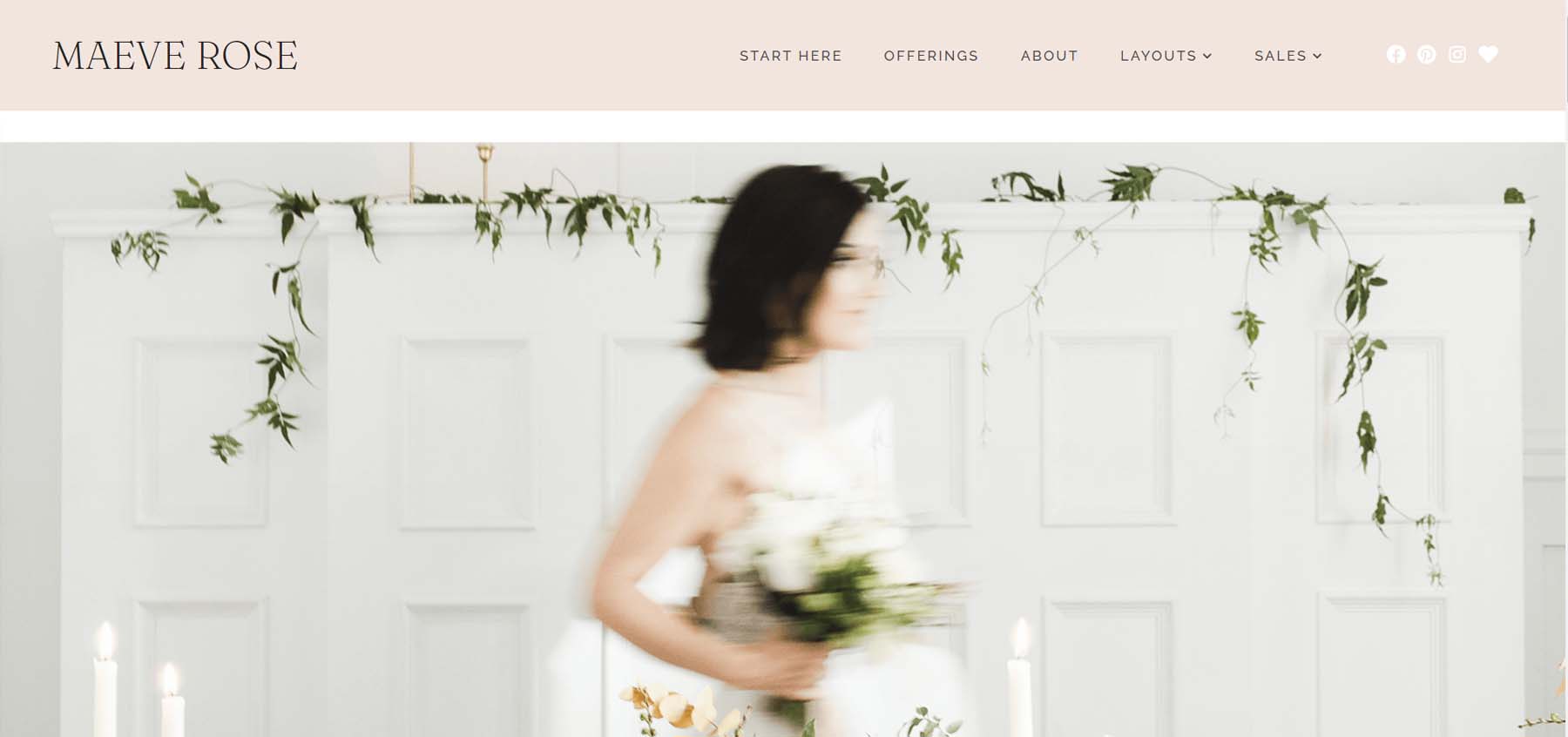 Maeve is a WordPress wedding theme that supports wedding professionals looking for a clean and minimal WordPress theme for their wedding business. This theme comes with an eye-catching portfolio and gallery showcase, making your photography stand out to your clients. Furthermore, Maeve has more than 15 landing page designs focusing on converting viewers to buyers. Additionally, the store integrates with WooCommerce, making the selling process frictionless for you as a business owner and your customers. The theme also features a footer Instagram grid and social media links in the website's header so that you can direct website viewers to your various social properties. With several blog templates, five custom sidebar widgets, and a powered Elementor Pro page builder, creating your dream wedding website is painless with Maeve.
Key Features:
The coming soon page template of the Maeve wedding WordPress theme allows you to collect email addresses while you launch new services, build your site or perform maintenance tasks on your website. This can come in handy when you update your site for the wedding season, and you will no longer need to install a separate coming soon plugin or theme for your website.
Best for:
Wedding service providers, specifically those who do wedding videography and photography, will enjoy using Maeve. They can showcase their work, grow their email list, and sell their luxury services with conversion-friendly landing pages making Maeve one of the best wedding WordPress themes for the theme.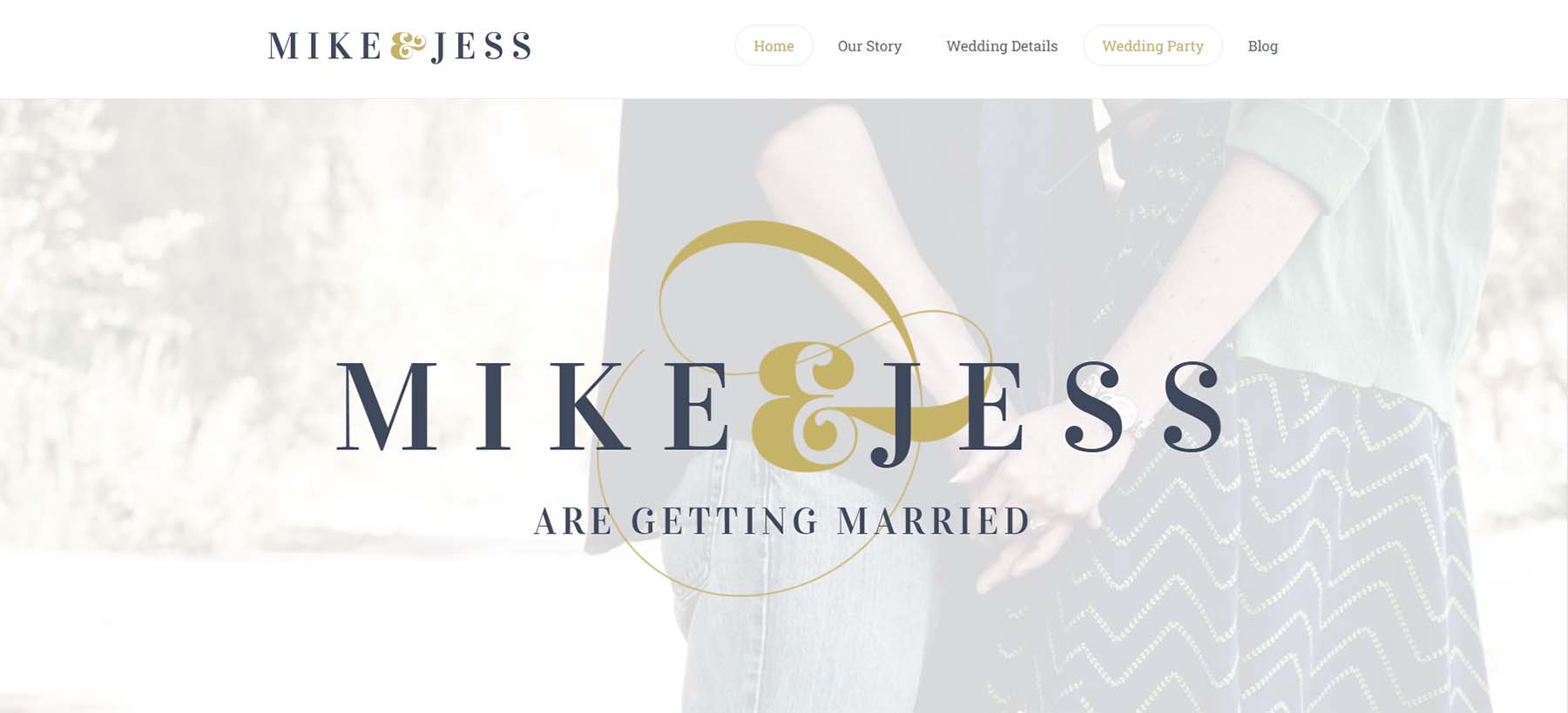 Pro is a multipurpose WordPress theme powered by its Cornerstone page builder. It allows you to visually build any website you need, including a website for our website or wedding business. With Pro and Cornerstone, you can quickly build custom layouts by clicking and dragging through the builder. Furthermore, there are dozens of pre-built elements that come with Cornerstone. And, if you want to take it a step further, you can use the Element API to build your own. Pro comes with a set of site templates that span use cases. The Wedding site from Design Cloud is a simple and effective wedding website for couples. The site has a homepage, our story page, a wedding party, a wedding details page, and a blog page. An RSVP call-to-action is also in the footer to collect RSVPs for your event online.
Key Features:
Design Cloud is where you get to see the power of Pro. Design Cloud is an extensive library of premade sites, sections, headers, and more. You can use the Cornerstone builder to pull these assets from Design Cloud into your site and make an infinite combination of pages and layouts to meet the needs of your wedding website. You can also save your custom elements to Design Cloud, building your own gallery of uniquely-built assets.
Best for:
Pro is best for website builders who want to take charge of their wedding websites. With drag-and-drop building, many extensions, and Design Cloud, building a website for your wedding or wedding website is more than possible with Pro.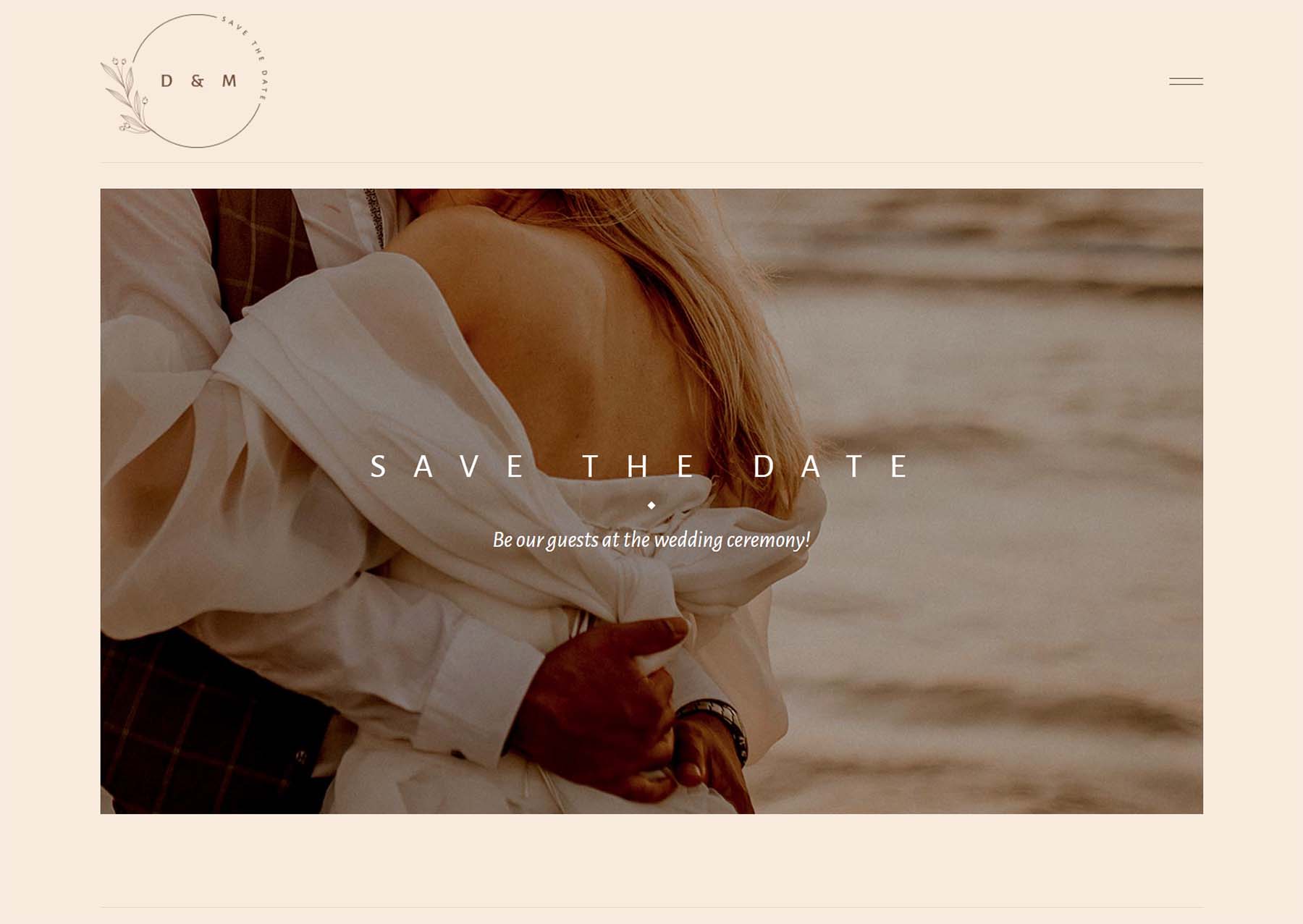 Qi is one of the best wedding WordPress themes for those who take creativity seriously. Qi's list of widgets is divided into categories, including infographics, creative, typography, and SEO, to name a few. In addition to having uncommon and valuable widgets, Qi boasts 150+ demos that can use Gutenberg or Elementor. Qi has six wedding-specific wedding demos, including a demo for online wedding invitations and announcements and a demo for wedding photographers. Irrespective of the business you run in the wedding field, using Qi will help set your website apart from your competitors. Not only will your website look different, but it will also perform well, be mobile-friendly, and be easy to edit as time passes.
Key Features:
Qi has the most exciting portfolio layouts of all the themes on our list. No longer will you showcase your wedding photos in boring grid formats. With fully adjustable project navigation styles, ten versatile item hover styles for lists, and twelve distinct single project templates, showcasing your wedding content creatively is the name of the game when building your portfolio with Qi.
Best for:
If you want to build a visually- appealing website for your wedding, you need to use Qi. From the animations to the vast array of portfolio and gallery templates, Qi displays your visuals front and center, which is necessary when building an exquisite wedding website.
Pricing: Free, Paid plans start at $69 per year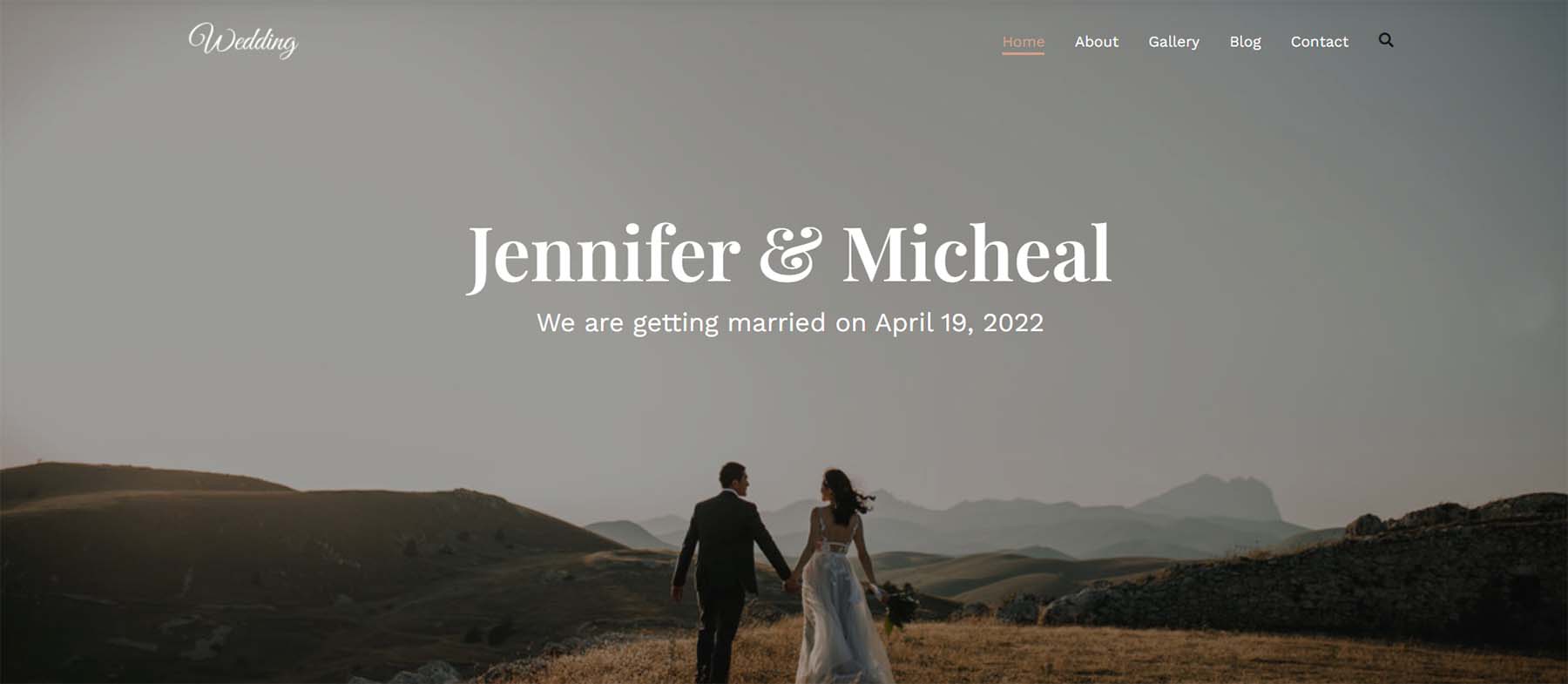 Zakra is a popular freemium wedding WordPress theme that works with Gutenberg and Elementor. With drag-and-drop functionality, this lets you quickly build your page templates, headers, footers, and other templates. Zakra comes with three wedding-focused site templates. The Wedding Planner Template comes with a services page, a gallery page, and your standard blog and contact page. The other two site templates are for online wedding websites for couples to edit. One is a simple, one-page layout. The other is a multi-page site template that allows you to have a homepage, gallery page, contact page, and about page; as with all site templates for Zakra, your new wedding website will be lightweight, SEO-friendly, and compatible with popular SEO plugins like Yoast SEO.
Key Features:
Zakra's premium version adds additional features to your primary menu. Edit your mobile menu, change the styling of the menu, set the mobile menu breakpoints, and much more can be done to your primary menu when you upgrade to Zakra's premium theme version. This a great for who may not need a more robust menu plugin.
Best for:
For those looking for a simple yet effective theme for their wedding or wedding planner business, use Zakra. With Elementor and other compatible page builder plugins, you can quickly build your website with Zakra and your site template.
Pricing: Free, Paid plans start at $69 per year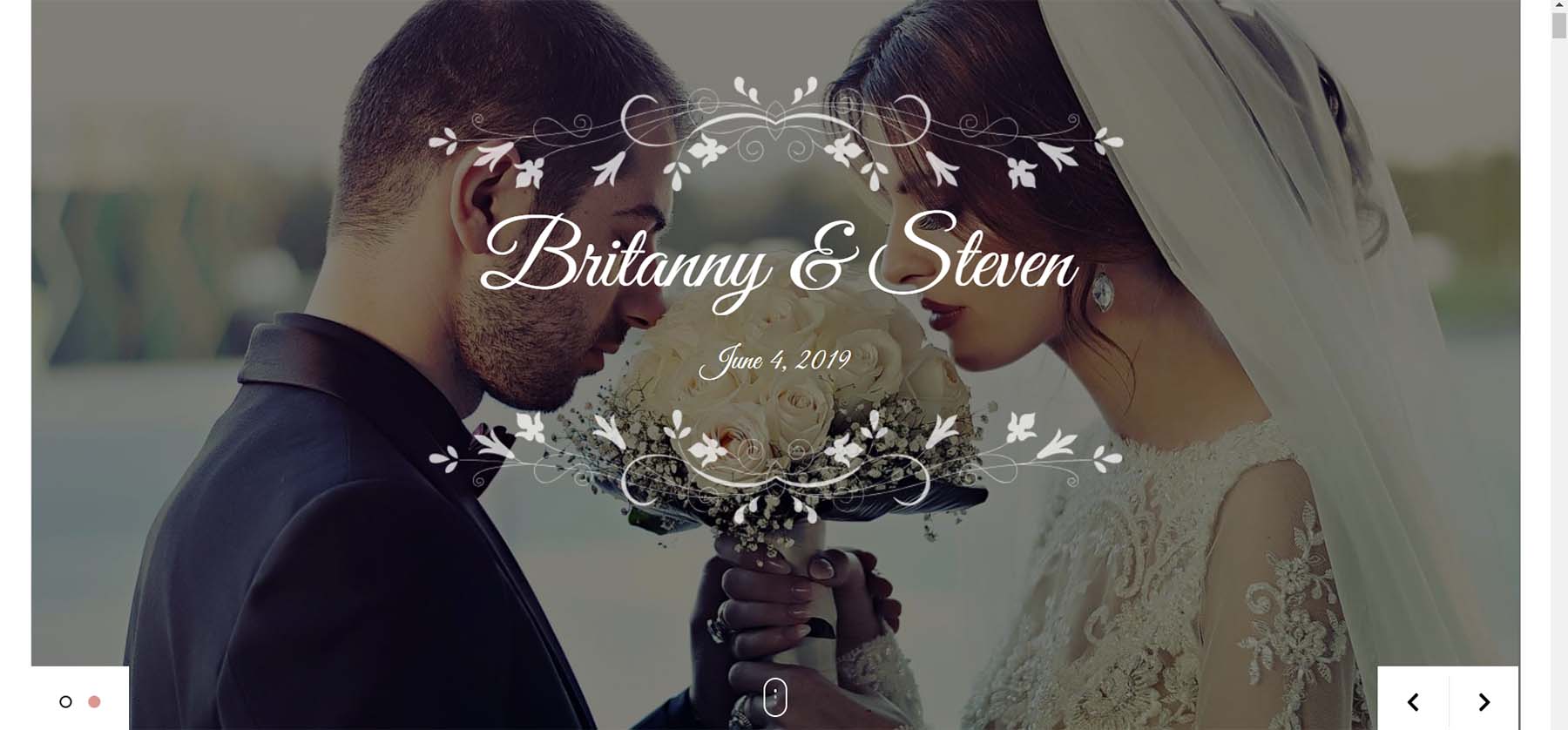 Blossom Wedding Pro is the best wedding WordPress theme for couples wanting to take charge of their wedding website. The theme is jam-packed with features that can help make your wedding website informative for your guests and lovely for your big day. Blossom Wedding Pro has various templates for your header, blogs, sliders, and more. With this much variety, you have many options for how you want to design your website. You can also add social media to your website through icons, widgets, and feeds. Blossom Wedding Pro makes it easy for you or your guests to spread the word about your special day via social media. Unlimited color and font options mean you can design your website to match your invitations, wedding colors, and bridesmaids' dresses.
Key Features:
The homepage of your wedding website is critical as it needs to hold all the information your guests will need. Blossom Wedding Pro gives you 16 different sections covering various widgets that will give your guests all they need to know about your wedding. From accommodations to the invitation, officiant information to your venue map, enable or disable each section as you need to build your perfect wedding website.
Best for:
If you're looking to build a website for your wedding, Blossom Wedding Pro is your wedding theme. With its easy-to-edit page templates, romantic style, and ease of use, you can bring your wedding invitations online with minimal effort.
Pricing: Free, Paid plans start at $59 per year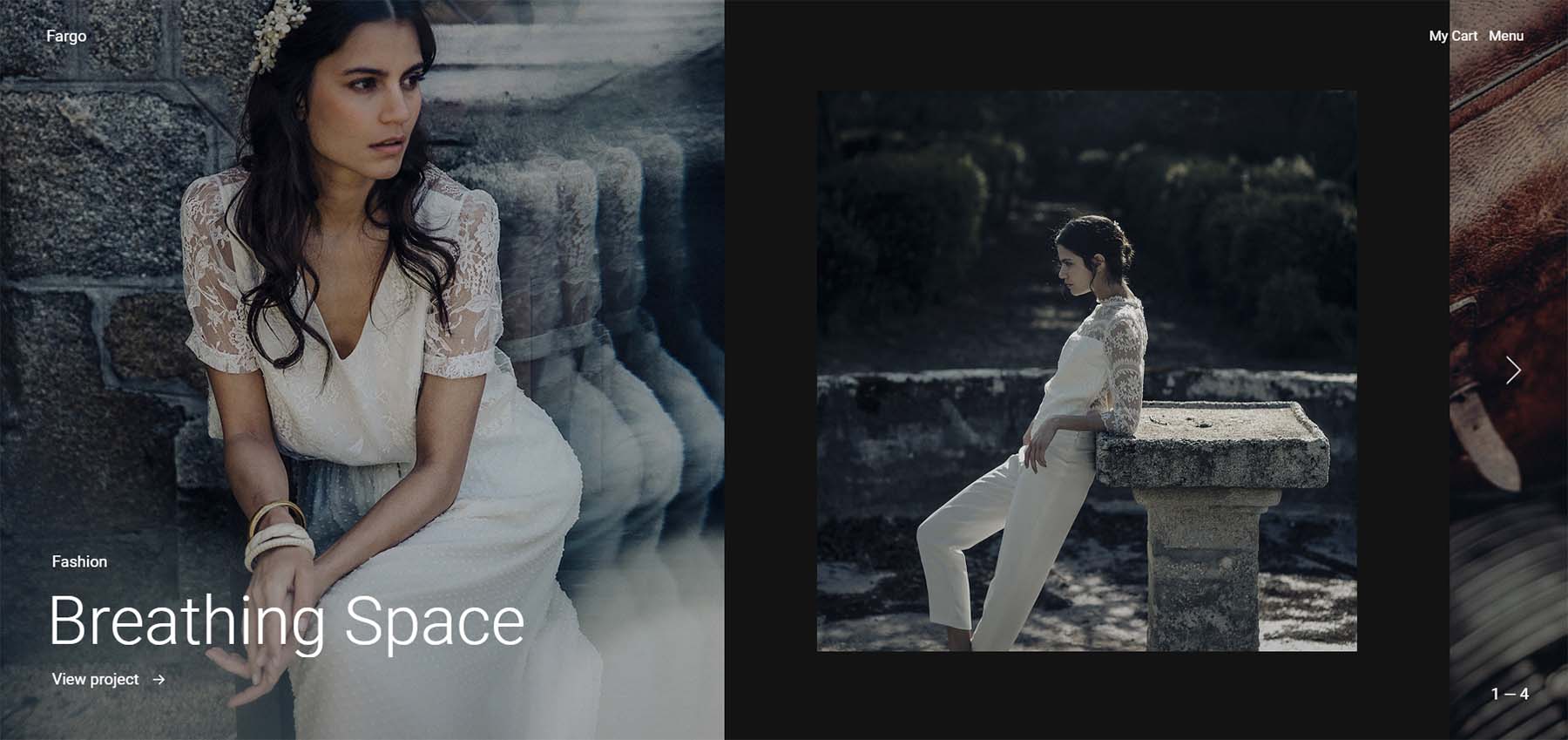 Fargo is an online photography portfolio theme best suited for wedding photographers. With a unique and captivating approach to portfolios and galleries, stun your past, present and future clients with a website built on Fargo. To begin, the theme features a stunning full-page masonry gallery that links to various project and portfolio pieces. Fargo also features an exquisite fullscreen menu that beautifully uses animations and marquee text. It is also well integrated with WooCommerce. Sell prints, bookings, and more with WordPress' favorite eCommerce plugin. For the wedding photographer who wants to shine, Fargo is a standout theme to showcase your wedding photography to the masses.
Key Features:
Fargo's style manager allows you to easily adjust the colors and fonts of your portfolio with ease. Choose from the many pre-designed color and font palettes, or build your own. Easily change the headers, links, buttons, and more colors and fonts with the style manager, and effortlessly update your site on the fly.
Best for:
Wedding photographers will love using Fargo for their business. From its customization options to the integration with WooCommerce, any professional wedding photographer will be pleased to use Fargo on their WordPress website.
Pricing: Paid plans start at $75 per year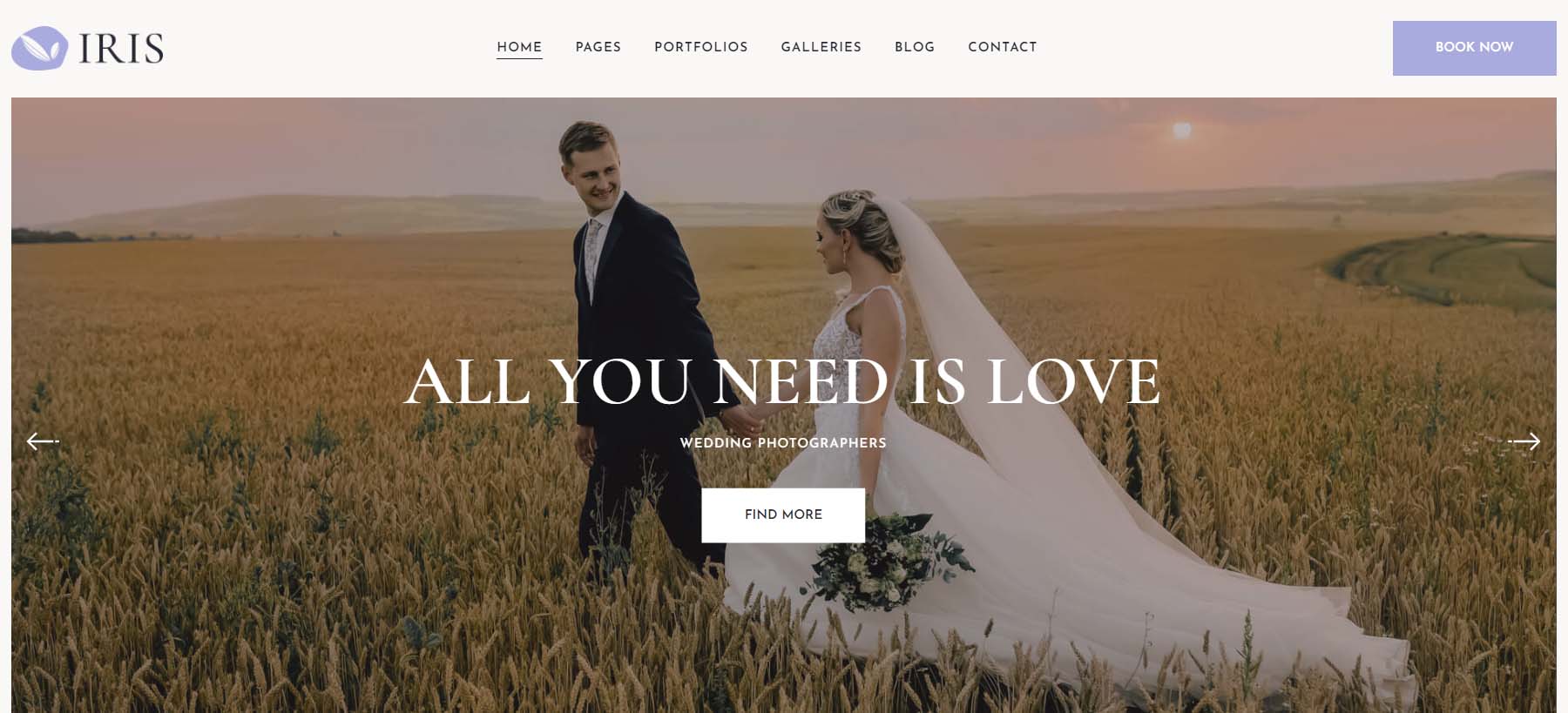 Iris is a WordPress portfolio theme that is geared toward wedding photographers. It comes with pre-designed pages for your about, pricing, and FAQs. It is also bundled with three different contact page templates powered by Contact Form 7, making it easy for your clients to contact you. You can easily edit them with Elementor or Gutenberg, making customizing and mixing pages on your site smooth. When it comes to galleries and portfolios, Iris provides you with solid options to showcase your work. Show off your work in grid, masonry, slider, or fullscreen options, without having to write a single line of code. Iris has an Instagram grid in its footer and an array of social media icons that you can use to share your work and give your clients a look into your social media content.
Key Features:
Iris' portfolio and gallery settings provide simple yet pleasing ways to showcase your work. From standard column grids to sliders, show off your best work by combining over 20 unique layouts to showcase our work in the best way possible. Also, as a custom post type, you can better organize your projects and enable pagination so your clients can quickly move from piece to piece.
Best for:
Iris is a WordPress theme best for wedding photographers who want to show off their work in various ways. While it is not as complex as some other portfolio-wedding themes on our list, Iris is still a top contender for any wedding photographer who wants their work to shine.
Pricing: $69
Best Wedding WordPress Themes Price Comparison
The first step on your journey to the perfect wedding website is to find the best wedding WordPress theme to serve as its foundation. Here is a quick overview of our top picks, including their starting price and which one has a free option.
What is the Best Wedding WordPress Theme
The best wedding WordPress themes introduced in this piece are all solid options, offering the customization options you'll need along with wedding-specific features. ChicLuxe is a wedding theme for professionals who sell luxury experiences and need their website to reflect the level of clientele that they service. Delphine is for wedding vendors who want to build image-forward websites that convert visitors to clients. Of course, you can always use Divi for full control over your wedding website. Our flagship theme makes building your website simple and intuitive, and several excellent wedding site layouts have been created for it, cutting down your design time.
Which of the wedding WordPress themes on this list has caught your eye? Please tell us your thoughts in the comments section below!
Article thumbnail image by anna42f / shutterstock.com.
This content was originally published here.