Text to Speech tools are becoming commonplace on our computers and the applications we use daily. They've made their way into Operating Systems, AI production environments, and as a general utility for visually impaired users of computers. More and more text-to-speech (TTS) applications are hitting the market every month, making it hard to know which one to trust and commit to. Most TTS software can be used in a variety of ways. In this post, we'll review and compare the best text-to-speech tools out there, so you can find the right one for your needs.
What is Text to Speech?
Text to speech is a type of technology that takes document text and converts it to an audio format. It is used as an assistive technology for speech synthesis, making text discernable through audio. For this reason, TTS is sometimes referred to as read-aloud technology. Artificial intelligence has made text-to-speech technology even better in recent years with the rise of AI voice generators. With some software, this audio output quality generated from ASCII text sounds remarkably close to human voices. Some software can even mimic (or clone) a particular voice.
This sort of change (from robotic-sounding TTS to natural-sounding speech) has massive implications for audio/video production, audiobooks, and accessibility. Below, we'll show you the best TTS technology and how each can be used for your business. You can also see our article on the best text to speech plugins for WordPress if you need that technology directly on your WordPress website.
The Best Text to Speech Tools
The Best Text To Speech Tools Listed In Order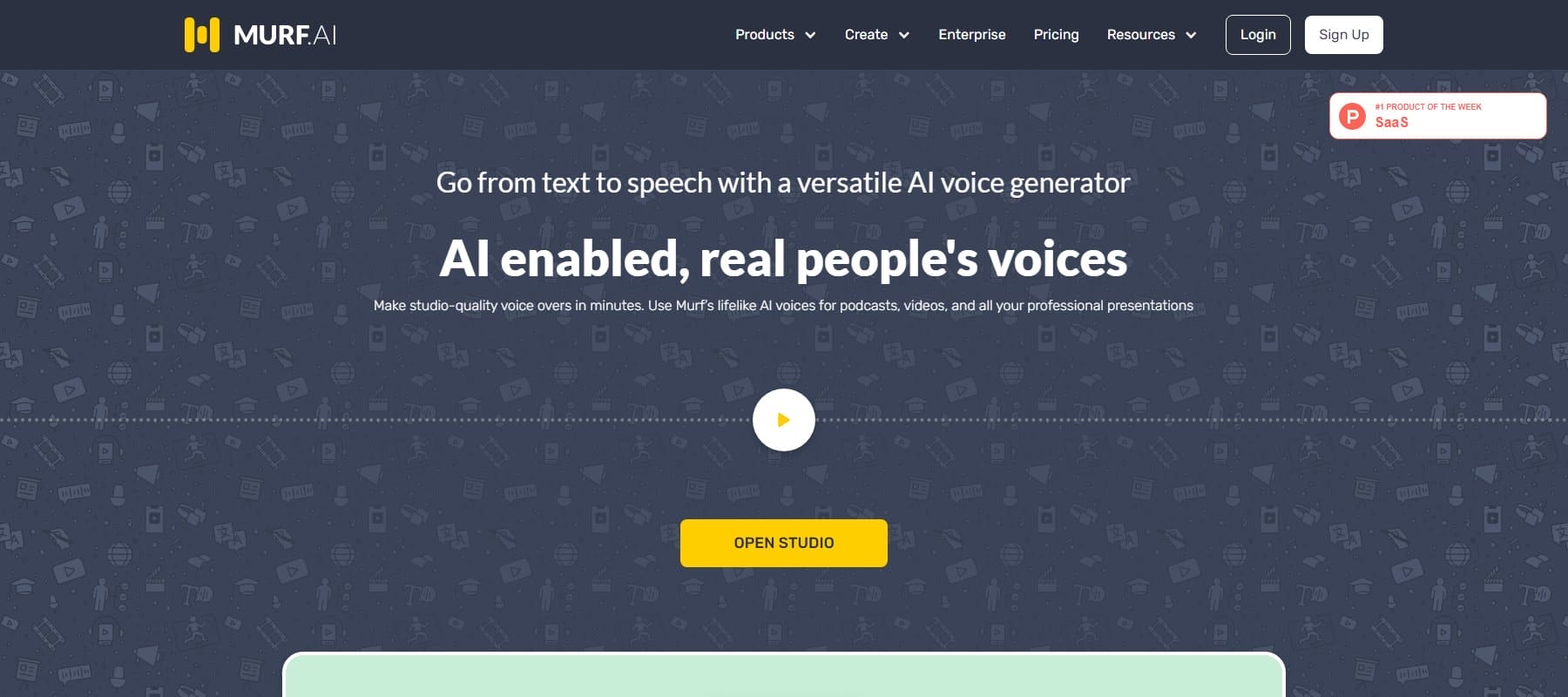 Murf is a powerful AI-driven text-to-speech tool that helps you convert your text into natural-sounding audio with a wide range of voice options. It is an online SaaS that allows you to enter text and apply realistic AI voices to create audio. And it can also convert audio speech files to text files.
Key Features of Murf:
Best For:
Murf is one of the best TTS platforms for content creators, e-learning professionals, and businesses looking for a versatile, easy-to-use text-to-speech solution. Collaborative editing environments mean multiple users can edit and perfect your markdown text to generate the best possible speech.
Pricing: Free plan (up to 10 minutes of generated speech) with paid plans starting at $19/mo per account user


Descript is a comprehensive audio and video editing software with an integrated text-to-speech feature, offering a seamless workflow for content creators. The whole platform is built differently than your typical TTS platform. Descript works by importing audio files and then converting them into text. Sound basic, right? The power of Descript's platform is that it allows users to edit the text (in a Google Doc-like environment), which also then edits the original audio file. This means you can edit your audio like you'd edit a document draft. Remove filler words, fix misspoken text, and fix other audio mishaps—all without re-recording.
Key Features of Descript:
Best For:
Descript is perfect for podcasters, video creators, and professionals who require transcription and editing capabilities alongside text-to-speech features. Its Overdub voice cloning technology allows you to create realistic and customizable voiceovers using your own voice. You can also select pre-made voices to get started even more quickly. And it all works in a browser or desktop application.
Pricing: Free plans (1 hour a month) with paid plans starting at $15/mo per account user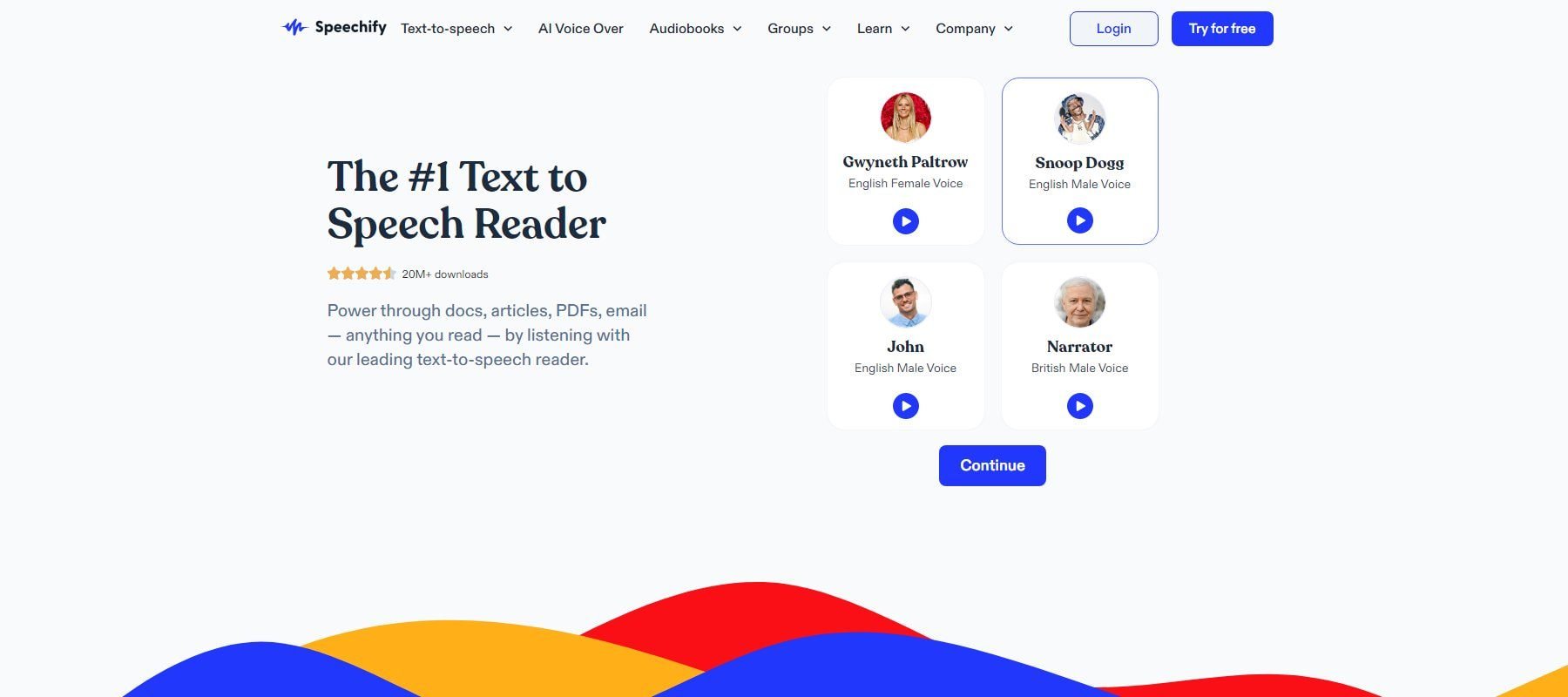 Speechify is an intelligent text-to-speech tool designed to help users read faster and retain more information, making it ideal for multitaskers and those with reading difficulties. Unlike the previous two products, Speechify is an assistive TTS application meant to read text to personal users—not create marketing collateral for businesses (though they have a voiceover solution for creating audio/video voiceovers). Users love Speecify's human and natural-sounding voices. It transforms how they interact with text on the web and on their computer.
Key Features of Speechify:
Best For:
Speechify is great for students, professionals, and individuals. Whether you prefer audio over written text or you struggle with dyslexia or other reading difficulties, Speechify can help you improve your reading comprehension. Its integrations with popular apps and browsers ensure you can listen to any text anytime and anywhere with Speechify.
Pricing: Free plan with a paid plan at $139/yr. An Audiobook subscription starts at $199/yr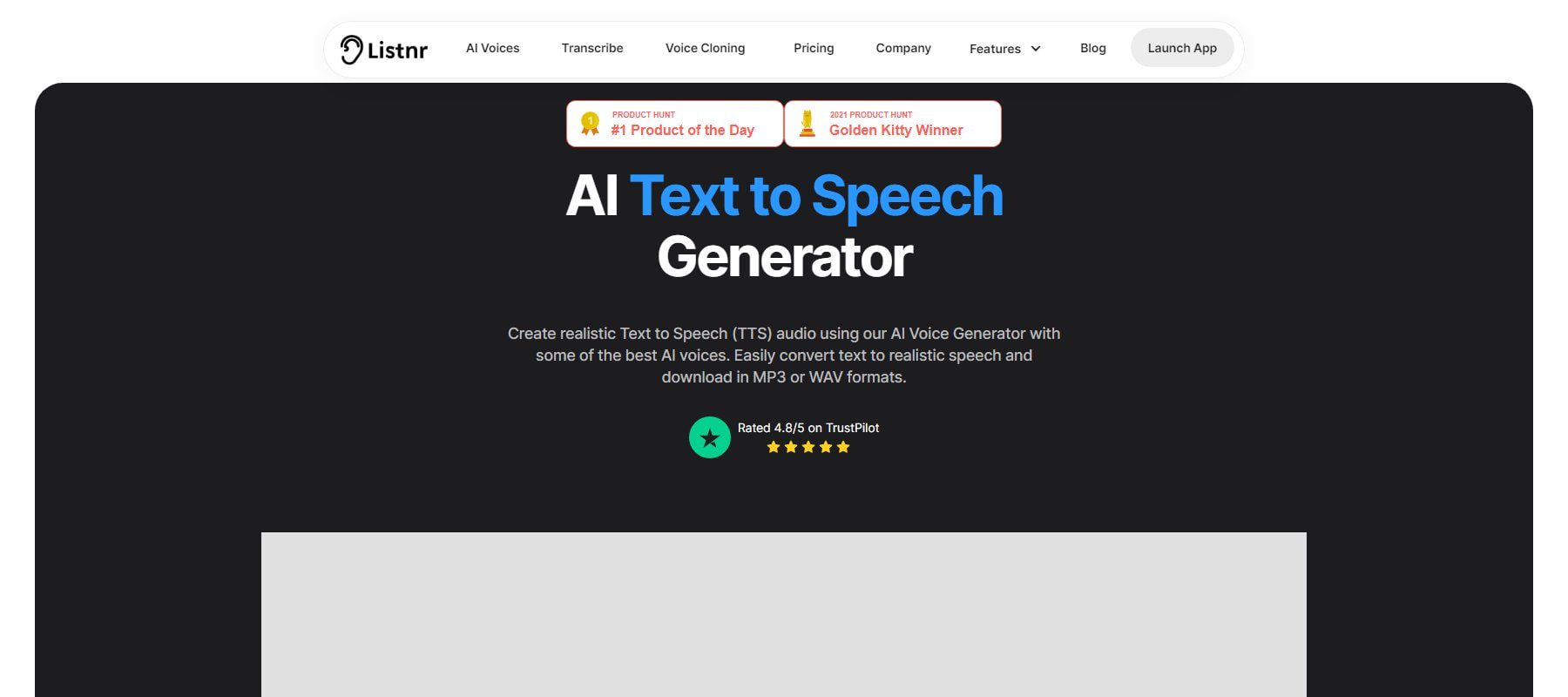 Listnr is an AI voice generator with a hearty text-to-speech platform that helps you turn your written content into engaging podcasts and audio files using high-quality AI-generated voices. Its text editor allows users to put in the text they want to be turned into audio and adjust things like voice, accent, speed, and add pauses.
Key Features of Listnr:
Listnr's podcast hosting capability sets it apart, making creating, distributing, and managing your audio content easy.
Best For:
Listnr is ideal for bloggers, marketers, and content creators looking to expand their audience reach through audio and podcasting. It's one of the better-priced TTS software out there, and it allows 1,000 words with a free trial plan.
Pricing: Free plan, with paid plans starting at $19/mo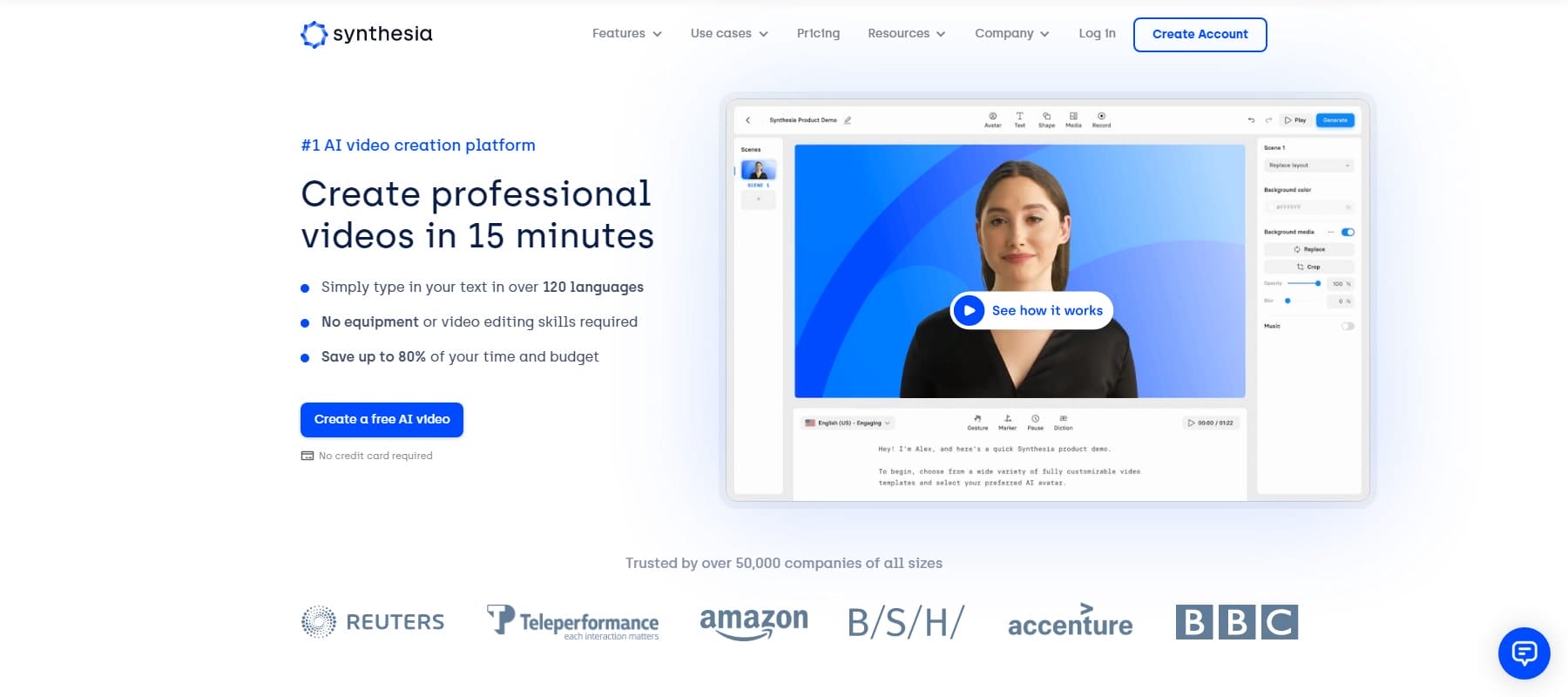 Synthesia is an innovative AI video generation platform that allows you to create video content using text-to-video and virtual avatars. This goes beyond just outputting audio. It can turn text into a virtual talking head for more engaging videos.
Key Features of Synthesia:
Best For:
Synthesia is perfect for businesses and content creators who want to create engaging videos without needing professional actors or complex video production. This can dramatically increase efficiency since you do not need to rely on humans for every stage of development.
Pricing: Plans start for as cheap as $30/mo with custom enterprise pricing available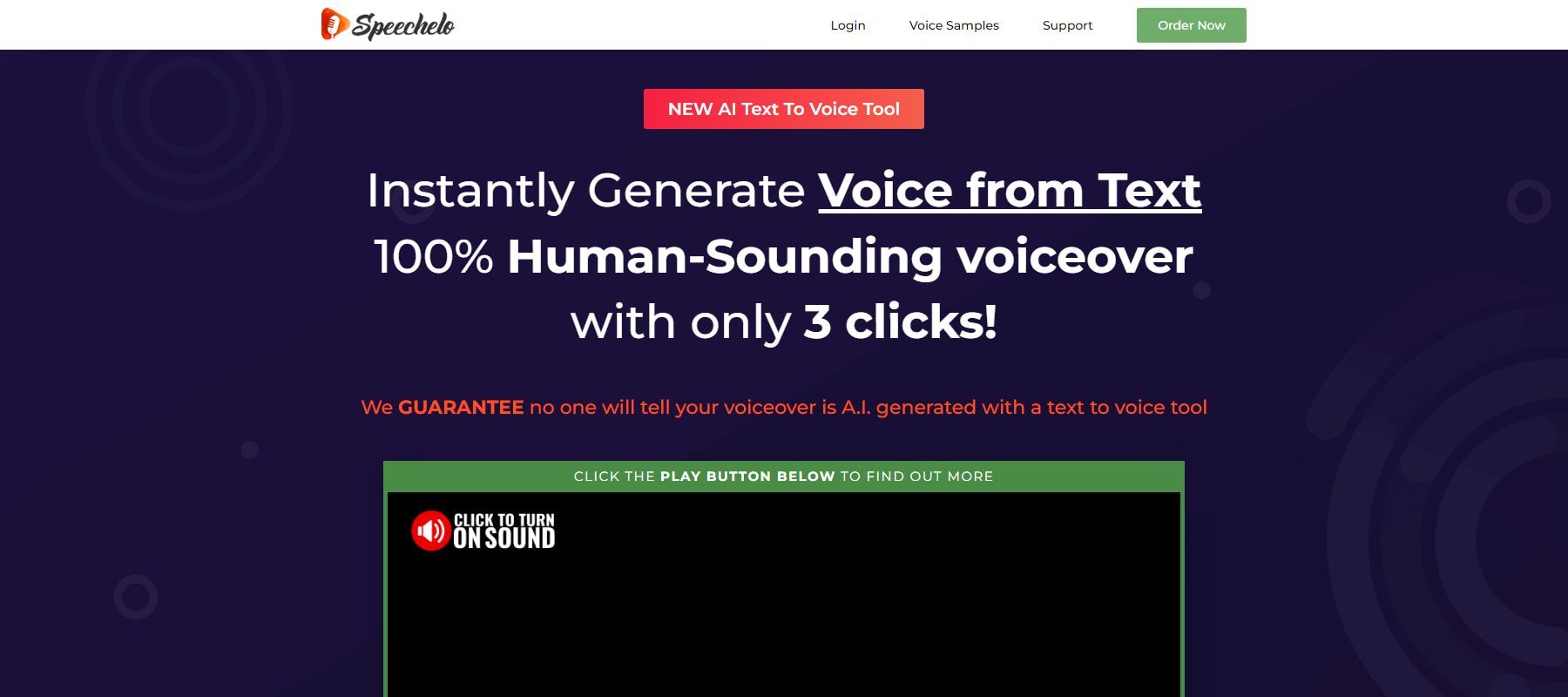 Speechelo is another cloud-based text-to-speech app that provides lifelike human voices from written text. It's an attractive option because it has a one-time purchase price that you can use for all your voiceover a TTS needs.
Key Features of Speechelo:
Best For:
This tool is excellent for those looking for entry-level TTS software. It's a low-cost solution that outputs better-than-expected speech.
Pricing: $100 one-time payment (with frequent sales lower than that)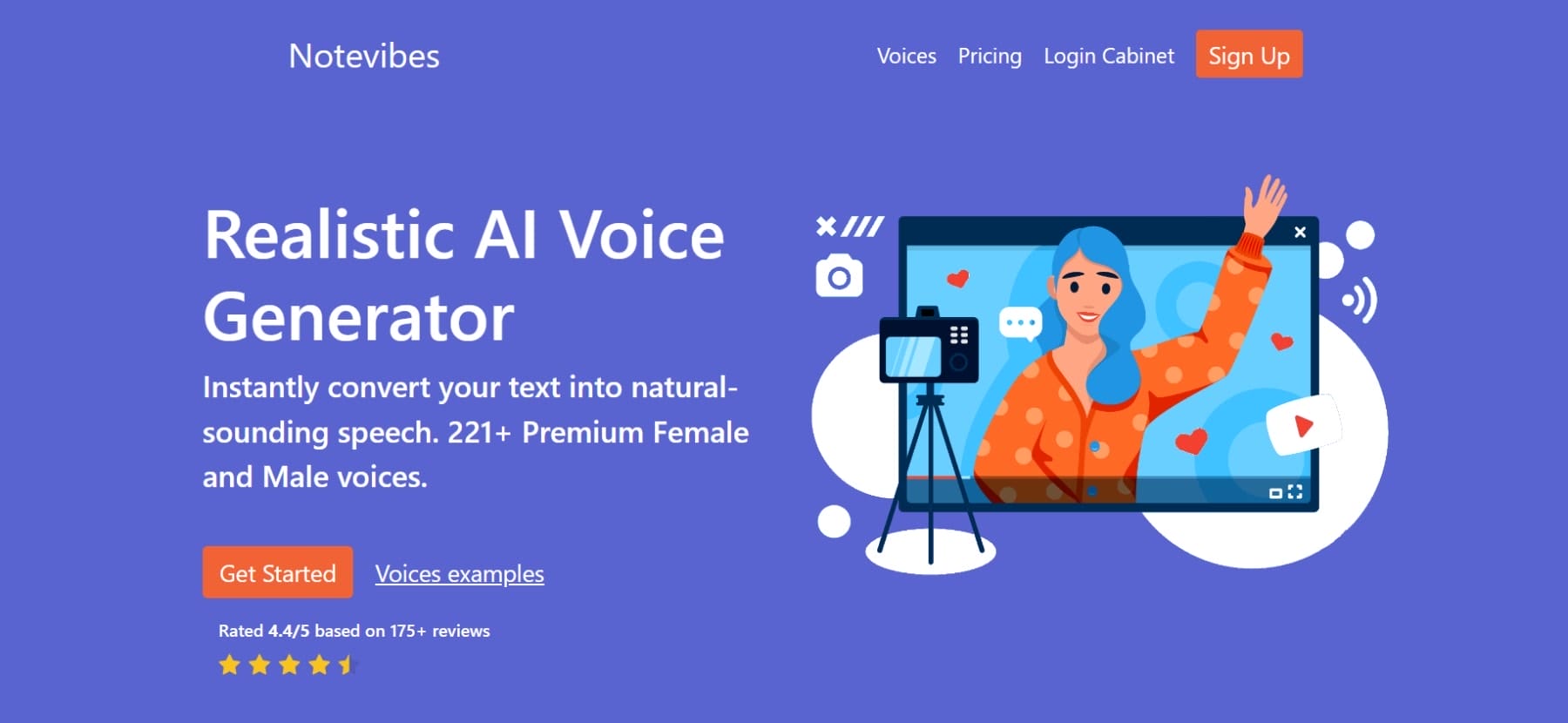 Notevibes is an AI voice generator offering natural-sounding AI-generated voices, suitable for audiobooks, e-learning, and video narration. It is popular for hobbyists and commercial use if using the right plan.
Key Features of Notevibes:
Best For:
Notevibes is ideal for those who need high-quality audio for web courses, video narration, or audiobook production. But, for all of that, you will need the commercial plan. The individual plan lets you create text-based audio content for personal use only.
Pricing: Starting at $19/mo for personal use and $99/mo for commercial use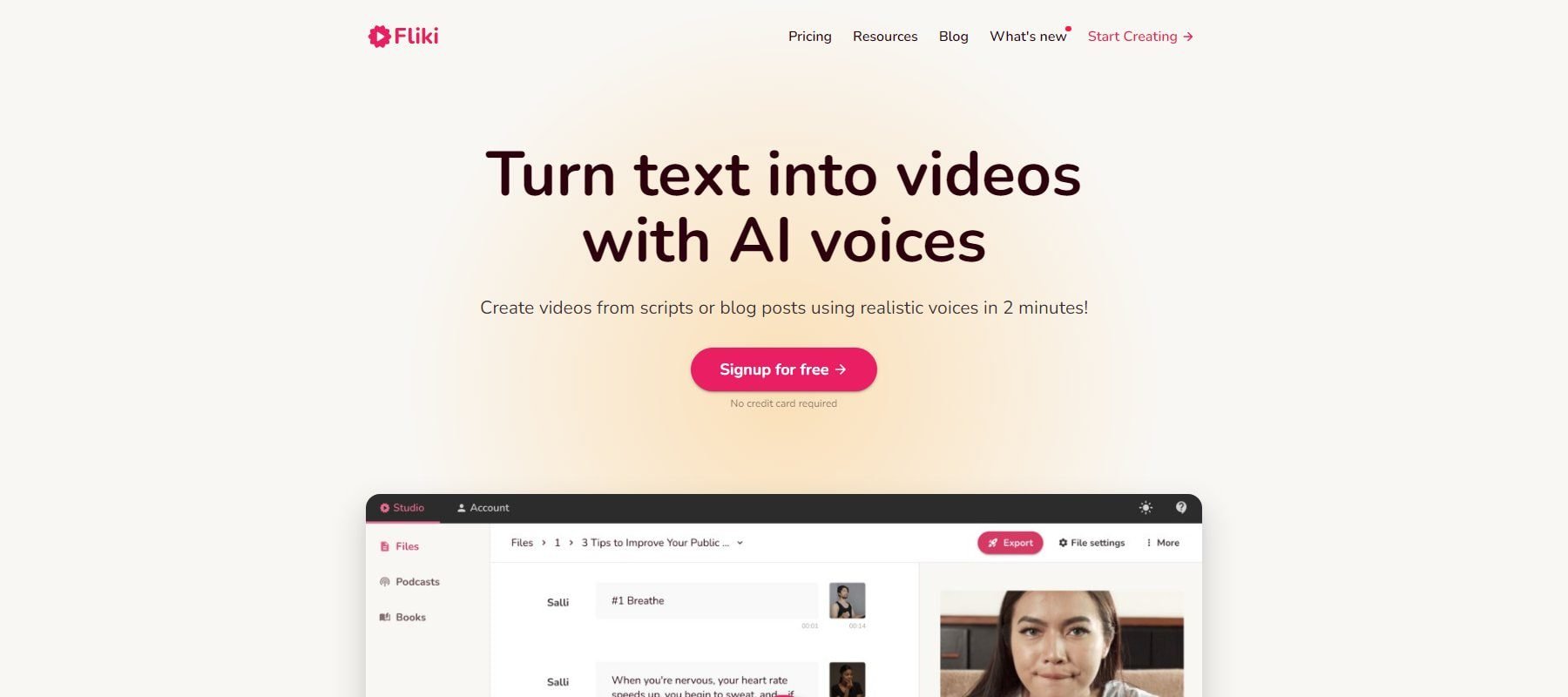 Fliki is an AI-driven text-to-speech platform that generates realistic human-like voices, making it easy to convert written text into high-quality spoken content. It's created by the makers of one of the best AI writing tools, Rytr. They're known for creating functional, AI-driven products.
Key Features of Fliki:
Best For:
Fliki is excellent for content creators who need realistic text-to-speech audio for simple video creation. They have some of the lowest prices around, making it a perfect first tool to try. Anyone needing commercial rights to audio and video material partially created with AI should check Fliki out.
Pricing: Limited free plan with premium plans starting at $8/mo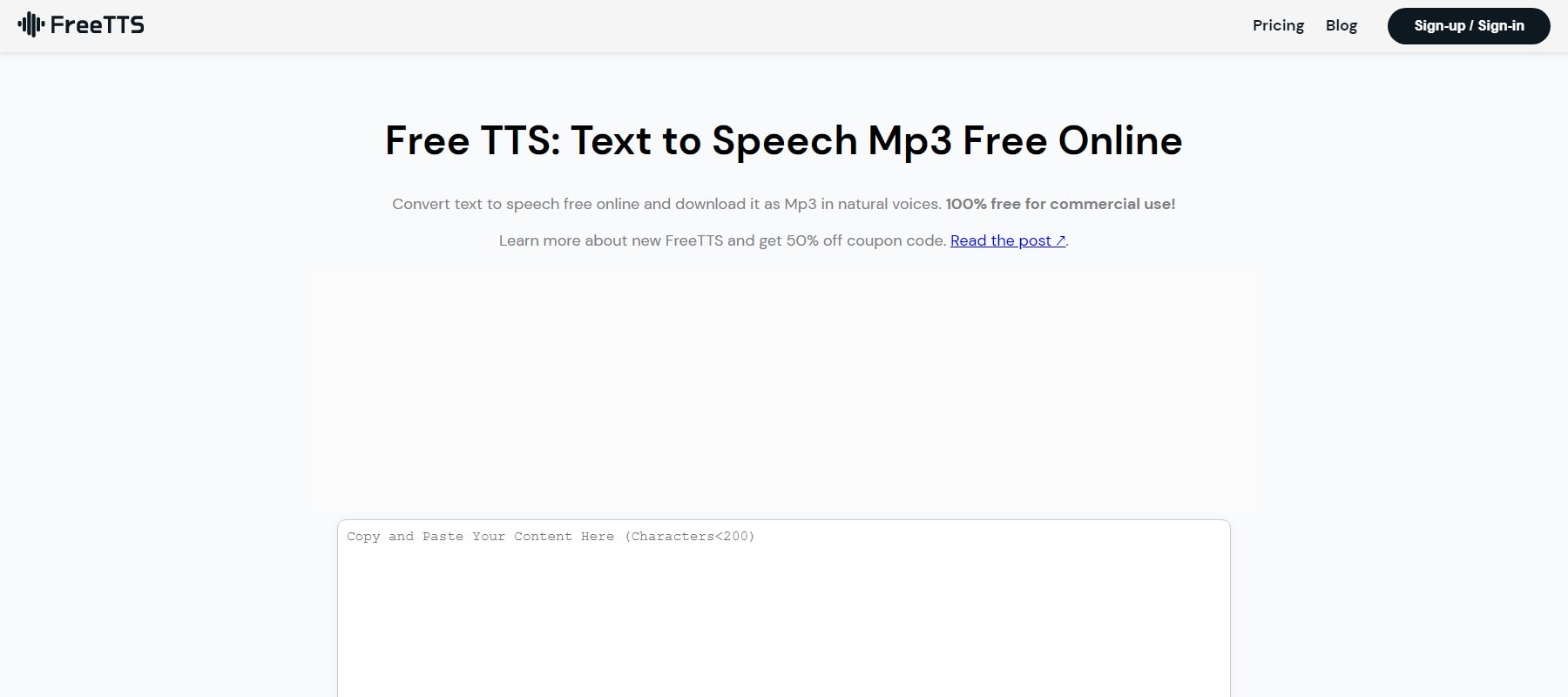 FreeTTS is a free text-to-speech converter that is great for generating natural-sounding voices in multiple languages and accents, perfect for those on a budget. It's a simple website with a text box and a submit button (but you'll have to put up with endless banner ads). When text is submitted, it'll create a simple audio file for your use.
Key Features of FreeTTS:
Best For:
FreeTTS is ideal for students, educators, and individuals seeking a cost-effective text-to-speech solution. It won't be profoundly useful, but it is something to try if you are interested and see what is possible.
Pricing: Free to use (Ad supported)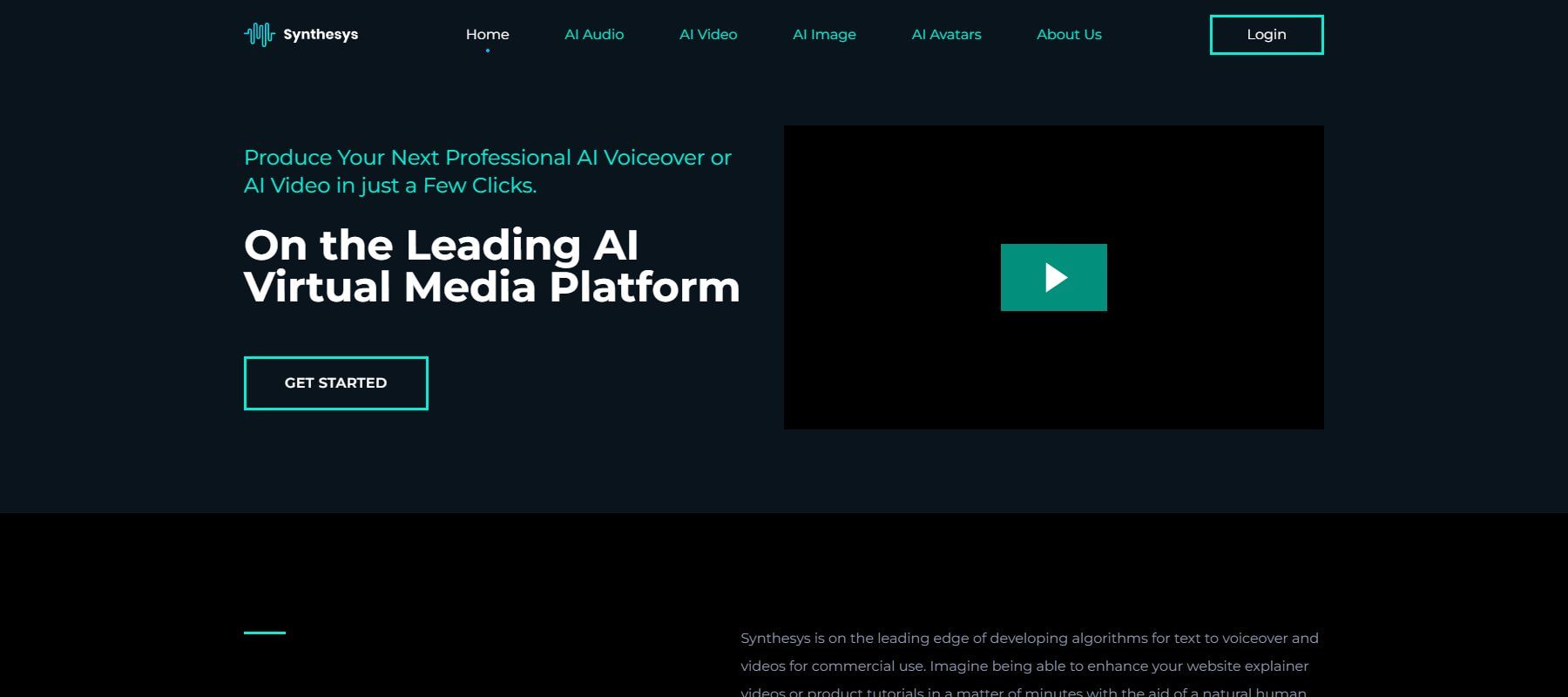 Synthesys is another AI video + text-to-speech platform using AI technology to generate human-like voices. It enables users to create engaging and natural-sounding audio content and virtual avatars created through Text to Video (TTV) technology. Virtual avatars on Synthesys are called "Humatars."
Key Features of Synthesys:
Best For:
Synthesys is perfect for anyone creating content (video or audio) and who wants to rely less on human narrators or actors. It is one of the more trusted platforms on the list and has a solid reputation (and a money-back guarantee).
Pricing: Starts at $35/mo for voiceovers and $45/mo for videos. Combining both starts at $65/mo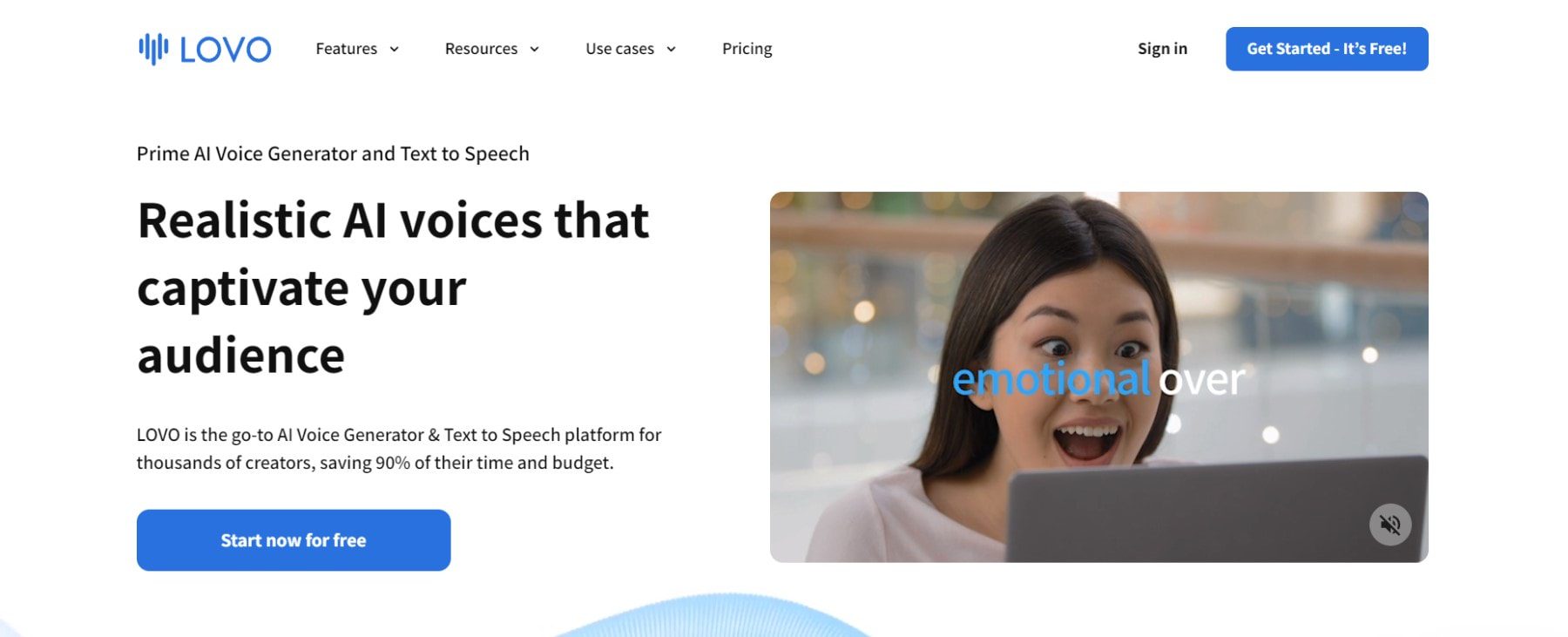 Lovo is an AI-powered voice generator that offers realistic voices and customization options. Aside from languages and accents, it also provides users with tones that affect how the voice sounds (serious vs. amazed).
Key Features of Lovo:
Best For:
Lovo is excellent for content creators who need a streamlined way of making high-quality spoken audio. Especially if you need different voices, languages, and emotional ranges. The text editor also makes it easy to build more authentic-sounding voiceovers with simple commands.
Pricing: Free plan with paid plans starting at $25/mo
What is the best text-to-speech software?
Overall,
Murf
is the best text-to-speech tool on our list. It is reliable even for the most complicated voiceover creation environments with many voices and languages supported. The price is reasonable, and it scores good marks from reviewers.
What is the best text-to-speech software for YouTube?
Descript
is excellent at removing filler words and other faux pas in post-production.
Synthesia
is great for creating life-like AI avatars through text to video technology.
What is the most realistic text to speech?
Lovo
creates some of the most realistic text to speech audio on the market. Its editing interface lets users easily add realistic-sounding elements to the generated voices, such as natural pauses, word emphasis, and overall tone (excited or tired).
How Does Text to Speech Work?
Text-to-speech (TTS) is a technology that converts text into human-like speech. It is used in various applications, such as audiobooks, e-readers, and voice assistants. TTS technology has improved significantly in recent years. TTS systems are now able to produce speech that is very natural and human-like. This has made TTS a valuable tool for a variety of applications.
TTS breaks down the text into phonemes, which are just the building blocks of spoken language. From there, AI-trained models can apply things such as rhythm, stress, and pitch for the strung-together phonemes. Lastly, this is all converted to some form of audio file that a listener can play back.
What is Text-to-Speech Software?
TTS software is a tool that reads text aloud. It can be used to help people who have difficulty reading or to make content more accessible to everyone. It can also be used to create audiobooks and narrated videos (voiceovers).
What is the Best Text to Speech Tool?
Want to use only the best? Use this chart to compare the best text-to-speech tools. Then check our recommendations below.
Overall, Murf is the best text-to-speech tool on our list. It has a large user base and is suitable for all types of speech creation. Descript is an unbelievable platform for teams that want to be able to edit their audio and video files by removing and adding words in a text document. It, by far, has the most innovative approach to TTS.
Speechify is a top text-to-speech software for personal productivity. It can turn text-based content into enjoyable audio by simply highlighting text and pressing play. It'll change how you interact with written content online and dramatically increase your reading comprehension (especially if you read along with the generated voice).
Want to be amazed by other AI technology? Check out the best AI rewriting tools and our top selection of AI chatbots. Both types of tools could increase your business' productivity for a low cost.
Feature image via mix_vector / shutterstock.com
Disclosure: If you purchase something after clicking links in the post, we may receive a commission. This helps us keep the free content and great resources flowing. Thank you for the support!
This content was originally published here.