Search engine optimization (SEO) is one of the most important aspects of a website. Without it, your content will be harder for search engines to find, no matter how great the content is. Using an SEO-friendly WordPress theme can provide a critical foundation for building a site that will rank high in the SERPs. In this post, we'll look at free and premium options for some of the best SEO WordPress themes available to download today.
The Importance of an SEO-Friendly WordPress Theme
An SEO-friendly WordPress theme is basically a theme that is built with SEO as a high priority. These themes usually have a code base that makes your site easily indexed by search engines. They are built with SEO best practices focusing on SEO headings, schema markup for getting featured snippets on Google, speed optimization, Google authorship, semantic HTML5 markup, mobile responsiveness, and more. They also provide easy-to-use SEO options on the backend to help you customize and improve your SEO even further. Having an SEO-friendly theme is important because it gives website owners a great foundation for growing traffic organically.
What about SEO Plugins?
For those serious about WordPress SEO, you should still consider using an SEO plugin with your theme to implement more advanced SEO techniques. This is especially true when it comes to deeper levels of on-page SEO and link building. SEO plugins like Yoast SEO and RankMath can provide the same SEO options native to your theme and much more. So it is also important that your theme integrates well with these plugins. Plus, there are many SEO tools that can boost your website's ranking beyond the capabilities of SEO themes and plugins.
However, a theme that is built to be SEO-friendly out of the box is still a great solution for many and will provide a great foundation for extending SEO efforts with other plugins or tools.
The Best SEO WordPress Themes for 2023
It can be difficult to tell how well a theme is optimized for SEO, as some features are sometimes hidden. After some research, we've found some of the top SEO WordPress themes you can use for your website. With both free and premiums options available, we have a theme for everyone on our list.
1. Schema
Schema proclaims itself as the fastest SEO WordPress theme, period. And we definitely agree that it is one of the best SEO WordPress themes available right now. To begin, Schema comes with pre-configured rich snippet support. This helps your website's content have more prominence on the SERP on search engines like Google. This can help your site to rank better. Additionally, much effort and thought go into the code used to create this theme. Its code is thoroughly optimized to be light with an emphasis on SEO best practices. Schema's code is secure and rigorously tested so that your website will be safe and perform at its highest good.
Loading time is a major factor that Google uses to determine the position of websites on the SERP. Luckily, when using Schema, you can rest assured that your website will perform well in the speed department. Additionally, we have to mention that one of the most popular SEO plugins Rank Math was created by the same authors of Schema. This means that if you want the best SEO WordPress theme to work with Rank Math, you should consider using Schema. Plus, it is compatible with the Elementor Builder for more powerful design features.
Features include:
Pricing: Free, $49/yr (unlimited sites)
GeneratePress is a force to be reckoned with regarding WordPress themes. It is one of the first themes to have a competent block-enabled theme builder. With this theme, you can rest assured that search engines will properly crawl your website and will remain accessible to all types of internet and web users.
Out of the box, GeneratePress emphasizes performance, accessibility, and SEO best practices, as seen in the performance score below!
Accessibility is a key factor that Google considers when ranking a website. Many of the more popular themes – including some on our list – completely ignore this important part of web design. However, GeneratePress makes sure that they follow WCAG standards, ensuring those who may use the internet differently can still use and interact with your website.
In addition to covering basics like mobile responsiveness, GeneratePress also uses the correct header tags throughout its theme. GeneratePress bears these aspects in mind and does an excellent job of giving you a reliable tool to make a robust SEO-friendly website.
Features include:
Pricing: Paid plans start at $59 per year
Divi is a theme from here at Elegant Themes with a modular drag-and-drop builder with dozens of modules to create any layout you need. You can also use the many premade layouts and modify them any way you want. The theme options panel includes an SEO tab to set up custom SEO for your homepage, single post pages, and index page.
You can set up custom titles, descriptions, keywords, canonical URLs, custom fields, and more. You can enable or disable any field you want, giving you complete control over how the theme can handle your SEO. It's an excellent choice for building any website you can imagine. In addition to the base SEO settings, Divi plays very well with SEO giants Yoast SEO and RankMath. You can learn how to optimize your Divi website with Rank Math on our blog.
Features include:
Pricing: Paid plans start at $89
Genesis Pro by StudioPress is our list's most expensive premium theme but for a good reason. It is based on the robust, state-of-the-art WordPress framework Genesis. The open-source framework was built from the ground up with SEO in mind, making it one of the best SEO WordPress themes available.
Its clean code helps you avoid technical difficulties that could impede your ranking with search engines. Secondly, Genesis Pro boasts powerful security features, so not only is your SEO covered, but the safety of your website is also secure. Of course, it supports Gutenberg deeply, giving you a visual page-building experience supported by a library of StudioPress child themes and pre-built, custom content sections and full-page layouts.
Features include:
Pricing: Free, $360 per year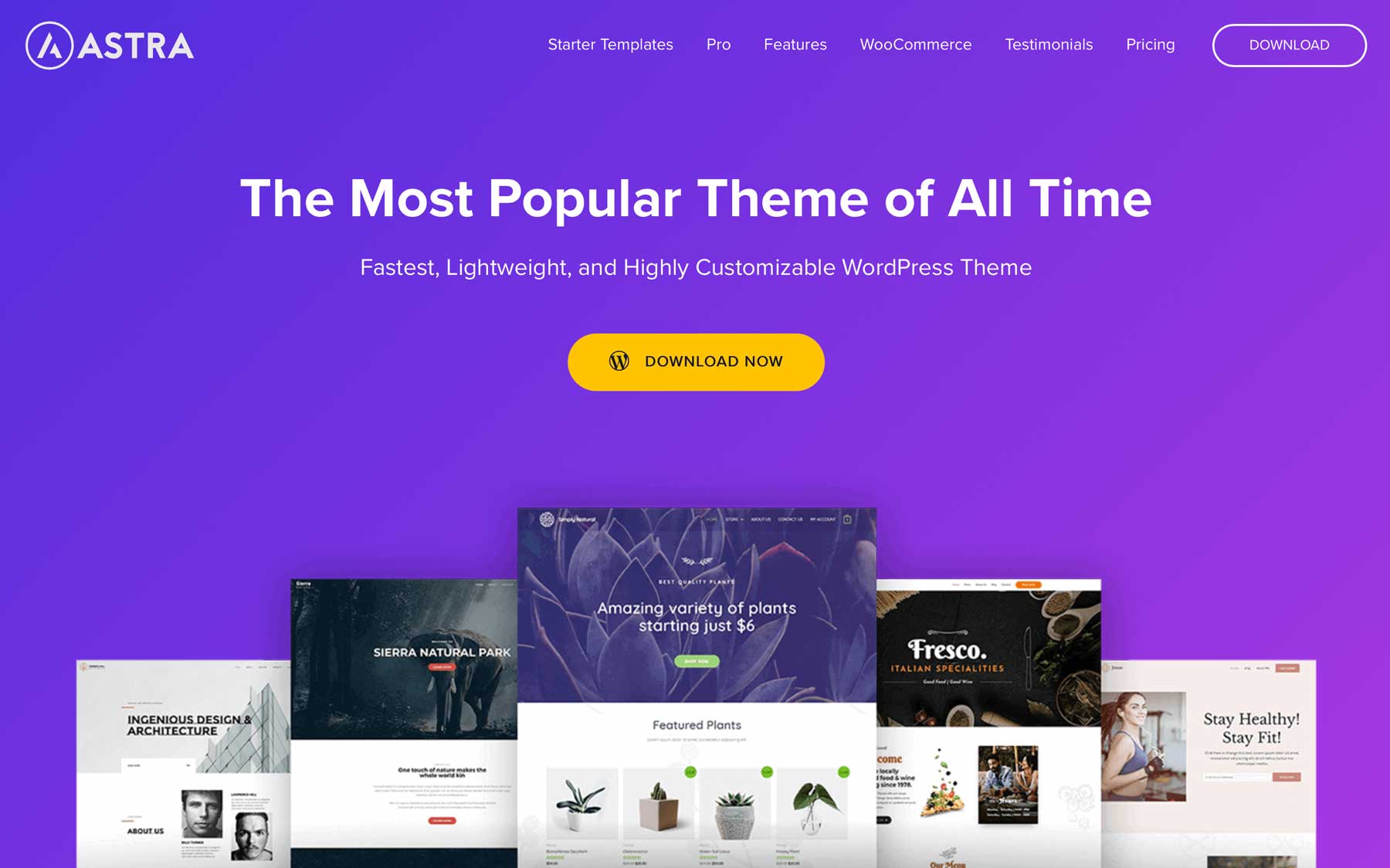 Astra is one of the WordPress Theme Repository's most popular free themes. And with over one million downloads on the net, many would agree that it is one of WordPress's top themes. With free and premium versions, you can expect deep SEO support and capabilities to help your website's search engine optimization journey.
The codebase structure of Astra follows SEO best practices which are great news when it comes to building an SEO-friendly website. Astra claims only to need less than 50kb of resources, making it one of the best-performing themes on our list. Built with speed in mind, Astra has great performance stats on GTMetrix, Pingdom, and YSlow compared to its competitors. It supports SEO plugins like Yoast SEO and Rank Math, so you can rest assured that you'll have your SEO in control when you use Astra for your site.
Features include:
Pricing: Free, Paid plans start at $59 per year
OceanWP has a feature-rich free version that gives you a helping hand regarding your SEO. For starters, you have schema markup built into OceanWP, which helps with your rankings on search engines like Google. You have the option of disabling this markup if you choose to use an SEO plugin like Yoast or Rank Math. Controlling heading tags is another SEO-specific feature OceanWP has natively that can assist you as you optimize your site for search engines.
OceanWP also has deep integrations with many page builders, including Elementor. If budget is an issue and you'd still like to build a robust SEO website, OceanWP is one of the best SEO WordPress themes for you to try.
Features include:
Pricing: Free, Paid plans start at $54 per year
Neve is a lightweight and fast theme that boasts seamless integration with a long list of page builders. For SEO, Neve comes with an SEO-ready structure. Additionally, it has clean and optimized code. No matter what your builder of choice is, Neve will work effortlessly. Neve boasts of super-fast performance due to its reduced weight as a theme. Right out of the box, the theme has a total install size of only 28kb! Additionally, Neve works well with the most popular caching plugins.
Features include:
Pricing: Free, Paid plans start at $99 per year
Zakra integrates with page builders like Brizy and Elementor. It also plays well with the popular SEO plugin Yoast SEO. The theme boasts of having a load time of less than one second, according to sites like Pingdom and GT Metrix. Search engines can easily recognize site content for Zakra. Zakra works hard at preventing security risks on your site, all while following WP coding standards tightly.
Features include:
Pricing: Free, Paid plans start at $69 per year
SEOWP is an SEO-focused theme that was created for SEO agencies and worked to be an example of their SEO efforts. It includes premium SEO plugins to help improve SEO and page loading. SEOWP has a built-in SEO tool called Rankie. It is a rank checker that will track site rankings in Google for you and generate powerful reports. SEOWP has robust integration with Yoast and is fully integrated with this stable SEO plugin.
It includes sections for case studies, marketing free books and resources, a landing page template, forms, and more. SEOWP was named one of the best SEO WordPress themes at one point on ThemeForest. It's one of the best SEO WordPress themes for SEO and marketing agencies.
Features include:
Pricing: $138 per year
Public Opinion is a simple magazine with multiple homepage layouts that focus on SEO. This theme is integrated and works beautifully with Yoast SEO, the popular SEO plugin. Search engines love Public Opinion. The theme focuses on helping your site unlock the power of SEO for ranking on search engines. It includes multiple homepages and category layouts to create the pages you want. There are three different post types, including a rating post type where you can write detailed ratings for reviews. It's a clean theme that loads fast and is ideal for any magazine or blog.
Features include:
Pricing: Paid plans start at $49 per year
What are the Best SEO WordPress Themes?
As you can see, being SEO-friendly is more than just being compatible with the many SEO plugins available for WordPress. These themes include clean code that follows best practices for SEO to tell search engines about your content. Between these themes, you're sure to find what you need to rank high in search engine results and get your content discovered.
This is our list of the best SEO-friendly WordPress themes that make your content highly discoverable. Right out of the gate, Genesis Pro packs a punch for those who want to handle their SEO through their theme. Performance-focused people will be thrilled to use Genesis Pro for their site. Secondly, if you're looking for an SEO-focused theme that works well with Gutenberg, GeneratePress is your theme. Last but never least, Divi is an excellent choice for balancing your SEO and design needs.
What's your favorite SEO-forward WordPress theme? Did we miss it from our list? Sound off in the comments section down below!
Article thumbnail image by Sergey Korkin / shutterstock.com 
This content was originally published here.