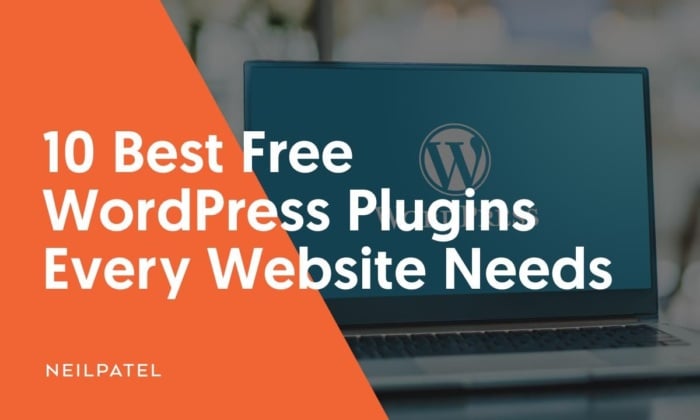 Want to know one of my secrets for an optimal WordPress website experience? It's plugins.
The best free WordPress plugins make your site faster, increase traffic, and tighten website security for your visitors.
However, you don't want to overdo it. Installing too many WordPress plugins can slow down your site or cause conflicts.
I've got many plugins on my blog that serve multiple purposes, and you can do the same.
For instance, you use them to create forms, provide access to membership content, and block spam comments. It's about picking the right plugins that work together for your needs while keeping everything running smoothly.
Nevertheless, with so many to choose from, knowing which ones you need can be difficult; To help you, I've compiled a list of the ten best WordPress plugins you can install right now to improve your site.
After the reviews, I'll show you how to evaluate your options and avoid issues.
Keen to learn more? Then let's get started with the first one.
1. Jetpack by WordPress
Over 60,000 WordPress plugins are available. However, you'll want to minimize the amount you install, or you risk making your website far less visitor-friendly.
That means being savvy with the free WordPress plugins you download and finding tools that serve multiple purposes.
That's where Jetpack is useful.
Jetpack has over five million active installs. However, many WordPress users still don't understand what it does or how they can use it to improve their websites.
To put it simply, Jetpack is a game-changer for WordPress! It has tons of awesome features. For example, it has free tools to help you design your site, track statistics, improve social sharing, and prevent attacks.
You can also add advanced features like spam protection, daily backups, and SEO tools with one of the simple and affordable plans.
The other plus point for Jetpack is that WordPress.com hosts it. This means your server won't get bogged down with extra work, making your website run smoother. Plus, the Jetpack dashboard is super easy to use. It provides an overview of the features you're using, and you can view all sites connected to your account.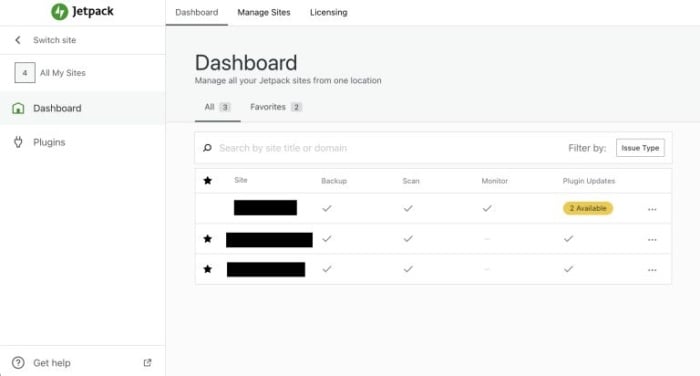 From here, you can:
Check your website backupis current and address any issues flagged
Scan for issues or threats related to your website's security
Monitorthe uptime (or downtime) status of your websites
Check for plugin updatesfor your connected websites
Jetpack has much to offer, so check it out and see what it can do for you.
2. Yoast SEO
It's easy to argue that Yoast is one of the most popular free WordPress plugins, and there's a good reason for this.
Every website owner likely knows the importance of search engine optimization (SEO) and how it grows their business.
Now don't get me wrong. This is a complex field, and you need more than some SEO plugins to optimize your site fully. However, Yoast does a great job of managing the following processes:
Selecting a keyword and optimizing your page
Gaining access to analytics
Analyzing your content readability
Optimizing your content, images, meta descriptions, titles, and keywords
Checking the length of your sentences and paragraphs
Enhancing your writing
Formatting your pages
Although you could use the free version, a premium version is available for $99 per year with extra features. You can now use Yoast Premium with WordPress.com, too.
3. Akismet Anti-Spam
If you've had a WordPress website for long enough, you'll know that spam comments are an issue, even on smaller sites.
The problem is it's not long before the bots find your site and use the comment section to promote spammy links.
Dealing with spam is time-consuming and annoying, but Akismet is one of the best free WordPress plugins to handle it.
With Akismet, you can effortlessly eliminate spam comments, no matter how genuine they look.

The plugin may initially miss a few spam comments or not identify false positives. However, it constantly learns and gets better over time.
Akismet also checks your contact form submissions against its global spam database to weed out unnecessary and fake information.
You need an Akismet API key to use the plugin. These keys are free for personal blogs, but businesses and commercial sites need to subscribe for $8.33 a month (billed monthly).
4. WP Super Cache
You've been there.
You're painfully waiting for a web page to load with your cursor hovering over the back button for when your patience evaporates. That's precisely how your visitors will feel.
However, you can improve page speed with a caching plugin like WP Super Cache.
Let me explain why this is one of the best free WordPress plugins available.
Browsers store files in their cache, so users can revisit your site without downloading everything each time you visit. Without caching, pages could take significantly longer to load.
WP Super Cache generates static pages instead of using full PHP scripts, reducing page-serving time. As you know, faster load times keep visitors happy and returning for more.
You can customize it further with various settings, but even just turning caching on will help speed up your site.
The plugin is easy to use and offers mobile caching options, too.
Here you can see the plugin is quite straightforward to use.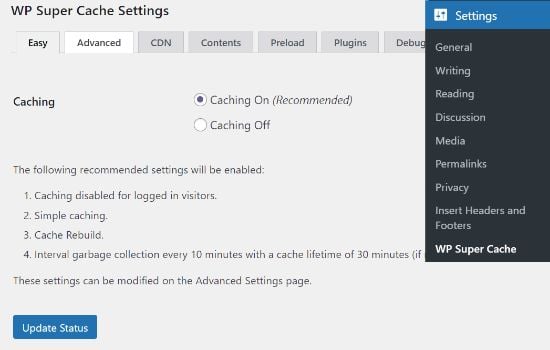 If slow loading times are an issue for you, perhaps give it a go.
5. Google XML Sitemaps
An XML sitemap is an index of all the pages on your website. It helps search engines navigate your site and understand its structure. Once installed, it helps search engines crawl and index your site properly.
However, if setting up a sitemap seems complex or time-consuming, take the hard work out of it by using one of many free WordPress plugins.
These plugins create a dynamic sitemap of your WordPress website, which is compatible with Google, Yahoo, Ask.com, Yandex, and Bing.
For example, XML Sitemaps Generator for Google allows you to notify search engines about changes to your sitemap. Additionally, you can add Google News, image, and video sitemaps.
And when you update your website or publish new blog posts, the plugin notifies search engines automatically.
Pretty cool.
This plugin is a huge time saver, and best of all, it's free to use for personal and commercial sites!
6. Smush Image Compression and Optimization
Images are vital.
Without them, content can become dry and unengaging.
In a recent study by Venngage, over 50 percent of marketers said visual marketing is an essential type of content for their business.
However, high-quality images are often large and slow loading, giving you a dilemma. Do you skimp on the images and deliver less engaging content? Or do you edit images to lower resolution and hope they'll do?
I think you'll agree that neither of these is a great option. However, it's OK because you can solve the problem with free WordPress plugins.
You could choose a few, but I'm going with Smush.
This plugin compresses and optimizes your images automatically.
Once installed, Smush provides the perfect balance, meaning you can use plenty of images on your pages and posts without compromising load times.
It's a win-win.
You can even use it for a "Bulk Smush." Here's how:
From your WordPress account, simply install the Smush plugin.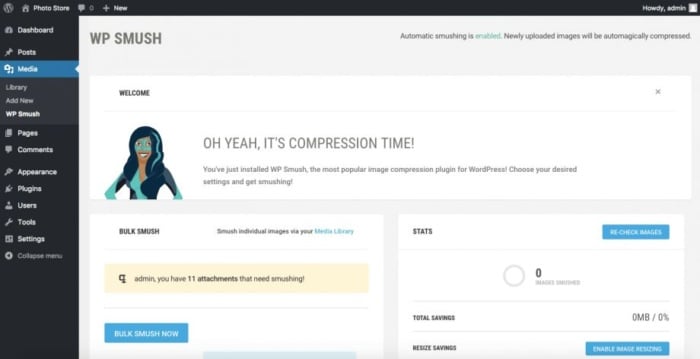 Next, ensure that "Automatic smushing is enabled" shows in the window's top-right corner. Finally, follow the prompt to bulk-smush all your images. It doesn't get much easier than that!
Smush has other features, too, like:
The option to save your configurations
Image resizing
No monthly limits for optimizing images up to 5MB
Multi-site functionality
showing your freed-up megabytes on the right-hand side of the window
Several sites list Smush as one of the best WordPress plugins, and it's free too.
You also have the option of upgrading to the WP Smush Pro plugin.
The pro version delivers better compression and removes bulk-smushing limits. Pricing starts at $7.50 monthly.
7. WPForms
Want your customers to contact you with ease? There's a free WordPress plugin to help with that.
No one wants to copy and paste an email address so they can contact you, especially on a mobile device.
Instead, install WPForms. The forms come with simple styling that tailors itself to your theme. They're also responsive and mobile-friendly; this plugin is incredibly user-friendly and has powerful features.
You can use WPForms to ensure you have an efficient, user-friendly way for visitors to get in touch.
Other reasons you'll find this helpful tool include:
You can create as many forms as you need
The ability to customize the confirmation messages visitors will see when they interact with your form.
Thanks to its drag-and-drop builder, you can quickly use WPForms to create appealing, highly-effective contact forms.
Smart conditional logic to ensure your visitors have an excellent customer experience increases their chances of submitting their contact information.
Forms integrate with all popular marketing and payment platforms.
The free plan lets you create a secure contact form with ease.
Here's what the WPForms drag-and-drop building looks like when you create a contact form.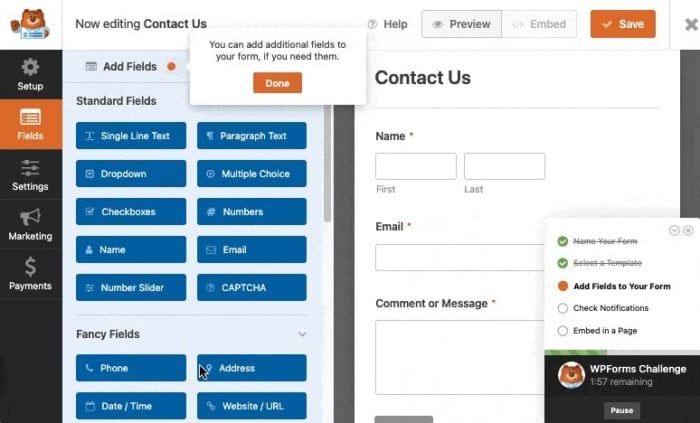 First, you can save time by choosing from templates of the most commonly created forms.
Then, you can customize the form by dragging and dropping the fields you need.
For example, you might want to add a phone number field or delete the message subject line field.
Once you've finished, click the embed button at the top of the window and paste the shortcode into the page where it appears.

You can include the form on an existing page or create a new one. Hit "save," and you're done!
Here's a great example from WPForms of the results you can quickly achieve:
The paid version would be more appropriate if you want access to more templates and advanced features to boost your efforts. Pricing starts at $49.50 per year for one site.
With the premium version, you can unlock multiple handy features like smart conditional logic, customizable email notifications, file uploads, multi-page forms, post submissions, and much more.
8. Elementor Page Builder
The WordPress page editor is pretty basic. Therefore, if you're not an expert coder, you need a page builder plugin to create your desired designs quickly.
These plugins allow you to easily create and customize your pages using a drag-and-drop interface without any coding skills.
Although many page builder plugins are available, they can be expensive or lack the necessary features. Additionally, there are two types of page builders: back-end editors and front-end editors. Back-end editors force you to constantly refresh the page to see your changes, which can be super-annoying.
That's the beauty of the Elementor page builder plugin. It makes it easy to design your website just how you want it. With Elementor, you can build your pages using sections, modules, and widgets without coding knowledge.
You also have a user-friendly front-end, intuitive editor that lets you see what you're doing in real-time. In addition, the hundreds of ready-to-go templates allow you to quickly create your desired designs without any hassle. Alternatively, you can save your custom-built layouts to use again on other pages.
Although free, Elementor has an impressive range of features, including responsiveness, e-commerce and marketing tools, and theme builders.
Elementor isn't short on integration either. It works with popular tools like MailChimp, Discord, HubSpot, and many more.
Here's an example showing Elementor's simple user interface: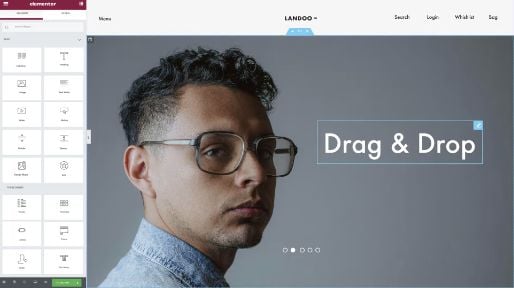 On your web page, you can click to add new sections or templates.
Then, you can add and edit widgets using the editor on the left side.
Elementor has a Pro version available starting from $59 a year. Added features include 30 days' backup (free users get 14 days), premium support, and a staging environment to test new features/make changes.
9. UpdraftPlus
You've worked hard on your website. The last thing you want is to lose everything you've created. After all, no one wants to start all over again.
It's not just hacks you need to think about. Mistakes happen. A server goes down. Your site objects to an update. These things occur all the time.
No worries, though, because of all the free WordPress plugins available, you've got back up in the form of UpdraftPlus.
UpdraftPlus describes itself as "The World's Most Trusted WordPress backup, restore, and clone plugin."
It's user-friendly, and its features include:
Multi-site functionality
Customizable backup scheduling
One gigabyte of free storage
Automatic backups after routine WordPress updates
And so much more
There are plenty of WordPress backup plugins online, but only a few are as powerful and user-friendly as UpdraftPlus. It allows you to set up automatic backups and store your files at a remote location like Google Drive, FTP, email, and Dropbox.
Restoring your website from a backup is also super easy and can be done straight from the dashboard.
Premium features include advanced reporting, database encryption, and additional storage destinations like OneDrive, Azure, SFTP.
Premium subscriptions start at $234 annually.
10. MonsterInsights
Without facts, all you'll have are assumptions. That's why data tracking is crucial for scaling and improving your website. Fortunately, there's a free WordPress plugin for that!
MonsterInsights is the "Best (free) WordPress plugin for analytics. It gives you a multitude of features like:
E-commerce, user behavior, and SEO reports
Real-time analytics
Form conversion and affiliate links tracking
WordPress events
Then there's access to Google Analytics. These insights help you improve your website, content, and user experience by giving you essential info about how every webpage performs and which online campaigns bring in the most traffic and conversions.
With all the information readily available, you can work on creating a data-driven strategy to grow your business.
MonsterInsights free version allows you to install Google Analytics, track data, see metrics on the dashboard, and run reports.
The premium version is more of an investment but includes post and page tracking, custom tracking and reports, AdSense tracking, and more. The premium version starts at $99.50 per year with the Plus plan.
What to Look For in WordPress Plugins
Above, I've detailed some of the best free WordPress plugins available. However, if you want to find out more on your own, I've put together some guidance so you know what to look for.
I've compiled a list of a few factors you should consider to narrow down your search to determine the right fit for your website.
First, a useful resource is the WordPress Plugin Repository. It contains detailed information about the plugin, its purpose, how to use it, and more. Refer to this information to decide whether a specific plugin is a good fit for you.
Search the plugin directory and pick a few options that best suit your needs. When it comes to making the final selection, use my tips below:
Free vs. Premium
We all like free things, but that doesn't necessarily mean they're better. WordPress plugins are no exception.
Free WordPress plugins are a good idea if you don't want to spend money right away, and most of them are enough to get the basic job done.
However, if you're looking for more features or higher customization, the premium versions unlock more features and give you additional options.
Additionally, premium plugins aim to ensure compatibility with new WordPress versions and provide better security. On top of this, you get a more comprehensive selection of features to customize and enhance your site.
Overall Plugin Ratings
You can learn a lot from other users' experiences, so it's well worth checking out the overall rating of a WordPress plugin.
A good rule of thumb is to look for ratings with an average of at least (or almost) four stars.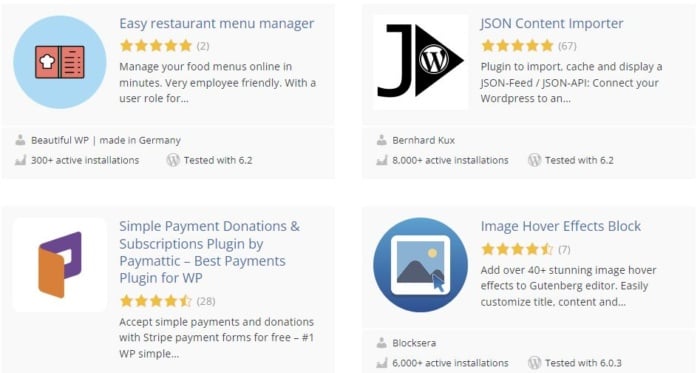 Plugins with a one-star, two-star, or three-star rating are mostly glitchy and can create many problems. On the other hand, higher-rated plugins are usually well-maintained, work well, and offer adequate support.
However, remember that reviews can often reflect personal preferences, and what might be suitable for one user might not be ideal for others.
User Reviews
There's no better way to determine the quality of a plugin than directly from users. This way, you know precisely whether a plugin is successful.
I also recommend looking at the total number of ratings. For instance, if a plugin has only been rated by five or seven people, it's relatively new. If they give a decent review, the average rating will automatically be higher.
It's always better to download plugins with more users and reviewers, so be sure to check the total number of reviews.
Finally, pay careful attention to the pros and cons so you've got a clearer picture of the app's advantages/disadvantages.
Frequently Asked Questions
Are there any free WordPress plugins?
Yes, there are plenty available. The list of free WordPress plugins I've included here provides the basics and covers most website owners' basic needs. 
However, don't overload plugins, or you risk providing a poorer customer experience due to slower loading times and potential conflicts.
What is the best free WordPress review plugin?
These questions aren't straightforward to answer as it depends on what you're looking for. Start with the free WordPress plugins in this article. Give them a look and try a few to see which ones work best for you.
What is the best free plugin for WordPress?
See above!
It's difficult to call any tool the best free WordPress plugin, as website owners' needs vary greatly. However, as I've highlighted in this article, hugely useful and popular plugins like Yoast and WPCache often feature in "best" lists.
Conclusion
Free WordPress plugins can do it all, from designing and maintaining a website to optimizing it for search engines to enhance user experience.
These trusted products can help you take your site to the next level. If you want to get started today with some of my top suggestions, Use Yoast for SEO optimization and block spam and bots with Akismet. Next, ensure your visitors can get in touch with WPForms.
MonsterInsights is one of the best WordPress plugins for data tracking, while UpdraftPlus gives you the backup you need.
You've got nothing to lose by installing a few and testing them out to see how well they work for you.
Are there some free WordPress plugins I didn't mention? Comment below to let me know!
This content was originally published here.